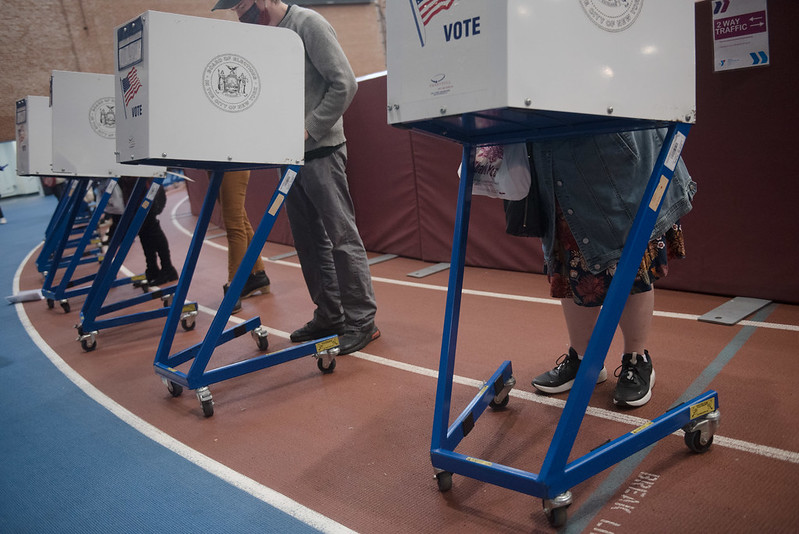 Voters voting (photo: Michael Appleton/Mayoral Photography Office)
---
As the final vote in the consequential Democratic mayoral primary nears, controversy has erupted around the new ranked-choice voting (RCV) format and the tactics some campaigns are using to wrangle votes.
Supporters of RCV have said the system forces candidates to seek a broader base of support. But after candidates Kathryn Garcia and Andrew Yang teamed up this past weekend in the hopes of being the second-round pick of each other's supporters, Eric Adams' campaign and its surrogates said the collaboration was a move to diminish the power of Black voters and falsely likened it to "voter suppression." A number of candidates, good government groups, and voting rights advocates condemned the comments for their potential to undermine confidence in the election outcome.
The episode raises the spectre of a leading candidate calling into doubt election results (à la Donald Trump) in the first citywide race to use the new voting system, after voters approved it in a referendum two years ago. While he has been critical of RCV, and his allies previously sued to try to stop its implementation this year, Adams has repeatedly said he will accept the results of the election.
Complicating matters is the fact that absentee voting is continuing at a far larger scale than pre-pandemic elections, meaning final election results will not be known for about three weeks after primary day.
While extremely limited unofficial election night tallies will be available Tuesday evening -- only the first-round choices of voters who cast ballots in person during the early voting period and on primary day -- the lack of absentee and affidavit ballots and voters' latter-round choices will make their meaning obscure. Full results will likely not be known until the week of July 12 after all absentee ballots have been tallied.
In the meantime, the New York City Board of Elections (BOE) will publish various tranches of voting information as ballots come in. The BOE has said it will take a week to release tabulated results of votes cast in person (about 191,000 people voted in person at an early voting poll site this June), but those numbers will still be missing tens of thousands of absentee votes and limited in meaning.
State law requires administrators to wait seven days after polls close to begin counting absentee ballots. A week later, on July 6, the BOE will release an updated unofficial tabulation of in-person votes and absentee ballots received to date.
Thanks to a recently enacted state law, absentee voters are given the opportunity to correct certain disqualifying mistakes on their ballots, even after polls close. The last day for voters to submit a ballot "cure" is Friday, July 9. After the results of all in-person, absentee, and affidavit ballots are counted and the election results certified the BOE will publish the full vote tally for each round of RCV, according to board officials.
"This is the system we chose. It's going to take time for us to count all the votes but we're going to learn patience as New Yorkers," Garcia told reporters Monday.
Recent polling in the race has shown Adams with a lead, followed in by a shifting combination of Garcia, Wiley, and Yang.
Over the weekend, Garcia and Yang greeted voters and held get-out-the-vote rallies that highlighted the use of RCV. Yang told his supporters to rank Garcia second on their ballots, while Garcia did not return the favor. As the two paired up on the campaign trail, Adams and his endorsers responded by attacking the candidates and the process.
On Saturday and Sunday, Adams' campaign issued statements from numerous supporters ranking high in New York's political class, calling the Garcia-Yang coordination a cynical effort to game the system including, they claimed, by overpowering Black voters who are overwhelmingly for Adams.
"It is an act of political chicanery and introduces a very disturbing dividing of the city's electorate and when these actions appear to be designed to hurt one particular candidate it can also divide the city on racial or ethnic lines...The problem with the rank choice voting process itself is that it enables candidates to manipulate the process in a way that defies the will of the voters," said former Governor David Paterson in a highly-disputed statement released by Adams' campaign Saturday. Critics pointed out that candidates encouraging their supporters to rank another candidate second does not defy the will of voters any more than other endorsements. Adams himself has touted receiving second-rank endorsements from officials like Rep. Hakeem Jeffries.
Susan Lerner of Common Cause New York, a good government group that has advocated for RCV, called the Garcia-Yang partnership "a legitimate strategy in a democratically approved system of election."
A number of other politicians of color echoed the sentiment including, Rep. Gregory Meeks, Bronx Borough President Ruben Diaz, Jr., Council Members Laurie Cumbo and Ydanis Rodriguez, Assembly Member Jenifer Rajkumar, County Leader Keith Wright, and activist Ashley Sharpton (daughter of Al Sharpton). Former State Comptroller H. Carl McCall called the move by Garcia and Yang, who are white and of Asian descent, respectively, a form of "voter suppression," though it is unclear how he came to that conclusion.
"Any attempts to frame RCV as too complicated or discourage voters from fully exercising their rights to vote are wrong and harmful to our community," said Lurie Daniel Favors, interim executive director of the Center for Law and Social Justice at Medgar Evers College. "As proponents of justice through expanded voting rights, CLSJ urges all candidates, particularly those from our communities, to embrace ranked-choice voting and encourage New Yorkers to educate and empower themselves in order to employ our new voting system during the current primary."
Public Advocate Jumaane Williams, who has endorsed Wiley, and State Senator Zellnor Myrie, who chairs the Senate's election committee, also denounced voter suppression claims through their Twitter accounts.
Even as his campaign pushed out the statements, Adams kept them at arm's length without condemning them. He said Monday he would accept the final results published by the BOE. "Yes, I will accept -- definite, definite -- I believe in the system," he said. But when asked by WNYC's Gwynne Hogan at a later campaign stop if he could assure voters that he is not trying to claim the election could be stolen, Adams did not answer directly: "Yes I do, I assure voters that no one is going to steal the election from me," he told press outside his campaign office.
Garcia and Yang each refuted the claims of impropriety and suppression, as did Wiley, a Black woman and civil rights attorney who at one time worked at the NAACP Legal Defense Fund.
"At a time when this country is seeing real voter suppression laws being enacted, using racism charges to undermine confidence in Ranked Choice Voting is cynical, self-interested and dangerous," said Wiley, who had pushed for RCV's passage, in a statement Monday. "[T]his partnership is not racist and we should not be using this term so loosely against other candidates."
Yang's co-campaign managers, Sasha Ahuja and Chris Coffey, alluded to the suppression argument as, "baseless, undemocratic misinformation," in a joint statement Monday.
Garcia's campaign released a memo early in the day on Monday making clear that no candidate is likely to win on election night -- a victory would require more than 50% of first-place votes -- and that RCV was widely supported by voters in the 2019 referendum.
At a campaign stop in Bedford-Stuyvesant, Brooklyn, where he voted Tuesday, a teary-eyed Adams said he would accept the election results in honor of his mother who died a few months ago and was "betrayed" by the healthcare system, reported Ross Barkan on Twitter. "This is about ending the betrayals of every day families in this city," Adams said, according to Barkan. "Are you going to accept the outcome? Darn right I am...I am not going to do anything to desecrate the name of my mother."