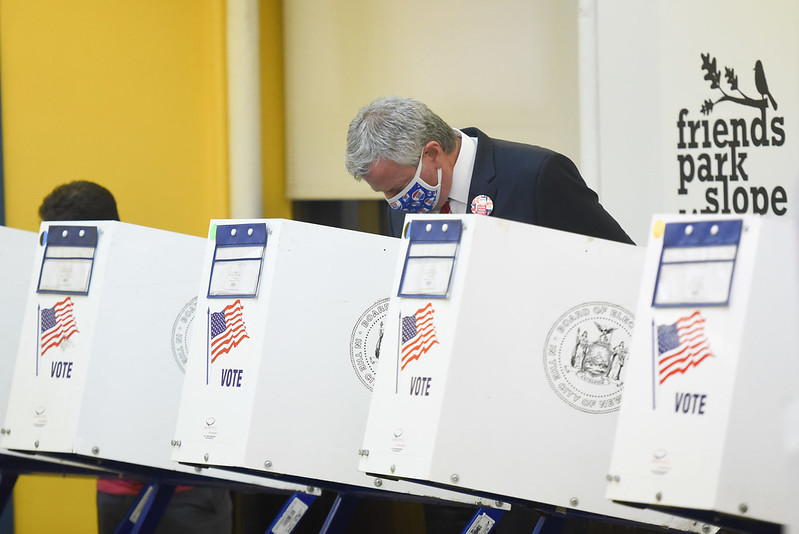 Mayor votes (photo: Michael Appleton/Mayor's Office)
---
Though voting in the Tuesday primary has concluded, the election is far from over. Absentee ballots have yet to be counted and ranked-choice votes have yet to be tabulated. While New Yorkers won't know the final results from election night for possibly a few weeks, there are early unofficial results available and other notable numbers to watch.
What we know so far is the first-rank votes of those who cast ballots in person, either through early voting or on primary day. In the race for mayor, about 750,000 Democrats and 51,000 Republicans cast ballots across the city. While Curtis Sliwa declared victory in the two-candidate Republican primary, Eric Adams leads the Democratic primary by a significant margin, but Kathryn Garcia and Maya Wiley are within striking distance, while all other candidates are no longer viable.
Some initial clarity was also reached in the races for Public Advocate, Comptroller, borough presidencies, dozens of City Council seats, and the Manhattan District Attorney primary, which does not feature ranked-choice voting.
According to Board of Elections data, 221,008 voters had requested absentee ballots and 90,763 voters had returned them as of June 22. Of those who voted, 86,920 were Democrats and 3,831 were Republicans. Tens of thousands of additional absentee ballots could still arrive to the BOE in time to qualify to be counted, and they could shift dynamics in a number of races.
The absentee ballots returned thus far include 27,682 Democrats and 733 Republicans from Manhattan; 10,455 Democrats and 275 Republicans from the Bronx; 20,693 Democrats and 643 Republicans from Brooklyn; 24,139 Democrats and 1,210 Republicans from Queens; and 3,951 Democrats and 970 Republicans from Staten Island.
Absentee ballots postmarked as late as June 22 will still be valid if they are delivered to the BOE by June 29. But the BOE will then also offer absentee voters to "cure" mistakes on their ballot, sending notices to voters who will have to return them by July 9. Only then will the official vote count begin. Still, the BOE plans to do an initial yet unofficial ranked-choice runoff on June 29.
Mayor
There were 13 candidates on the Democratic primary ballot for mayor, though voters could choose up to five in order of preference under the new RCV system.
The top tier of eight Democratic candidates, who were in all three official Campaign Finance Board debates, included Brooklyn Borough President Eric Adams, former sanitation commissioner Kathryn Garcia, former counsel to the mayor Maya Wiley, entrepreneur Andrew Yang, and Comptroller Scott Stringer, former Citigroup executive Ray McGuire, former federal housing secretary Shaun Donovan, and former nonprofit executive Dianne Morales.
Unofficial election night results from the BOE reported only first-choice votes cast in person from early voting and primary day. As of 12:20 a.m., with 95.9% of precincts counted, the board had tallied 749,175 votes in the Democratic primary.
Adams won 232,519 first-choice votes, or 31%, giving him a sizable lead, but falling well short of the 50%+1 threshold required to claim victory in a ranked-choice election. Adams performed well among Black and Latino voters, sweeping most of the Bronx, almost all of Central and Eastern Brooklyn, Southeast Queens and Staten Island's North Shore, according to an election map created by Steve Romalewski, director of the mapping service at Center for Urban Research at the CUNY Graduate Center.
Wiley was in second place with 22%, receiving a large share of her votes from Black communities in Brooklyn. She did well in Prospect Heights, Clinton Hill, Vedford-Stuyvesant, Bushwick, Williamsburg, Greenpoint, Ridgewood, and parts of Western Queens including Astoria, Long Island City, Sunnyside and Woodside.
Garcia was a close third with 20%. She did her best in almost all of Manhattan south of Harlem. She also won neighbrohoods in the Northwest Bronx, parts of waterfront Brooklyn including Dumbo and Cobble Hill, parts of the Mid-island and south shore of Staten Island, and isolated pockets all over Queens including Forest Hills and Middle Village.
Yang, an early frontrunner whose campaign lost momentum in the last two months, was in fourth place and got about 11.7% of the in-person first-place votes. He quickly conceded the race on Tuesday night. "You all know I am a numbers guy, I'm someone who traffics in what's happening by the numbers," he told his supporters at his Midtown election night party. "And I am not going to be the next mayor of New York City based upon the numbers that have come in. Tonight, I am conceding this race."
Yang won neighborhoods with large Asian-American populations including Chinatown and Two Bridges in Lower Manhattan, in Elmhurst and large parts of Northeast Queens. He also won Orthodox Jewish neighborhoods in South Willimasburg, and in Borough Park and Bensonhurst in South Brooklyn.
Stringer came in at a number that would have been unthinkable several months ago. He got a mere 5.1% after initially being considered one of the candidates to beat in the race. Morales received 2.8%, McGuire got about 2.4%, and Donovan 2.2%.
Absentee votes and the second choices of voters who selected Donovan, McGuire, Morales, Stringer, Yang, and the five lesser-known candidates as their first choices will determine what happens next.
The Republican primary for mayor was a two-way contest between Guardian Angels founder and radio host Curtis Sliwa, and Fernando Mateo, president of the New York State Federation of Taxi Drivers and a spokesperson for the United Bodegas of America.
With 95.5% of precincts reporting, 51,483 votes were counted. Sliwa handily won the race with 35,425 votes or 68.8% to Mateo's 13,921 or 27%. Sliwa declared victory calling himself a "populist" and pledging to continue his focus on crime, support for the NYPD, quality of life, and animal welfare.
Comptroller and Public Advocate
The Democratic primary for comptroller featured City Council Speaker Corey Johnson, State Senator Brian Benjamin, financial journalist Michelle Caruso-Cabrera, military veteran and entrepreneur Zach Iscol, City Council Member Brad Lander, State Senator Kevin Parker, financial advisor Reshma Patel, fiscal analysis Terri Liftin, Assembly Member David Weprin, and college student Alex Pan.
With 96% of precincts reporting, and with 704,385 votes counted, Lander held a solid and somewhat surprising early lead with 31.4% of first-choice votes. Johnson was in second place with 22.5%, and Caruso-Cabrera trailing in third with almost 13.7%. The rest all were in single figures.
Public Advocate Jumaane Williams also faced a primary challenge, though he had nominal opposition from community leader Anthony Herbert and entrepreneur Theo Chino. With 96% of precincts tallied, accounting for 656,695 votes, Williams won with 459,826 or 70%. Herbert got 138,732 votes or 21% and Chino got 51,808 votes or about 7.9%.
Manhattan District Attorney
The District Attorney primary was the only election that did not involve ranked-choice voting, since it is technically a state position, and the winner is simply determined by whoever gets the most votes.
The crowded field included eight candidates: former Principal Deputy State Attorney General Alvin Bragg; former Manhattan Assistant District Attorneys Lucy Lang, Liz Crotty, and Diana Florence; civil rights attorney Tahanie Aboushi; Assemblymember Dan Quart; public defender Eliza Orlins; and Tali Farhadian Weinstein, the former general counsel to Brooklyn District Attorney Eric Gonzalez and a former federal prosecutor.
With 97.8% of precincts counted, tallying 211,207 votes, Bragg led with 33.8% of the vote, with Farhadian Weinstein a close second with 30.5%. Aboushi was a distant third with 11.3%, while none of the others crossed into double digits. Absentee ballots will be counted to determine whether it is Bragg or Farhadian Weinstein who wins.
Borough President Races
Several borough president primaries are extremely close after the in-person vote tallies and heading toward absentees and ranked-choice runoffs.
The Brooklyn borough president race had 12 Democratic candidates on the primary ballot: State Assemblymember Jo Anne Simon, City Council Member Robert Cornegy, Jr., City Council Member Antonio Reynoso, City Council Member Mathieu Eugene, nonprofit executive Kimberly Council, former Brookdale Hospital executive Khari Edwards, Robert Elstein, Pearlene Fields, Anthony Jones, Robert Ramos, Jr., Trisha Ocona, and Lamor Miller-Whitehead.
With 95.6% of precincts reporting, 231,234 votes had been counted. Reynoso emerged with a comfortable lead, receiving 28.3% of the vote. Cornegy was in second receiving 18.7%, just a razor-thin margin above Simon who had almost 18.2% of the vote. Eugene was in fourth with about 8%.
In the Democratic primary for Manhattan borough president, the seven candidates included Lindsey Boylan, former state deputy secretary for economic development and housing; Kimberly Watkins, president of Community Education Council 3; City Council Member Mark Levine; Elizabeth Caputo, former chair of Manhattan's Community Board 7; State Senator Brad Hoylman; City Council Member Ben Kallos; and Guillermo Perez.
After 98.4% of precincts had reported and 200,152 votes counted, Levine led the race with 28.7%. But Hoylman was close behind with almost 25.7%. Kallos in third with 12.1%, Boylan fourth with 10.4% and Caputo fifth with 9.8%. It appears all but certain that the race will come down to Levine and Hoylman as absentees are counted and the RCV runoff is performed.
The Democratic primary for Bronx borough president was a five-way contest between City Council Member Fernando Cabrera, City Council Member Vanessa Gibson, State Assemblymember Nathalia Fernandez, State Senator Luis Sepúlveda, and former NYPD lieutenant Sammy Ravelo.
With 95% of precincts reported and 84,169 votes counted, Gibson led with 39.2% while Cabrera trailed closely with 34.3%. Fernandez was at 14.2% while Sepulveda was at 9.9%.
Queens Borough President Donovan Richards was elected in a special election last year, after his predecessor Melinda Katz became Queens District Attorney. Richards was challenged in this Democratic primary by Council Member Jimmy Van Bramer and former Council Member Elizabeth Crowley.
Richards received 41.5% of first-choice votes, holding a marginal lead over Crowley, who had 40.2% by the time 95.3% of precincts had reported and 156,023 votes had been counted. Van Bramer received 17.8%. The race will now come down to the absentee votes and the instant runoff between Richards and Crowley, so the voters who picked Van Bramer as their first choice will be crucial in terms of their second choices.
Five Democrats sought the primary nomination for Staten Island borough president, one of the few positions in municipal government that is currently held by a Republican, term-limited Borough President Jimmy Oddo. They included attorney Cesar Vargas, labor leader Radhakrishna Mohan, real estate developer Mark Murphy, activist and business owner Lorie Honor, and Brandon Stradford, community liaison to City Council Member Debi Rose.
After 97.9% of precincts reporting and 23,612 votes counted, Murphy had a seemingly insurmountable lead with 46.2% of the vote. Honor was in second with almost 21%, and Vargas in third with about 13.7%.
With Oddo on the way out the door, four Republicans faced off in a primary to replace him: term-limited Council Member Steve Matteo, political consultant Leticia Remauro, former Rep. Vito Fossella, and Jhong Kim, a martial arts and real-estate magnate.
With 97.9% of precincts reporting and 17,547 votes counted, Fossella held a slight lead with 42.2%, and Matteo was just behind with 41%. Remauro got 13.4% and Kim got 2.6%. ALong with the absentee voter preferences, Remauro's voters' second choices will be pivotal.
Mayoral Candidates' Campaign Finances
Altogether, the top eight Democratic candidates raised more than $20.1 million in private contributions, received more than $37.2 million in public funds from the Campaign Finance Board, and spent more than $52.7 million, as of June 7, when the latest campaign finance disclosures were released.
But, by election day, more than $37.1 million went into the mayoral race from independent spenders and so-called Super PACs. Nearly all the top candidates benefitted from that outside spending, though some far more than others.
McGuire, who funded his campaign entirely from private donations, spent a whopping $10.5 million by June 7, after having raised more than $11.9 million (which included a personal donation of $1 million and a loan of $2 million from his own pocket). An independent political action committee called New York for Ray spent a separate $5.74 million in support of McGuire's campaign.
Adams came second in expenditure, disbursing $9.4 million after raising nearly $4.9 million and receiving more than $6.4 million in public matching funds. But he topped the chart in how much outside spending was in his favor. Independent spenders put $7.7 million into aiding Adams. The biggest spenders from that included the Empire State 32BJ SEIU PAC, the People for a Better NY political committee, and Hotel Workers for Stronger Communities. Groups that opposed Adams spent merely $20,555 against him.
Stringer had spent about $8.4 million on his race. He had raised nearly $3.8 million in private contributions and got more than $6.4 million in public funds. More than $5.3 million in outside spending was in support of Stringer's campaign, and more than 60% of that came from NY4KIDS Inc., a PAC associated with the United Federation of Teachers, the municipal teachers union.
Yang spent just under $8.1 million on his campaign, having raised more than $3.9 million and qualifying for $6.4 million in public funds.
Outside spenders put more than $3.8 million towards helping Yang's campaign. Almost all of that, about $3.2 million, came from Comeback PAC, a group created by political strategist Lis Smith, who most recently worked as a senior advisor to Pete Buttigieg's presidential campaign. Yang was the candidate with the most outside spending levelled against him, with about $167,000 in ads opposing his candidacy.
Wiley had spent over $6.1 million on her campaign. She had raised more than $1.8 million and public funds payments of more than $5.4 million. More than $1.9 million was spent by outside groups in support of her campaign, most of which came from 1199 for Maya, the PAC run by the 1199 SEIU healthcare workers union that endorsed her.
Garcia spent a total of nearly $5 million by June 7, having raised more than $1.9 million in private contributions and more than $6.4 million in public funds. New Generation of Leadership PAC spent nearly $200,000 to support Garcia.
Donovan spent about $4.08 million on his campaign. He had raised more than $2.8 million and received just over $2 million in public funds. But an outside expenditure committee, New Start NYC, spent nearly $6.5 million to aid Donovan. The PAC raised more than $6.97 million, of which $6.8 million came from Donovan's father alone.
Morales spent more than $1.2 million after raising about $875,000 and receiving more than $3.9 million in public funds. The Downtown Independent Democrats spent $1,425 in her favor.
Note - this article has been updated.