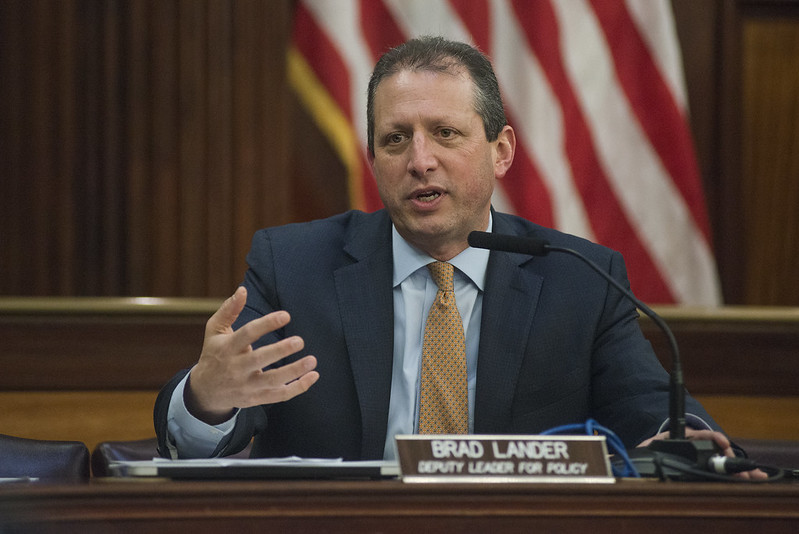 Brad Lander (photo: Jeff Reed/City Council)
---
[Note: since the publication of this article, Lander has been declared the winner of the Democratic primary for NYC Comptroller]
"I feel really proud of the campaign our team ran. We are the overwhelming first choice of a whole lot of New Yorkers all across the city," Brad Lander said Thursday, less than 48 hours after polls closed and he took a commanding lead in the all-important Democratic primary to become the next New York City Comptroller. "I really believe in ranked-choice voting, I want to see those tabulations, I don't want to say anything declarative until then, but we feel in a very strong position," Lander, a Brooklyn City Council member, told Gotham Gazette's Ben Max on the Max Politics podcast.
With 96.62% of precincts in and 731,466 votes counted, the Board of Elections tally of in-person first-choice votes showed Lander with a lead of more than 64,000 votes over City Council Speaker Corey Johnson, who is in second as the city primaries head toward the counting of more than 115,000 Democratic absentee ballots and the first citywide use of ranked-choice voting (RCV) to determine winners.
The "instant runoff" of RCV will be used in any race where one candidate does not get a majority of first-place votes, which is all but certain to be the case in the primaries for mayor, comptroller, all five borough presidencies, and most of more than 40 City Council races.
Lander has collected 229,021 (31.31%) first-choice votes whereas Johnson has claimed 164,858 (22.54%), followed by former financial journalist Michelle Caruso-Cabrera in third with 99,216 (13.56%). State Senator Brian Benjamin has collected 56,377 votes (7.71%) and is in fourth, followed by Assemblymember David Weprin with 50,827 votes (6.95%) and State Senator Kevin Parker with 43,001 votes (5.88%).
"We tried to run a really strong, bold, progressive campaign with a vision for a just recovery that works for all our neighborhoods," Lander said in the interview when prompted about how he built support, continuing, "and then at the same time to also have a message about making sure government can deliver, that it can work better."
Lander attributed a lot of his success -- marked by huge concentrations of votes in much of Manhattan and wide swaths of western Brooklyn and Queens -- to a "broad progressive coalition" reflected in endorsements from many of the party's left-wing stars like Reps. Alexandria Ocasio-Cortez and Jamaal Bowman, U.S. Senators Elizabeth Warren and Bernie Sanders, Public Advocate Jumaane Williams, the Working Families Party, and many others. Lander was very clearly the candidate of "the left" in the race, different from how the more progressive candidates in the mayoral primary had split support, though there was some consolidation behind Maya Wiley in the final weeks of that race.
Though Lander said the big names on that list turned heads, upon prompting he also stressed the importance of an endorsement from the New York Times editorial board, explaining, "a lot of people didn't spend a ton of time focusing on the comptroller's race so for many of them the Times was a really good validator of who's going to work the hardest and be the most effective in doing the job."
The New York City Comptroller is the city's chief fiscal officer, charged with monitoring the city budget, approving contracts, auditing city agencies for waste and inefficiency, making recommendations to improve city government, and serving as fiduciary to the city's five public pension funds. Though the comptroller has a great deal of oversight responsibility, the office has very limited decision-making powers -- Lander has called it the city's "chief accountability officer." The position comes with a large office and budget to conduct audits, issue reports, and propose policies, and a significant bully pulpit. It is also often a stepping stone to at least a run for Mayor, though success has eluded many who have sought that promotion.
Lander, who has represented the 39th City Council district in Brooklyn for over a decade, had been building for his comptroller campaign for years and launched it many months before Johnson, who had been gearing up for a run for mayor, entered the field relatively late after taking a break from politics to attend to his mental health. As the powerful Council speaker and having raised a significant sum for his mayoral campaign, Johnson came into the comptroller primary with significant advantages, and quickly racked up labor and other endorsements, and appeared to be the frontrunner based on very limited public polling. But Lander had been criss-crossing the city for years building his political brand, and continuing throughout the comptroller campaign, where he had the backing of many activist groups who he had been organizing and legislating with all along.
Lander's campaign was marked by an emphasis on his familiarity with the city budget and city government, and using his progressive values to hold the next mayoral administration accountable, whoever may win that race. He also touted his past work on police reform, affordability, and workers' rights.
He focused his proposals and platform on climate resiliency, a "people first" economic recovery, and investments in affordable housing, among other things. His progressive platform stands somewhat in contrast to the more moderate politics of Eric Adams and Kathryn Garcia, two of the three front-runners in the mayor's race along with Wiley. When asked to comment on that difference, Lander responded that New Yorkers are open to ambitious government, they're just skeptical about whether it will really deliver. "I just don't see that much contradiction," he said, saying later, "People are not mostly concerned about progressive or moderate, people are mostly concerned about housing and jobs and schools and coming out of the pandemic and safety."
Lander's geo-political dominance among in-person first-place votes looks like a combination of areas that went to Wiley and Garcia, who got the Times endorsement in the mayoral primary and garnered many votes in much of Manhattan as well as parts of brownstone Brooklyn where she and Lander both live. Wiley performed best in other parts of Brooklyn where Lander also did well and the parts of western Queens where he also dominated.
On the broader trend of heightened electorate concern over public safety and rising violent crime rates in conjunction with his stance on wanting to move more funds away from the NYPD and into community and social service programs, Lander said he had success talking to voters who were skeptical of his stance to "defund the police" by framing the conversation around concrete examples, like a homeless person on the subway. "If a cop comes and pulls that person off the train maybe they'll be off the train car but if we don't get them an affordable place to live and good mental health care, then they're going to be back in the train tomorrow," he explained, saying that the conversations that grew out of this were thoughtful and focused less on partisanship and more on how to move the city forward.
Lander hasn't won the race yet.
Both absentee ballots and the final tabulation of the rank-choice voting system could yield something different than the initial tally of in-person voting. When asked whether either of those were matters of concern for his campaign -- especially since he appears to hold a large share of young voters who are more likely to vote in person, and because his outspoken progressivism could make him a less likely "second choice" candidate -- Lander held steady in his optimism. "There's no reason to believe the absentee ballots are going to have a decisively different impact," he said, revealing that his campaign had reached out to all voters who had requested an absentee ballot.
On ranked-choice he argued that Michele Caruso-Cabrera's spot in third place, buoyed by Latino voters, boded well for his campaign as it had overperformed with those voters and had strong endorsements from U.S. Reps. Ocasio-Cortez and Nydia Velásquez, City Council Member Antonio Reynoso, who is leading the Brooklyn Borough President primary, State Senator Gustavo Rivera, and others. He also mentioned "overlap in some geography" of their respective districts with Parker, who represents parts of Central Brooklyn and dominated in the first-rank votes in his neighborhoods.
In other words, Lander is confident he will have a strong showing as a second-ranked candidate on many ballots where voters chose Caruso-Cabrera or Parker as their first choice, and those votes would shift to him when those candidates are eliminated in the RCV runoff. In all likelihood, Lander and Johnson will be the final two candidates in the RCV tally, making the second (and in some cases third, fourth, or fifth) choices of the voters for all other candidates especially important.
Lander ran a fairly contentious campaign against Johnson. The two repeatedly sparred at debates over their records in the Council, approach to the city budget, and proposed legislation. During the post-primary Max Politics interview, Lander promised to put politics aside as they work together in the coming days to pass this year's budget, saying, "It is all of our jobs to get past our political differences and to show up for people."
As Lander appears, based on the in-person vote, to be the heavy favorite to win the Democratic primary for comptroller and therefore win the general election and take office in the citywide post come January 1, below is a more detailed look at his campaign platform and promises, and where he has stood on key issues during the campaign.
***
Lander's progressive vision for the city as the potential next comptroller is to merge a tight focus on government accountability and effectiveness with a push for more investment in under-served communities and the city's future. He's focused for years on improving the city's capital budget process and productivity, and would continue making that a priority if comptroller, he has said. The city's construction projects, from small to large, are notoriously over budget and late, while lacking in transparency. Ditto for the city's problematic human services contracting, whereby the city spends billions of dollars a year paying nonprofits to provide essential social services and Lander has said he would work to make improvements.
"New Yorkers know that bold government action will be needed in the daunting years ahead, to end the Covid crisis, restore our economy, save mass transit, fix NYCHA, address the housing crisis, transform how we achieve public safety, and confront rising seas and temperatures," Lander's campaign website says. "But city government can't meet any of those obligations when city agencies are run poorly, when money is wasted, when the results aren't clear, when projects aren't completed on time, when there's no accountability for mismanagement, when corruption goes unchecked.
Citing New Yorkers' frustration with and distrust in government, Lander says that "progressive politicians too often promise the moon, but fail to deliver the goods. They aren't focused enough on what's necessary to make government work or telling the truth when it doesn't."
He "is committed to bold, ambitious, progressive city government," his site says, "But he knows that must come along with doing the hard work to make sure it delivers, and to telling the truth when it doesn't."
Lander's website, which he used to roll out an extensive policy platform prior to the election, covers 22 topics, outlining an approach to the office that divides priorities into three categories: "build a just and durable recovery," "hold city government accountable," and "secure NYC's future." The proposals classified under each category address not only the core functions of the job and how Lander's agenda would be enacted through them, but also the broader ideological and policy framework that he plans to bring to some of the more flexible areas of the office.
The 'just and durable recovery' section is centered around workplace protections, reviving small businesses, arts, and culture, as well as securing public housing and investing in public infrastructure.
On 'holding government accountable,' Lander has promised to make city agencies work better, and ensure they are functioning "more in sync with our shared values." Principal among those values is heightened public safety. His plans to dig into NYPD settlements and look for repeat offenders as well as shift social service functions away from the force help construct the backbone for a larger narrative about more humane policing that has driven his campaign.
Under 'securing the city's future,' Lander outlines a set of ideas for investment planning that take a "broad view." His website indicates he is a proponent of comprehensive planning, long-term risk analysis, and responsible investing -- all of which focus on bolstering public infrastructure, building climate resilience, and equitably redistributing resources throughout the city.
Budgeting & Investments
In the last of three TV or radio debates held among the candidates for comptroller during the final weeks of the campaign, Lander responded to a question about the most important responsibility of the office by saying it was to "ensure an economic recovery that works for all our neighborhoods, make sure agencies work better, and take the long-term view on our recovery — there's so much short-termism in our politics, the comptroller can take the long-term view to secure a better future."
Lander platform calls for increased government investment into public infrastructure, specifically green infrastructure. His plans for climate resiliency involve lending support to programs that buoy 'sustainable innovation' and create opportunity in the sectors of technology, green manufacturing, clean energy, the care economy, and arts and culture. His website includes a proposal to research and develop new climate loans making it "attractive for landlords and small businesses to invest in rooftop and community solar, new electric heating units and electric delivery vehicles." This is in line with Lander's promise to expand support for energy efficiency and sustainable development in the affordable housing sector.
During the final debate, which aired on the last day of early voting and just two days before primary day, Lander was pressed on how, since he served in a Council that oversaw a large increase in spending, voters could trust him to be a faithful budget watchdog. He outlined a plan to find spending efficiencies, for example, by fighting to end the 421a tax break given to real estate developers and for the continuation of the city's attrition program recently put in place by the de Blasio administration that has been lowering headcount by not replacing every city worker that retires or otherwise leaves the government workforce. Lander said he has opposed certain budget cuts in the recent past because they were focused on summer youth programs or public parks and that the NYPD was not facing similar cuts. Last year, he voted against the budget for the current fiscal year for those reasons, arguing that more should be removed from the police department as the city faced a dire, pandemic-induced crunch that has since been at least temporarily ameliorated.
Lander has said every city commissioner and agency should be finding savings in order to "focus on what truly matters." In his "Decision NYC" interview with Gotham Gazette earlier in the campaign, Lander expressed support for "programs to eliminate the gap," or PEGs, by which the mayor instructs city agencies to identify certain levels of savings so that the mayor and other top officials can make decisions on cuts and efficiencies. He stressed, though, the importance of looking at results versus money spent and argued against "belt-tightening for the sake of belt-tightening" since programs like universal 3-K and pre-K, as implemented by de Blasio, increased city personnel headcount but were clearly positive additions to city services, New Yorkers' lives, and the social safety net.
When asked in the final debate if he would consider going to Albany to advocate for additional tax increases on high earners, Lander and Johnson were the only two of the eight candidates on stage to answer in the affirmative.
Lander also signaled support for putting money into the newly-authorized rainy day fund reserve. "We need to commit every year that the budget starts to get better that we target and put money in that account," he said, arguing that the city should be more prepared for future crises than it was for the one brought on by covid.
On the many billions of dollars of federal aid coming to the city, Lander has outlined an American Rescue Plan Spending Tracker that would follow the money and ensure transparency.
Central to Lander's policy platform is also an argument for putting more resources toward affordable housing. He has called for creating upwards of 150,000 social housing units throughout the city and said in his Decision NYC interview that if elected he'd push for a shift from for-profit developers towards more Mitchell-Lama cooperatives, non-profit affordable and supportive housing developers, and community land trusts to "build permanently affordable housing that enable New Yorkers who really need it to get affordable housing and to build wealth for the future."
Lander's housing platform, which he would mostly have to push through investigations, reports, and advocacy if elected comptroller, also involves rent relief for tenants and small landlords, good cause eviction protections, investment in NYCHA, and interrogation of decades of racist housing policies. When asked in the final debate where he would focus the office's audit function, he included again the state-approved 421a program, which is supposed to help subsidize affordable housing development in wealthier areas, calling it a "boondoggle" and referencing data from the Housing Rights Initiative that showed many developers who get the tax break don't meet their rent stabilization requirements.
Lander has said he plans to fight for a New Deal-style program that would pay artists for work on public infrastructure projects, establish a minimum wage for freelancers, and provide ongoing relief for Broadway and arts organizations getting back on their feet post-pandemic. Tying job creation with climate action, he has also expressed interest in investing in workforce development programs that focus on green jobs and retrain those currently employed by the fossil fuel industry to participate in the green economy.
In the small business sector, Lander's website lists a proposal for the creation of a Small Business Recovery Lease Program that would look retroactively at outstanding money owed to small businesses as well as enact a vacancy tax, create commercial rent-control and provide access to capital for more M/WBEs. He also wants to expand that access to capital for struggling families, listing another proposal that would expand city investment into "baby bonds" as an effort to promote resource-sharing across communities and eat away at racial and economic inequity.
Lander's campaign has also stressed a desire to dig into the city's problematic process for human services contracting. Lander has done some work in the Council on pushing to get the many non-profits the city relies on for social services to be paid better and on time. His website promises to "focus aggressively on improving the human service contracting process and fairly valuing and increasing the indirect cost rate, so nonprofit human service providers can achieve organizational stability, pay their workers fairly, and support our communities."
Auditing
In multiple debates, Lander cited the Department of Correction as number one on his list of city agencies with a "bloated budget" and in need of detailed auditing. He's raised questions about how with a plummeting jail population the city has been significantly increasing its correction expenses, all while violence in the jails increases.

In the final debate, Lander asked why DOC "has grown its budget to over a billion dollars, 20%, even though we're only incarcerating half as many people as we were a decade ago."
Lander has also named the NYPD, Department of Homeless Services, and NYCHA as on his "watch list" for special focus, as well as the many billions in spending on capital projects, the city budget for which does not currently have a dedicated audit team in the comptroller's office, he said. "We can build a capital projects and infrastructure investment program that more efficiently creates good jobs, mitigates climate change, and gets us ready for the future," Lander said.
In the final debate Lander was one of four candidates who raised a hand to signal support for additional cuts to the NYPD, unsurprising given he has been part of the movement to "defund the police," advocating for the reinvestment of billions of dollars from policing into social services. "$11 billion we're spending on policing," Lander said on Decision NYC, "we're not getting our money's worth."
As comptroller, Lander says he would audit the NYPD budget and push for many of the social service functions of the department to be transferred to non-police alternatives. His website also indicates a plan to use auditing to identify habitual offenders in police brutality settlements, which the comptroller has to sign off on, and "intervene proactively."
In a more broad sense, Lander has said he wants to make audits "more strategic" and theme-based, focusing on waste, fraud, and abuse but also performance and equity, the latter meaning how well a city agency is abiding by non-discriminatory practices and how equitable its delivery of services has been. His website also outlines plans to conduct accessibility audits in order to ensure that people with disabilities and those who speak different languages are being equally served by their government.
The site promises to establish a new audit team focused solely on agency sustainability and environmental justice as well. In his closing statement at the final debate he extended that scope to include companies the city does business with, vowing to hold them accountable for climate action as well as equal hiring practices for women and people of color.
Other Priorities
Lander has repeatedly indicated he would strengthen the comptroller office's Bureau of Labor Law to do more to help New Yorkers have good working conditions, a general theme he has worked on throughout his Council tenure, including the pushes to institute paid sick days, raise the minimum wage, and implement paid family leave mandates, as well as a variety of measures to regulate how gig and fast food workers are treated.
As comptroller he promised to author an "exploitative employers wall of shame" to shine a light on the city's worst bosses and force them into changed practices, an effort modeled off the Public Advocate's annual "worst landlord's list." He has also vowed to protect private sector workers by assigning the Comptroller's Bureau of Asset Management to aid in the implementation of former Comptroller Scott Stringer's 'New York City Nest Egg Plan' which provides those workers with the opportunity to participate in a retirement savings plan.
Lander's plan for the economy lists proposals for restoring the public health sector by increasing public investment into the life sciences, as well as fighting for good jobs by establishing protections for essential workers and creating apprenticeship programs, especially supportive for young people of color who became unemployed at the high rates during the pandemic. He has also spoken a great deal on reopening schools safely and supportively, indicating on his site a plan to do this by tracking the incoming federal aid and ensuring those funds are spent on social and emotional support systems for the students as well as equitable access to technology.
Outside the specific purview of the office, Lander has also shared plans to use the legislative sway of the position to advocate for a public bank in NYC as well as a stronger, more sustainable, and more accessible public transportation system. He has vowed to be independent from the mayor, choosing not to make an endorsement in the race, and aims, if elected, to use the platform to advocate for a broad range of progressive values including support for immigrant rights, decriminilization of sex work, and establishment of a "Shared Equity Home Ownership Program" aimed at helping low-income and working class households.
Pension Funds
Lander has made the city's $240 billion public pension funds -- relied on by hundreds of thousands of past and current city employees -- less of a focal point in his campaign, though he has said he put out the most detailed plan for how to serve as a responsible fiduciary, citing bank CEOs and former deputy comptrollers who had served on his investment advisory committee.
Lander's policy as outlined in campaign literature promises to "fuse maximizing risk-adjusted market returns with investing in our communities, bringing an equity and sustainability lens to the portfolio, and securing long-term sustainable growth." He would make sure to focus on outside market "systemic risks" like the climate crisis and racial and economic inequality, and argues that only a portfolio actively working to minimize those risks is truly set for long-term success.
That "equity and sustainability lens" involves continued divestment from the fossil fuel industry, which started under current Comptroller Scott Stringer, as well as an effort to join strategic alliances with other shareholders to force climate action. Lander's plan also includes divestment from the gun manufacturing and private prison industries and an increased focus on Economically Targeted Investments (ETIs), a relatively small but important portion of the pension fund holdings that the comptroller can direct, that work to preserve affordable housing, finance a green economy, and help MWBEs grow. These investments, combined with a more diverse set of fund asset managers and advisers, are part of a strategy Lander argues will help to break the cycle of racial wealth gaps and income inequality as well as support wealth-building for historically marginalized groups.
Lander has said he wants to save money by minimizing the outside fees being paid to Wall Street. In the first televised debate, when prompted if he would offer a competitive salary to the chief investment officer for the pension funds in order to attract the best talent, Lander responded, "We would save money by bringing more talented people in house, because right now when we don't have it we wind up paying for expensive consultants."
Ben Max contributed to this story.