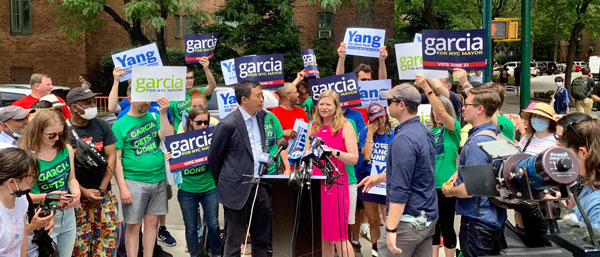 Kathryn Garca with Andrew Yang and supporters (photo: @KGforNYC)
---
Kathryn Garcia still sees a path to becoming New York City's next mayor, despite the fact that the initial tally of in-person Democratic primary votes puts her in third place behind Eric Adams and Maya Wiley. Garcia, like Wiley, is confident that her campaign is "on the pathway to victory" with 120,000-plus absentee votes still to be counted and the ranked-choice runoff to come, she told Gotham Gazette's Ben Max as she reflected on her candidacy and the uncertain state of the race in a recent episode of the Max Politics podcast.
With about 800,000 in-person votes tallied, Adams had 31.66% of the vote, followed by Wiley with 22.22%, and Garcia with 19.48%, according to unofficial initial results that will slowly move toward official over the next few weeks.
Adams' quasi-victorious rhetoric doesn't faze Garcia, who said "he can try to count the chickens before they hatch, but I'm certainly not going to," and noted Adams still needs 20% more of the vote before he can truly claim a win.
But Garcia doesn't think he will get there, citing absentee ballot data her campaign has analyzed and her optimism that she was ranked number two on the ballots of many voters whose first ranks went to Adams, Wiley, Andrew Yang (currently in fourth place), Scott Stringer (fifth), and other Democratic mayoral contenders.
Garcia, former sanitation commissioner, among several other city government roles, ran as a crisis manager with a track record of problem solving that she says prepares her to effectively bring the city back from the pandemic's multifaceted devastation. Her pitch hit home with the New York Times and Daily News editorial boards, among other high-profile endorsers, and ultimately led to her strong performance in in-person, first-choice voting in most of Manhattan, large swaths of Staten Island, Brooklyn's western edge, including parts of brownstone Brooklyn where she lives, Riverdale in the Bronx, and a few other areas.
Asked to reflect on her success in these neighborhoods, Garcia said her messaging "about understanding peoples' everyday lives," from getting kids to school to maintaining clean and safe streets, convinced people that she would do what needs to be done to create a more liveable city. People "know me, know what I can do, and trust that I can run the government," she said.
Garcia was unable to eclipse Adams or Wiley in the initial tally given her poorer performances in southeast Brooklyn, southeast Queens and the Bronx, which went to Adams, and north Brooklyn and western Queens, which went to Wiley. Yang, who endorsed Garcia for second choice, conceded on primary night with 11.66% of the initial vote. Yang's successes in areas such as Manhattan's Financial District, southwest Brooklyn, central Queens, and Brooklyn's Williamsburg could bode well for Garcia when the runoff happens, though Yang's support from Orthodox Jewish communities may transfer to Adams, who has also had strong relationships in those areas. Yang and Garcia campaigned together in Asian communities of Queens and Manhattan, where Garcia may wind up showing strength in second rankings that can bump her total up when Yang is eliminated in the runoff. In-house pollsters say the campaign also has "strong reason to believe" that Garcia will win a plurality of Yang votes.
Garcia is also counting on Stringer, Ray McGuire, and Shaun Donovan first-choice ballots, which "are all Kathryn number twos," she added.
Garcia offers two reasons why she "[feels] incredibly positive" about her situation: "a tremendous number of absentee votes out there" requested in larger numbers from districts she did well in and that her "favorables were higher than anyone else's. And favorables in a ranked-choice situation are incredibly helpful," she told Max.
She hopes that these forces combined will help her leapfrog over Wiley to take on Adams in the final round of the ranked-choice runoff, which could then come down to whether Wiley's voters liked Garcia enough to rank her over Adams by a wide enough margin. Although she did best in whiter neighborhoods, and underperformed in communities of color compared to other candidates, Garcia predicts that this pattern will become null "when we look at the twos and threes," and that ultimately, "we are going to see that we were strong across the board."
A variety of factors drove Garcia's almost exclusively positive campaign and meant that she was "very open to working with whoever wanted to work with [her]," such as Yang, even though the two "don't get along on most topics," she said, referring to their different perspectives. Not only does ranked-choice voting encourage and reward positive campaigning, in sum at least, but Garcia, a first-time candidate for any office, pointed to her lack of experience in the political muck and belief that voters don't want to hear the negativity.
Ranked-choice voting also means that Garcia's path to victory somewhat relies on securing Wiley supporters' second and third choices. Although a Garcia-Wiley alliance "just didn't happen," Garcia said, she isn't worried that she missed the opportunity to sway Wiley voters, and assured Max that "her twos are my twos, my twos are her twos."
While Garcia's campaign seldom went negative because political "hit jobs" don't "[help] the voters understand the differences between the candidates," she told Max, opponents Yang and Adams still fired many shots at each other while Wiley also got into the fray on many occasions to go after Adams or Yang. Here and there Adams or Yang had a few harsh words for her, but she didn't respond. "Try doing a snow day," Garcia said when asked about staying above the fray. "I'm getting elbows from everybody. I've got 8.4 million elbows coming at me."
Even if absentee ballots and ranked-choice runoffs don't go her way, Garcia's campaign still outperformed expectations and managed to overcome early questions of viability as she climbed a very steep hill in short time. Garcia attributes her success to "an incredible discipline on the message of the campaign, being willing to put the time in to do the hard work of getting that message out, [and] doing the fundraising that was required," she said on Max Politics. Endorsements from the Times, the Daily News, State Senator Liz Krueger, Assembly Member Danny O'Donnell, Congressional Rep. Nydia Velazquez, the League of Conservation Voters, StreetsPac, and Planned Parenthood were also "incredibly helpful," Garcia said.
Frequently criticized from the left for not being progressive enough in her policies -- something noted by Times editorial board member Mara Gay in the preceding Max Politics podcast, even as Gay expressed pride in the Garcia endorsement and what the Times' stamp of approval meant for Garcia's campaign -- Garcia rebutted: "some of the most progressive policies that passed in the last administration were ones that I did." She pointed to the new "commercial waste zones" law that is projected to take "18 million truck miles...off the street," and other environmental justice and waste equity efforts.
"I'm actually doing the work, I'm not hashtagging the work," Garcia said. Her campaign has focused not only on running government well but a vision around climate resiliency, housing, and transit improvements for a modern, more liveable city. She has also stressed public safety and the need to combat gun violence, often taking some of the more hard-line stances along with Adams and Yang.
When Garcia came out in support of raising the charter school cap, some were skeptical of the stance, which seemed to confirm her depiction as a moderate. Although several other top tier candidates in the race are supportive of charter schools (or are at least less critical of them than de Blasio), Garcia took the strongest position of support.
"Charter schools give kids an option. I care about that first grader who is starting school who does not have time for me to fix it," Garcia told Max, defending her position. As a New York public school graduate who sent her kids to the "decent elementary school up the block" in Brooklyn, Garcia explained that she "[wants] to make New York City public schools the crown jewels that they should be," but "they're not all great right now." Her priority is to "do what the kids need right now," and for her, the publicly-funded, privately-run charter schools are part of that immediate answer.
Garcia further contests the characterization of her policies as moderate, explaining on the podcast, "I really focus on families and kids and what makes it so they can do better here. How do they economically thrive? How do they get the best education? I don't actually find that moderate, I find that pretty progressive." Attacks on her alleged centrism won't hurt her, Garcia asserted, saying, "I don't think I left any votes on the table. I think that they are all going to come through."
And while many labor unions went with other candidates, Garcia also thinks her campaign was successful among individual union members, on top of the Teamsters, who endorsed her. "I think I was pulling through the teacher's union, I mean my sister is a teacher," she said on the podcast, adding that she also thought she was "pulling from people from DC37 who know me through the food program."
Thinking back on her campaign, Garcia expressed satisfaction with her performance, saying, "the only thing I really wish is that we had been able to push faster out of the Zoom world because I felt much more comfortable once I could be talking to voters. Zoom ended up being a real barrier to having a lot of those conversations." But, she "didn't want to risk the health of [her] staff," acknowledging the practical health limitations her team was dealt.
As a political newbie, Garcia said she was surprised by "the amount of political favors that were...at play because [she] didn't have any." Courting single-issue groups and fundraising were also new for Garcia, who was drastically outspent by Adams, among others, which she said "gave him some extra running room that I just didn't have."
Although she wishes money didn't matter in politics, she said, "I am thankful for the campaign finance board and the matching funds that made this campaign possible, but we ran very tight through most of this because I'm not rich."
Despite her pitch to voters as the best candidate to be able to manage city government as the next mayor, given the demanding nature of a candidacy for the office in New York, Garcia said she couldn't be really help manage the campaign, but that her "job was very specific as a candidate and [she] was responsible for getting the message out there, being in touch with the strategy and doing the fundraising." By delegating responsibility and "empowering" her campaign manager and team, Garcia was able to run a campaign she was satisfied with, although she made it clear that she "was a little bit in front" of the team at times, and "kept my communications team hopping."
Garcia wouldn't say if it isn't going to be her as the winner whether she prefers Wiley or Adams, keeping up her tact that she is keeping all of her rankings and preferences to herself. "I'm going to try to be in this to win it until the final day and then we will figure out what I'm going to do next," she said in parting.
[LISTEN: Max Politics Podcast: Kathryn Garcia Sees a Path to Victory]