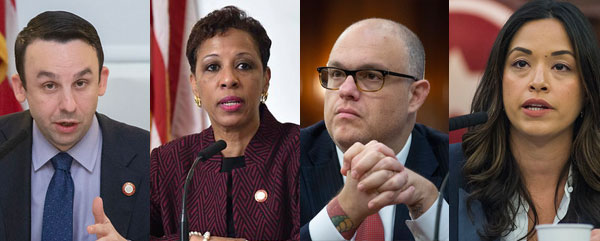 (l-r) Council Members Keith Powers, Adrienne Adams, Justin Brannan, Carlina Rivera
---
The New York City Council is set for seismic change, as new members will be elected to more than two-thirds of the 51 seats this year. With those new members will come the election of a new Council speaker to preside over the legislative body and exert control of its agenda, and four Democrats are already vying for the powerful position.
Council Member Justin Brannan from Brooklyn, Council Members Carlina Rivera and Keith Powers from Manhattan, and Council Member Adrienne Adams of Queens have all declared their runs for the speakership and have spent months, even years, laying the foundations for their bids. To varying degrees they have been building relationships with labor unions and county party organizations, and have taken active roles in supporting and promoting candidates running for City Council seats this year. Though unofficial results are now becoming apparent in most primaries, it still remains to be seen which speaker candidates' bets will pay off and who will have the requisite 25 votes, besides themselves, to become speaker next year.
The speaker's race isn't a public election in the true sense. While the proceedings are available for all to see, it is an internal vote of City Council members decided in advance through a confluence of individual relationships, complicated alliances, and influential power brokers with varying spheres of influence. The leadership of the Democratic county organizations play a role, as do congressional representatives and other elected officials from around the city and the powerful labor unions who want an ally at the head of the Council. There's also no denying the power of the mayor, whether as friend or foe, that could determine the outcome of the race.
The official vote will occur in January of 2022, once the new City Council class is seated. The winner will, along with the new mayor, be among the two most powerful New York City elected officials in setting the government's course.
"It's not an external game," said Chris Coffey, a consultant with Tusk Strategies, who helped Corey Johnson become speaker in 2017. "You're not looking for 300,000 votes. You're looking for 26 votes within this body that has a lot of stakeholders."
It's nearly impossible to game out a speaker race, particularly six months ahead of the vote, but candidates have been making increasingly assertive efforts to woo support. There have only been five speakers since the current version of the position was created in 1989, and four of them represented districts in Manhattan.
In 2013, Mayor Bill de Blasio helped broker a deal with progressive Council members from Brooklyn to assist his preferred candidate, Melissa Mark-Viverito, in winning the speakership after she had built significant support among other progressives amid the newly-elected class of members the last time there were so many open city government positions. In 2017, when the speakership went to Johnson, he was backed by the combined power of the Queens and Bronx county parties, along with several other key relationships he had developed.
The Bronx continues to maintain some power and its eight Council members still tend to vote in a bloc, following the direction of the county party, though it is unclear if that will still be the case heading into the next speaker vote given the massive changing of the guard in the borough.
The Queens Democratic Party has been diminished in recent years with clear splits between districts home to moderate members and parts of the borough where more progressive candidates have been willing to break from the establishment. After now-Rep. Alexandria Ocasio-Cortez defeated then-Queens Democratic Party leader Joe Crowley in 2018, Rep. Gregory Meeks took over and has been trying to rebuild cohesion and influence.
Brooklyn, similarly, has fractured allegiances while Manhattan has long lacked a cohesive Democratic organization. Staten Island's three Council members (recently two Republicans and one Democrat) also offer potential votes to whichever speaker candidate can appeal to them.
There is also talk of a wildcard campaign by Tiffany Cabán, a Democratic Socialists of America-endorsed candidate who seems set to win the District 22 seat in western Queens. A Council source said Cabán is making an aggressive push to counter a likely Eric Adams mayoral administration; another source familiar with the speaker race said Cabán spent the weekend calling potential Council members to gauge their support. A source close to the Cabán campaign later said that the calls were not meant to lobby members but to congratulate them on their victories. "She has no plans to run [for speaker] right now," they said.
Each of the four clear current candidates for speaker seems to have a similar pitch. They all say they can build consensus in a diverse body representing the interests of 51 districts, each with its own particular demands and peculiarities. But it's the behind-the-scenes jockeying that really matters and that political observers and consultants are paying attention to. The gladhanding, the endorsements of candidates and policies, the pats on the back, the racial, ethnic, gender, and geographic factors, the quid pro quo.
Ahead of the June primary election, Brannan, Rivera, and Powers endorsed dozens of City Council candidates, overlapping in many cases. They lent their resources to those candidates, campaigned with them, in some cases donated directly to their coffers or sent campaign volunteers to help canvas their districts. Adams has shown little activity, on the other hand, and endorsed fewer candidates, though she had the only challenging primary of her own to contend with. While Powers and Brannan were unopposed in the primary, Rivera had vocal but limited opposition, and Adams was being threatened by former Council Member Ruben Wills, who she wound up defeating by a wide margin.
There were notable intersections in some races and divergences in others. For instance, in District 7, Brannan and Powers both endorsed Shaun Abreu, who win his race. Adams and Rivera sat out that race. In District 35, all four candidates supported Crystal Hudson, who also seems to have won. In District 1, all but Brannan endorsed Jenny Low, who has lost the race to Christopher Marte (Brannan did not endorse at all). In District 37, Brannan endorsed recently elected Council Member Darma Diaz, who lost her primary race to community organizer Sandy Nurse, who was endorsed by Rivera. In District 22, Rivera endorsed Cabán, who won a resounding victory. In total, Brannan endorsed 24 candidates for City Council (18 of them won), Rivera endorsed 20 (18 won), Powers endorsed 20 (18 won), and Adams endorsed 12 (10 won).
Observers and consultants who have worked on previous speaker races say that Brannan and Rivera are the main contenders at this point, and each has their fair share of advantages and disadvantages. It also sets up a potential battle between moderate and progressive Democratic camps.
"Part of it will still somewhat depend on who the [Democratic mayoral] nominee is...and who can build bridges and consensus with labor leaders, congressional leaders, county leaders, and new council members," Coffey said.
Rivera, a Latina from Manhattan with a progressive bent, represents District 2, which covers the East Village, Flatiron, Gramercy Park, Rose Hill, Kips Bay, Murray Hill and the Lower East Side. She chairs the Committee on Hospitals and created the Office of the Patient Advocate, while also pushing measures to tackle racial disparities in health outcomes and pay disparities for health workers. She's been a proponent of expanded pedestrian space and bike lanes, and for the city's outdoor dining and open streets programs – she successfully sponsored legislation to make the open streets program permanent. She also co-chairs the Council's Women's Caucus and has sponsored anti-sexual harassment legislation and helped establish a first-in-the-nation Abortion Access Fund.
Her candidacy for speaker resembles Mark-Viverito's, and she could benefit from a majority of women being elected to the Council, which appears likely after efforts led by Mark-Viverito and others, and a big jump from the current 14. Rivera made an overt appeal to building that majority, endorsing a slate of women candidates in open Council races across the city. She has also moved further left and tried to get closer to the city's branch of the Democratic Socialists of America (in 2017, she joined DSA and sought the group's endorsement when she won her Council seat). The DSA has been winning state legislative seats and ran a slate of six City Council candidates, seeking to play an active role in determining who becomes the next speaker. Only two of the six appear to have won, and they were the two Rivera endorsed: Tiffany Caban in Queens and Alexa Aviles in Brooklyn.
Rivera contributed $1,000 from her own campaign committee to six of the Council candidates she endorsed, all women, and gave personal donations to five others.
"Considering we'll see like two-thirds of brand new members, there's a limited number of veterans who are there," said Dr. Christina Greer, political science professor at Fordham University. "So supporting Rivera makes sense at a whole host of levels. Manhattan, woman of color, a woman, a veteran in the sense that she's not one of the incomings and has a good chance of getting her colleagues to coalesce around her."
Rivera, who was not made available for comment, may be the preferred candidate for progressives, though winning their support may be complicated. Last year, in the wake of the Defund the NYPD movement, she was one of the few Council members who voted against the budget because it did not go far enough to cut funds from the police department (a vote that won her praise from activists but scorn from the the Council speaker and other Council members). This year, when the police budget was increased, she voted for the budget.
"We're going to do everything we can to make sure that there's a speaker that is going to be willing to be oppositional to the mayor, because we're planning to be oppositional to the mayor," said a Democratic Socialists of America member who wished to remain anonymous. Specifically pointing to the failed efforts at defunding the police, they said, "We don't want to see another Corey Johnson or someone that's more right wing. We want someone that's going to be willing to flex their legislative muscles."
Brannan has been following a similar playbook that Johnson did by spending the last several years slowly building the coalition he will need to become speaker. He has built institutional relationships with the Democratic establishment and labor, and he was ubiquitous in the primary election, issuing many endorsements, phone banking, knocking on doors, and otherwise canvassing voters on behalf of candidates, participating in get out the vote operations, boosting candidates he endorsed on social media, and even collecting petition signatures for those he endorsed.
"You need to be the manager of the baseball team, not the star," Brannan said in a phone interview discussing his bid to become the next speaker. "You need to wake up every day thinking how can I make sure everyone has what they need to deliver for their districts. Above all, it's your job to support the members so they shine and succeed. Their priorities are your priorities. This body is made up of 51 incredibly unique districts and a one-size-fits-all approach doesn't work. For me, it's also about making sure the so-called 'outer' boroughs have a seat at the table. We're tired of being ignored by City Hall and fighting over crumbs out here."
Brannan represents a district that includes Bay Ridge, Dyker Heights, Bensonhurst and Bath Beach, and while he has progressive politics (he endorsed Bernie Sanders for president in the 2020 primary and is backed by the Working Families Party) he also plays a middle ground (he endorsed Eric Adams for mayor this year) with a focus on making government work better for communities, and is seen as a potential consensus candidate among moderates, labor, county party organizations (especially the Bronx and Brooklyn), and even some more progressives members. He made a concerted effort to endorse a slate of candidates that included several women of color, and was more focused on the Bronx than the other candidates, clearly putting in significant effort in the borough to garner support from the county party and the new borough delegation in the Council.
Brannan chairs the Committee on Resiliency and Waterfronts, a particularly salient assignment for his district on the Southern Brooklyn waterfront. Along with then-Council Member Costa Constantinides, Brannan co-sponsored legislation to mandate the creation of a five-borough climate resiliency plan. He has been an ardent supporter and ally of organized labor, particularly uniformed unions and taking on the cause of equal pay for EMS workers.
Powers similarly endorsed a large slate of candidates and went all out to help them win. He too criss-crossed the city "from Riverdale to Rockaway" to campaign with candidates to make sure "that we have a Council that is responsible, that is responsive, and is right for the moment," he said in an interview.
Powers, some observers say, could be a compromise candidate between Brannan and Rivera. He spent between $500 and $1,000 in campaign committee money to help other candidates in their races including Althea Stevens, Eric Dinowitz, Jennifer Gutierrez, Selvena Brooks-Powers, Kevin Riley, Sandra Ung, and Diana Ayala. He even contributed $1,000 to Rivera's reelection campaign.
"I've always had to be a consensus builder in the City Council, which I think will be increasingly important in the next term," he said in a phone interview, "and I'm eager to help the city through its recovery...and to make sure that that recovery is inclusive of all neighborhoods and the entirety of the city."
Powers' district includes some of the Upper East Side, Carnegie Hill, Yorkville, Central Park South, Midtown East, Times Square, Koreatown, Stuyvesant Town and Peter Cooper Village, Waterside Plaza, Tudor City, Turtle Bay, Murray Hill, and Sutton Place. As chair of the Council's Criminal Justice Committee, he has overseen parts of the effort to close the Rikers Island jail complex, which is set to be shuttered in 2027. He negotiated preservation of affordable housing at Waterside Plaza, helped in the passage of the East Side Coastal Resiliency Project, and was a leader in the effort to create the 14th Street busway. His priorities include reviving the city's tourism and hotel industries and providing support to small businesses, all of which were decimated by the pandemic.
Adams, meanwhile, is stressing the importance of representation in city leadership. She would be the first Black speaker of the City Council if she wins. "I think that it's important that New York City makes history again," she said in a phone interview. "I love firsts. You know I was the first woman elected to represent District 28 and I think this would be an amazing first for the city."
In particular, Adams said she is best qualified to initiate the newly-elected members of the Council. "My work within the Council and my work also as far as management is concerned," she said. "I think it's going to be really important for my new colleagues coming in who are not experienced in governance to have mentorship that has a background in, again, management and education."
The results of the Democratic mayoral race will be key, observers say. Both Adrienne Adams and Brannan endorsed Brooklyn Borough President Eric Adams, while Rivera and Powers did not endorse in the tense primary.
Brannan has a strong relationship with Eric Adams and if Adams is the likely next mayor -- which he is after winning the Democratic primary -- he could help secure the votes for Brannan if he decides to put his finger on the scale. However, with a mayor from Brooklyn, it's possible that other stakeholders may want to temper the borough's influence by picking a speaker from another borough, especially given that Public Advocate Jumaane Williams, a Brooklynite, is set to win reelection and Brooklynite Brad Lander appears set to become city comptroller.
Council Member Adams' endorsement of Eric Adams went against the wishes of U.S. Rep. Gregory Meeks, who chairs the Queens Democratic Party and supported the mayoral campaign of former Citigroup executive Ray McGuire. Without Meeks in her corner, Adams would lose key, if not essential, support in the speaker race.
City Council and Other 2021 Primary Endorsements by the four Council Speaker candidates:
Justin Brannan
City Council:
Manhattan:
Julie Menin (District 5)
Shaun Abreu (District 7)
Carmen De La Rosa (District 10)
The Bronx:
Eric Dinowitz (District 11)
Marjorie Velázquez (District 13)
Pierina Sanchez (District 14)
Althea Stevens (District 16)
Amanda Farías (District 18)
Queens:
Sandra Ung (District 20)
Linda Lee (District 23)
Shekar Krishnan (District 25)
Nantasha Williams (District 27)
Lynn Schulman (District 29)
Brooklyn:
Lincoln Restler (District 33)
Jennifer Gutiérrez (District 34)
Crystal Hudson (District 35)
Henry Butler (District 36)
Darma Diaz (District 37)
César Zuñiga (District 38)
Josue Pierre (District 40)
Farah Louis (District 45)
Ari Kagan (District 47)
Mariya Markh (District 48)
Staten Island: Amoy Barnes (District 49)
Brooklyn Borough President: Robert Cornegy, Jr.
Comptroller: Brad Lander
Mayor: Eric Adams
Manhattan District Attorney: Tahanie Aboushi
Carlina Rivera
City Council:
Manhattan:
Jenny Low (District 1)
Erik Bottcher (District 3)
Julie Menin (District 5)
Carmen De La Rosa (District 10)
The Bronx:
Eric Dinowitz (District 11)
Marjorie Velázquez (District 13)
Pierina Sanchez (District 14)
Althea Stevens (District 16)
Amanda Farías (District 18)
Queens:
Sandra Ung (District 20)
Tiffany Cabán (District 22)
Linda Lee (District 23)
Shekar Krishnan (District 25)
Lynn Schulman (District 29)
Selvena Brooks-Powers (District 31)
Brooklyn:
Jennifer Gutiérrez (District 34)
Crystal Hudson (District 35)
Sandy Nurse (District 37)
Alexa Avilés (District 38)
Shirley Paul (District 46)
Bronx Borough President: Vanessa Gibson
Rivera did not make any endorsements in citywide races, nor the races for Manhattan borough president and district attorney races.
Keith Powers
City Council:
Manhattan:
Jenny Low (District 1)
Erik Bottcher (District 3)
Kim Moscaritolo and Julie Menin (District 5)
Shaun Abreu (District 7)
Carmen De La Rosa (District 10)
The Bronx:
Eric Dinowitz (District 11)
Kevin Riley (District 12)
Marjorie Velázquez (District 13)
Pierina Sanchez (District 14)
Althea Stevens (District 16)
Amanda Farías (District 18)
Queens:
Sandra Ung (District 20)
Linda Lee (District 23)
Lynn Schulman (District 29)
Selvena Brooks-Powers (District 31)
Brooklyn:
Lincoln Restler (District 33)
Jennifer Gutiérrez (District 34)
Crystal Hudson (District 35)
Rita Joseph (District 40)
Powers did not endorse in the citywide races or those for Manhattan borough president and district attorney.
Adrienne Adams
City Council:
Manhattan:
Jenny Low (District 1)
Carmen De La Rosa (District 10)
The Bronx:
Marjorie Velázquez (District 13)
Pierina Sanchez (District 14)
Althea Stevens (District 16)
Amanda Farías (District 18)
Queens:
Sandra Ung (District 20)
Ebony Young (District 26)
Selvena Brooks-Powers (District 31)
Brooklyn:
Jennifer Gutiérrez (District 34)
Crystal Hudson (District 35)
Alexa Avilés (District 38)
Comptroller: David Weprin (rank #1) & Corey Johnson (rank #2)
Mayor: Eric Adams
Queens Borough President: Donovan Richards
Manhattan District Attorney: Tahanie Aboushi
Note - this article has been updated with a comment from a source close to Tiffany Caban's campaign and with an updated list of endorsements for Keith Powers.