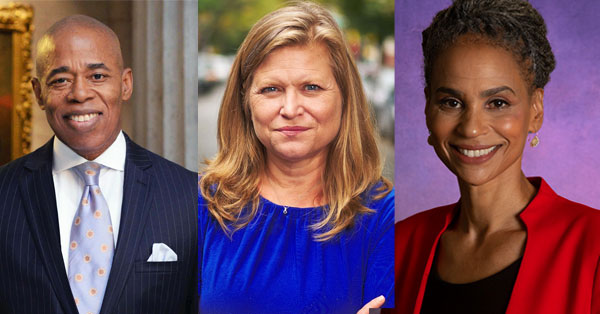 (l-r) Eric Adams, Kathryn Garcia, Maya Wiley
---
Brooklyn Borough President Eric Adams claimed victory in the Democratic mayoral primary on Tuesday, with 50.5% of ranked-choice votes after almost all absentee votes were counted, beating former sanitation commissioner Kathryn Garcia by one percentage point. He credited "an historic, diverse, five-borough coalition led by working-class New Yorkers" for propelling him to victory.
But both because of and in order to assemble that coalition, Adams was the beneficiary of the the second-most spending in the primary, with his campaign expenditures and outside spending on his behalf totaling just under $17.8 million through the day before primary day, according to the latest disclosures with the New York City Campaign Finance Board.
That spending to help Adams win the primary was more than the combined total spending on behalf of Garcia and third-place finisher Maya Wiley, the former mayoral counsel — through the day before primary day, the totals of their campaigns and outside support was $17.2 million.
Primary election spending figures are not final, with additional disclosures from campaigns and independent expenditure committees due July 15. The campaigns will have to continue reporting fundraising and expenditure through the November general and after, as campaigns wind down.
Overall, Adams' campaign spent just over $10 million as filed before primary day, second only to former Citigroup executive Ray Mcguire, whose campaign spent over $12.1 million and finished a distant seventh in the still-unofficial count. Adams' campaign was the beneficiary of $7.7 million in outside spending by so-called Super PACs, political action committees created for the purpose of supporting or opposing candidates and issues in the election. The independent expenditures in Adams' favor were the most of any of the Democratic mayoral candidates, and they were powered by hedge fund billionaires, wealthy charter school proponents, and labor unions that backed Adams' candidacy.
In comparison, Garcia's campaign spent $8.1 million overall per filings through the day before primary election day, and benefited from just under $200,000 in outside spending by one group, New Generation of Leadership PAC. Wiley's campaign spent more than $6.7 million as filed before primary day and received more than $2.2 million in outside support.
Entrepreneur Andrew Yang, who came in fourth in the unofficial primary count, saw his campaign spend $9.6 million through June 21 and got more than $3.8 million worth of outside support, much of it funded by the same donors who backed Adams. Comptroller Scott Stringer's campaign similarly spent $9.6 million and got $4.75 million in outside support, largely from the teachers union.
McGuire and former federal housing secretary Shaun Donovan were among those who saw significant independent expenditures (IEs) in their names, though both first-time candidates failed to break through to voters. Outside groups spent $5.74 million to support McGuire and $6.5 million to support Donovan, most of which was funded by the candidate's wealthy father.
To raise more than $10 million for his campaign itself, Adams received 9,409 donations totaling about $6.16 million in private support (an average donation of just under $655) and earned $6.45 million in public matching funds.
Adam's most prominent outside supporter was Strong Leadership NYC, a PAC helmed by Jenny Sedlis, who took temporary leave from her position as executive director of StudentsFirstNY, a pro-charter school and education reform lobbying group. The PAC alone spent $6.26 million supporting Adams through the day before primary day, and its top funders include hedge fund managers Steve Cohen, Daniel Loeb, and Kenneth Griffin. "The strongest candidate ran the strongest campaign," Sedlis said in a phone interview. "An IE can never win the race for a candidate. They can only augment that candidate's message and supplement what the campaign is doing."
The PAC made an early strategic decision to shore up support for Adams among Black voters with millions in radio and television ads through most of the campaign. The group brought in ad executive Terrance Green, who previously worked on outreach to Black voters for Joe Biden's presidential campaign. In the later stages of the race, the group pivoted to Latino voters. Both those constituencies were crucial in the primary and Adams handily won them.
The Hotel Trades Council also made an independent expenditure effort during the election, with more than $1 million focused on supporting Adams' campaign. Neal Kwatra, a consultant with Metropolitan Public Strategies, ran the outside effort, which included television, streaming, and digital ads particularly targeted to Latino voters and Spanish-language speakers, he said.
"There was a big focus on Latino voters who we, from our research, saw as a very pivotal swing group," he explained on the Max Politics podcast. "We sort of had a sense that the campaign, you know, knew what they were doing in terms of the base of Eric's vote so we spent a lot of time on Latino voters and older voters writ large in the diverse communities where we knew his votes needed to come out."
A spokesperson for the Garcia campaign pointed out in a phone interview that the campaign was able to come within one point of victory with far fewer resources. "It feels like we accomplished something really, really big," said the spokesperson, who requested anonymity. "It feels like we were able to do something that is not done very often in politics...Even without some of that big IE or financial backing, we were able to develop, I think, very personal, real relationships with voters and be out there every day talking to people, and to come within that 1%...To come so close and to start where we started...It's a huge achievement."
Other outside supporters of Adams included the Empire State 32BJ SEIU PAC, affiliated with the property service workers union. The PAC spent about $288,000 supporting Adams with messages focused on its membership, union workers, and working class New Yorkers more broadly. "When you look at that margin of victory, right, and it was a close election, folks like me who have been doing this for a long time know everything counts," said Candis Tolliver, vice president and political director for the union.
"I'm hoping that what happened here in New York City, people are going to see the cross-section of everyday, working-class New Yorkers who came together and brought me to become, potentially, the Mayor of this city," Adams said on CNN New Day in a victory lap interview on Wednesday.
[READ: Eric Adams Wins Democratic Nomination for Mayor of New York City]
There was some marginal oppositional spending of $20,555 against Adams. (There was also $175,000 spent against Andrew Yang.)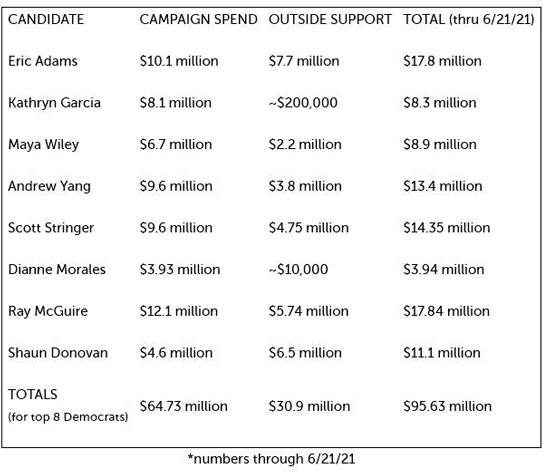 Gabe Tobias of Our City PAC, which was created to promote progressive candidates in the election, pointed out that though outside spenders were heavily involved in the primary, most did not get the results they sought. "I think the good side is all that money didn't buy everyone what they wanted. You had these massive Super PACs for Ray McGuire, Shaun Donovan. Those guys went absolutely nowhere...And you could probably make the argument that Eric Adams didn't win because he outspent right," Tobias said.
What remains to be seen, Tobias emphasized, is whether Adams will be the first "blue-collar mayor" of the city as he campaigned on being or if he will be beholden to the monied interests that boosted his prospects. "For Eric now, honestly, the choice is on him," Tobias said. "I think he's gonna have to prove that he is the working class man that he says he is, and not somebody who just came in aligned with special interests who funded his campaign."