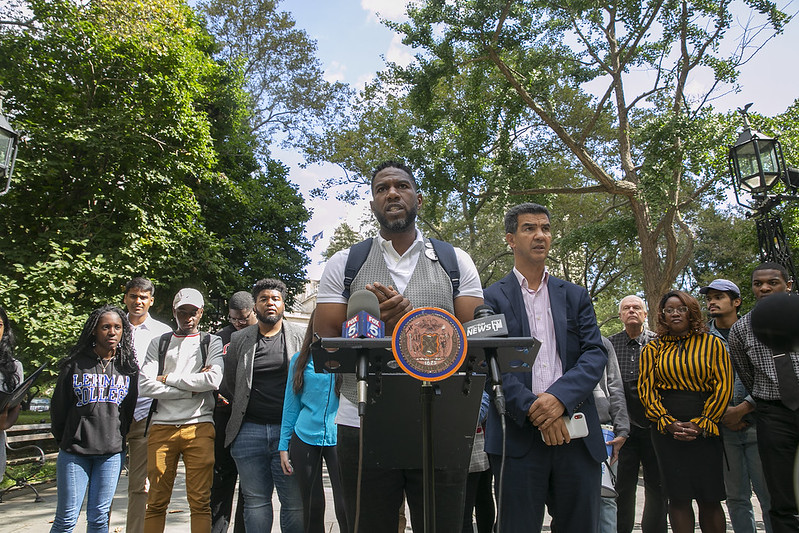 Jumaane Williams (photo: William Alatriste/City Council)
---
After coasting to victory in the Democratic primary as he seeks his first full term as New York City Public Advocate, Jumaane Williams discussed his top priorities, reaction to the victory of Eric Adams in the mayoral primary, whether he is considering a 2022 run for governor, and more during a recent appearance on the Max Politics podcast.
Williams is heading into the general election against Republican Devi Nampiaparampil and others who will be on the ballot, but he is expected to win easily given Democrats' overwhelming voter enrollment advantage and the nomination of the unknown Nampiaparampil. Williams was first elected in a 2019 special election to replace Letitia James, who is now the state Attorney General. Before that, Williams narrowly lost a 2018 primary challenge to Lieutenant Governor Kathy Hochul, where the progressive movement attempted to unseat her and Governor Andrew Cuomo, who handily defeated actor and activist Cynthia Nixon.
"I actually had plans to perhaps not get involved at all," Williams told host Ben Max of Gotham Gazette of his fairly late (June 9) endorsement of Maya Wiley in the mayor's race. The public advocate's job is largely to hold the mayoral administration accountable. "It was really when I started seeing that the conversation about public safety was just going in an incredibly bad direction, and then that's when I figured…OK, let me try to jump in," he said.
Wiley became the progressive candidate in the race that many in the party's left, including Williams and Rep. Alexandria Ocasio-Cortez, rallied around in the home stretch of the race to try to surpass eventual winner Eric Adams, the Brooklyn borough president and former police officer, and Kathryn Garcia, the former sanitation commissioner, both of whom ran on more moderate platforms, opposing calls to reduce NYPD funding and responsibilities. Wiley, on the other hand, ran on reducing the police headcount and budget, and role in certain tasks and crises, aligning much more with Williams' point of view.
A longtime police reformer, Williams expressed concern about some of the positions Adams took during his campaign but remained hopeful about the potential Adams' mayoralty, which is also likely given the city's Democratic tilt.
"I have worked with Eric on a whole host of issues, including gun violence," Williams said. "I know he believes very much in a holistic approach. So, my hope is that the Eric Adams that shows up is the one that I've worked with on all these issues and the one who was talking about the holistic approach, and not the one that I heard some things said that I'm hoping was said in the moment of a campaign and now when we get ready to govern we'll go back to the things that I worked with him on for a number of years."
Williams declined to go into specifics, instead striking mostly more optimistic notes about Adams and mentioning that when he released the five candidates he planned to rank on his mayoral ballot, Adams was on the list (Williams did not specify an order beyond Wiley at number one, and mentioned his opposition to Andrew Yang and Garcia because of her alliance with Yang in the final days of the campaign).
In the days since Williams' comments, Adams has reaffirmed that "holistic approach," including during and after a meeting with President Joe Biden and other guests to discuss gun violence at the White House.
On the podcast, Williams disagreed with the idea that the primary results reflected a backlash against progressive policies and candidates, particularly in communities of color.
"If you look at, from Buffalo to Brooklyn Borough Hall, people very much were receptive to [progressive candidates]," he said, referencing democratic socialist India Walton's win in the Democratic primary for mayor of Buffalo and City Council Member Antonio Reynoso, whom Williams endorsed, winning the primary for Brooklyn borough president. "I spoke to a Council Member in Rochester, one of the places where they've seen gun violence, who identifies themselves as an [police] abolitionist. So, people are actually being receptive to these ideas."
Williams also referenced his longtime ally Brad Lander, a progressive City Council member who won the Democratic primary for city comptroller with Williams' backing, as another example. Along with Williams, Lander pulled off an upset win with the backing of a number of high-level progressive politicians such as Senators Elizabeth Warren and Bernie Sanders, Reps. Ocasio-Cortez and Jaamal Bowman, and many other individuals and groups.
"What we have to do in the progressive world is respect Black and brown leadership, respect Black and brown experiences, and work with that," said Williams, who is of Caribbean heritage and a former City Council member representing parts of Central Brooklyn. "My hope is that we will learn that when we go into these communities we have to show a little bit more respect to those experiences. Once we do that, the conversation is going to be a lot easier."
If reelected in November, Williams said his priorities are about creating a new normal in the COVID-19 recovery. "As we're reopening, it really is about making sure that we don't go back to normal because normal simply didn't work for most New Yorkers," he said. "...I'm hoping as Public Advocate I can continue to push that conversation. It's an important one, it's one that takes time, and it's one that takes some courage."
Williams spoke specifically about the issue of gun violence, which has been increasing from record lows over the past year and a half and was a major focus of the mayoral primary that Adams won. When he was appearing on the podcast, Williams was actually on an upstate tour to discuss combating gun violence with leaders in Buffalo, Ithaca, Rochester, and elsewhere, including the aforementioned Walton and Rochester Council member, whom he didn't name.
"People are concerned. They see gun violence going up and they're rightfully concerned about what the plan is to address it," Williams said. He stressed as he has in the past that law enforcement has a real role to play in reducing gun violence but that there must be a well-rounded approach and that he's working to win more investments in community programs of various kinds, from jobs to violence interruptors.
Governor Cuomo had declared a statewide gun violence emergency the day before the July 7 podcast conversation. Williams commented that "listening to the Governor... at his press conference, it was really good to hear so many of the talking points, so many of the plans being put into place that we have been pushing for quite some time."
Asked about his own possible run for governor, perhaps challenging Cuomo in next year's primary, including relative to a tweet he posted July 1, Williams was coy.
"As usual and now clearer than ever, @NYGovCuomo has more than earned himself a primary," Williams tweeted. "These numbers look VERY encouraging if you happen to know anyone who's considering primarying him." Those comments and the upstate travel have sparked more questions."Very honestly, we just won the [public advocate] primary, I am thinking about making sure that we don't take the general for granted and then I have some thinking to do about this stuff. But I really have not" decided, he said. "I haven't done that deep dive and I think folks have a hard time understanding that someone in politics is not always thinking about the chess game. I don't have a full answer for that yet but it's not something I've really run through the mathematics of."
[Listen to the full conversation: Jumaane Williams on Max Politics, July 7 2021]
Ben Max contributed to this story.