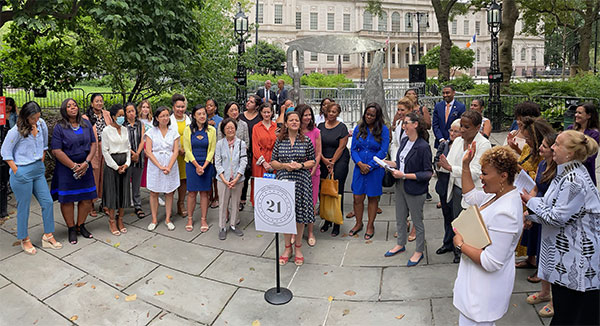 A celebration of women heading to City Hall (photo: @21in21NYC)
---
Triumphant speeches and words of solidarity filled the air at City Hall Park on Tuesday morning. A historic expected majority of women likely to fill City Council seats in January gathered at a press conference, pledging to bring a culture of mutual support and a commitment to underrepresented constituents to the legislative body. They were joined by current and former elected officials, advocates, and others who had been part of the yearslong effort to bring the 51-seat Council, where there are currently 14 women members, toward greater gender balance.
Few if any of those gathered -- brought together by the nonprofit 21 in '21 that had been formed with the goal of electing 21 women to the Council through this year's elections -- expected to be celebrating a likely majority, a doubling of women City Council members with about 29 or 30 women expected to take Council seats after the general election occurs this fall.
In most districts, the Democratic primary is where almost all of the action is, making most of the winners nearly assured full victory in this overwhelmingly Democratic city.
The cohort of Council nominees offers a glimpse at a City Council that is more fully representative of New Yorkers and includes an unprecedented number of women of color, who make up 86% of the women candidates heading to the general election. That group including the Council's likely first Korean American women (Julie Won of District 26 and Linda Lee of District 23), first Muslim woman (Shahana Hanif of District 39), first openly queer, Black women (Crystal Hudson of District 35 and Kristin Richardson Jordan of District 9, though her race is headed to a recount), among other "firsts," like Lynn Schulman, likely to be the first ever openly gay Jewish lesbian in the City Council. The group also includes a number of immigrants and daughters of immigrants, and according to a press release, the next Council is likely to have "11 mothers, giving it a critical perspective that is important to every New Yorker."
While Democrat Felicia Singh of historically Republican District 32 faces a competitive general election against GOP nominee Joann Ariola, the vast majority of the women who won Democratic primaries are poised to win their seats easily this fall. There are a few other general election races that will be at least somewhat competitive where other women could win, but the Singh-Ariola contest will be among the most-watched of the general election up and down the ballot — the district is home to more Democrats than Republicans.
Hanif of District 39, Nantasha Williams of District 27, and Mercedes Narcisse of District 46, would be the first women candidates to represent their respective districts.
"We broke a lot of glass ceilings last week," declared Amelia Adams, who chairs 21 in '21, which was launched with a big push by former City Council Speaker Melissa Mark-Viverito, who Adams used to work for and was on hand to celebrate on Tuesday.
The candidates often faced tough roads to victory, not only many competitive electoral races, but sexism, discouragement, and other barriers to entry that 21 in '21 and other organizations on hand Tuesday seek to knock down. Current and future elected officials -- including Mark-Viverito and New York Attorney General Letitia James, a former City Council member herself -- spoke again and again at the press conference of facing discouragement and resistance along their ways.
"I was told over and over that it would be tougher for me to win," said Hanif.
"We have been told so many times to sit down, fall back, it's not your time," said Vanessa Gibson, a current Council Member co-chairing the Women's Caucus who will likely be the first woman and first Black woman to serve as Bronx Borough President.
"It was a wild dream," said Council Member Margaret Chin, the Council's first-ever Asian American woman representative, of helping to launch 21 in '21 and the hope of 21 women in the Council come January 2022.
"21 in '21 was founded in resistance to an establishment that was not opening its doors and was saying that we had no place at the decision-making table," said Mark-Viverito.
In order to reach that goal — and far surpass it — the organization mobilized a volunteer base, offered trainings, and lent other institutional support to its endorsed candidates. Fourteen of its endorsed candidates ended up winning their primaries, alongside other women who prevailed. Selvena Brooks Powers, who won the 31st district's Democratic primary after serving a partial term in the Council after winning a special election, attested to the help of 21 in '21. The organization is "what propelled me and kept the momentum going," she said. "I am a mother of a toddler and I did not see how this was going to end, but they encouraged me."
Organizers of 21 in '21 and partnering groups argued that ranked-choice voting helped their cause to get more women and people of color elected. A report by election reform group Fair Vote supports the notion that ranked-choice elections lead to a more representative slate of elected officials. In part, ranked-choice voting (which is only in use in New York City in special and party primary elections) means that women and people of color face less pressure to avoid splitting votes.
"This would not be possible without ranked-choice voting," said Rose Pierre-Louis of Rank the Vote NYC, referring to the historic number of nominated women.
As the city saw unusually crowded Council races, many districts had multiple women competing for a seat. The 21 in '21 organization provided ranked-choice recommendations in many of those cases, taking advantage of and encouraging use of the system. In some cases, women who received the organization's support lost to other women — as with Amoy Barnes in District 49, who received 21 in '21's first choice endorsement but lost to Kamillah Hanks.
The majority of candidates at the press conference were first-time elected officials. Carlina Rivera of District 2, Diana Ayala of District 8, Adrienne Adams of District 28, and Selvena Brooks-Powers of District 31 were among the incumbent women present and headed toward reelection (both Rivera and Adams are seeking to become the next Council Speaker, something Mark-Viverito alluded to in her remarks). In District 41, Council Member Alicka Ampry-Samuel had lost in her bid for re-election against former Council Member Darlene Mealy. In District 37, Sandy Nurse unseated Council Member Darma Diaz in her reelection bid.
Some speakers argued that a broader slate of Councilwomen isn't just a symbolic victory — it's a trend that can usher a new culture into the Council. "The public cares about empathy," said Manhattan Borough President Gale Brewer, who is set to return to the City Council representing District 6 after winning her primary over Sara Lind, the former executive director of 21 in '21. "The men have it but the women have it more."
To an extent, the notion that gender plays a role in governing style is supported by research. Women are more likely to take a collaborative approach to politics, for example. An array of studies suggests that better representation of women in politics correlates not only with better outcomes on issues like childcare access and gender equity, but also on health more broadly. (These patterns are affected, and complicated, by factors like race and class.)
With a majority of women and a significant number of women of color representatives, some suggested that the Council will be better positioned to fight for women's rights, health and family care, economic opportunity, and other concerns.
"We're gonna be able to pass policies we've been working on that are four years in the making at the very least," said Rivera, who represents the 2nd district. "We have primary caregivers who have been elected. People who understand that workforce opportunities are limited and that we need to bridge the divide between women in those sectors…where we are historically underrepresented and where we are not at the table."
"We've been pushing for a feminist budget," said Hanif, who has worked for her likely predecessor, Council Member Brad Lander, who is the likely next city comptroller after winning his Democratic primary. Hanif named supporting care workers, reproductive healthcare, domestic violence survivors, minority and women-owned businesses, and efforts to provide free childcare among those priorities, along with progressive movements to increase taxes on the wealthy and defund the NYPD.
While the women presented a united front, they are a diverse group in many ways, and straddle ideological lines within the Democratic Party. For instance, some more moderate current and likely Council members oppose or support calls to significantly reduce NYPD funding.
Calls for mutual support resounded among the women who spoke on Tuesday. "This is a sisterhood that will never leave you," said Marjorie Velazquez, the likely next Council member for District 13. "It's that friendship. It's that solidarity."
Optimism ran high, and many speakers tried to put things in perspective. "We are going to get the job done on gender equity and pay parity and maternal healthcare and access to affordable housing, and build economic stability across the city of New York," said Gibson. "We have no choice. We have been given this incredible responsibility, ladies, and I don't want you to take it lightly. There are little girls out there looking at us and watching us, and we have to represent for them and for everyone else in the city."
Attorney General James closed out the press conference with rousing words of advice for the future lawmakers: "Don't be afraid. Don't be quiet. Be rude. There's nothing wrong with being rude," she said. "​​Because women who are polite never make history!"
Along with 21 in '21, the other participating organizations were Rank The Vote NYC, National Institute for Reproductive Health Action Fund, VoteProChoice, Eleanor's Legacy, Planned Parenthood of Greater NY Action Fund, Emily's List, NY Black Women's Political Club, Dare to Run, and VoteMama.
The women who won Democratic City Council primaries are:
Carlina Rivera, Manhattan District 2
Julie Menin, Manhattan District 5
Gale Brewer, Manhattan District 6
Diana Ayala, Manhattan District 8
Kristin Richardson Jordan, Manhattan District 9 (going to a recount)
Carmen De La Rosa, Manhattan District 10
Marjorie Velazquez, Bronx District 13
Pierina Sanchez Bronx District 14
Althea Stevens, Bronx District 16
Amanda Farías, Bronx District 18
Sandra Ung, Queens District 20
Tiffany Cabán, Queens District 22
Linda Lee, Queens District 23
Julie Won, Queens District 26
Nantasha Williams, Queens District 27
Adrienne Adams, Queens District 28
Lynn Schulman, Queens District 29
Selvena Brooks-Powers, Queens District 31
Felicia Singh, Queens District 32
Jennifer Gutierrez, Brooklyn District 34
Crystal Hudson, Brooklyn District 35
Sandy Nurse, Brooklyn District 37
Alexa Avilés, Brooklyn District 38
Shahana Hanif, Brooklyn District 39
Rita Joseph, Brooklyn District 40
Darlene Mealy, Brooklyn District 41
Inez Barron, Brooklyn District 42
Farah Louis, Brooklyn District 45
Mercedes Narcisse, Brooklyn District 46
Kamillah M. Hanks, Staten Island District 49
Women who are Republican or other party nominees for City Council races are:
Jackie Toboroff, Manhattan District 1
Nancy Sliwa, Manhattan District 6
Vickie Paladino, Queens District 19
Felicia Kalan, Queens District 22
Vanessa Simon, Queens District 31
Joann Ariola, Queens District 32
Inna Vernikov, Brooklyn District 48
Patricia Rondinelli, Staten Island District 49