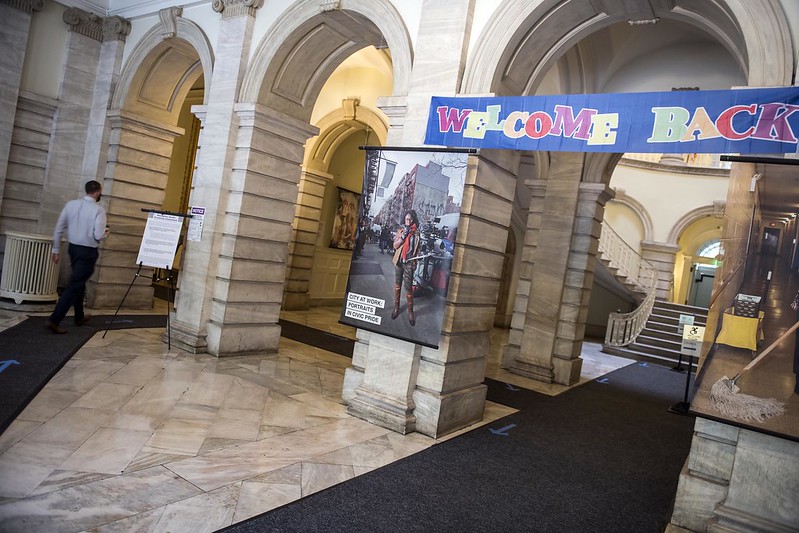 Welcome Back to City Hall (photo: Ed Reed/Mayoral Photography Office)
---
While many employers in New York City and beyond were shutting their doors, laying off workers, and severely cutting operations when the pandemic hit last year, others kept providing essential services. That latter group included New York City government, the country's eighth-largest employer. And while many thousands of city workers shifted to remote work, most did not.
Essential city operations like sanitation, water, schools, fire and police departments, food delivery, and more not only had to continue operations through the pandemic, but three quarters of the city's roughly 400,000 employees never stopped working in-person. It is unclear how many tens of thousands of city workers contracted COVID-19 and how many hundreds died of the virus among the city's larger toll of more than 33,500 confirmed or probable covid deaths.
Currently, aside from workers with "reasonable accommodation" exceptions, all city employees are reporting to the office some of the time, and as of July 6, Mayor Bill de Blasio announced that vaccinated city employees could work in the office without masks or social distancing. And by September, de Blasio said he hopes to see a complete, full-time return to workplaces.
"We know in city government, when people come back to the offices, we get a lot more done," de Blasio said in June.
Earlier this month, the city threw a ticker tape parade for all essential workers, including city employees who reported for duty throughout the pandemic, including health care workers, first responders, sanitation workers, educators, and many others.
The city is continuing its return-to-office implementation, including bringing non-frontline employees back to offices and the planned full reopening of schools in September.
On the third and latest episode of the podcast produced by the New York City Department of Citywide Administrative Services (DCAS), Inside Citywide, DCAS communications director Nick Benson and diversity and equal employment opportunity officer Belinda French interviewed two top officials about how city government kept operations going during the pandemic and what is being done now to manage the ongoing return to offices and workplaces.
Quintin Haynes, the Executive Deputy Commissioner at DCAS, and Steve Banks, the First Deputy Commissioner & General Counsel at the New York City Office of Labor Relations (OLR), reflected on the podcast, published July 14, about those massive logistical efforts, key pitfalls, and efforts to ensure all city services have been provided while keeping workers and the public safe.
Banks coordinated rapidly changing labor policies with municipal unions and Haynes "led DCAS' citywide role with our return to office and developing guidelines for city agencies to operate during the pandemic," he said on the podcast.
Banks and Haynes led the buildout of the city's health and safety protocols almost from scratch given that the only precedent the two could look to was the very different and limited Ebola virus outbreak several years ago, which provided their teams with "a little bit of a playbook for how we get the word out" by using the Municipal Labor Committee (MLC), Banks explained. Disseminating information through the MLC, the umbrella organization for city employee unions, made it easy to "get everybody on the same page," according to Banks, who said that consistent, effective communication was "key" to smooth operations.
Given the overwhelming unionization of city employees, union-city communication was paramount to keeping "the labor peace," as Banks put it. Proactively engaging the unions early on potentially sensitive matters before they hear about it from their employees ensured that the city had a constructive, rather than adversarial, relationship with the unions, said Banks. OLR also connected union partners with public health experts so that union officials stayed informed and were able to relay important information to employees, for whom unions are usually a trustworthy source.
The urgent need for swift alterations to the city's labor policies meant that Banks needed to establish a consistent, effective line of communication with union leaders to coordinate updated pandemic policies such as "dealing with health and safety issues, how we were going to do cleaning in the workplace and social distancing and how we were going to deal with absences," Banks said.
"Most of the issues that we dealt with our labor unions were about consistency across and within agencies," said Banks. Unions kept management honest about fairness and equity throughout the process, and in the end, Banks said that "the level of planning that went into everything has helped with a relatively smooth transition."
Even though he had never coordinated contract negotiations remotely, Banks was determined to prove that collective bargaining worked no matter the circumstance. Throughout the discussions, Banks said his primary "goal is always to demonstrate that the process of sitting across the table and collaboratively working out issues...works, and that doesn't just mean it works for the unions and the employees, it works for the taxpayers, for management to be able to operate, the residents of the city who are the recipients of services."
While Banks coordinated with the unions, Haynes was charged with turning the information from the CDC, the state, and other public health authorities that was "coming out like a firehose" into "actionable plans that we could implement and guide agencies who were starting to think through their operations," he said on the podcast.
Leveraging the city's expertise through talent sourcing meant that employees were "deployed from one agency to another just to help in an emergency situation where the need was most acute," Banks said. Inter-agency coordination was also key according to Haynes: OLR dealt with the unions, the Department of Health and Mental Hygiene (DOHMH) thought "through the health guidance and how that impacted not just the city but the workforce," the Law Department helped "think through all the legal ramifications and risk strategies," and Health + Hospitals, the city's public hospital system, led the testing and vaccination efforts.
Managing the 56 city-owned buildings that remained open throughout the pandemic and were used by the public and essential workers required constant communication with tenants, Haynes said. DCAS employees were on-call 24/7 working with tenants to "ensure that their spaces were operational but also give them guidance on how to best utilize their space from an occupancy standpoint, a ventilation standpoint, a safety standpoint," Haynes said.
According to Haynes, throughout the pandemic, city buildings didn't shut down and the majority kept the same amount of use as before the pandemic, but with updated safety infrastructure. De Blasio announced in April a $206 million investment in "rigorous health and safety measures" to prepare the city's buildings for a safe return, saying "New York City will spare no effort to ensure our public servants return to workplaces that are fully equipped to keep them safe." Haynes elaborated on the podcast: with limited, staggered returns starting in May 2020, masks and social distancing were mandated, common areas were closed off, signage directing the flow of traffic was placed around the buildings, water and ventilation systems were upgraded, and cleaning frequency was increased.
DCAS not only had to ensure the continuity of essential city services, but also "had to worry about our own employees," Haynes explained. "Health and safety was paramount as outlined in the [return to work] guidelines that have guided agencies throughout the pandemic," he said.
When thinking through the logistics of bringing people back to the office, Haynes said he considered and implemented "risk-mitigation strategies" such as physical distancing, cleaning, flow of traffic in the workspace, occupancy planning, mask wearing, alternative work schedules, health screening requirements, access to testing, hand washing, PPE access, and vaccination (only "strongly encouraged" for most city employees as of now).
De Blasio recently announced that as of August 2, the city's public hospital and clinic-based health workers -- 40% of whom are unvaccinated -- will either have to get vaccinated or get tested weekly, and face suspension without pay for non-compliance. "We are planning to extend the covid safety requirement to additional Health Department staff beyond our clinics in the weeks ahead," said Dr. Dave Chokshi, the city's health commissioner. But expanding the requirement to all municipal employees, as cities like San Francisco have done in recent weeks, is not something de Blasio has committed to. "We're going down the same kind of road [as San Francisco] and working it step-by-step," de Blasio said. "If we don't see vaccination numbers continue to go up, we're going to push in every way," he later added.
Haynes said his team made sure employees returning to work would "understand how to navigate coming back to the office, what resources are available to them, any teleworking policies that are still in effect, any teleworking policies that have expired, and any leave or other resources that are available to them." Among the resources available, Haynes cited WorkWell NYC, a wellness program that helps employees "think through about how they get back to the office, thinking through childcare options, counseling, etc." WorkWell provides city workers with resources like fitness videos and classes, meditation and mental health webinars, and healthy eating online workshops.
Both Haynes and Banks were very positive about the success of their management through the pandemic and optimistic now with their return to office effort. "Walking around the buildings and talking to employees, it has all been positive. A lot of what I hear is that employees are glad that we are starting to get back to some type of normalcy," Haynes said on the podcast, adding, "you see smiles on people's faces, people are able to give hugs and handshakes and high fives. I'm optimistic, everything that I've heard so far has been positive."
De Blasio has also been very optimistic about bringing city workers back to offices and workplaces, saying in June that contrary to skepticism, "the timing was just right. And people came back, it was done safely. It was done well, but it was also important so that we could serve the people of the city better so that our city workforce could be present and accounted for building our recovery for all of us. It also sent a very powerful message to the rest of the New York City economy. And in fact, major businesses have now followed suit, coming back strong and telling their employees it's time to come back to the office for the good of everyone."