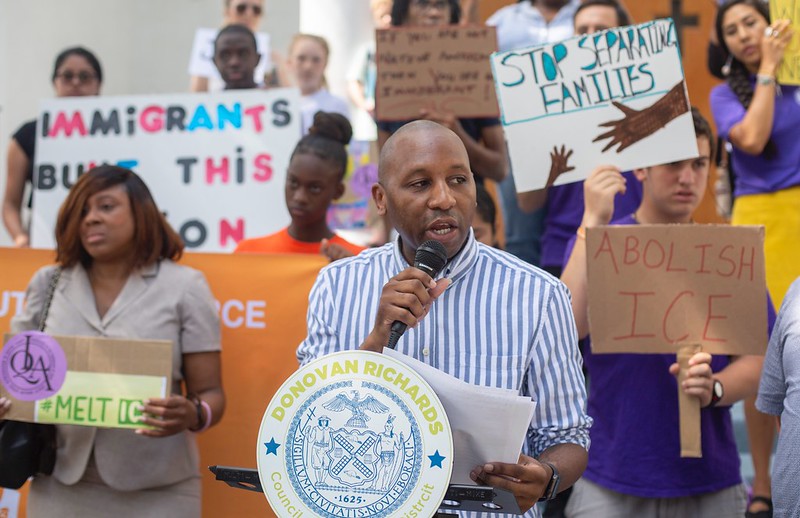 Donovan Richards (photo: John McCarten/City Council)
---
Donovan Richards, who recently secured the Democratic nomination in his quest for reelection as Queens Borough President in a tight and contentious primary, has several top priorities as he continues in the position and if he is able to win a first full term in the position.
Richards was elected Queens Borough President in 2020 in a special election to replace Melinda Katz, who left the post after being elected Queens District Attorney, and he had to begin his reelection campaign almost immediately. Richards is heavily favored in the fall general election against Republican challenger Thomas Zmich given the borough's major Democratic tilt. Richards is the first Black man and only the second Black person to serve as Queens Borough President.
Richards' margin of victory in this year's three-way primary was narrow. He led after the initial count of first-rank votes, but only by 147 votes. After the ranked-choice "instant runoff," which was largely just the elimination of third-place finisher City Council Member Jimmy Van Bramer, Richards ended up with 50.3% of the vote, leading former City Council Member Elizabeth Crowley by 1,044 votes.
Crowley previously represented the 30th District in the City Council from 2009 to 2017, and was the first Democrat to represent a traditionally Republican district. The current Council member for the 30th District, Robert Holden, lost to Crowley in the Democratic primary in 2017 but then defeated her in the general election on the Republican, Conservative, Reform Party, and "Dump de Blasio" lines. Crowley also came in second to Richards in the 2020 special election for borough president, which occurred during some of the worst of the pandemic.
Richards only took office in December 2020, assuming the borough-wide post that has a ceremonial and convening role; several formal powers, especially around land use, community board appointments, and budget funding; and a significant bully pulpit. He immediately began fulfilling the office's responsibilities while also running for reelection and a first full, four-year term in the post.
Richards discussed his tight primary win, his ongoing and upcoming priorities, and other key issues during a recent appearance on the Max Politics podcast hosted by Gotham Gazette's Ben Max.
"We really did spend a lot of our time in the first six months building, doing outreach to other parts of the borough," Richards explained of his short tenure before the 2021 primary. "​​We didn't come in saying, 'We're from Southeast Queens so we're just going to cater to Southeast Queens.'"
He spoke about the challenges his campaign faced due to the pandemic, especially in a borough that recorded some of the highest COVID-19 rates and fatalities in the city. "It's different being on Zoom talking to constituents," he said. "So, we really were cheated out of the opportunity to really be at civic association halls and meeting people in the streets because of the pandemic. I feel now that the borough is opening up, the city is opening up, it's going to give me a chance to actually get out into corners of the borough" where people did not know him that well.
Richards cited his early work on fighting covid, community board reform to make sure the boards are more diverse and representative of their communities, developing the open streets program, and other priorities he's had while in office thus far. But, he said, the two borough president races he's run so far have broken down along demographic lines, especially by race and geography, in a significant way.
"When I look across the borough, quality of life is key," Richards said when asked about what he's taking away from the primary and how close it was, and what he may need to do to address concerns across Queens. He also mentioned getting kids safely into school full time again and public safety, particularly reducing violent crime.
Richards has expressed concern over what he perceived to be racist and racially-charged campaign rhetoric in the primary. When his victory became apparent in early July, Richards accused Crowley of racism, claiming that she insinuated he had only been elected in 2020 because of the resurgence of the Black Lives Matter movement after George Floyd's death. As part of her campaign, Crowley also sent out fake eviction notices that read, "Donovan Richards takes money from developers and landlords who are trying to evict tenants struggling to pay rent during the pandemic." Richards felt Crowley and other candidates stoked voters' fears by implying that candidates of color would be soft on crime.
In a series of tweets on July 6, Richards wrote "@ElizCrowleyNYC told me she would win, because BLM would die? What's good now?" and "We beat your racist ass." When asked on the podcast, Richards contextualized those statements. "It's deeper, it's bigger than Elizabeth Crowley. I spoke for a whole crop of candidates of color who were running in parts of the borough, especially moderate parts of the borough, who were demonized…So, there was clearly, whether she was racist or not, implicit bias attached to the messaging and the fear-mongering is something that I believed I needed to call out in a real way."
Richards said Crowley really tried to seize on his belief that some NYPD funding should be reallocated to community program and accused him of being part of the "defund the NYPD" movement even though he said he had never used that phrasing and that he has always believed in the need to have an effective police department while also making reforms. Richards cited securing funding for a new police precinct in his old City Council district. During his last City Council budget vote, in June 2020, he voted against the budget deal because he felt it did not go far enough in reallocating some NYPD funding toward other agencies and programs.
One of Richards' ongoing goals is improving COVID vaccination rates in Queens, which has several communities with far lower than average uptake rates. He said the city continues to throw resources at the issue and up ongoing measures like going door-to-door.
Gentrification and rising housing costs were a key issue during the campaign, and Richards, who is generally pro-development and growth, spoke at length on the podcast about upcoming plans to develop more affordable housing in Queens. "Since we've been in office," he said, "…we probably approved a little bit north of 3,000 or 4,000 units that are coming through the pipeline, a lot of it deep affordability." Richards also cited a project in Astoria that was being developed in partnership with the Variety Boys and Girls Club of Queens, saying, "We put about $5 million into that project, with a brand new, 100,000-square-foot community center."
"We just broke ground at Willets Point, the first phase, a little bit north of 1,110 units of affordable housing with a school and some retail space and some community space," he added.
"There's still a lot in the pipeline so it's really just about ensuring that HPD [the city's Department of Housing Preservation and Development] is financing a lot of the things that were already in the pipeline. Making sure that Queens gets its fair share," Richards said.
Richards also emphasized that he would like to expand the "right to counsel" for low-income tenants in housing court in more parts of the borough and expand the role of community land trusts in determining how vacant public lands are used, particularly for affordable home-ownership opportunities.
Richards also spoke about the possibility of a massive mixed use development on top of the huge railroad yard in Sunnyside. Richards expressed excitement and described it as "a real key opportunity to bring thousands upon thousands of units of affordable housing online." He also added that he didn't "believe in just doing housing," and that when looking at Sunnyside Yard, "you've got to look at the wrap-around services as well. Schools, transportation, we have an opportunity to build out a connector there which could really play a major role in being a transportation hub."
He called getting to a big project at Sunnyside Yard "of the highest priority."
Richards said he wants to challenge community boards across the borough to identify multiple spots for upzonings for more housing.
When asked about the idea of ending single-family zoning, a proposal championed by mayoral candidate Kathryn Garcia, Richards, the former chair of the City Council zoning subcommittee, was open to the idea but cautious. "I think that it's something that we can explore," he said, "…but I would say starting with the political will, we have to have political will, we have to have a Department of City Planning that's functioning and organized and talking with communities and where there's interest or opportunity to do upzonings, we should look at it." He said surrounding infrastructure is always important when considering larger-scale development, and noted he is optimistic about legalizing basement apartments, a program there is currently a pilot program around.
Richards is considering competing proposals to restore and reinvent the Rockaway Beach Branch of the Long Island Rail Road, either as a transportation project or as a linear park, with two proposals known as QueensLink and QueensWay.
"We're going to look to convene a meeting between all parties, and I've already tasked the office to look at that come September," Richards said when asked which proposal he favors. "I would love to see a combination, in a perfect world we would figure out, "how do we do both?" and I think there's an opportunity but this is going to be one of those times [where]... we must show leadership. We have got to put people in the room who may not agree and figure out how to move forward. This is a real opportunity."
Richards endorsed Eric Adams' successful primary run for mayor and talked about what he hopes an Adams administration could do for Queens, where the Brooklyn borough president actually grew up. "Queens has, largely, never gotten it's fair share of funding resources," Richards said. "I'm expecting Eric to do better for Queens." In particular, Richards would like to see more school seats committed to the borough, the expansion in the borough of the Health + Hospitals, the city's public hospital and clinic system, and more investment in its infrastructure.
Richards is optimistic that Adams will be good for the borough they both grew up in, though Adams is a generation older than Richards. The Democratic mayoral nominee grew up in southeast Queens, not far from where Richards grew up, represented in the Council, and still lives, and Adams went to Bayside High School.
"Eric Adams is from here. He's what I consider FUBU, 'for us and by us,'" Richards said. Adams will "understand what the plight is on the ground," he added, noting that Adams recently visited the White House one day to meet with President Joe Biden about gun violence and then went to Baisley Park Houses, a public housing development in Jamaica, Queens, the next. "That's the sort of mayor I'm looking for," Richards said. "I want you to come from the White House to the projects. And I thought that was telling. I hope that leadership continues but we know we'll have a friend in City Hall."
LISTEN: Max Politics Podcast: Donovan Richards Seeks Reelection as Queens Borough President