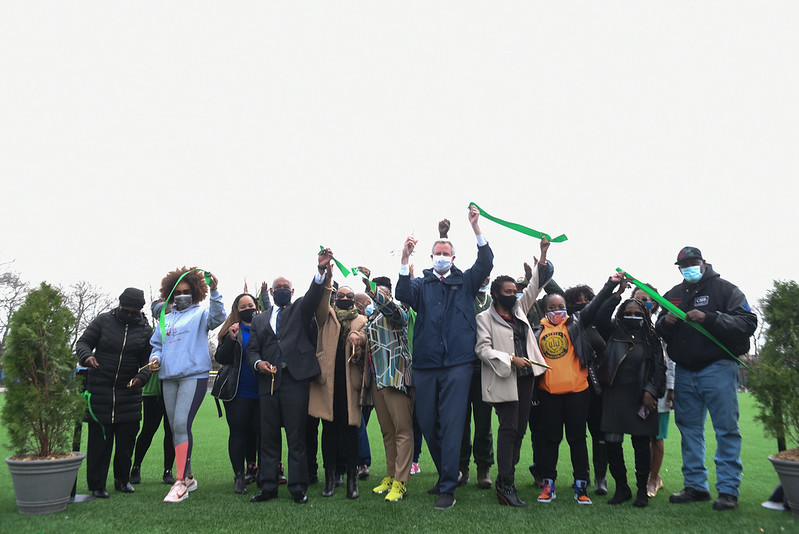 The mayor and others cut ribbon at new park (photo: Michael Appleton/Mayor's Office)
---
The New York City Department of City Planning on Tuesday unveiled a new website that details its ten-year strategy for building and enhancing city infrastructure, including everything from housing and schools to transit systems, roads and bridges, parks, and water and sewage piping.
The ten-year capital strategy evaluates the city's long-term infrastructure needs and is re-issued every two years. It's distinct from the annual capital budget, which projects capital spending in the current and next three fiscal years, as well as the capital commitment plan, which outlines actual capital spending and is modified with each budget release. The ten-year strategy is pegged at $133.7 billion, while the recently-adopted annual capital budget projects the city will spend $17 billion this fiscal year.
"Building on our commitment to harness technology to make government more transparent, the Ten-Year Capital Strategy website makes the City's budget more understandable and easier to navigate than ever," said Department of City Planning Director Marisa Lago, in a statement accompanying the announcement. "By articulating the guiding principles that steer our spending decisions, and breaking down infrastructure priorities and capital investment at the dollar level, this website shows New Yorkers where the money comes from and where it's going. This is the type of information that New Yorkers need to help plan with us for a more equitable, resilient future."
The website breaks down planned spending through city agencies and on specific infrastructure needs. The Department of Transportation, for instance, accounts for $22.8 billion or 17% of the total spending. The Department of Environmental Protection (which handles the city's water, among other things) is nearly the same, at $22.7 billion, as is education and school construction, pegged at $22.2 billion over the next ten years.
A majority of funding, $70.5 billion, or 53%, will go to ensuring city infrastructure is in a good state of repair.
About $33.5 billion, or 25%, is planned expenditure on replacing infrastructure including $8.1 billion for the new borough-based jails system that will build four new jails to replace the Rikers Island facilities; $5.1 billion on water pollution control plants; $3.1 billion on citywide information systems and equipment; $2.5 billion on new and renovated court facilities; $1.9 billion for sanitation equipment; and $1.7 billion on transit system improvements, to name a few.
Another $29.7 billion, or $22%, is slotted for expansion, including $7.9 billion for new schools; $6.9 billion for new affordable and transitional housing; and $2.8 billion for neighborhood revitalization and community development.
The city has pledged $4.3 billion in capital commitments to NYCHA public housing over the next ten years, and the overall capital strategy includes nearly $2.9 billion for constructing and upgrading public housing developments. (Another $300 million will be funnelled through the Department of Housing Preservation and Development (HPD) for NYCHA Rental Assistance Demonstration (RAD) programs.) NYCHA is estimated to need at least $40 billion in capital repairs and upgrades.
The capital strategy also lays out its guiding principles including maintaining fiscal responsibility, promoting holistic planning, creating more equity, and strengthening community outreach.
It projects that debt service (incurred from borrowing funds through the sale of bonds for infrastructure needs) will grow from $7.3 billion annually, about 11.5% of city tax revenue in the current 2022 fiscal year, to $11.1 billion, or 12.6% of tax revenue by the 2029 fiscal year – the city maintains a cap on debt as a percentage of tax revenue at 15%, which experts agree is a good budgeting practice.
The city's annual expense budget, which includes those debt service payments, is separate from the capital budget, though they are intertwined in several ways. The recently-adopted fiscal year 2022 city expense budget totaled just under $100 billion, increased significantly due to a large influx of federal and state funds. The city's new capital budget shows the $17 billion allocated for this fiscal year, and another $50 billion for the next three fiscal years.
The new DCP website outlines priorities for investment including modernizing city facilities, strengthening public health and safety, promoting economic growth, housing affordability and climate resiliency. That includes, for instance, $10 billion to repair and replace the city's 794 bridges and tunnels and $3 billion for the Department of Citywide Administrative Services to reduce energy use and emissions at city-owned properties.
Some investments have also been informed by the impact of the COVID-19 pandemic. For instance, the capital strategy includes a focus on long-term investments in hospitals and health-related infrastructure. There's also $3.6 billion for street reconstruction projects; $274 million for purchasing new ferries and improving waterfront infrastructure; and more.