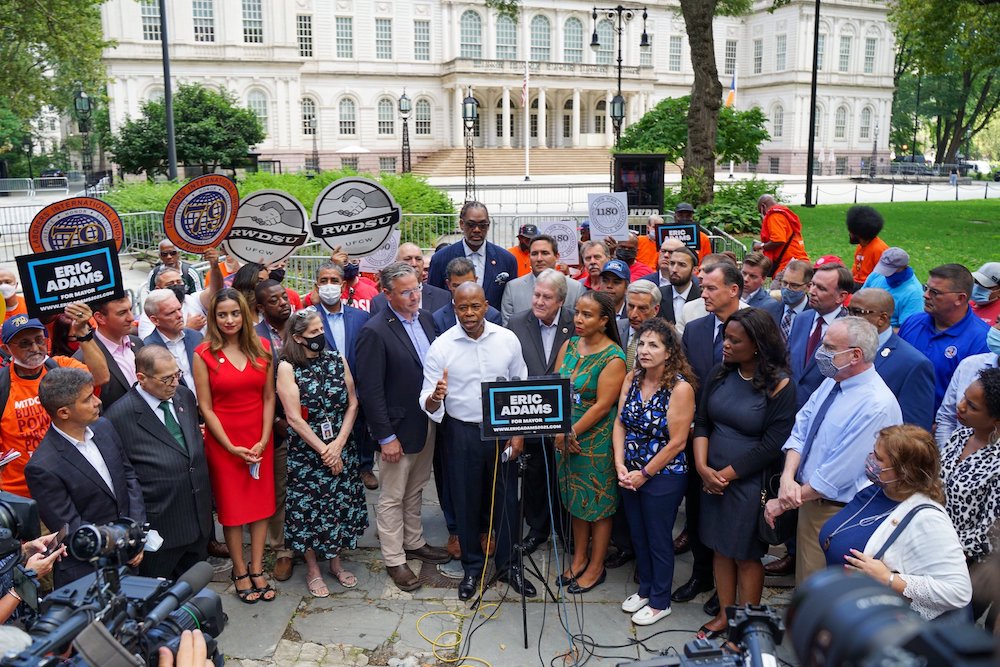 (Photo: @kallos)
---
Eric Adams, the two-term Brooklyn borough president and Democratic mayoral nominee, kicked off his general election campaign on Monday with a rally at City Hall Park where he was endorsed by dozens of Democratic elected officials, including Mayor Bill de Blasio.
"I'm going to work harder, intentional, determined," Adams said, standing with members of Congress, the state Legislature, the City Council and labor leaders. "I'm going to give New Yorkers the spirit that just as they get up every morning and fight for this city, you're going to have a mayor that's going to fight for you."
Adams narrowly won the crowded Democratic primary in June on a message of tackling crime, reforming the police and making city government more efficient. Though he ran as a relatively moderate candidate, he calls himself a progressive and his campaign platform included several progressive positions and policies on everything from education to housing and transit. In the November general election, he will face Republican nominee Curtis Sliwa and other candidates, but Adams is all but assured to win owing to the overwhelming voter enrollment advantage that Democrats enjoy in the city.
Among the Democrats who endorsed Adams on Monday were U.S. Senators Kirsten Gillibrand and Charles Schumer, though they did not make appearances at the rally. State Comptroller Tom DiNapoli, and U.S. Reps. Gregory Meeks, Grace Meng, and Jerrold Nadler all stood by Adams as they endorsed him. Meeks, Meng and Nadler had each previously endorsed other candidates in the primary.
"Borough President Adams brings decades of substantial professional bona fides and a unique lived experience to the job, and I look forward to working with him to maximize federal policy and material support to help New York City defeat Covid and continue its robust and just economic recovery," Schumer said in a statement.
"New York City is in a pivotal juncture as it recovers from the pandemic and it needs a Mayor who will fight tirelessly to rebuild it into a stronger, prosperous and equitable city," said Gillibrand, in a statement. "Eric Adams will lead with experience, empathy, and strength."
Mayor de Blasio made no endorsements in the primary but was reportedly working behind the scenes to support Adams. Appearing at Monday's rally, he made that support official, praised Adams' history of trying to reform the NYPD as an officer within the department and said he would be a mayor for working class New Yorkers. "No one's been more prepared when it comes to understanding the lives of people," de Blasio said. "There is no mayor before who has ever understood better what working people live through."
Even former sanitation commissioner Kathryn Garcia, who came second to Adams in the primary, endorsed him. "This is a critical time for New York City and we need to prioritize recovery from the pandemic for all New Yorkers, address long standing inequalities and build a New York City that is stronger than ever for our future," Garcia said in a statement. "Eric Adams has dedicated his career to serving New Yorkers and democratic leadership at City Hall is pivotal in this moment to move our city forward. I encourage all New Yorkers to support our democratic nominee for mayor, Eric Adams."
Adams also received the backing of dozens of State Senators, Assembly members and City Council Members on Monday, along with unions including CWA District 1, CWA Local 1180, RWDSU, NYSNA, Mason Tenders District Council of Greater New York, Local 79, and 100 Black Construction Workers.