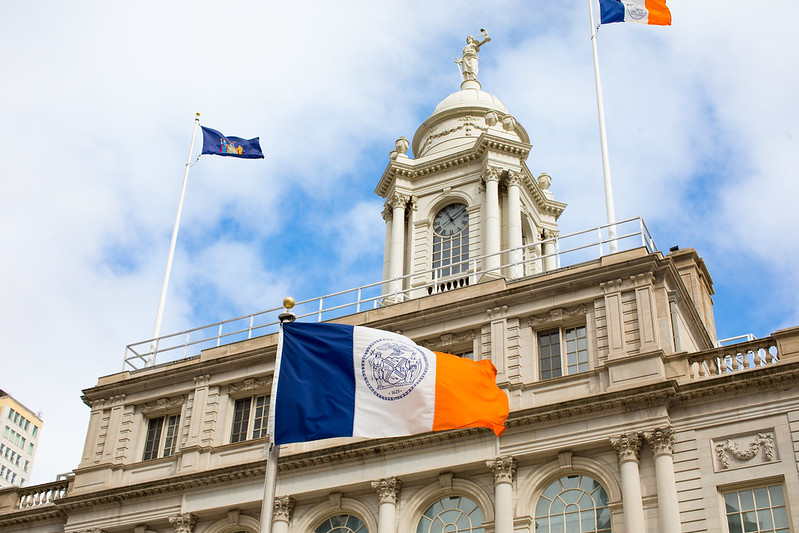 The road to City Hall (photo: Benjamin Kanter/Mayoral Photo Office)
---
With just three months to go, the November general election is looking increasingly one-sided as Brooklyn Borough President Eric Adams, the Democratic nominee, has an overwhelming fundraising advantage over Republican nominee Curtis Sliwa and several independent candidates in a city where registered Democrats outnumber Republicans nearly seven to one.
Adams, who officially launched his general election campaign last week, has raised more than $5.1 million in private donations as of July 11, the latest campaign finance deadline. He has received more than $8.1 million through the city's campaign finance program, which matches small dollar donations with public funds. That includes an additional $367,000 in matched dollars which he was awarded in the latest round of payments last week. The payment was based on reported contributions through June 11 and Adams is the only mayoral candidate so far to qualify for additional public funds since the primaries concluded.
In total, Adams has spent $11.2 million and has a hefty $2 million on hand.
To qualify for matching funds, mayoral candidates must raise a minimum of $250,000 in eligible contributions from a minimum of 1,000 donors who are city residents. The first $250 of each qualifying contribution is eligible for an 8-to-1 match under new campaign finance rules that both Adams and Sliwa have opted for. Under that option, the maximum individual contribution is capped at $2,000 per donor. A second option has a smaller match ratio (6-to-1 of the first $175 of each donation) and higher contribution limits ($5,100 for mayoral candidates). On Thursday, the Campaign Finance Board (CFB), which oversees the city's voluntary matching funds system, awarded over $1.4 million to 45 qualifying candidates for citywide and local races.
Sliwa, the Republican mayoral nominee, has only raised about $592,000 for his campaign and had spent most of it, as of July 11. He had $62,000 remaining in his coffers. His campaign manager, Robert Hornak, told Gotham Gazette the campaign had hoped to qualify for public funds and believed Sliwa had met the necessary threshold, but the campaign's matching claims were not audited by the CFB in time for the latest dolling of public funds.
Sliwa's campaign has submitted $285,000 in matching fund claims – higher than the $250,000 minimum – which have to be reviewed by the CFB. He has raised about $373,076 from city residents and $218,758 from outside the city.
"There is absolutely no doubt that we will make it in our August filing," Hornak said over the phone Wednesday. "Our digital fundraising and mail response has been huge in recent weeks, and we'll probably be over by easily $50,000 or $100,000 in matchable contributions in our next filing." The next filing, covering activity from July 12 to August 23, is due August 27.
Sliwa's fundraising will also determine whether there will be one or two official debates ahead of the election. By law, the CFB will sponsor an initial public debate for the general election (in partnership with media outlets) as long as two or more candidates in a mayoral race raise and spend $182,150 by October 1, which both Sliwa and Adams have already done. That debate is scheduled for October 20, hosted by WNBC. For the second "leading contenders" debate, scheduled for October 26, candidates must either qualify for public matching funds by the latest campaign finance deadline prior to the debate, which is October 22, or will have to raise and spend at least $2.25 million by then.
Under CFB rules, if Sliwa doesn't qualify for public funds there would be only one mandatory debate with candidates from the two major parties in October but a second voluntary one could still take place.
There are several independent candidates also competing in the general election but none appear to be running viable campaigns and are unlikely to appear on the debate stage.
Fernando Mateo, who lost to Sliwa in the Republican primary and is now running on the Save Our City Party line, is the only other mayoral candidate who has qualified for matching funds. He has raised $542,000 in private donations and received roughly $2 million in public funds overall. He has spent just under $2.5 million, according to CFB filings, and had about $113,000 left as of July 11.
Mateo's fundraising and expenditure qualify him for the debate with Adams, and potentially Sliwa, though it is not clear that he is actively running or if he will terminate his campaign.
"Well, I'm on the ticket. Let's just leave it at that," he told Gotham Gazette on Monday.
Reigniting his campaign for the general election "is something that I am considering," he said. "I haven't ruled it out. I'm just waiting to see how the momentum is going between the two major parties."
The final list of candidates on the ballot will be posted in mid-August, according to Valerie Diaz, a spokesperson for the New York City Board of Elections. A number of other mayoral candidates are reported to be running, including Bill Pepitone on the Conservative Party line, potential Working Families Party candidate Deborah Axt, Libertarian Stacey Prussman, and independents Raja Flores, Quanda Francis, and Cathy Rojas. None of them appear likely to qualify for matching funds or the debate.
If Sliwa fails to qualify in the next round of public payments (due August 27), the CFB and broadcasters could still hold two debates with the two major contenders but participation in the second would be voluntary. Such was the case in the Republican mayoral primary in May where neither Sliwa nor Mateo met the legal criteria to trigger a debate.
A second debate could also be triggered if Mateo, who has raised and spent the requisite thresholds this election cycle, decides to maintain his campaign. "Absolutely, I would participate" in the debates he said, adding, "or I would at least consider participating. Let me put it to you that way."
Adams' campaign did not respond to a Gotham Gazette inquiry about whether he would participate in a voluntary debate with Sliwa.
"Whatever debates are put in place by the Campaign Finance Board, I'm going to do ads, we have a street team, we are going to do mailings," Adams said on PIX 11 last month in response to accusations from Sliwa that he is blowing off the general election. "I'm going to continue the flow we had during the Democratic Primary."
"You don't win a baseball game in the eighth inning. No premature celebration. We have another inning to go," he said at the launch of his general election campaign on Monday. "We have to make sure that our message continues to resonate."
It is unlikely there will be mandatory debates for the other citywide offices, comptroller and public advocate. Only one candidate for comptroller, Democratic nominee and current City Council Member Brad Lander, has received public funds. Republican candidate Daby Carreras, Conservative Party candidate Paul Rodriguez, and Libertarian John Tabacco did not qualify. No public advocate candidate has either. In that race, incumbent Jumaane Williams, a Democrat, will likely face off against Devi Nampiaparampil on the Republican Party line, Anthony Herbert on the Conservative and Independence Party lines, and Devin Balkind on the Libertarian line.
Samar Khurshid contributed to this report.