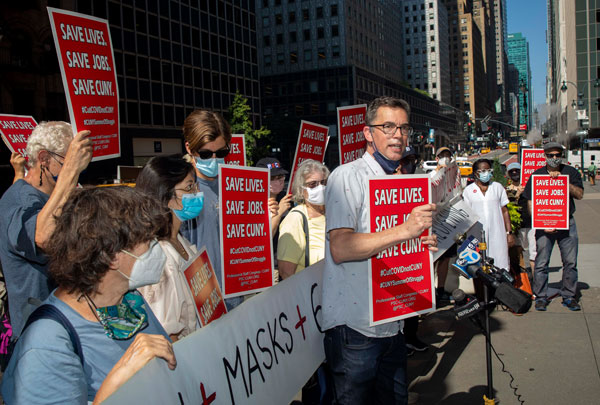 PSC President James Davis leads a rally in Midtown Manhattan (photo via PSC)
---
Labor leaders representing CUNY faculty and staff sounded the alarm Tuesday on the university system's COVID-19 preparedness, one day before students return to class in-person.
At a news conference outside the CUNY Office of Graduate Studies in midtown Manhattan, James Davis, president of the Professional Staff Congress (PSC), which represents 30,000 CUNY employees, called the the city's plan to monitor and reduce the spread of the virus on CUNY campuses "inadequate" and "contradictory."
"The administration must take additional steps immediately to follow the science, reduce the risk on campus, and to safeguard the health of the CUNY community," Davis told the gathering of employees, students, and reporters. PSC officials raised concerns about vaccine and testing protocols, ventilation, social distancing and mask policies, and what they call the "lack of a clear safety plan for in-person work and instruction in the event of widespread infection in the city, nearby communities or on campuses." The union is asking the administration to rapidly make a number of changes, which are supported by several and state elected officials.
At the top of the list for PSC is clarifying vaccine mandates for students attending in-person classes. In May, former Governor Andrew Cuomo announced CUNY schools would require students to be vaccinated in order to attend on-campus in the fall.
"Throughout the pandemic, CUNY's top priority has been, and remains, the safety of our students, faculty and staff. It is essential for all of us to do everything we can to help our city, state and nation finally overcome this dreaded public health crisis," wrote CUNY Chancellor Félix V. Matos Rodríguez in a May statement. "We thank Governor Cuomo for his leadership and look forward to the healthy and safe Fall 2021 semester that the vaccination requirement will help to ensure."
According to Davis, the City University of New York issued guidance requiring students to show proof of vaccination by September 14 but also gave leeway to show proof within 45 days of FDA approval of the vaccine for non-emergency use, which was handed down this week for individuals 16 and older receiving the Pfizer vaccine (one of three COVID-19 inoculations authorized in the United States). "These are contradictory messages," he said.
"In-person instructors were led to believe that their students would be vaccinated" according to state and university system guidance, Davis added. "Now, it turns out there will be a mix of vaccinated and unvaccinated students taking in-person classes until October 7."
"For more than a year, the University has been preparing to welcome students back to a more in-person fall semester with initiatives to ensure the delivery of classes through a variety of means, while protecting the safety of students, faculty and staff," wrote Frank Sobrino, a CUNY spokesperson, in an email to Gotham Gazette. He noted that students must show proof of vaccination by September 27, in order for it to be received and processed by the October 7 deadline. To enter a CUNY campus, students must show proof of being fully vaccinated or a negative PCR test result from the previous seven days, he said.
"The vast majority of faculty and staff, as well as most students, are already fully vaccinated," Sobrino added, and "[m]ore than half of all courses will be delivered entirely online."
The City University of New York, or CUNY, is the largest public university system in the country, with 25 campuses across the five boroughs and roughly 275,000 students annually. Some CUNY colleges have permitted classes to begin remotely in response to the ongoing spread of the highly contagious COVID-19 delta variant and the lag between the start of the new school year and vaccine deadlines. But not all campuses have made that provision, Davis said.
PSC is calling for a virtual option for all students and for staff whose jobs can be conducted remotely.
Union leaders also raised concerns about the variability in social distancing protocols across CUNY facilities and a policy they say asks students to "self-identify" as vaccinated until the date proof is required in order to inform distancing norms. "That practice is not workable," Davis said.
Davis commended the university for setting up covid testing sites on campus but said a one week window to show a negative covid test in order to enter campus is too long, given the transmissibility of the delta strain. The union is asking CUNY to shorten that window to 72 hours and for regular reporting of testing figures.
"That transparency will inspire confidence," Davis said. "Classes begin tomorrow. These measures should already be in place."
More broadly, the union is calling for a comprehensive framework "for monitoring COVID-19 risk" with a range of metrics on infection and community spread, though what those metrics should be is unclear.
PSC flagged a number of buildings it has identified as having poor air circulation, with trouble spots in Queens College, Hunter College, Baruch College, Medgar Evers College, and Bronx Community College. The union is requesting those facilities be spot-checked by the CUNY administration. PSC's so-called "health and safety watchdog coordinators" also identified unhygienic conditions in some facilities – namely signs of rodent infestation, mold, and a lack of running water in some bathrooms – which they attributed to neglect while buildings have been closed due to the pandemic.
"We have conducted a rigorous inspection of ventilation systems and other essential safety features in the classrooms, offices, laboratories, libraries and other spaces that will be in use," Sobrino told Gotham Gazette. "The University has also reviewed and approved comprehensive reopening plans for each CUNY campus and Central Office location, crafted in accordance with city, state and federal guidance."
A number of lawmakers at the city and state level and other elected officials issued statements in support of PSC's calls, including State Senator Toby Ann Stavisky and City Council Member Inez Barron who each chair committees on higher education in their respective legislative bodies. Queens Borough President Donovan Richards, City Council Member and Democratic nominee for city comptroller Brad Lander, and State Senator John Liu, who sits on the Senate's Committee on Higher Education, also spoke out in support.
"CUNY is a vital tool for the social and economic recovery of New York City," Barron said in a statement. "While CUNY, SUNY and other colleges are makings plans to reopen and aim to restore some semblance of normalcy for our college community, I strongly urge the Board of Trustees, Chancellor Felix Matos Rodriguez, College Presidents and CUNY Central to implement policies that seek to keep safe our community of students, faculty, staff, and support personnel."
Liu lambasted CUNY administrators for what he identified as delays in addressing key reopening questions. "CUNY students and employees deserve a safe return to classes on August 25th, the beginning of the fall term, but key concerns are yet to be addressed at this late date," Liu wrote. "With the rise of the highly contagious Delta variant, it's become more important than ever that CUNY update their testing protocols, improve ventilation in their facilities, and plan ahead for possible suspensions of in-person instruction."