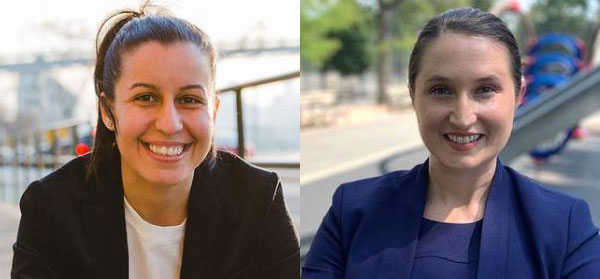 Tiffany Cabán, left, and Felicia Kalan
---
As in many other races in New York City this election cycle, public safety is the defining issue in the general election in Queens' City Council District 22, where a rising leftist political star who wants to abolish prisons and the police is facing a Republican pitching a far more conserative approach and 'common sense' moderation in the overwhelmingly Democratic district.
The major party nominees are Tiffany Cabán, a democratic socialist and former public defender who won the Democratic primary in June by a wide margin with a far left agenda, and Republican Felicia Kalan, a legislative aide and social entrepreneur who calls Cabán a Marxist in campaign ads and wants to keep the Rikers Island jails open and the NYPD 'fully funded.'
Policing has long been a key topic in the rapidly changing Western Queens district, whose residents are 47.5% white, 26.3% Hispanic, 15.7% Asian, and 8% Black, according to 2020 Census data for Queens Community District 1, which largely encompasses the 22nd City Council District. The district, centered in Astoria, has seen significant development and gentrification in recent years, and a dramatic shift leftward in its voting. It is currently unrepresented in the Council after the most recent member, Costa Constantinides, resigned earlier this year to take a nonprofit executive job, several months shy of the end of his second four-year term.
Before Constantinides, who was a proponent of redirecting NYPD funds to social services and staked other progressive territory, especially on climate issues, the district was represented through 2013 by Peter Vallone, Jr., who is far more conservative on policing, among other issues (he published an op-ed in 2013 arguing "stop and frisk works," for example).
Given the vacancy, the winner of this year's general election will likely be able to take office in late November or early December, just ahead of the full class of Council members. Most of that class will be new due to term limits and sworn in come January, at which time the Council will elect a new Speaker from among its ranks.
In the June Democratic primary, Cabán won the nomination with 62.6% of the vote, around 9,088 total votes. She said during an August episode of the Max Politics podcast that the results gave her a clear mandate to fight for her community at City Hall based on an agenda of "budget justice" that moves funding from the criminal legal system to community resources. Kalan, who didn't have a primary, snapped back in a recent phone interview with Gotham Gazette, arguing that 9,088 out of more than 65,000 total registered Democrats in the district is "not a mandate."
But the Democratic voter registration imbalance in the district makes Cabán -- a leading figure in the city's Democratic Socialists of America (DSA) branch, a political organizer with the Working Families Party, and a rising star of the city's political left who almost pulled off an upset in the 2019 Queens District Attorney primary -- the likely winner against her Republican opponent.
Of the 101,328 enrolled voters in the district as of February 2021, according to the Board of Elections, 65,312 were registered Democrats, 9,763 were Republicans, and 22,609 were party-unaffiliated. With those numbers (about 65% registered voters in the district being Democrats and independents outnumbering Republicans), Kalan will have to pull from across the aisle and the middle in order to have any chance to win. While she is on the offensive painting Cabán as a radical, it is unclear if Kalan is crafting a message that can coalesce the requisite mix of Democrats, Republicans, and independents.
Cabán's candidacy is a continuation of a trend as the area moves further left politically, at least in terms of outcomes at the ballot box. Elected officials representing this Queens district, which encompasses Astoria, parts of East Elmhurst, Jackson Heights, and Woodside, and all of Rikers Island, and nearby areas have been increasingly progressive, including several DSA members.
Along with the progressive Constantinides, in 2020 Astoria elected a DSA organizer, Zohran Mamdani, to the state Assembly, and before that, the area helped elect Alexandria Ocasio-Cortez to Congress. Across a number of other elections, voters there have backed the furthest left of the leading candidates, including in the aforementioned district attorney race, as well as recent gubernatorial, public advocate, and other elections. In this year's Democratic mayoral primary, almost all of the election districts in the Council district went for Maya Wiley, who was running on police reform and the furthest left of the top candidates.
Kalan argues that many Democratic voters were not aware of Cabán's extreme policing policies when they voted for her in the primary, though public safety has been Cabán's central issue over two campaigns. This debate is unfolding after gun violence in the city spiked over the course of a year-and-a-half amid the pandemic, though recent months have seen decreases.
Kalan is confident that she will be able to overcome daunting odds in the general election with her pro-police position that she believes will hit home with many of the district's older, more conservative Democrats "who do not align with radical socialist policies," she said in the phone interview.
Aspiring to "transcend political party," Kalan said she looked at what the community needs first to drive her campaign. Bolstering public safety is at the top of the list, she said. Kalan also pointed to homeowners and a large contingent of Greek voters in more conservative parts of the district as constituencies she says will help her get elected. Cabán has also argued that public safety is a top issue for voters, but the two major party nominees have divergent visions for what actually makes communities safer.
Meanwhile, 24-year-old Edwin DeJesus is also running in the general election, as the Green Party nominee. He is running on his support for progressive initiatives like Medicare for All, a Green New Deal, and Universal Basic Income.
As of September 8 numbers on the Campaign Finance Board website, Cabán had a lot more money in the bank than either of her opponents. She had a balance of $166,348 for the general election, thanks in part to the public matching funds she's qualified for, after having raised $116,913 in private funding, getting $329,332 in public funds, and spending about $280,000 on her primary. Kalan has raised the second most funds, bringing in $34,210 in private funds and $122,435 in matched public funds, with $82,823 left in the bank as of September 8. And DeJesus has raised $8,461 in private funds as well as $46,264 in public matching dollars.
Tiffany Cabán
A public defender for seven years at the time, Cabán nearly upset Queens Borough President Melinda Katz in the 2019 Queens District Attorney race, losing in a recount after having been heavily buoyed by increasingly-progressive areas of Western Queens. Cabán ran on a radical de-carceral platform, arguing for dismantling much of the district attorney's office and criminal justice system that she argues arrests and locks up far too many people.
Hoping to build off that momentum, Cabán set her eyes on Astoria's City Council seat, which was due to open up because of term-limits even before Constantinides resigned for his new job. Her candidacy convinced several people in the race to drop out and she then went on to defeat five other Democrats to win the party nomination in June by a wide margin.
On the Max Politics podcast, Cabán described herself as a long-term police "abolitionist," meaning that she is promoting steps to move away from the current criminal legal system and embrace "systems of accountability" that support community members in seeking and receiving restorative justice.
In the short term, Cabán hopes to cut "upwards of $2 or $3 billion" from the police department and halt all construction of new jails, she told host Ben Max of Gotham Gazette.
"I think that every penny we put into our prison industrial complex is one that absolutely should be spent on providing care and support in our community," Cabán said, adding, "the more that we allow this system to catch all of our societal problems and ills, the less reason or room there is to create real, long-lasting solutions."
Cabán pledges to work to ensure that the NYPD's plainclothes anti-crime unit remains disbanded and that there is no return of widespread stop-and-frisk policing. Instead, Cabán said she supports investing in violence interruption programs like Cure Violence and 696 Build Queensbridge to combat violent crime without police.
"If you don't really support defunding the police," said Cabán, "but you do believe that mental health issues shouldn't be criminalized, that we need to expand Health + Hospitals, that we have to have more clinics that can provide comprehensive care, all those things, that's part of my public safety plan, right? In my mind, we are successful if the order, or the trajectory of progress, is that we build up those systems of support."
Cabán says climate change is her other top priority, and details a Green New Deal for the city that includes climate reparations paid by the city to "communities affected by environmental injustice," city-led green job training, implementing Renewable Rikers that was championed by Constantinides, planting shade trees in every city neighborhood, and making Open Streets permanent, among many other projects listed in her plan.
In response to the Queens Community Board 1 annual statement of need this year, which identified affordable housing as a top issue for the district, Cabán called for more social housing in her citywide "Homes Guarantee" plan, which would have the city buy land and sell it to private developers contingent on agreement to certain design and price codes, like income-based rent caps.
Felicia Kalan
Hoping to offer Queens voters an alternative to her "socialist opponent," Kalan, a mother of two, is running on a public safety platform to keep the NYPD funded as is and restore its plainclothes "anti-crime" unit, positions she thinks are popular among "old-style" Democrats who live in the district.
Building positive community relations with the NYPD, Kalan said in the interview with Gotham Gazette, is paramount to an effective police force. And while she thinks it's important for mental health professionals trained in de-escalation tactics to respond to certain public safety issues, "you would also have to send a police officer to make sure that the person doesn't harm themselves or the mental health officer," Kalan said, in a break from Cabán, who believes in removing the NYPD from mental health calls.
In addition to supporting the NYPD, Kalan wants to focus on crime prevention by disrupting "the youth to prison pipeline" with expanded youth job training and apprenticeship opportunities, good quality education, and after school sports and activities. She also wants to reject the city's plan to build community jails -- a point of agreement with Cabán, though Kalan wants to keep the Rikers jails open -- and invest more in rehabilitation. That includes, according to her website, education and job skills.
On the state level, Kalan hopes to work with the state Legislature to allow judges more discretion to impose bail on defendants and not continue the reform policy that "releases criminals right back onto the streets," as she put it.
After public safety, Kalan's greatest concern is public health, she said. She wants to build a new hospital in Queens, expand mental health and addiction services, and enhance public sanitation like getting trash off the streets. In a recent tweet, Kalan said she sees COVID-19 vaccination as a "personal health choice," positioning herself against government vaccine mandates.
Additionally, Kalan said she wants to focus efforts on supporting small businesses and economic growth after the devastation of the COVID-19 pandemic. With over a third of small businesses projected to close due to the pandemic, Kalan said, permitting and licensing for small businesses must be streamlined to ensure that owning a small business in the city is easy. Investing city money into minority and women entrepreneurs is also part of Kalan's economic revitalization plan.
As a mother, Kalan said she is running to represent children and families at City Hall in order to make it easier to raise children in the city and improve public education. On her website, she details an education plan that ensures students' internet access, invests in smaller class sizes, expands gifted and talented programs and access to SHSAT prep, and increases mental health support for students.
Edwin DeJesus
DeJesus works as a freelance film production assistant after having graduated from Columbia University while there on full scholarship, according to his campaign website. He was a lead organizer for March for Medicare for All in Manhattan on July 24, according to the Astoria Post.
In a Patch interview, he said his reason for running for City Council is "to win and build a rainbow coalition of ordinary people from all backgrounds," and explained how his work on the 2020 Bernie Sanders presidential campaign influenced his view on the corruption of party politics.
Like Cabán and Kalan, DeJesus says public safety is his number one issue. On his website, he says that NYPD funding "naturally decreases" when "low-income residents have the ability to put food on the table," which he proposes to achieve with a $600 a week UBI paid for by a 25% wealth tax.
Teachers, healthcare workers, MTA operators, and other city workers also must be paid better to foster more financial stability that will help reduce crime rates, he argues. DeJesus is against building new jails and wants to "end the War on Drugs by decriminalizing all acive ingredients in psilocybin mushrooms, including psilocin."
Consistent with his Sanders influence, DeJesus wants single-payer health care for all, rent stabilization for all residential and small business properties, and to fully "decarbonize the economy" by 2030. DeJesus told Patch he differs from Cabán in his support for a "real" Green New Deal that is much stronger and does not support "corporate-friendly neoliberals."
The Astoria Post reported that both Cabán and Kalan had opened campaign offices in the district, but as of August 23, DeJesus had yet to do so. He says he is finding other ways to engage the community.