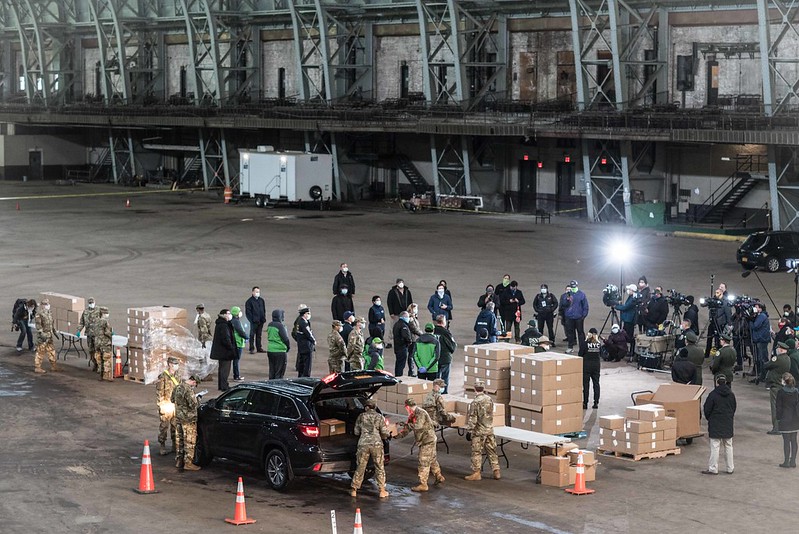 Federal relief arriving (photo: Michael Appleton/Mayor's Office)
---
Despite the coronavirus causing mass death, displacement, and unemployment last year, federal relief staved off the worst of its socio-economic effects and prevented a massive spike in poverty, new Census data revealed this past week.
While incomes did decline and the national poverty rate increased marginally in 2020, a more expansive poverty measure that accounts for the effect of government programs showed a decrease as millions of people were kept from falling into poverty and millions more moved out of it.
COVID-19 ripped through the country last year, leading to shutdown orders, school closings, and a national economic recession. Unemployment skyrocketed as businesses closed en masse, with the lowest credentialed and lowest income workers hit the hardest. As a result, from 2019 to 2020, the official federal poverty rate increased by 1 percentage point to 11.4% and the median household income fell 2.9% to $67,521, according to data on income, poverty, and health insurance released by the U.S. Census Bureau on September 14.
Though it could have been far worse given the extent of the pandemic, it was nevertheless the first national increase in poverty after five years of declines and the first "statistically significant" decline in median household income since 2011, the Census Bureau noted in a release.
At the same time, the Supplemental Poverty Measure (SPM), which evaluates government aid for low-income families and individuals, fell by 2.6 percentage points to 9.1%. It was the first time since 2009, when the SPM was first published, that the measure was below the official poverty rate and the lowest it has ever been. The Census Bureau noted that without federal stimulus payments, the SPM poverty rate in 2020 would have increased from 11.8 percent in 2019 to 12.7 percent in 2020.
The SPM took into consideration the several rounds of stimulus and aid approved by the federal government under President Trump and a split Congress, which included direct checks to individuals and expanded unemployment benefits, all of which served to prevent poverty on a larger scale. According to the Census Bureau, direct payments helped 11.7 million people climb out of poverty while unemployment benefits prevented 5.5 million people from falling below the poverty line.
Those numbers haven't taken into account the American Rescue Plan Act's temporary expansion of the child care tax credit, which was approved earlier this year under President Biden and a Democratic Congress and is expected to be a massive anti-poverty program. The credit was expanded from $2,000 to $3,600 for each child under age 6, from $2,000 to $3,000 for children aged 6 to 16, and made 17-year-olds eligible for the $3,000 credit. It is scheduled to expire at the end of this year. The Earned Income Tax Credit was also expanded to roughly $1,500, three times the previous credit.
To economic experts and anti-poverty advocates, the numbers are a testament to the importance of government action in helping the most vulnerable Americans. But those numbers are a snapshot of 2020, and the infusions of direct stimulus cash and expanded unemployment payments are not being extended into the future, raising concerns that a significant uptick in poverty will be noticed soon if benefits are not funded and even expanded on the path to recovery from the pandemic, which is still raging in some places.
New York City publishes its own independent poverty measure which, similar to the Supplemental Poverty Measure, also takes into account metrics beyond income, including the higher cost of housing here and government benefits such as food stamps and the Earned Income Tax Credit. As a result, the city poverty measure tends to show higher rates than the official federal poverty measure, portraying a more accurate picture of those struggling to make ends meet in a city with a high cost of living and large number of low-paying jobs.
Notably, New York State was also one among 11 states and the District of Columbia where the SPM was higher than the official poverty rate, though more detailed local data for states and cities will not be available for a few months.
"The numbers make clear that policy affects poverty," said Matthew Klein, executive director of the Mayor's Office for Economic Opportunity, which publishes the city's poverty measure. "You saw that in the way that the pandemic relief had such a dramatic effect."
"Thinking about ways that cash can be integrated into the existing social safety net is something that I think is going to be an important area of focus going forward," he said.
Klein expects most of the positive effects to continue into 2021, during which the last round of $1,400 checks in federal stimulus were distributed to qualifying individuals, and expanded unemployment benefits of between $400-600 on average remained active until recently expiring.
Among the takeaways from the data, Klein said, is "how we measure and think about poverty matters." Income alone does not show how even those above the poverty line require assistance for essential needs like housing and food. And it points to the need to provide ongoing support, he said.
For instance, in New York State, where housing insecurity has long been a challenge, federal rent relief funds – though slow to be doled out – are proving to be critical. Klein said it lends increased attention to the need for affordable housing and funding affordable housing vouchers. "It's really important at the federal level to give localities more capability to support residents," he said. And childcare, he said, is crucial to ensure that parents are able to rejoin the workforce. "It's an economic recovery issue, as well as a sort of child development issue," he added.
The manner in which benefits were rolled out – some effectively, others less so – also highlights the need for "modernizing systems and reducing unnecessary barriers" to access, he noted.
Emily Miles and Jeanette Estima, policy experts at the Federation of Protestant Welfare Agencies (FPWA), an anti-poverty nonprofit, said the Supplemental Poverty Measure data is a better estimate of poverty than the official rate, but still falls short. "[It's] still not a measure that captures the full reality of struggling Americans. The measure is still not reflective of what it actually costs to live in communities and for individuals to meet their basic needs," said Miles, chief program and policy officer at FPWA.
Miles said that FPWA's analysis of the Census Household Pulse Survey, an online socio-economic survey of the impact of the pandemic, showed that 42% of New York City households with incomes less than $75,000 a year find it "somewhat or very difficult" to pay their usual household expenses, while 8% are food insecure. The situation is worse for communities of color – 45% of Black respondents said that they have difficulty making ends meet compared to 23% of white respondents.
"So we know that not only is there a great amount of need in New York City, but the need is very much greater in Black communities as a whole," she added.
Miles and Estima, FPWA's director of policy, said the effects of the pandemic call for a reimagining of how poverty is measured. "Someone who lives in southern Manhattan has a different cost to meet their basic needs than someone living in the South Bronx, and someone in the South Bronx has a different cost of meeting their basic needs than someone that lives in upstate New York," Miles said. In March, FPWA released its own report on a self-sufficiency standard for New York, calculating the varying costs of living and basic needs based on geography and family composition. The report recommends closing the gap between wages and the Self-Sufficiency Standard by reducing costs for families, including through work supports like child care assistance and food benefits, and increasing incomes through measures like living wage policies and paid sick and family or medical leave.
As the pandemic progressed, the number of New Yorkers seeking government aid increased significantly. An analysis released Thursday by the Center for New York City Affairs at The New School found that from February 2020 to June 2021, the number of people seeking temporary cash assistance increased by nearly 14%, while participation in the Supplemental Nutrition Assistance Program (SNAP), colloquially known as food stamps, was up by 17.1% and enrollment in Medicaid increased 18.3%. Those measures were up despite expanded federal unemployment benefits, which expired on Labor Day, September 6, affecting between 750,000-800,000 New York City residents alone, according to the analysis, which was conducted by economist James Parrott.
Losing those expanded unemployment benefits, between $400-600 on average for an individual per week, could prove disastrous for low-income New Yorkers and for the city's recovery as a whole, Parrott said, noting in particular that job losses in the city were higher among low-wage workers in communities of color. So even though poverty wasn't as bad as it would have been in 2020 without federal aid, that pendulum could soon swing the other way, if it has not done so already.
"If we're able to measure poverty from September through December of this year, that'll undoubtedly show a substantial increase over the first eight months, because you're taking away $500 to $600 a week for many families," Parrott said in a phone interview. "So we're really in uncharted waters here and the poverty situation, it's turning for the worse."
"When we get the data for 2021, it will almost certainly be worse than 2020," he added.
There are, of course, countervailing forces that may blunt a rise in poverty. New York's economic reopening is progressing and the ongoing impacts of the American Rescue Plan, particularly the expanded child tax credit, haven't been assessed. There's also the potential impact of the large infrastructure and budget reconciliation bills before Congress that could include many forms of aid and opportunity.
Parrott said the federal government not only needs to reassess the metrics for poverty but also policies that affect the job market and incomes of low-income workers. He noted that job growth slowed over the summer. According to state Labor Department data, in July this year, unemployment in New York City remained high at 10.2% (down from 18.8% in July 2020), above the statewide average of 7.4%.
"It seems to be clear that we need to have an employment insurance system that provides benefits until such time as the labor market recovers," he said.