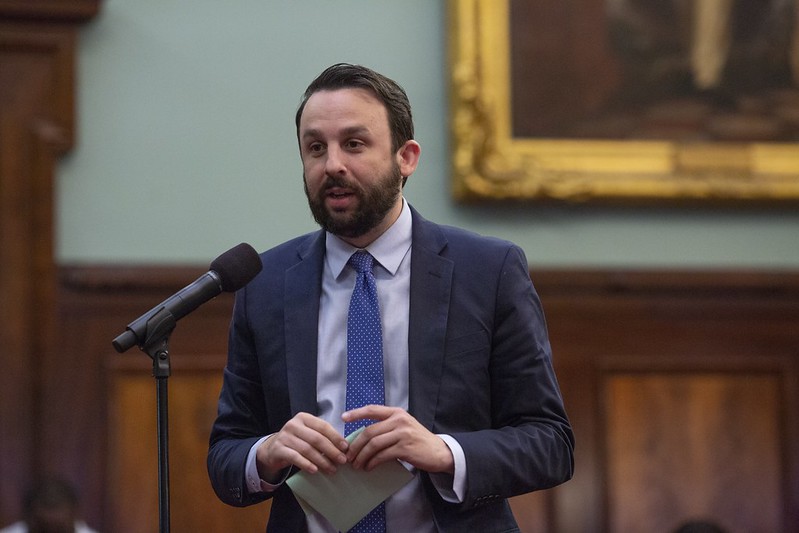 Council Member Keith Powers (photo: City Council)
---
City Council Member Keith Powers has the crisis in the city's Rikers Island jail complex directly on his plate. The Manhattan Democrat is chair of the Council's Committee on Criminal Justice and therefore responsible for one key layer of oversight of city jails.
Just after convening an emergency meeting about conditions on Rikers with several key city officials and ahead of chairing a formal City Council oversight hearing on the subject, Powers appeared on Gotham Gazette's Max Politics podcast. He told host Ben Max about the key takeaways from the meeting he held and what he hoped to get from the hearing that then took place on September 15. Since the interview and that hearing, Powers also made another visit to Rikers Island to see the dangerous and deadly conditions for himself.
In the interview, Powers discussed the crisis at Rikers and emergency steps to address it, the city's plan to close the notorious jail complex later this decade, other issues he's working on, like revitalizing the city's tourism sector and larger economy, and his bid to become the next Speaker of the City Council when that vote is taken by the new Council class in January. Powers is expected to easily win reelection this fall, part of a relatively small group of returning members who will be joined by roughly three dozen new members in the 51-seat Council.
[LISTEN: City Council Member Keith Powers on Oversight of City Jails & More]
Powers pointed to several major problems at the jail complex, which Mayor Bill de Blasio -- who hasn't visited Rikers for more than four years -- has announced steps to address. During the September 8 interview, Powers pointed to very high rates of correctional staff absenteeism, covid and other health concerns, an increase in violence in various directions among correction officers and detainees, and other issues.
"The staff absenteeism right now is a crisis unto itself," he said. Powers and other elected officials who have visited Rikers in recent weeks have reported a "humanitarian crisis" there, while as of September 23, twelve city detainees have died this year.
Too many correction officers have been calling in sick or simply refusing to report to their shifts, Powers said, while also stressing that conditions need to be improved for the officers, like reducing the use of double and triple shifts. Detainees are not getting proper levels of supervision, medical care, covid protections, or transport, and as the jail census has shot up from under 4,000 to over 6,000 in the last year-plus, the situation has become untenable and extremely dangerous for all involved.
"It's a major inflection point in our system and there's a number of crises emerging at the same time," Powers said. Powers added that it was "impossible" to address these issues "if we don't have appropriate people there to help resource the jails, to provide security, and of course to relieve each other of triple shifts and double shifts and quadruple shifts."
"It's always important to get everybody into one place so you can hear people work off each other and to debate and discuss when necessary," he said of the meeting he convened with key city officials and the hearing he was going to chair. "I think we as a city have to address the jail violence issues."
Just before the hearing, de Blasio announced a five-point plan to improve conditions at Rikers, including hiring contractors to deliver medical care to employees on duty, suspending correction officers who did not show up for work, hiring additional correction officers, and having NYPD officers relieve correction officers of some of their court duties so the correction staff could remain at the jails.
"At Rikers I saw the most inhumane conditions imaginable," Powers tweeted on September 16 after his visit to the jails. "Intake was abhorrent—100s of inmates trapped for weeks. Denied water, food, a place to sleep. COVID rampant. Staff doing multiple shifts."
Powers said in no uncertain terms that de Blasio should visit the Rikers jail complex, but the mayor has still not been, promising to go at some point but arguing that he is focused on improving conditions at the jails.
"It is important that the mayor goes and sees both the current humane crisis...and understands the staffing issues…," Powers said, but the crisis has only worsened since and de Blasio has still not gone to the scene of the emergency, "...the Mayor should be there, should go there soon...raise the level of urgency on the issues and demonstrate that there's all focus."
As conditions have become more dire and the detainee death count has risen, Powers has called for increasingly extreme measures. He's said the mayor and Governor Kathy Hochul must do more in their power to reduce the jail census, suggested they bring in personnel help via the state correctional staff or National Guard, and more.
Later in the podcast interview Powers also discussed the city's economic recovery and the challenges given the ongoing pandemic, including the recent covid spike brought on by the Delta variant and other factors. The city can't make a complete recovery until the pandemic has subsided, he said.
"We're going to see a little of a ceiling on that until we come out of this crisis," Powers said. "You should be looking for these little things to get people back, to get them to spend an evening in New York City, or to come back and do a weekend here. Those people are going to help us keep a little stable until conferences come back, until international tourism comes back, and large-scale events return."
He explained some of the efforts he's undertaken to promote tourism and economic activity, which have aspects of particular importance to his East Side district.
One of the hardest-hit sectors of the city's economy has been it's nightlife scene. Powers has called for an end to zoning restrictions on dancing in restaurants and bars, which had remained in place even after City Council repealed the antiquated Cabaret Law, which had prohibited dancing in most of the city's establishments.
"It would be a good thing for the nightlife industry to know that that's not even a thing," Powers said of the zoning restrictions, which have seemingly gone largely unenforced but can be a hindrance or a headache for proprietors. "It would be good for the city to show that we're helping out these businesses."
On the issue of resilience efforts and the city's infrastructure following the destruction from Hurricane Ida, Powers suggested that the city implement flooding strategies similar to those for snowstorms.
"When it snows in New York City, we have mountains of salt in different places, we have plows that come out, we repurpose an entire city agency to get out there and plow the streets," he said. "I wonder if we should have anything like that resiliency in the moment, or preparation in the moment when it comes to flooding."
Powers said that he's been encouraged by his conversations with many likely incoming Council members about several of these issues, as he works to win their support and become the next Council Speaker, one of the most important and powerful positions in city government. Powers and his fellow candidates for Speaker need to secure 25 votes plus their own in the 51-seat body in order to be selected the legislative leader.
"I think it's really an exciting moment because we have all these new colleagues coming in from different backgrounds, different experiences, different ages," he said. "I've been really encouraged by the folks I've talked to about their ideas. My message to them is that the Council is really one of the most important parts of the city government. We need members to really be able to help drive the conversation."
Powers added that he believes the Council needs someone who will take the time to understand the issues across various communities and lead the dialogue about them.
"What members really want and need is somebody who's gonna really go out there, in their districts and help drive the conversation for the things they need. I think my record in the Council has lent itself to that."
[LISTEN to the full conversation: Max Politics Podcast: City Council Member Keith Powers on Oversight of City Jails & More]
Ben Max contributed to this story.