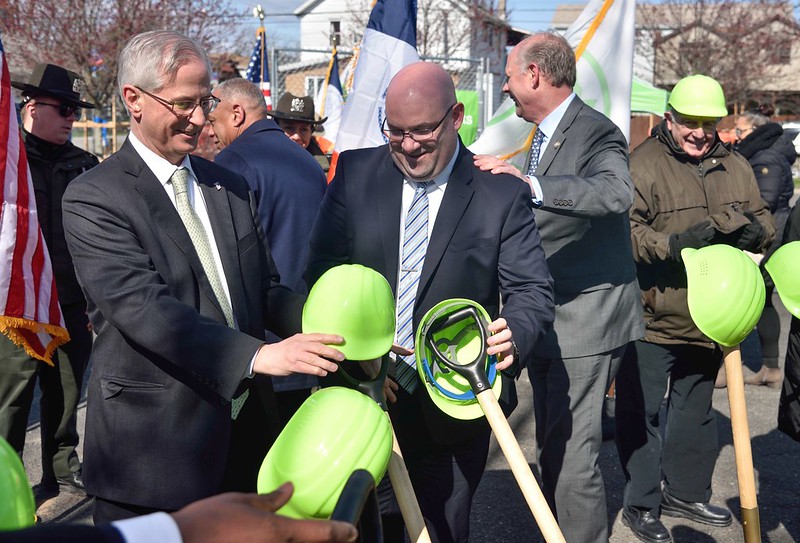 Council Member Matteo at a groundbreaking in CD50 (photo: John McCarten/City Council)
---
Republicans currently hold only three seats in the New York City Council and District 50 on Staten Island is one of them. The mid-island district is currently represented by Council Member Stephen Matteo, the Council's Minority Leader who is term limited and unsuccessfully ran in the Republican primary for borough president. Three candidates are vying to replace him in the general election including a former City Council member, a top aide to Matteo, and a real estate broker.
Sal Albanese, a former mayoral candidate and once Council member representing parts of Southern Brooklyn, claimed the Democratic nomination in the race without facing a primary opponent. A Staten Island resident of five years, Albanese running on an additional independent line, the Staten Island 1st party, which was created by Mark Murphy, the Democratic nominee for borough president.
David Carr, Matteo's chief of staff, narrowly won the crowded Republican primary after a hand recount, one of only two this year after ranked-choice voting was implemented for the first time citywide (it only applies to primary and special elections). Carr's main opponent, former U.S. Marine Marko Kepi, was ahead on election night but eventually lost by just 42 votes once all the votes were manually tallied. Kepi is facing federal and state investigations over possible forgery of absentee ballots in his favor.
The third candidate on the ballot is real estate broker George Wonica, who is running on the Conservative Party line.
District 50 is made up of largely residential neighborhoods, with one-, two- and multi-family homes. According to 2020 Census data, the district has 140,795 residents, 61.1% of whom are white; Asians accounted for 18.4% of the population; Hispanic and Latino 14.3%, and 3.5% Black.
As of February 21 of this year, according to Board of Elections data, the district was home to 115,817 registered voters including 43,007 Democrats, 39,133 Republicans, 1,851 Conservatives, and 27,473 unaffiliated independent voters.
Though the district may be almost evenly split between registered Democrats and Republicans, it has been held by the GOP since 1992, when the City Council was expanded to its current 51 seats, up from 30. But, with Wonica on the ballot, there is a possibility he could draw votes away from Carr, giving Albanese, a moderate Democrat, a better path to victory.
In the last open race for District 50 in 2013, Matteo ran on the Republican, Conservative, and Independence Party lines, and defeated the Democratic and Working Families Party candidate, John Mancuso, by a margin of 61%-35%.
Carr is trying to follow in the footsteps of Matteo, who was once top aide to former mid-island Council Member Jimmy Oddo, who went on to become borough president (Matteo sought to emulate Oddo once again before coming up short against former Rep. Vito Fossella).
Albanese is attempting to flip one of the few remaining Republican seats in New York City at any level of government (while progressives are trying to turn a GOP-held Council district in Queens and south shore Staten Island Council Member Joseph Borelli appears very likely to keep his seat red through his reelection bid).
As priorities go, the candidates in District 50 are largely aligned on several major issues. In interviews, each spoke of public safety as their most pressing concern, citing the citywide increase in homicides and shootings that accompanied the pandemic, and all criticized the movement to Defund the NYPD. They advocated for reforming the city's property tax system and spoke of improving mass transit.
Sal Albanese
Albanese, an attorney and former school teacher, served as a member of the City Council between 1983 and 1998, representing District 43 in Brooklyn. He has previously run for mayor three times, most recently in 2017 when he sought the Democratic nomination against Mayor Bill de Blasio. That same year, he relocated to Staten Island.
As a Council member, Albanese was ardently for political reform and has, in his various campaigns, talked about ridding government of corruption and pay-to-play politics. But his current campaign was prompted by broader concerns. "I'm running because I think the city faces many challenges going forward," he said, citing the city's fiscal future and the "erosion of public safety."
"I'm not running to flip a Republican seat. I'm not really much of a partisan," he said. "I'm running because I'm interested in public policy. I happen to be a Democrat, obviously."
As Albanese noted, the City Council will have dozens of new members elected in November, many of whom will be holding office for the first time. "I think it's gonna be a very critical administration for the next four years in terms of where the city goes, moves forward in terms of quality of life, infrastructure, public safety," Albanese said. "So I didn't want to sit on the sidelines."
Albanese has a straightforward campaign pitch. He has 15 years of experience in the Council, during which he was praised for his independence, performance, and attendance, and was known for going against leadership despite the repercussions. And he wants to improve how the Council does business. "I think the Council really needs major improvements, especially in the area of oversight," he said.
"We didn't do any oversight over a predictable pandemic, over the homeless situation, the mental health situation, the Rikers Island situation," he said. Though the Council has held some hearings on those issues, they have at times been untimely or relatively toothless. "The Council's continued to neglect their main oversight responsibilities."
Albanese believes the district's residents are not ideologically driven voters and that, just like in his first successful Council race in 1982, Republicans will turn out for him. He has also embraced a campaign message centered on public safety, which could endear him to the more moderate and conservative white voters who dominate the district. "Public safety is priority number one," he said, promising to ensure that "the police are not defunded, and are supported" by the city.
"There are people coming into this Council that are totally, in my view, naive and despise the police, which does not reflect the majority of the city," he said, calling for hiring more police officers. "So I'm going to be doing battle with those folks."
Among the perennial issues on Staten Island are the lack of mass transit options and the need for infrastructure, particularly flood mitigation and resiliency measures. Albanese said he would advocate for more buses in the district, lower fares on express buses, and fast ferries for the North Shore. "I would not rule out pushing for a future project which would include subway service," he said, floating the idea of a tunnel under The Narrows to connect Staten Island and Brooklyn.
After Hurricane Ida flooded inland parts of the borough that otherwise do not flood, Albanese said he would launch "a full court press" to speed up resiliency infrastructure projects. "You've got to embarrass people sometimes, administrators," he said. "And I've done that in the past. I have no problems working with people but if they don't do their job, I'm gonna hold press conferences and I'm gonna expose what was lacking in terms of proactive efforts by administrators."
Albanese, who endorsed Andrew Yang in this year's Democratic primary for mayor, wants to restart the city's stalled effort to reform the city's property tax system and he also wants to institute new good government reforms. As a member of the city's 2019 Charter Revision Commission appointed by Brooklyn Borough President Eric Adams, Albanese successfully proposed news ethics measures that were approved in a ballot referendum. He pushed for other reforms that failed to make it on the ballot but are now part of his agenda for the Council, including independent redistricting of electoral boundaries, nonpartisan open primaries, and "democracy vouchers" for campaign finance reform that could completely eliminate private donations to campaigns.
Besides some name recognition (in the 2017 mayoral primary against de Blasio, Albanese got 35.8% of the vote on Staten Island), Albanese enjoys another major advantage in the race. He has been endorsed by a slate of labor unions, many of them representing law enforcement. They include the Sergeants Benevolent Association, the Detectives' Endowment Association, the Uniformed Fire Officers Association, TWU Local 100, RWDSU, and others.
He lags Carr, however, in fundraising. As of September 27, the latest disclosure deadline, Albanese had raised more than $204,000 in total, including about $156,000 in public funds, and had spent just under $114,000. He had just over $90,000 in cash on hand.
David Carr
"I'm running for City Council because as a lifelong Staten Islander, I want to keep Staten Island a great place to live and raise a family that it always has been," Carr said in a phone interview.
Carr is promising common sense representation and continuity, having already served the district for years as Council Member Matteo's chief of staff. He has direct experience in handling legislation, capital budget issues, and the daily work of improving life for the district's constituents, he said. "I believe all of that combined is a great record to come into this race with," said Carr.
His chance of victory may be complicated by Wonica, the Conservative Party candidate, though he did not seem worried. "I consider myself both conservative and Republican," Carr said, "and I believe that voters will recognize that I have a strong record of upholding conservative values when they go to the polls in the coming weeks."
His top priority, as with the other candidates, is public safety. "As a Republican, being pro-NYPD, being pro-law and order is in my DNA," Carr said. "It's a core issue for us. I don't believe that all of our public safety problems are going to be solved by supporting a Democrat who's part of the very party that's the source of all the city's public safety woes." He has promised to push to undo recent police reforms passed by the City Council – he wants to repeal the city's criminalization of chokeholds by police and reinstate fuller qualified immunity, which prevents officers from being sued in civil court. Carr also advocates for property tax reform, citing the ever increasing costs of living in the city.
Carr has been a vocal critic of the various vaccine mandates that have been imposed by the de Blasio administration on businesses, school teachers and municipal workers. Though he is by no means a vaccine critic, he said taking the vaccine should be a personal choice and that the mandates are hurting people that sorely need to return to work. "I always say that I believe in science, but I also believe in talking to your doctor," said Carr, who said he is vaccinated against COVID-19. "I believe that people should talk to the healthcare provider that they trust, and that's not necessarily a public health official that works for the city."
Carr has received some criticism from his Democratic opponent for his apparent evasiveness on vaccinations. On October 9, Albanese called out Carr on Twitter for remaining silent about his vaccination status when all three candidates sat down for an interview with the Staten Island Advance editorial board. As of October 13, about 67% of Staten Island residents had received one vaccine dose and 61% were fully vaccinated, below the city averages.
Besides restoring the borough's limited mass transit services like buses and ferries to pre-pandemic levels, Carr wants to improve traffic management and ease burdens faced by vehicle owners. He has been critical of the de Blasio administration's policies for "nickel-and-diming" drivers – citing, for instance, new speed and red-light cameras – and for decisions that he says have slowed traffic, such as reducing the speed limit on Hylan Boulevard.
He wants to reduce regulations on small businesses and impose a moratorium on business fines and fees as the borough, and the city, continues to recover from the pandemic.
On Staten Island, the pandemic exposed the glaring absence of any public hospitals, reviving calls for the city to invest in one. Carr, however, believes that would be a mistake. "The best way that the city can make up for that discrepancy is by investing in our existing hospital system," he said, arguing that a new hospital could financially hurt the borough's two private hospitals. "We may end up with a net zero gain," he said.
Resilient infrastructure is one of the most critical needs for the borough, which was inundated by Hurricane Sandy in 2012 and continues to be at risk from major weather events. Among the major projects undertaken in the wake of the hurricane is the east shore seawall, which was meant to be completed this year but has been delayed because of radiation contamination near Great Kills Park. Though the Council has little power over the project, since it is led by the federal government, Carr has promised to continue to advocate for its speedy construction.
Besides receiving the blessing of his boss, Matteo, Carr has been endorsed by several Republican lawmakers including U.S. Rep. Nicole Malliotakis, Borough President Oddo, State Senator Andrew Lanza, Council Member Borelli, and Assemblymembers Mike Reilly and Michael Tannousis. He also has the backing of the Captains Endowment Association and the New York State Court Officers. He had raised nearly $329,000 for his campaign, including $254,000 in public funds, and spent nearly $258,000 as of the most recent filing. He had about $71,000 in cash on hand.
George Wonica
Wonica, the Conservative Party candidate, is a real estate broker with a 30-year career who wants to continue the "gold standard" of constituent services under successive Republican Council members in the district. He is running on a platform advocating for homeowners, small businesses and public school parents. And he wants to "re-introduce secession to be finally able to control our own destiny as our own city," according to his website.
Wonica's campaign did not respond to repeated requests for an interview.
In a candidate questionnaire for the Staten Island Advance, Wonica said his top priority is property tax reform and he will push the mayor's task force to revive its efforts. "This needs to be the front and center issue, especially coming out of the pandemic where there will be a BIG budget shortfall and we all know who's going to get the bill for it," he wrote.
Wonica believes his deal-making skills in the real estate industry will help him find common ground with differing stakeholders in the interest of his constituents. "Negotiating is what I have done EVERY SINGLE DAY. It is what is needed to get things done in the District," he wrote.
Echoing Carr, Wonica also wants to reverse the City Council's police reform package and wants to "give our police the tools they need to keep us safe." If elected, Wonica has pledged to hold monthly meetings with constituents and business owners. He wants more bus routes and fast ferries for the East and South Shores. And he wants to fight for the borough's fair share in funding for its hospitals.
As of the last filing, Wonica had raised nearly $159,000, including about $123,000 in public funds, and spent about $64,000. He had just under $95,000 remaining.
Absentee balloting is underway; early voting is October 23-31, and Election Day is November 2.
The three candidates in Council District 50 will debate on NY1 at 7 p.m. on Thursday, October 14.