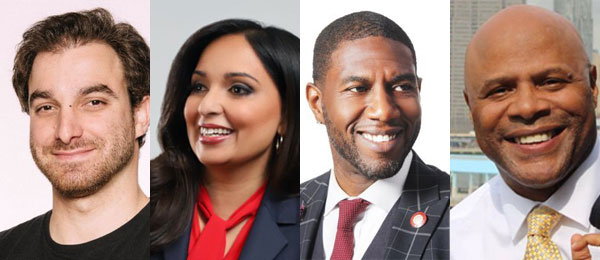 (l-r) Devin Balkind, Devi Nampiaparampil, Jumaane Williams, & Tony Herbert
---
Candidates for New York City Public Advocate in the fast-approaching 2021 general election discussed their visions for the city's second highest office during two recent TV debates.
On Tuesday night, incumbent Democratic Public Advocate Jumaane Williams and Republican nominee Dr. Devi Nampiaparampil met for a one-on-one debate hosted by NY1 and other partners and moderated by Errol Louis, Spectrum NY1's political anchor. The debate was an official, New York City Campaign Finance Board-sanctioned debate, which is mandated for qualifying candidates who have received public matching funds.
Last week, all four candidates who are on the general election ballot for Public Advocate -- Williams, Nampiaparampil, Conservative Party nominee Tony Herbert, and Libertarian Party nominee Devin Balkind -- met for a debate hosted by Manhattan Neighborhood Network and moderated by Gotham Gazette editor Ben Max. [Watch that debate here.]
At both debates, Williams was put on the defensive about his two-plus years in the position, and about the fact that he is openly exploring a 2022 run for governor as he asks city voters to give him a full four-year term as public advocate. He boasted of change he's brought to the office and said it was important for him to explore a gubernatorial run in order to possibly seek much more power to enact progressive change that he's long sought. Meanwhile, Williams' challengers pitched their visions for the role and their stances on key challenges facing the city.
The public advocate has several main responsibilities and powers, including being an ombudsperson, a check on the mayoral administration and other entities serving New Yorkers, presiding over the City Council as an ex-officio member who can introduce and co-sponsor legislation but not vote on it, nominating individuals to certain boards and commissions, and more. Broadly speaking, the public advocate is also supposed to speak out on issues of importance to the city and use his or her bully pulpit to seek change helping New Yorkers.
Different public advocates, including the current officeholder, Williams, and his predecessors, such as the attorney general of New York State, Letitia James, and current mayor of New York City, Bill de Blasio, have approached the job differently.
Williams, a Democrat like all the others to hold the role since its creation in 1993, first won the office in a 2019 special election when James became attorney general. He is now running for a full four-year term, even as he has already opened an exploratory committee to consider a run for governor in the upcoming June primary. Williams ran for lieutenant governor in 2018, losing to now-Governor Kathy Hochul, but helping to raise his profile ahead of the 2019 run for public advocate, which he won by a wide margin.
Williams and Nampiaparampil Debate
Tuesday's debate between Williams and Nampiaparampil was hosted by the Campaign Finance Board and co-sponsored by Spectrum News NY1, THE CITY, Citizens Union, John Jay College of Criminal Justice and Social Work Votes (Columbia School of Social Work & Latino Leadership Institute).
At the debate, Williams and Nampiaparampil, a physician and first-time candidate for office, sparred over public safety policy, police funding, vaccinate mandates, the closure of Rikers Island, and more. There were brief moments of agreement between the two but they offered differing approaches and understandings of the role and powers of the office.
Williams touted the work he's done in the partial term he has served so far, including sponsoring and approving many pieces of legislation and his efforts to hold the de Blasio administration to account. Nampiaparampil went on the attack, criticizing Williams for failing to act as an effective check and balance against the executive and questioning him for openly considering a run for governor next year.
"Since my time in office, we've completely restructured it, we've redefined the scope of what it can do, we've had some tough fights, and we've won some tough victories," Williams said in his opening statement.
He later said that his "pretty decent" relationship with the likely next mayor, Brooklyn Borough President Eric Adams, would not affect the way he performs his duties. "[T]he job of the Public Advocate isn't either to come in as a friend or an adversary," he said. "The job is to make sure the people of the City of New York are getting their needs attended to by government."
Nampiaparampil, in her opening statement, criticized the de Blasio administration's handling of the pandemic, and repeatedly throughout the debate sought to link Williams to the administration's failures. "I will protect the powerless as this administration has failed to do," she said.
Noting later that she is not familiar with Adams but has a "good relationship" with Curtis Sliwa, the Republican mayoral nominee, she said, "It's really more to me about the data and the analysis. So it's not to me so much what they're saying but what the data would show."
The public advocate is next in the line of succession if the sitting mayor either dies, resigns, or is incapacitated and unable to perform their duties. In such a situation, both candidates argued they would be prepared to take over the city's top office.
"I am used to dealing with dangerous and challenging situations and all sorts of characters, and I have succeeded both in public life and in private life," Nampiaparampil said, touting her 20-year medical career, which includes experience at the federal level of government.
Williams offered his experience as an elected official, having served in the City Council and as public advocate, and said he regularly thinks about what he would do if he became mayor at a moment's notice. "We have some contingency plans that we've put together, and we're ready," he said, though he conceded the office does not have a clear roadmap for if such an occasion were to occur. If the public advocate becomes mayor, it is for an emergency 60-day period, at which time an election is held.
Early on and throughout the debate, Nampiaparampil challenged Williams, a longtime advocate for police reform, on the issue of public safety. Williams said that the holistic approach he's promoted for many years had been coming into greater implementation while the city was becoming safer and safer into 2019, before the gun violence spike of 2020 and into 2021.
When pressed about his ambitions of becoming governor, Williams said, "The calendar is something we can't do anything about and so I'm caught between having to make decisions at the same time," given that the gubernatorial primary is in June. But he added, "I think it'd be dereliction of duty not to say I'm even going to explore a position that actually has more tools than I have now to do the things I'm actually advocating for." He insisted that he has been open about possibly running for governor to fully inform voters before they decide whether he deserves their votes in the public advocate election.
Nampiaparampil, however, questioned whether running for governor would be a distraction and also the cost to taxpayers in public funds that Williams has received for his public advocate race. "This is not about the calendar, it's about focus on the public advocate position and on New Yorkers," she said. "New Yorkers deserve someone who is focused on crime, the economy, the issues that are specific to New York City."
Louis, the moderator, in turn pressed Nampiaparampil on whether President Donald Trump's administration had been positive for the city and whether she would accept his endorsement. "Overall in terms of Donald Trump, I think that he has highlighted a big problem that we have in this city, which is corruption, across the country," she responded.
She said she would accept an endorsement from Trump and anyone who wants to back her campaign. "I've accepted endorsements from people who like Trump. I've accepted endorsements from socialists as well so there are a lot of people that support my campaign because I've been arguing for fairness, transparency and predictability, which I think everybody can agree on, regardless of their political beliefs," she added.
Questions about vaccine mandates, public safety, including school safety, and education, specifically about the city's gifted and talented program, dominated much of the other back-and-forth between the candidates.
As Williams has consistently been far more cautious than the mayor about mandating a return to work for municipal employees who have been working remotely, particularly in his office, he has been a vocal advocate for vaccine mandates. "We understand that it works, and that's what's getting us where we need to go," he said, though he did agree with religious exemptions. "Unfortunately the politics has made it seem crazier than it is. We have vaccine mandates in place right now. We're just adding another one so we can save people's lives."
Nampiaparampil presented a mixed message on vaccine mandates, arguing at times that they "might make sense" if the situation was as bad as the start of the pandemic but also saying she would end them if she had the authority. "I'm opposed to the mandates, not because I'm against the vaccine, but because I think it is difficult and divisive to New Yorkers," she said, noting that she is vaccinated. She insisted the mandates have caused staffing shortages and supply chain issues. "It's infringing on people's civil liberties and they are very upset," she said, "and it's creating a lot of divisiveness that we don't need while we're trying to get through this pandemic."
Williams, in response, noted that there are existing vaccine mandates for diseases like mumps, rubella, and measles. "The only reason it's divisiveness, is because people are putting politics into it," he said. "We already have vaccine mandates. You are also not allowed to have a civil liberty to run through a red light and kill someone."
Louis pressed the candidates on whether they support the planned closure of the Rikers Island jail complex, where 14 detainees have died this year in what has become an unprecedented humanitarian crisis, and the construction of four new borough-based jailed everywhere but Staten Island.
"What's happening at Rikers is dangerous for everyone involved, for people on both sides of those bars," Williams said, in support of the plan, which he said may need some reexamination but overall must move ahead.
Nampiaparampil did not directly say whether she supports the closure of Rikers. Rather, she used the opportunity to criticize Williams and the overall mismanagement of the de Blasio administration.
"This happened on your administration's watch, on your watch," she said. Williams had failed to appropriately use his office's resources to hold de Blasio's feet to the fire, she argued. She segued to the Commission on Public Information and Communication (COPIC), a little-known entity housed under the public advocate, which she insisted could and should have exposed problems at Rikers.
"I'm not sure if there's the best understanding of the role of the public advocate," Williams retorted, "but I'm happy to lay out all of the tools that we have, and I very much have used those tools to the best of our capability." He also said that his office has not received adequate funding for COPIC, which he has sought for years.
On Monday, the city's Civilian Complaint Review Board, a police oversight agency, recommended disciplinary action against 65 police officers for misconduct during the Black Lives Matter and Defund the NYPD protests last year. When Louis asked the candidates whether they viewed that as emblematic of a systemic issue, there was a significant gulf between the two.
Nampiaparampil blamed the mayor for mismanaging the protests, rather than the police for their actions. "To have so much mismanagement and then blame the last domino is to me ridiculous, but that's what I have seen time and time again in this administration," she said, while critiquing the 'Defund' movement as well as bail reforms approved by the state in recent years.
"I don't think the answer to what we saw, people protesting over policing, was additional more police," Williams said, warning of the fear-mongering of opponents of 'Defund' and bail reform. "[W]e have to understand that public safety simply can't be equated with policing," he said.
De Blasio recently announced that the city will phase out the gifted and talented program in city schools – which has been criticized for serving relatively few children while exacerbating school segregation – and replace it with an "accelerated learning" program for all elementary school students. But Adams, the Democratic mayoral candidate and likely next mayor, has vowed to reassess that decision and promised instead tweaks to and an expansion of the existing program.
"If we had a life-saving medication and only 1% of people had access to it, we would do everything we could to make it more accessible to everybody. We wouldn't destroy it so that nobody could have it," said Nampiaparampil. "So that's how I see the gifted and talented program and the specialized high schools."
Williams, who attended a gifted and talented program and a specialized high school, criticized the program as it exists. "[D]oing away with the system the way it is does not mean that students who need and should have accelerated learning won't have it," he said, expressing support for the plan de Blasio has laid out, but criticizing the mayor for doing it so late in his tenure and without requisite public engagement.
As legislative priorities go, Nampiaparampil said she would pursue policies and legislation to tackle con artists. Williams said he would advance legislation related to Black maternal health and health care for transgender New Yorkers.
In two lightning rounds where candidates were expected to give yes or no or other short answers, key differences and some commonalities emerged between the candidates.
Williams supports allowing non-citizen voting in municipal elections while Nampiaparampil does not. Williams opposes allowing New Yorkers to carry concealed firearms while Nampiaparampil supports it.
As the city prepares to remove a statue of Thomas Jefferson from City Hall, Nampiaparampil said she is opposed to it. Williams, who supports its removal, said, "The question is why is it there in the first place."
Asked about how often they take the subway, Williams said a few times a month. "Well you ride with a police escort, but I ride the subway every day," Nampiaparampil responded.
The two had contrasting positions on whether congestion pricing would be a boon or bane for the city. "This has hurt the disabled and the sick significantly and the frontline workers throughout the pandemic," Nampiaparampil said, though it was unclear what she was referring to given congestion pricing has not yet been implemented. "So I'm in favor of things that help with climate change, but overall I think it hurts the disadvantaged significantly."
"Once we can answer the questions, the sooner we can get it, the more net positive it will be," Williams said of congestion pricing.
They did agree that new officers hired by the NYPD should be required to live within the five boroughs, though Nampiaparampil said the requirement should come with higher salaries and Williams indicated he would be open to setting a very high percentage just shy of 100%. They agreed that city government should make it a priority to fight racism, in the wake of a Monday resolution by the city Board of Health to declare racism a public health crisis. They also agreed that placard abuse is a big problem. And while Nampiaparampil said she had never ridden a Citi Bike, Williams has been publicly documented riding a Citi Bike.
The Four-Candidate Debate [Watch the full debate here.]
At the MNN debate, differing visions for the role of public advocate were again evident, and Williams was on the defensive against the three other candidates. (Though Herbert participated for only the first 20 minutes of the hour-long debate, before dropping off the zoom without explanation and not returning. He later tweeted that he felt the moderator had been unfair so he decided to leave.)
Both Herbert and Balkind have run for public advocate in prior elections, while Nampiaparampil is a first-time candidate.
Speaking first during opening statements, Balkind criticized establishment Democrats' "Tammany Hall-style operation" and said that he was disinterested in taking the city toward the left or the right, but that he wanted for New York to go "forward." He said he wants to do that by using his skills as a software producer and that this skill set lends itself to "upgrading government to 21st century standards."
Herbert pointed to his experience working for elected officials at the federal, state, and city levels of government. He said that his time in government has allowed him to interact with all kinds of New Yorkers and that this qualifies him to do "the business of the people." He added that as public advocate, he would focus on public safety as the "common sense" candidate.
"New Yorkers cannot walk around the city without being shot at and/or put in a position where they're stabbed or even hit over the head by these individuals that my opponent basically has helped get out of jail for free," Herbert said.
Nampiaparampil shared Herbert's and Balkind's frustrations with the status quo and went so far as to say they were all more or less on the same side in this election.
"I see the current administration and its policies as the problem," Nampiaparampil said. "I have no problem with Devin or Tony, because we're all on the same side [against] the current administration," Williams, a former City Council member from Brooklyn, said that he has been a lifelong advocate for the people and that during his time in office, he restructured the role of public advocate toward his background as a community organizer and passed more bills than nearly all previous public advocates combined. He concluded his opening remarks saying that "we need courageous progresive leadership now more than ever."
As for how each candidate would approach the role of public advocate differently if elected, Hebert emphasized the job's apolitical nature. He said that the public advocate is supposed to be the "voice of the people" and should not engage in partisan politics.
"The public advocate should be that person that's the cheerleader bringing everybody together, being able to go into any community and sit down with any and everybody," Herbert said. "I would approach it from that standpoint. I'd bring New Yorkers together for the purpose of knowing that we have to be one New York … New Yorkers should always be placed first and politics last."
Nampiaparampil said that she sees the role as more than social media dexterity, and that the public's engagement with government should look more like people speaking to government than government to people.
Balkind, who works in nonprofit tech, said he would transform the office into a digital innovation and civic technology startup that better engages the public and spotlights problems and solutions. He added that the public advocate is supposed to make information from the government more available to the public and called for the reinvigoration of the Committee on Public Information and Communication (COPIC), which the public advocate is supposed to run, but has largely been dormant for many years.
Williams said he has wanted to bring new life to COPIC but that a lack of funding and the pandemic have kept those plans on hold. He also said the pandemic had limited some of his other plans for the office, like opening satellite borough offices. He mentioned that while James, an attorney, had focused on litigation as public advocate, he has focused on local outreach and organizing, that he wants to make sure that information is flowing up and down between electeds and communities, and that he wants to seek subpoena power for the office.
Max then pivoted to individual questions for each candidate, by which point Herbert had left the debate.
When asked how as the Republican nominee in a heavily Democratic city like New York she planned on reaching across the aisle, Nampiaparampil said that she doesn't feel accustomed to thinking of the world in terms of partisan affiliation to begin with. She said that her patients are most likely Democrats who don't know that she is a Republican and that this kind of dialogue doesn't come up in her profession, which is how she would approach the job of public advocate, looking to help all people who need help. Mostly, Nampiaparampil doubled down on her campaign's focus on transparency as a universal issue.
Asked what he says to voters who he's asking for a full term as public advocate while he's already exploring a run for governor in 2022, Williams said it's a fair question and that he is "honored" to serve as public advocate and he's asking the people for the opportunity to continue in the role, but that he has no control over election timelines.
"It would be a dereliction not to consider whether you want to have the additional tools to actually do the things that you've been pushing on for a very long time," Williams said.
Balkind responded to a question about what he learned from his previous two campaigns for public advocate and how he was approaching this race differently. He said that he has continued to focus on data analytics and the office's platform to raise awareness of issues like problems plaguing the city's capital budget. He said he has been doing pieces of the job on his own, like building a website exposing the delays and cost overruns of hundreds of city capital projects.
The three candidates were asked to each name another issue they would focus on as public advocate.
Nampiaparampil said that as a small business owner, she is acutely aware of the pandemic's impact on the city's economy.
"The mandates, the lockdowns, the fines that have been imposed during this period, everything is against businesses," Nampiaparampil said.
She said that she is supportive of New Yorkers getting the vaccine but she opposes mandates, which she said have resulted in staffing shortages in the medical industry.
Williams said he would continue to focus on public safety. He said that unfortunately over the last year most conversations relating to this issue focused on policing alone, but that policing is not the same as public safety and much more needs to be part of the discussion.
"I always tell people to imagine a community that you deem as safe," Williams said. "I will bet anything that no one thinks of a community with a police officer on every corner."
Balkind mentioned housing and said that he is in favor of significant housing development throughout the city.
"I don't know if we've ever had a proud YIMBY Public Advocate…'yes in my backyard,' we need to be building probably a half-million housing units over the next ten years to resolve this housing crisis," Balkind said.
He added that more housing would stabilize the cost of living in the city.
In his closing statement, Balkind said that he considered the public advocate role more of a lifestyle for him and that he plans to pursue the functions of the position for as long as he lives in New York City, with the goal of making it the most transparent and participatory civic space in the world.
"My message to New Yorkers is, this isn't about political parties, that's a facade," Nampiaparampil said in her closing. "This is about trust, on the worst day of your life, things are going wrong, who would you trust?"
Williams said in closing that there were fundamental differences in the candidates' visions for the city but that he appreciated his opponents' sincerity in wanting to improve New York.
"Now more than ever we have to have courageous progressive leadership," Williams said.
The early voting period is October 23-31, and Election Day is Tuesday, November 2.
***
by Samar Khurshid & John Besche