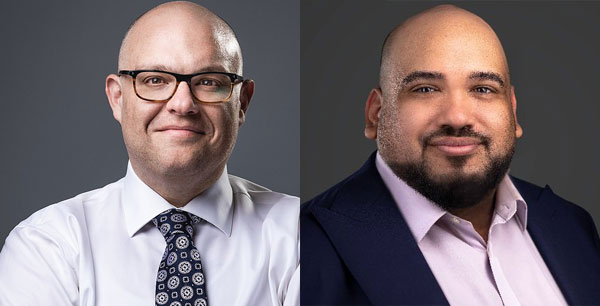 Council Member Justin Brannan, left, & challenger Brian Fox
---
Justin Brannan, a first-term Democrat from southern Brooklyn, wants to be the next speaker of the City Council. But first he must win his reelection race in District 43 against Republican nominee Brian Fox, a controversial candidate with a history of sharing conspiracy theories and misinformation espoused by the alt-right.
Brannan is promising a continuation of what he says was a productive first term in which he brought much needed resources back to his district and concertedly responded to constituent concerns while attending to the district's diverse constituencies. Fox, on the other hand, is laser-focused on crime and quality of life, which he believes have deteriorated under Brannan's watch.
District 43 straddles the waterfront at the southwestern tip of Brooklyn, encompassing Bay Ridge, Dyker Heights, Bensonhurst, and Bath Beach. Bay Ridge has among the largest concentrations of white residents across the city, according to 2020 Census data analyzed by the Department of City Planning, and the neighborhood along with Bensonhurst saw the largest increase in Hispanic population over the last ten years. The Asian population has also been rapidly increasing, and a large Arab and Palestinian population calls the district home.
In 2020, Community Districts 10 and 11, which cover the Council district as well as Fort Hamilton, Gravesend, and Mapleton, held 334,941 residents, 42.3% of whom were white, 36.6% Asian, 16.3% Hispanic, and 1.4% Black.
Brannan won the seat in 2017 with a margin of just 794 votes – in a low turnout election against Republican John Quaglione – succeeding Council Member Vincent Gentile, a Democrat whom Brannan previously served as chief of staff. He went unchallenged in this year's primary and is favored to win the general, in part given the power of incumbency. As of February 21, the Council district had 105,453 registered voters, including 53,098 Democrats, 20,721 Republicans, and 27,364 unaffiliated independent voters. But the area has elected Republicans in the not too distant past.
Justin Brannan
Brannan's politics are a balancing act of progressive positions and more center-left ones. Over the years, he has assiduously built coalitions with labor unions, moderates, progressive elected officials, and Democratic county officials while also keeping a lot of focus on district needs in an area of the city that often feels ignored by City Hall. In recent Democratic primary elections he has endorsed Senator Bernie Sanders for president and Borough President Eric Adams for mayor.
Part of his approach also stems from his desire to be the next speaker of the City Council, an internal election that will happen through a vote of the 51-member legislative body in January but will likely be decided by Council members and a variety of power brokers before then. Brannan has been steadily running for speaker for years, laying early groundwork not like after taking office, following a model of the current speaker, Corey Johnson.
On the campaign trail as he seeks another term in the Council, Brannan is pitching a productive first term while pointing to Fox as unfit for the job. In an interview, he touted several accomplishments including funding four new schools in the district, bringing in an estimated $100 million for parks, playgrounds, libraries, food pantries, and non-profits, and passing legislation to create a five-borough climate adaptation and resiliency plan, among other things.
"I'm very proud of that, that I've been able to bring back so much money directly to the community," he said. "And that doesn't happen automatically. You have to fight to actually get that done."
Brannan said he's most proud of the day-to-day work of his office, "some of the stuff you don't hear about," providing constituents with direly needed services throughout the pandemic. "You're gonna get our full attention, full support from beginning to end," he said. "We're gonna see it through with you from the phone call to the resolution. And that ultimately is the job."
For a possible next term, Brannan has big ideas. He wants to work with the mayor and legislators in Albany to institute a universal afterschool program, building on the success of Mayor Bill de Blasio's universal pre-kindergarten and 3-K for All programs. "We have to look more holistically at the education system and this sort of 8:30 to 2:30 model that maybe made sense back in the Leave it to Beaver days doesn't work anymore," he said.
He will push for citywide universal broadband, treating wi-fi internet as a public utility. "It's just as crucial as turning on a faucet and water comes out," Brannan said.
And he wants to undertake reforms to the city's contract procurement system, in part to reduce the timeline on city capital projects which are often delayed past the terms that Council members serve. "It's indefensible to tell a parent that building a playground, hopefully it'll be done by the time their kid's at Dartmouth," he said.
With the city's nonprofit organizations serving as a crucial partner in providing government services, particularly through the pandemic, Brannan said he wants to do more to support them including by increasing funding and ensuring timely payment of contracts.
Brannan's opponent is first-time candidate Brian Fox, who seems to have a penchant for controversial ideas. His social media is replete with conspiracy theory posts about everything from the 2020 presidential election to the January 6 Capitol insurrection to the COVID-19 pandemic.
Brannan didn't mince words when talking about his opponent, who he says has repeatedly lied on the stump about Brannan's work during his first term. "No one knows who he is or where he came from. Politically, he just arrived. No experience in much of anything really," he said.
"He's a demagogue," Brannan added, pointing to Fox's tendency to share conspiracy theories online. "He's just unfit to serve and he has no idea of the needs of the community."
Brian Fox
Fox is a local entrepreneur and runs Phillip Martin Talent Advisors, a recruitment and contracting firm that he founded last year.
He said that he is running because of his singular concern about crime. During 2020, shootings and murders skyrocketed in New York City, as they did in many cities across the state and country, even as major felony crime overall decreased slightly in the five boroughs.
Fox is among those on the right and the center who have attributed the increase in gun violence in the city to efforts to "Defund the NYPD" and changes to state bail laws, though there is no direct evidence to support the assertion. He has campaigned saying Brannan voted to defund the police after Brannan voted in favor of the city's budget last year when the City Council and mayoral administration diverted several hundred millions of dollars away from the police department. Brannan, who has been vocal about his support for police and other uniformed city workers, was not among the loud progressive voices in the Council who pushed for the NYPD cuts, but did not join some of the more conservative members who voted against the budget because of the cuts (several more progressive members voted no because they felt the cuts didn't go far enough).
"What prompted me to run was not just crime, but also the safety of everyone in this district regardless of your political affiliation," Fox said in a phone interview. In that vein, he has harped on Brannan for his repeated traffic violations, which include speeding in school zones. "Mr. Brannan's arrogance behind the wheel is breathtaking and dangerous," Fox said in an October 13 statement. "Here's an elected official who's constantly lecturing constituents about driving safely while continually breaking the law himself."
If he wins, Fox has promised to improve policing and quality of life in the district. He wants to increase the police budget, push for more cops on the street, reinstitute a plainclothes police unit that was disbanded last year, and emphasize broken windows policing. "I think that broken windows will stop not just repeat offenders, but also get a lot of our illegal guns off the streets," he said of the approach that prioritizes cracking down on smaller crimes and disorder to prevent more serious crime.
"My entire business and revenue generation and everything that I do revolves around human interaction...I think that my strength lies within really understanding the people that I'm speaking with and understanding that each individual want and need is very, very different," he added.
Fox said he would work with the Department of Sanitation to step up efforts against graffiti, more efficiently get the trash picked up, and cut down on illegal dumping by increasing fines.
On issues like increasing housing affordability, improving mass transit, and promoting climate resiliency, Fox offered few specifics. "When it comes to infrastructure, it just has been a growing issue across the entire city and that goes beyond what I'm even able to do once I'm elected," he said.
One issue that Fox feels strongly about is animal welfare and he wants to implement "no kill" shelters across the city, similar to Republican mayoral nominee Curtis Sliwa. He has also floated legislation to create a New York City Malfeasance Review Board, "a civilian organization with the authority to punish city elected officials who have broken the law," according to his website. All city elected officials would fall under the agency's jurisdiction and it would have the power to dole out punishments including "the removal of privileges such as parking placards and reductions in pay."
In a lengthy analysis of Fox's background and political ideology, Radio Free Bay Ridge, a local podcast, found countless cases of social media posts about conspiracy theories and sympathies with the so-called alt-right. In one example, Fox liked a tweet that said that he would "make Bay Ridge white again." Fox, according to the examination, derived much of his news from alt-right YouTube accounts and regularly shared conspiracy theories to his Facebook page, including posts calling into question the results of the 2020 presidential election, which members of the alt-right, former President Donald Trump and many of his other supporters falsely claim was stolen by President Joe Biden because of massive election fraud that never took place.
Fox disputes those claims. He alleged that the author of the analysis, Dan Hetteix, is a friend of Brannan's and was appointed by him to Brooklyn Community Board 10 - Brannan denies being friends with Hetteix. Fox also said many of the allegations in the story were fabricated and "flat out lies," though he did not provide a detailed account that refuted them. (During the phone interview, Fox's campaign spokesperson, Bill O'Reilly, interjected to note that the Radio Free story was released after Fox called for Hetteix to be removed from the community board over a boycott of local businesses over alleged failure to screen customers for vaccinations.)
"I am not alt-right," Fox said. "My views and ideology are not at all alt-right or extreme right despite what they've tried to label me as. I'm what I'd like to call the sensibility candidate when it comes to very, very basic and fundamental things — crime, sensibility, quality of life."
He also acknowledged that Biden won the 2020 presidential election, though he did talk about election fraud generally. "Historically, throughout our election system, there has been increasing levels of fraudulent stuff and fraudulent activity," he said, though repeated election audits have disproved that notion. "Now, that doesn't matter in this local election. Joe Biden's our president."
Fox also sought to provide clarity about his position on vaccinations and masks, after the Radio Free story pointed out his attendance at rallies that also had anti-vaccination and anti-masking protesters. "I am in no way shape or form an anti-vaxxer at all," he said. "I mean, that's something I have never stated, I have never believed in. It's not part of my ideology." He said he only opposes vaccination mandates that he believes have hurt small businesses. "It's a matter of having choice," he said.