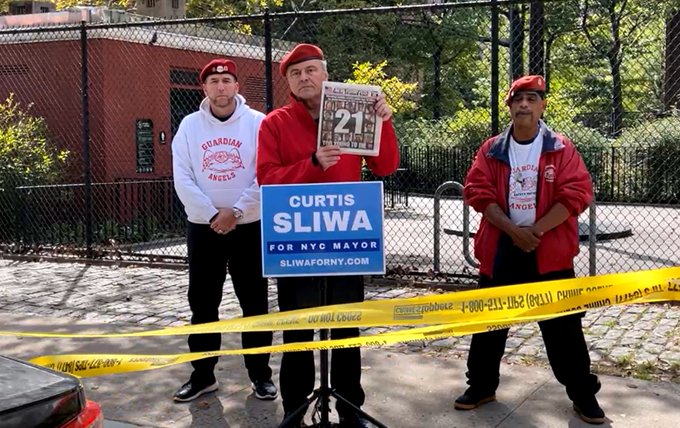 Curtis Sliwa on the campaign trail (photo: @CurtisSliwa)
---
With relatively little money in the bank and only a tenuous tie to his newfound party, Curtis Sliwa, the Republican nominee for mayor, is running on name recognition and four-decade history of catching headlines. But in public appearances and on his website he has put forth an outline of his vision for New York City with policies that span the political spectrum.
Sliwa has been a peripheral figure amongst the characters of New York City since the 1980s when his neighborhood watch group, the Guardian Angels, came to prominence. His time in the spotlight has ebbed and flowed, though he has been a consistent tabloid and broadcast presence over the years. In recent decades, he's been known to New Yorkers as a controversial and conservative talk radio host who adamantly opposed Donald Trump and only took up the Republican mantle in 2020 as he approached a run for mayor in this year's election.
"A lot of Trumpers overlooked that and decided I should be the Republican candidate, I think based on what I've done in the city for 42 years, especially with a focus on public safety," he said in a recent interview with Gotham Gazette. "A lot of other people don't realize, I'm the independent candidate."
Sliwa calls himself a "populist" who is offering "compassionate" solutions for New York City's problems, though he is also supportive of harkening back to some of the 'tough-on-crime' policies of the Bloomberg and Giuliani years. He stresses that he's not easily put into an ideological category, that he doesn't get along with many Republican Party leaders, and he's been openly courting followers of former mayoral candidate Andrew Yang, who recently left the Democratic Party to become an independent.
In recent years, Sliwa helped lead a takeover of the New York Reform Party before it lost its ballot line and disbanded. He then registered as a Republican and won the mayoral primary by a wide margin before facing off against Democratic nominee Eric Adams and other candidates in the general election.
According to his campaign spokesperson, Teresa Holliday, Sliwa's top priorities are "Restoring public safety," expanding education, "Protecting the homeless," universal basic income, tax reform, and animal well-being. His website lists a broader range of issues.
Between the primary and general elections, Sliwa has raised just shy of $1 million in private campaign contributions and just recently qualified for public matching funds bringing his total fundraising to just over $4 million. It's not insignificant, but paltry compared to $19.8 million (public and private) raised by his main opponent, Adams, the Brooklyn Borough President.
Sliwa believes addressing crime and disorder is the gateway to improving other social ills. That philosophy pervades a large number of his stances.
His highest priority is increasing funding for the NYPD and hiring 3,000 additional police officers. He frequently uses the slogan "refund the police," which could entail adding about $107 million in city funding to the current operating budget in order to be in line with the fiscal year 2020 budget, adopted before the "Defund" movement took off. Part of what he means is reinstituting the plainclothes "anti-crime" unit that Mayor de Blasio and Police Commissioner Dermot Shea shuttered in 2020 following Black Lives Matter protests across the city. It also means cracking down on gun violence and a greater police presence in public housing, more cops on the subways, and more use of stop-and-frisk tactics, though he stresses it all must be done constitutionally — and in some of these stances and others, he and Adams are often aligned.
On brand for Sliwa, his website devotes a specific section for subway safety. He calls for more NYPD patrols underground to the tune of 4,500 uniformed officers and 500 undercovers, plus another 500 MTA cops specifically dedicated to fare evasion.
Part of what he views as "subway safety" includes removing homeless people to shelters and people in emotional distress to psychiatric facilities.
Sliwa was asked about his pro-institutionalization stance in the recent interview with Gotham Gazette's Ben Max. "Especially if they don't have a family or if families are incapable of caring for them," he said, "and especially if it requires them being medicated by someone because they either are unwilling to get medicated or they won't continue on with their medication."
During Sliwa's first debate with Adams on Wednesday, he said he wants to see the state lower the bar for forced institutionalization by court order.
Like Adams -- a former cop who is also widely viewed as a law-and-order candidate -- Sliwa wants to pair mental health experts with police officers on calls related to someone in emotional or psychological distress.
He believes to get unsheltered individuals off streets and subways the city must address safety in shelters by assigning social workers and police officers to deescalate altercations and deter crime. He wants to see more shelter beds and more in-house services like meals, laundry, and counseling.
His plan to address homelessness also involves converting government properties to, and encouraging private sector development of, low-rent supportive housing. For such apartments, he says individuals would need to be employed or seeking employment and must see counselors and remain out of jail. Beyond supportive housing, the plan includes mentorship and enrichment programing for homeless youths, more social workers on the streets, and fully funding the Association of Community Employment's programs for homeless people.
Meanwhile, Sliwa has been remarkably anti-development in public appearances, especially for a Republican candidate for mayor, saying that population growth in the city should not be a metric of success and that quality of life for people is better when the city is less crowded. He has also criticized big development projects like Hudson Yards.
But he does devote a portion of his platform to building affordable housing for low- and middle-income residents. His proposals include rezoning and streamlining permitting to allow for the quick conversion of vacant storefronts and retail space into housing units. He also supports rezoning former manufacturing sites in Gowanus, SoHo and NoHo, and Long Island City. He wants to secure funding for and expand the Mitchell-Lama program. (Again, a number of these stances are similar to Adams'.)
Sliwa also wants to make a number of changes to the property tax system, including placing a 2% cap on annual increases to the city's tax levy, instituting decennial reviews of tax exemptions, and adjusting the way property values are assessed. He wants to end tax breaks for private universities, hospitals, and Madison Square Garden, and create new breaks for senior homeowners earning less than $75,000 a year.
He acknowledges the disrepair of New York City's public housing but opposes proposals to fix NYCHA property through public-private partnerships and the sale of air rights.
"There is no doubt in my mind that there is a plan eventually to try to dislodge residents and move them in a different direction," he told Gotham Gazette of unnamed conspirators. Instead he wants to see more, and more efficient use of, federal funding and to use other revenue streams like the Department of Transportation's Adopt-A-Highway program. He advocates for allowing some public housing tenants to become owners by purchasing equity in their apartments. Like many tenant advocates, and Adams, Sliwa wants to see more resident management, vocational training, and employment.
Sliwa has the goal of providing annual 'basic income' checks of $2,000 to 100,000 families out of the budgets of the education department and office of mental health (formerly ThriveNYC) while also reducing class sizes and raising teachers' salaries -- and without raising taxes. The main path to doing this, he has said, is eliminating or reducing the salaries of six-figured administrative positions in city government. To be eligible for the checks, parents would have to be employed, have at least one child in school, and meet income requirements. His plan also entails support for school supplies and a back-to-school tax holiday, some of which would require approval by state lawmakers.
Sliwa also wants to expand gifted and talented programming for younger children and vocational training in high schools. He wants more charter schools and to encourage the development of private and religious schools. He also believes he can help students save money by mandating all public higher education institutions offer three-year degree programs.
In public appearances, including on the debate stage Wednesday, Sliwa said he opposed recent covid vaccine mandates for private businesses and the municipal workforce and suggestions to require vaccines for public school students (Adams said he supports all of them). "I disagree with Eric. I feel that we don't have enough police officers as it is," he said. "We should never fire people for that reason," Sliwa said of the possibility that some officers will not comply with the vaccine requirement and be placed on leave.
For small businesses, Sliwa would impose a 60-day deadline on permitting and licensing for new companies and expand training on the city's regulatory process. He also wants to establish a small business loan program in lower- and middle-income neighborhoods with loans between $300 and 45,000.
If Sliwa is not known for his anti-crime focus, he is known for his cats. The Upper West Side studio apartment he shares with his wife, who is running for City Council, and sixteen cats has become a campaign headquarters of sorts and captures a central theme of his campaign: animal welfare.
Above all, that means instituting no-kill animal shelters throughout the five boroughs. It also means reallocating part of the city's animal shelter budget to spaying and neutering animals in households and outside.
Sliwa's animal welfare platform has a police element: he wants to strengthen the NYPD's Elevating Crimes Against Animals division and work with district attorneys to prosecute animal harm cases. According to his website, that would address "the link between animal abuse and subsequent criminal activity."
And with so many rescue cats, it's not surprising that the final plank of this platform includes"[f]ighting the oppressive regulations about animals in homes," including restrictions on pet ownership in NYCHA and private rentals.