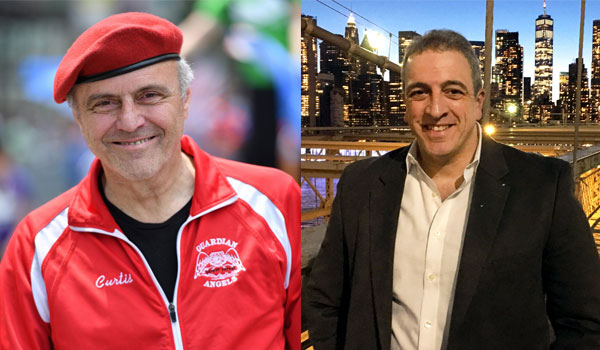 Republican mayoral nominee Curtis Sliwa, left, & Conservative Party nominee Bill Pepitone
---
Leaders of New York's Conservative Party, one of just two so-called third parties in the state with a ballot line, have been jubilant about the 2021 general election results. The party helped win victories in several local races and to defeat three ballot questions that would have made changes to legislative redistricting and voting rights. But the party went its own way in nominating candidates for citywide positions and key races on Staten Island, unlike most years when it endorsed the Republican nominee, and its nominees garnered few votes in the general election.
The Conservative Party has 163,425 registered members statewide and only 21,803 in New York City, growing marginally since the last citywide election cycle in 2017. The party has endured challenges to keep its automatic place on the ballot and often over-performs by wide margins in terms of the votes its nominees garner in elections compared to its voter enrollment numbers.
More often than not, the Conservative Party backs Republican nominees through New York's fusion voting system, where candidates can run on multiple ballot lines and accumulate the votes. The two parties' interests typically dovetail and lend each other support in elections, especially important in New York where Democrats have large voter enrollment advantages, both statewide and especially in New York City.
This year, however, the Conservatives fielded their own candidates in nine key races out of 39 in which they made an endorsement across the city, including for civil court judge and supreme court justice. In the rest, the party-backed candidate was also the Republican nominee.
There's no clear reason for the split between the Conservatives and Republicans this year. The Conservatives made early endorsements in some races, but citywide Republican candidates apparently failed to even seek their support, according to one Conservative party official. Though that may not be indicative of intentional strategy, it does seem to show some disorganization and disunity among city Republicans themselves.
The Republican county chairs for the Bronx and Manhattan did not respond to requests for comment for this article. Republicans did have a contentious mayoral primary in which some party leaders backed eventual nominee Curtis Sliwa while others backed Fernando Mateo.
In the mayoral election, the Conservative Party endorsed Bill Pepitone, a former police officer who was originally planning to run in the Republican primary but did not. For public advocate, the Conservative Party backed community activist Anthony Herbert. And for comptroller, their chosen candidate was Paul Rodriguez, a former Wall Street analyst.
In two borough president races, too, the Conservative Party went its separate way. In the Bronx, it endorsed Sammy Ravelo, a retired NYPD lieutenant, and on Staten Island, it backed Leticia Remauro, a small business owner. For the City Council, in Brooklyn's District 39, Queens Districts 19 and 24, and, notably, in Staten Island's District 50, the Conservatives split from Republicans as well.
Despite some concerns that the Conservative Party nominees could cost the Republicans a couple of close elections, the GOP nominees prevailed in the races for Staten Island Borough President and Council Districts 19 and 50. None of the other races, including the three citywide contests, were expected to be competitive and none were.
None of the candidates endorsed solely by Conservatives made much of a mark in the election at all. With about 90,000 absentee ballots still to be counted, few of which are expected to go to Conservative nominees, Pepitone had received only 11,668 votes or 1.14% of the mayoral race total. Sliwa, who ran on the Republican Party and self-created Independent ballot lines, has received 293,127 votes in total or 29% of the tally so far. Democratic nominee and now Mayor-elect Eric Adams has received 676,481 votes or about 66% before the absentee votes, which will heavily favor him, are counted.
In the public advocate race, Herbert (who also ran in the Democratic primary this year and for the seat in past elections, too) has 67,669 votes or 6.85%. Republican nominee Dr. Devi Nampiaparampil, who also ran on the Save Our City line, received 237,910 votes or 24% against incumbent Democrat Jumaane Williams. In the comptroller race, Rodriguez has pulled in 55,294 votes or 5.63% of the in-person vote tally. Republican Daby Carreras received 233,328 votes or about 24% against the winner, Democrat Brad Lander.
In the Bronx, Ravelo came in with 7,276 votes or 6.58%. On Staten Island, Remauro got 7,533 votes or 7.65% in that borough president race. Republican Vito Fossella, the winner of the Staten Island race, received 60,950 votes, or about 62%. And in the City Council District 50 contest on Staten Island, Republican David Carr emerged victorious. He received 20,485 votes, or 61%; Democrat Sal Alabanese got 10,620 votes, or about 32%, and Conservative candidate George Wonica got just 2,370 votes or 7%.
"It wasn't necessarily by design that we had ended up with different candidates," said David Curcio, the Staten Island Conservative Party Chair, in a phone interview. The party made early endorsements in February, when several candidates who later ended up on the Republican line hadn't declared their campaigns, he said. "In the mayoral race, and in the borough presidents races, their candidates never even contacted us for an interview...Their public advocate candidate never contacted us," Curcio said.
"They have their process, we have ours," Curcio added of the GOP. "They had some primaries. Their party members made their decision. We have nothing to do with that."
He said the Conservative Party was presenting alternatives to voters that are fed up with the two mainstream parties. "I can tell you that a lot of people are frustrated with the two major parties, we see a lot of that," he said. "We've been telling people if you want government to act differently, you've got to vote differently, which means maybe not necessarily voting straight down the line Democrat or Republican."
Pepitone, the Conservative mayoral nominee, is a registered Republican and he sought the party's endorsement, interviewing with the county committees, he said in a Decision NYC mayoral election debate. "But the Republican Party is fractured here in New York City. The five counties cannot even get together on one particular candidate. They went in two different directions. Both were the wrong directions," he said of Sliwa and Mateo.
"It was my decision to forego the Republican primary because I thought it was going to be a circus," he added. "And I was absolutely right. If you've watched any of the Republican debates, they were nothing more than a circus. I took that time to avoid that to concentrate on my campaign, talking to people, getting out in the city, meeting people and listening to concerns and it was the right move."
At a comptroller debate hosted by Decision NYC, Carreras, the Republican nominee explained why he did not seek the Conservative Party line. "Because I'm a moderate. I love Democrats. They're my friends," he said. "I'm against the progressives." He did say his history of creating independent ballot lines would make him more suited for a third-party line. "But I am the principles of the Republican Party: respect for life, respect for the Constitution, more personal responsibility, and less government."
Rodriguez, the Conservative nominee for comptroller, is also a registered Republican but he said the split was both because he was late to the race and because of "internal party politics" rather than ideology. "It's really more of an issue, frankly, of internal fighting within the Republican Party, which is unfortunate," he said. "I think we should have all gotten around and rallied [behind] a single individual, but regrettably, that was not to be so."
There are far more registered Republicans in New York City than Conservatives, and still many more party-unaffiliated ('independents') registered voters than Republicans, while the Democratic enrollment advantage is immense, making it more strategic for the Republicans and Conservatives to align.
In both 2013 and 2017, the last two mayoral elections, the Republican and Conservative Parties backed the same mayoral candidates.
In 2013, Mayor Bill de Blasio won his first term with 753,039 votes on the Democratic line and 42,640 votes on the Working Families Party line, for an overall 72.1% of the vote. His main opponent, Joe Lhota, got just under 34% overall, with 236,212 votes on the Republican line, 24,888 on the Conservative line, and 2,500 on the Taxes 2 High line.
In 2017, de Blasio won reelection with 760,112 votes, or 65%, against then-Assemblymember Nicole Malliotakis, who got 316,948 votes or about 27%. Malliotakis received 274,424 votes on the Republican line, 37,197 on the Conservative line, and 5,327 on the Stop de Blasio line.
In the 2018 gubernatorial election, the Conservative Party aligned with Republicans to endorse Dutchess County Executive Marc Molinaro and former Rye City Council Member Julie Killian for governor and lieutenant governor, respectively. Molinaro and Killian received 1,926,485 votes on the Republican line, 253,624 on the Conservative line, and another 27,493 on the Reform Party line, for a total of 2,207,602 or 36.2%. While they lost handily to the Democratic ticket, Governor Andrew Cuomo and Lieutenant Governor Kathy Hochul, who got a total of 3,635,340 votes or about 60%, the votes garnered by Molinaro-Killian on the Conservative Party line again showed the strength of its brand among right-leaning voters.
In the 2020 presidential election, the Conservative Party crossed a new, higher threshold to automatically keep its ballot line. The party needed 130,000 votes or 2% of total votes cast, whichever was higher. Having endorsed President Donald Trump and Vice President Mike Pence, the party garnered 296,335 votes or 3.4%, again performing well above its enrolled membership of about 160,000 across the state.
The Conservative Party did see some success on election night this year in what may have been its top goal. State Conservative Party Chair Gerard Kassar told the Associated Press that the party spent $3 million on an ad campaign to oppose the three measures on the ballot -- Questions 1, 3, and 4 -- that would have changed how legislative districts are drawn and would have led to the establishment of same-day voter registration and no-excuse absentee balloting. All three measures, Democratic priorities, were voted down.