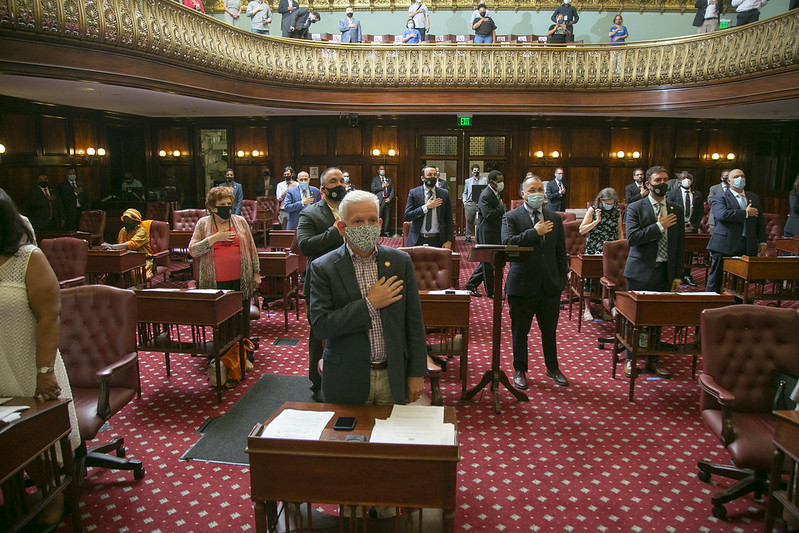 Th City Council (photo: William Alatriste/City Council)
---
The New York City Council voted 43-5 to approve a rezoning of the New York Blood Center to create a new life sciences hub on the Upper East Side, in a rare vote that overrode the wishes of local Council Member Ben Kallos.
The Council has typically followed the tradition of "member deference" on land use matters, voting along with the member whose district includes the proposed rezoning. In the case of the Blood Center, negotiations had been going on for many months among Kallos, other elected officials, the Blood Center and its developer partner, Longfellow Real Estate Partners, and other stakeholders including the de Blasio administration. Even after the proposal changed significantly over time, Kallos had several remaining objections to the project, including the building height and inclusion of additional "luxury" commercial area.
But the Council chose overwhelmingly to approve the project, with supporters arguing that it held citywide importance. It was the first time since 2009 that the Council had taken such a vote.
"This has been a process that has been one that's done by consensus," Council Speaker Corey Johnson explained, at a news conference shortly before the vote. The project had the backing of the land use chair, Council Member Rafael Salamanca Jr., Council Member Keith Powers, whose district neighbors Kallos' and overlaps with a part of the rezoning area, and the Black, Latino and Asian Caucus of the Council. It was also supported by a number of labor unions, community groups, and business organizations.
"It was a continuous conversation within the body to say this project has citywide importance because of what the Blood Center does for the healthcare system, for hospitals, for the future of life sciences in New York City," Johnson said of the nonprofit that supplies much of the city's blood reserves.
While Kallos claimed that the developers refused to meet with him and the community board, Powers said he had fruitful meetings to get to an agreement. "I know I sat in a number of meetings that included a lot of the elected officials and stakeholders. That was all about getting to a yes and building consensus," he said at the news conference.
The final deal, reached without Kallos, did reduce the height of the proposed building from 334 feet to 218 feet, but Kallos nonetheless wanted to see it lowered further. He represented a large group of local residents and other elected officials representing the area who said they weren't against the Blood Center growing but felt it was out of context for a mid-block development in a low-rise residential street and would cast shadows on a nearby school and park.
Opponents of the rezoning sought to prevent Tuesday's vote, including by unsuccessfully pleading for a temporary restraining order in Manhattan Supreme Court on Monday. Aspects of the deal were also reportedly referred to the Department of Investigation for potential corruption. Those opponents and Kallos had also invoked an obscure provision of the City Charter that would have required three-fourths of the Council, or 39 votes, to approve the rezoning, a point made moot by the 44 votes cast in its favor.
"The Blood Center rezoning is not just a project that affects New York City," Salamanca Jr. said at the vote. "This project affects millions of Americans who would benefit from the medical breakthroughs that will be researched and discovered at this location."
At the full Council meeting, Kallos said the vote was a death knell for member deference. "The fight over the new Blood Center building was never about blood," he said. 'It's been about two other issues. How high should the Center's for-profit partner Longfellow Development's commercial offices tower over residential neighborhood and member deference."
Kallos said his attempts to negotiate with the developer were rejected "because Longfellow wanted more valuable commercial space and because the mayor and special interests want to prove a point. Local Council members don't matter anymore and can no longer represent their communities." Besides Kallos, the other Council members who voted "no" on the project were Carlos Menchaca, Kalman Yeger, Robert Holden, and Ruben Diaz Sr.
Menchaca said he supported Kallos' call for member deference, which he himself previously used to stop the proposed Industry City rezoning last year. "The local Council member's not in support. What does that matter? Well, it's mattered for a long time," Menchaca said Tuesday. "And we haven't had a discussion as a body to change that. The game changed at the end of this process and I think that is of much concern."
Kallos also pointed to nearly $750 million in city subsidies that the project would receive. "Approval from the full Council would create a blueprint for deep-pocketed developers to get whatever they want," he said. "Don't be fooled into thinking this will work for affordable housing developers, homeless services, faith-based groups, or nonprofit providers."
Council Member Brad Lander, a Democrat from Brooklyn, said the vote reflected deeper issues with the city's land use process. "I do believe this is an important moment to stop and look at what is broken in our reactive land use process," said Lander, who has been pushing for "comprehensive planning," before voting for the Blood Center rezoning. "In the era of the climate crisis, of an affordability crisis, of aging infrastructure, we need a more strategic and more proactive process that grounds future planning in the shared values of New Yorkers. It doesn't work to have the vast majority of proposals proposed by a developer or come from City Hall, have a community get in a defensive crouch and fight against them and then have it land here amidst what's so often a shrill debate."
Lander, the city comptroller-elect, saw the Council also overwhelmingly approve the Gowanus neighborhood rezoning plan that he had worked on for years at Tuesday's meeting. That project includes many changes and investments for parts of his Brooklyn district.
Council Member Antonio Reynoso, the next Brooklyn Borough President and another supporter of moving to "comprehensive planning," said the Blood Center rezoning was for "the greater good."
"I don't think that this is truly an attack on member deference," he told Gotham Gazette before the vote. "I felt like any other time where there was a project where many Council members thought it was significant citywide, that the member always was able to get to a yes through negotiations. It's the same thing communicated to the local Council member here and it doesn't seem like he got to a yes."
All of the Council members mentioned above are Democrats.