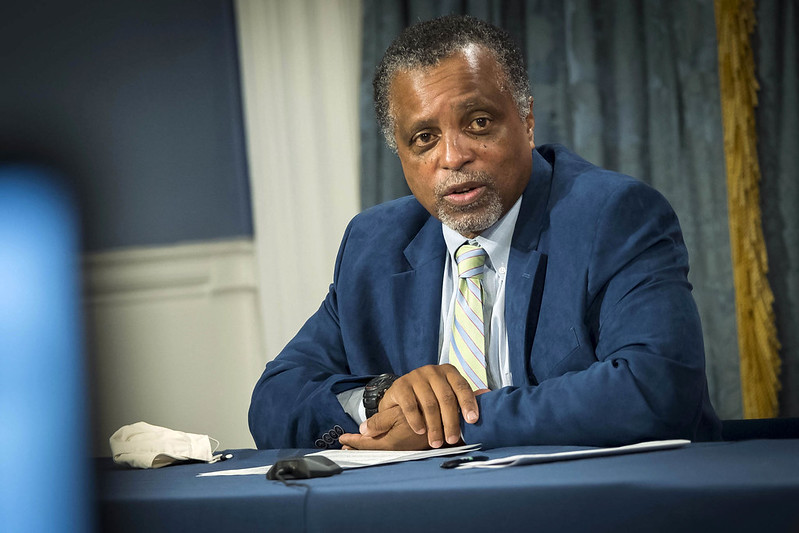 Deputy Mayor Phil Thompson (photo: Ed Reed/Mayoral Photography Office)
---
The Racial Justice Commission convened by Mayor Bill de Blasio to revise the City Charter in pursuit of greater racial equity is nearing the end of its work and is considering several proposals that may end up on the ballot in the 2022 general election. The commission will vote on those proposals on December 3 – whatever it passes will be binding and appear on next year's ballot – and issue its final report on December 13.
The ideas are broad changes to city government and its mission, and include adding a preamble to the City Charter, creating a new Racial Equity Office and mandating a Citywide Equity Plan, establishing a new measure of the true cost of living in the city, strengthening oversight in existing institutions, and creating a new Racial Equity Commission and Watchdog to enforce the goals of the other proposals.
The 11-member commission, created by the mayor in March, has held dozens of public meetings and input sessions to hear from New Yorkers about the structural racial inequities in everything from city services, education, and housing to the criminal legal system, government representation and accountability. At its most recent public meeting on November 22, the commission laid out its next steps and discussed the various proposals that may end up in its final report.
"We know that this set of proposals are not going to do everything possible to dismantle racism and bring about greater equity," said Jennifer Jones Austin, chair of the commission, at the Monday meeting. "But we do believe that we've done enough work and we're laying the foundation to begin to dismantle inequity and essentially put up a system that creates opportunity and brings about greater power sharing and access for everyone."
At least one commissioner was worried, however, that the timeline for voting on the proposals may be too short. "In some ways, if we go to December 13, we're going to end up with an up or down vote, as opposed to some timetable to facilitate insights that might come along that can lead to a better product, and even a greater coalition around agreement with what that product might end up being," said Darrick Hamilton, who is founding director of the Institute on Race and Political Economy at The New School.
The proposed preamble to the Charter is meant as an aspirational declaration of the city's values and would express a "vision for a racially equitable city," according to commission documents. It would include an acknowledgment that the city is built on the displacement of the indigenous Lenape people, and acknowledge the historical wrongs that continue to cause harm to this day. It would express intent to "reconstruct, revise, and reimagine" the city's structures, institutions, and laws in order to advance equity. The preamble would generally guide the interpretation of the Charter, though it would not form a basis for a private right of action by an individual.
A second proposal would create a new Office of Racial Equity that would coordinate with all city agencies to create individual equity plans that would be included in a biennial Citywide Equity Plan created by the Mayor. The new office would also oversee a permanent interagency Task Force on Racial Inclusion and Equity and help agencies address gaps in racial equity.
The office would be tasked with creating a Citywide Access Design program to improve access to city services and programs and would disseminate rules about occupational segregation, wage segregation, and equitable hiring and promotion. It would also be charged with collecting and publishing data on equity indicators.
The mandated Citywide Equity Plan would be based on the newly-created preamble, outlining specific goals, indicators, and metrics to track disparities in outcomes. It would have several required components, including plans to address pay equity and wage segregation, implementing the new "true cost of living," efforts to use alternatives to punitive enforcement, accessibility, and language access, equitable distribution of resources, among others. The plan would have to be approved by the new Racial Equity Commission, a community-led body, and the city budget would also have to align with the new plan.
Some members of the commission raised concerns that a requirement that the new Citywide Equity Plan must be approved before the city budget can be enacted may interfere with the city's already complicated budget process. "The City Council, that's their job really, to represent constituents and vote on the budget," said Phil Thompson, the Deputy Mayor for Strategic Policy Initiatives.
Henry Garrido, vice chair of the commission and executive director of municipal labor union DC 37, noted that the state Financial Control Board also provides approval for the city's budget every year, as it has since after the fiscal crisis of the 1970s. "I'm wondering if anything that interjects another part of the process may delay that in a way that can affect the financial control board approving or disapproving a part of the budget," he said.
"Equity planning is a new thing," Thompson also added, agreeing with Commissioner Hamilton that the commission needs more time to analyze its proposals. Their concerns allude to the rushed nature of the commission that de Blasio created, giving it a massive mandate to act on a short timeline before he leaves office at the end of the year. "I think we are literally years away from even understanding what equity planning would mean, because equity planning in the Department of Transportation is going to look a whole lot different than an equity plan for [Office of Management and Budget]."
Instituting equity plans for dozens of city agencies, he said, would be an "enormous task and learning process that's going to take some time to do. No city to my knowledge has ever undertaken anything like that on a comprehensive basis so...there's not a lot to go on in terms of past experience."
Individual agency plans for racial equity would be based off a series of criteria including ending discriminatory occupational segregation and wage segregation; ending inequity in access to services and decision-making; limiting the use of criminal history and background checks; employing alternatives to punitive enforcement; and prioritizing distribution of resources to communities with the greatest needs and disparities while preventing overburdening neighborhoods.
The "true cost of living" proposal would institute a new measure for calculating the spending needs of New Yorkers, and would be included in the Citywide Equity Plan, reports on poverty rates, the Mayor's Management Report, and Social Indicators report. The new measure, more expansive than the federal poverty measure, would help the city more accurately determine New Yorkers' actual needs for city services and support programs in order to drive budget and spending decisions.
The commission acknowledged early on that its proposals would be meaningless without teeth. Therefore it proposed the new Racial Equity Commission, headed by an independent chair and with a full-time staff, with commissioner appointments distributed among elected officials. A majority of the commissioners would be non-mayoral appointees, similar to the structure of the Civilian Complaint Review Board.
The Racial Equity Commission would give members of the community "with equity expertise and lived experience" the opportunity to set goals for the city and evaluate progress towards racial equity. It would approve the citywide Racial Equity Plan, propose equity outcome indicators, and track agency compliance, among other roles.
Finally, an independent Racial Equity Watchdog would provide final oversight of the city's performance in achieving racial equity. The office would create "politically neutral" enforcement for equity plans, evaluate exacerbation of outcomes, audit agencies, and be able to use secret testers, receive whistleblower and public complaints about non-compliance, and conduct investigations based on complaints.
The Racial Justice Commission is also seeking to strengthen specific agencies for greater accountability. It has proposed giving the Board of Correction the ability to bring administrative action against the Department of Correction in an adjudicatory venue like the Office of Administrative Trials and Hearings.
Another proposal would expand the jurisdiction of the CCRB to allow for proactive investigations of patterns of police misconduct, a measure that the City Council is already attempting through legislation. The Commission on Human Rights would be expanded with a guaranteed minimum budget or headcount tied to the size of the city's workforce. The Equal Employment Practices Commission would be incorporated into the Racial Equity Watchdog to give it stronger enforcement powers.
The commission would also give all entities overseeing a single agency the power to require the agency to publish data and records. All entities overseeing the implementation of a single law would be able to require any city body to publish data about compliance with that law.
All of these proposed measures will be considered in the coming weeks by the Racial Justice Commission and all, some, or none could be placed by the commission on the 2022 general election ballot.