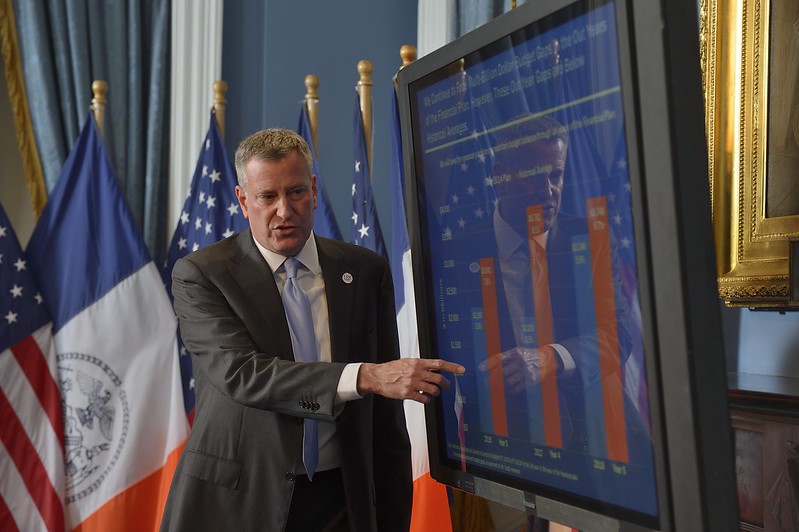 Mayor de Blasio giving a budget briefing (photo: Rob Bennett/Office of Mayor Bill de Blasio)
---
New York City's budget for the 2022 fiscal year, which began July 1, has increased to a record $102.8 billion, a $4.1 billion uptick since it was first adopted, according to the latest financial update released by Mayor Bill de Blasio on Tuesday. The increase in spending, driven by federal relief and stimulus aid, was accompanied by new savings in agency spending, reduced debt and pension costs, and lower projected budget gaps for the future than previously anticipated.
It is the final budget documentation of de Blasio's nearly eight-year tenure as he prepares to leave office at the end of the month and turn city government over to Mayor-elect Eric Adams, a fellow Brooklyn Democrat who will then be responsible for the city's finances.
"This budget is an investment in working families and our recovery," de Blasio said in a statement. "The November Plan recognizes crucial help from the federal government which has allowed New York City to rebound strong and invest in our future, from fighting COVID-19 to climate change."
Having lowered the projected budget gaps and somewhat rebuilding reserves that were nearly depleted during last year's pandemic-caused recession, de Blasio said he is "leaving the next administration with a strong foundation to continue New York City's recovery."
The financial update recognized $895 million in additional revenue since the budget was adopted, including $750 million in FEMA aid. It also found $262 million in savings for expense costs, reduced pension costs by $104 million, and cut debt service (paid for borrowing of funds for infrastructure projects) by $238 million. The revenue and savings together helped the city offset $534 million in new agency spending and left a surplus of $965 million that was used to reduce the budget gap for the next fiscal year.
With additional steps taken to reduce outyear spending, the administration estimates that the gap for the 2023 fiscal year falls from $4.1 billion to $2.9 billion; the gap for fiscal year 2024 from $3.8 billion to $2.7 billion and for fiscal year 2025 from $4.1 billion to $2.1 billion. Adams will be tasked with closing those gaps beginning in January, when he will present his first budget outline for the next fiscal year beginning July 1, 2022, a spending plan that will then be scrutinized by and negotiated with the new City Council, new city comptroller, and others.
De Blasio had originally promised to find $1 billion in labor savings in future years without specifying how his administration would achieve that sum. The update reduced that amount to $500 million but still does not include any concrete details about reaching that goal. That may be one of the bigger challenges inherited by Adams, as municipal contracts are set to expire next year and Adams will have to reach collective bargaining agreements while maintaining fiscal restraint as he has pledged.
The Citizens Budget Commission, a nonprofit fiscal watchdog, acknowledged that there is "some good news" in the financial update, but noted that budget gaps going forward are likely about $750 million higher than stated "because the plan includes illusionary labor and attrition savings."
"The budget essentially does not include money to pay for the next round of raises for City employees," said CBC President Andrew Rein, in a statement. Hundreds of millions of dollars more will be needed per year if Adams comes to agreements with modest annual raises for municipal employees, as expected. Adams, a former police captain still part of a city union, received significant municipal and private sector labor support in his campaign.
Rein also noted that some ongoing programs are being funded with non-recurring funding sources, including the one-time infusion of cash from the federal government and the improved pension returns, therefore "creating both near- and mid-term fiscal cliffs."
"Mayor de Blasio did not take the opportunity to use extraordinary levels of federal aid to help restructure the City's budget and workforce to be fiscally sustainable with recurring City revenues," Rein said. "Mayor-Elect Adams should proactively take steps to do so."
The city's update did not include additional funds for reserves, which currently stand at $5.1 billion, after a pre-pandemic high of $6.1 billion was nearly exhausted to respond to COVID-19 and make up for revenue shortfalls amid a city shutdown and economic crash. The reserves include $3.8 billion in the Retiree Health Benefits Trust Fund, $1 billion in the newly-created Rainy Day Fund, and $300 million in general reserves.
State Comptroller Tom DiNapoli issued a cautious initial assessment of the city's financial update, saying it "indicates that the recovery is underway, but that its trajectory is uncertain" because of an expected slowdown in the commercial real estate market. "The city needs to find ways to balance its budget while maintaining service levels to smooth its path to recovery while navigating a difficult economic environment," he said.
DiNapoli noted that the strong performance of Wall Street has had a "positive impact" on city revenues and pension returns, but may not be sustainable as other sectors such as tourism continue to recover slowly. He urged the city to continue aiding residents in accessing state relief programs and called on the federal government to provide greater rent relief aid.
And he warned that the city tax revenues may not keep apace and that operational savings should be more aggressively identified in the budget.
In his own statement, City Comptroller Scott Stringer touted pension returns and said, "Today's financial plan improves the fiscal outlook—but with federal aid eventually depleting, there are economic uncertainties and substantial challenges ahead."
According to the mayor's office, the financial update includes new spending to continue the fight against covid and other crises:
-$57 million for the Emergency Rikers Relief Plan
-$50 million for debt relief for taxi medallion owners
-$29 million for reentry housing for people leaving the justice system
-$15 million to extend the city's Emergency Food Distribution program
-$14 million through the Mayor's Office of Criminal Justice for an employment program to reduce recidivism
-$10 million for vaccine canvassing programs
-$4.4 million for expanded street homeless outreach
-$7 million to increase Test & Trace outreach
-$5 million for expanded mental health services at domestic violence shelters
-$6 million to provide a $500 vaccine incentive to city workers
It also includes new spending to limit the impact of climate change, in the wake of several extreme weather events that hit New York City in quick succession in July, August, and September. In response, the adding is spending $36 million on critical infrastructure needs and $2 million to support offshore wind energy development. An additional $15 million in capital funds is being allocated to help implement the city's "The New Normal: Combatting Storm-Related Extreme Weather in New York City" report, which is already funded with $2.4 billion.