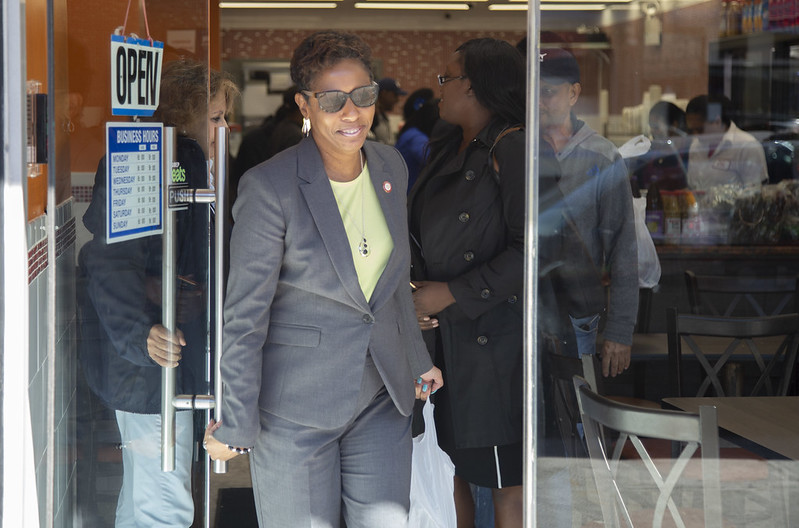 Council Member and likely next Speaker Adrienne Adams (photo: John McCarten/City Council)
---
City Council Member Adrienne Adams, a Queens Democrat, declared victory on Friday in the race to become the next Speaker of the legislative body, issuing a list of supporters who will make up a majority in the next City Council.
Announcing support from 33 members, including herself, well past the 26 required votes in the 51-seat Council, Adams is poised to be the first Black Speaker when the vote among the new City Council class is seated in January.
She will also be taking over a first-ever women-majority New York City Council and one of the most diverse, with dozens of new members elected in this year's city elections when the entire Council was on the ballot and about three-quarters of current members were term-limited from running for reelection.
"I am honored to have earned the support and the trust of my colleagues to be their Speaker," Adams said in a Friday statement. "Our coalition reflects the best of our city. We are ready to come together to solve the enormous challenges we face in order to not just recover from Covid but to build a better, fairer City that works for everyone. I want to thank the Council members, labor and party leaders, women's groups, and everyone in our broad coalition for their support. The City Council will be a collaborative and effective legislative body that incorporates what makes New York City great and focuses on the needs of our communities."
Adams, who was elected to her seat in 2017, represents District 28 in Queens, which covers the neighborhoods of Jamaica, Rochdale Village, Richmond Hill, and South Ozone Park.
She was among the candidates who threw their hat into the Speaker race several months ago, along with Council Members Justin Brannan of Brooklyn and Keith Powers and Carlina Rivera of Manhattan. Council Members Francisco Moya of Queens, Diana Ayala of Manhattan and the Bronx, and Gale Brewer of Manhattan eventually also jumped into the fray.
Adrienne Adams picked up significant momentum in the last few weeks when Mayor-elect Eric Adams (no relation) and some of his top advisors began to throw their support behind the scenes in favor of Moya, also a Queens Democrat.
Mayor-elect Adams had pledged to remain out of the speaker race but he, his surrogates and allies began to mobilize behind Moya and attempted to convince Council members to cast their votes for the Queens member.
The move rankled several stakeholders including powerful union leaders, women's groups, and returning and newly-elected Council members, including some who wanted to see a woman lead the Council when the three citywide elected officials will all again be men. It offended other Speaker candidates who had been working hard to earn their colleagues' support, powerful elected officials at other levels of government, Council members who do not want the Mayor trying to pick the next Speaker of the Council that is supposed to hold the chief executive accountable, and still others. Broadly, there was a sense among the next Council class that Moya was simply not popular among his current and future colleagues and that the mayor-elect's team had made a major miscalculation.
The tide quickly turned toward Council Member Adams, in large part as a response to the moves for Moya and because of her standing with key labor unions and Rep. Gregory Meeks, the head of the Queens County Democratic Party.
On Tuesday, Brannan, Powers, Ayala, and Brewer publicly withdrew from consideration and agreed to support Adams' candidacy.
Things took a bizarre turn when Adams then Moya both declared that they had garnered enough votes to be the next Speaker and sent out celebratory public statements to that effect, adding significant confusion to the race.
"After much discussion and collaboration with my colleagues, I am honored to have received the necessary votes to become the next speaker of the New York City Council," Adams said in a statement. "The incoming City Council will be beautifully diverse and wonderfully collaborative in so many ways."
That was followed shortly by a statement from Moya. "I am humbled to announce that our diverse coalition of council members and leaders from across New York City has collected a majority of votes to elect the next speaker of the Council," Moya said in a statement. "I look forward to leading this body into a brighter future for our great city."
But Adams appeared to have the upper hand and her position grew in strength. She had the backing of the Queens and Bronx County Democratic Parties. And, on Wednesday evening, most of the Labor Strong 2021 coalition -- unions 32BJ SEIU, DC37, CWA District 1, and NYSNA -- announced support for Adams and the group said it had successfully "made the case" for Adams to be the next Speaker.
"She is hard-working, well-liked, and has the proven ability to unite the council behind a worker-led recovery from COVID-19," the unions said in a statement. "We're thrilled that her candidacy has galvanized a majority of the council and we look forward to seeing her make history as the next leader of New York City's legislative body."
The one union that had been part of Labor Strong throughout the election year, the Hotel Trades Council, has had a long-standing allegiance with both Mayor-elect Adams and Moya, and has been privately supporting the latter's Speaker bid.
On Wednesday and Thursday, several women's groups issued endorsements of Adrienne Adamsm for Speaker, and current or incoming women Council members took to Twitter to voice support for her. Meanwhile, forces behind Adams — especially 32BJ, DC37, and Brannan — were collecting firm commitments to end the race. At the same time, Mayor-elect Adams and others supporting Moya were unsuccessfully attempting to secure a majority for Moya's Speaker bid.
The National Organization for Women's NYC chapter urged Council members to back Adams. "An all-male top leadership in NYC just isn't acceptable," said Sonia Ossorio, NOW-NYC executive director, in a statement. "Adrienne is ready to lead and ready to hold her own. She won't be a rubber stamp for the Mayor. That balance of power is critical. We urge council members to pledge their support to her today," she added.
On Friday morning, Council Member Rivera announced she was dropping her bid to become Speaker and backing Adams, tweeting, "I'm backing Adrienne Adams to be Speaker of our historic women majority City Council. She will lead our work in 2022 + beyond w/ honor."
That afternoon, Council Member Adams issued her list of 33 supporters, including herself. Soon after that, Mayor-elect Adams tweeted congratulations to her, in effect conceding that his team had been defeated. Soon after, Moya conceded the race. The congratulations for Adrienne Adams came flooding in on social media, from those who had supported her and those who had not. By the end of the day, she was the presumptive next Speaker of the New York City Council ahead of the early January vote that will make it official.
The initial list of Council Members(-elect) supporting Adams, as issued publicly on Friday, December 17:
Manhattan
Council Member Carlina Rivera, District 2
Council Member Keith Powers, District 4
Council Member-elect Gale Brewer, District 6
Council Member Diana Ayala, District 8
Queens
Council Member Sandra Ung, District 20
Council Member Tiffany Cabán, District 22
Council Member-elect Linda Lee, District 23
Council Member Jim Gennaro, District 24
Council Member-elect Shekar Krishnan, District 25
Council Member-elect Julie Won, District 26
Council Member-elect Nantasha Williams, District 27
Council Member Adrienne Adams, District 28
Council Member-elect Lynn Schulman, District 29
Council Member Selvena Brooks-Powers, District 31
Bronx
Council Member Eric Dinowitz, District 11
Council Member Kevin Riley, District 12
Council Member-elect Marjorie Velazquez, District 13
Council Member-elect Pierina Sanchez, District 14
Council Member-elect Althea Stevens, District 16
Council Member Rafael Salamanca, District 17
Council Member-elect Amanda Farias, District 18
Brooklyn
Council Member-elect Lincoln Restler, District 33
Council Member-elect Jennifer Gutierrez, District 34
Council Member-elect Crystal Hudson
Council Member-elect Chi Ossé, District 36
Council Member-elect Sandy Nurse, District 37
Council Member-elect Alexa Avilés, District 38
Council Member-elect Shahana Hanif, District 39
Council Member-elect Rita Joseph, District 40
Council Member-elect Darlene Mealy, District 41
Council Member Justin Brannan, District 43
Council Member Farah N. Louis, District 45
Council Member-elect Mercedes Narcisse, District 46
Ben Max contributed to this story.