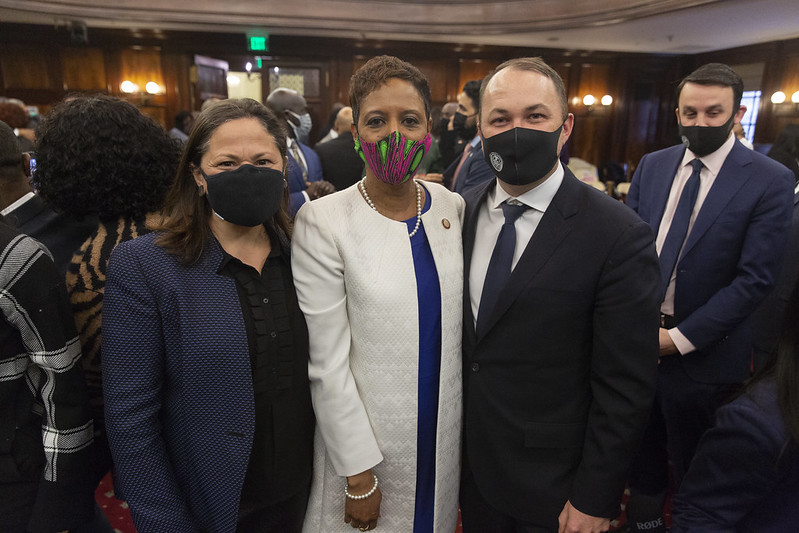 City Council chambers (photo: Emil Cohen/NYC Council)
---
In a near-unanimous vote on Wednesday, Adrienne Adams, a Queens Democrat, was elected the new Speaker of the City Council, making history as the first ever Black leader of the 51-member legislative body. The Speakership gives her a citywide purview with all its incumbent challenges, made even more pressing by the covid pandemic and the city's ongoing recovery attempts. Rates of both gun violence and unemployment remain high, and the city is facing a number of other crises related to housing, education, and more.
As Adams begins to set the legislative, policy, and budgetary agenda for coming years, four of the five speakers who preceded her offered sage advice for leading a diverse chamber of legislators and working with a mayor who may not always be aligned with the body's priorities.
Adams is only the sixth person to become Speaker of the City Council since the position was established in the City Charter in 1989. Her predecessors, all of whom are also Democrats, include, from most to least recent, Corey Johnson, Melissa Mark-Viverito, Christine Quinn, Gifford Miller, and Peter Vallone Sr. All but Vallone Sr. spoke with Gotham Gazette and had similar words of wisdom as they emphasized the duty of the speaker to represent the many divergent voices on the Council while taking a citywide view and finding the right balance in working with and holding accountable the mayor.
Adams is heading up the first-ever woman-majority Council and the most diverse class in the chamber's history, with its first Korean-American, first Muslim, and first South Asian members, along with a newly-expanded five-member Republican minority.
"It's a very exciting prospect to have the first historic majority-women Council being led by a woman and I think that is significant," said Mark-Viverito, who was speaker from 2014 through 2017, in a phone interview. "I think there's a lot more pressure with that too for her. But I'm sure she will step up to the task. The imprint that she will leave will be a significant one."
Johnson, Adams' immediate predecessor, worked with her on the Council for four years as he led the body from 2018 through 2021. "Being speaker's a really hard job," he said in a phone interview. "Honestly, from my own personal experience, nothing really prepares you for it until you start and you're in the middle of it, and you're dealing with members every day, you're dealing with the mayor's office, you're dealing with the governor's office, you're dealing with the city and state agencies, you're dealing with advocates and institutional interests in New York City, and dealing with the press. It's a lot. It's like being thrown right into the fire."
As Speaker, Adams will lead the City Council in legislating, negotiating the budget with Mayor Eric Adams (no relation, though they did go to high school together), a fellow Democrat with Southeast Queens roots, and conducting oversight of city agencies, among the many myriad duties of her station. "The Speaker is really someone who's finding consensus inside the body," said Johnson. "So it's really going to be about figuring out what that consensus is, and then sort of harnessing that on how to work proactively and cooperatively with the mayor or sometimes being independent from the mayor depending on the issue."
Johnson said Adrienne Adams, whom he appointed to chair the public safety committee with oversight of the NYPD, is a "pragmatic progressive" who has built the necessary experience for the leadership post both before and during her time in the Council.
Like Johnson, she was the chair of her local community board before she was elected to the Council. Elected in 2017 to represent Queens' District 28, Adams had to deal with the complicated land use process around the redevelopment of JFK Airport, for example. She co-chaired the Council's Black, Latino and Asian Caucus, and chaired the public safety committee during the resurgent Black Lives Matter movement after the police killing of George Floyd and the push by activists to divest from the NYPD.
"I really believe in working with her over the last four years, she has the temperament, she has the charisma, she has the skill set, she has the experience to really be a fantastic Speaker," Johnson said.
Adams has already sought counsel from those who came before her. She held a closed door meeting with Quinn and Miller on January 3 to gain first-hand insight into her new job. She noted that she had invited Johnson, Mark-Viverito, and Vallone but they were unable to make it.
"Leadership begins with listening, which is why I am thankful to hear the experiences and advice of our former Speakers," Adams said in a statement after the meeting. "Each led the Council through a challenge for New York City. Their perspective is invaluable as the new class of the City Council prepares to confront the many trials before us. I want to thank them for this time and hope this will be an ongoing conversation."
Quinn touted the historic nature of Adams' speakership, as the first Black speaker leading a first majority-women Council. "Both of those things, I think, are empowering and will help her do an even better job," she said.
In the January 3 meeting, Quinn said Adams expressed an interest in creating an "inclusive, transparent agenda" for the Council that harnessed the voices of all its members. "She has hit the ground running," said Quinn, who runs Win, a shelter system for homeless women and families. "I worked with her around issues related to pay for non-for-profit workers, and I found her to be diligent and focused and kind of not letting go of the issue when she made a commitment to it. And I think she'll be the same kind of a speaker and will be a formidable partner to the mayor."
But Quinn also had some light-hearted recommendations. "I reminded her to have fun. That's probably one of the most important things," she said.
"I think she's in a very strong position coming in with such a breadth of support among the Council members," said Miller, who was the second Council Speaker, from 2002 through 2005. "While there's a lot of turnover, I think there's a significant core of senior members who are very talented, who she can draw upon to help create and move the Council's agenda. So I think she's in a good position and she should just keep on doing what she's been doing, which is listening and building coalitions."
Miller did have a note of warning for Adams. "I think that there are so many things to try to do, and you have to prioritize as Speaker," he said. "The mayor has hundreds of thousands of people that work for him, literally, and just so much more resources. And as Speaker, you have to be careful to put together a thoughtful agenda and pick your spots."
There are of course several challenges awaiting Speaker Adams. One major early test of her speakership will be the budget for the next fiscal year. The budget process will begin in earnest when Mayor Adams releases his first preliminary budget proposal in the coming weeks, which will then be dissected and examined by the Council at public hearings and private meetings before it issues its response.
"This is a very delicate moment in the city's history and I know that that's gonna weigh very heavily, not only on her," said Mark-Viverito, "it's gonna weigh heavily on this Council…and so I think that that, to me, is probably going to be the crux of the work that lies ahead, at least in these first two years and these first two budgets and the policies that come with it."
"We have to lead with empathy, compassion, and real commitment to addressing these incredible disparities and the systemic injustices that exist and I know that she'll be committed to that," she added.
Speaker Adams has a friendly relationship with the mayor, but he did not support her bid for the top Council spot even though she endorsed his mayoral campaign and they go way back. He instead supported Council Member Francisco Moya, but Adrienne Adams secured support from key labor unions, several other Speaker candidates, other power players like Rep. Gregory Meeks, the chair of the Queens County Democratic Party, and enough returning and incoming Council members to declare victory with majority support.
Already, certain factions of the Council have been rankled by the mayor's early decisions and comments and seem to have begun drawing lines in the sand. Case in point, Mayor Adams said in December that he would reinstate a form of "punitive segregation" in city jails, evoking a sharp response in opposition from 29 Council members, most of them newly elected progressives, while Speaker Adams also separately expressed her opposition.
Both Mayor Adams and Speaker Adams have stressed their shared values and priorities overall, with the mayor saying he is exciting to work with the speaker and the speaker saying likewise, but that the Council will also exercise its mandated duties as an independent body with oversight, legislative, budgetary, and local district responsibilities.

"I think the Council is more divided now, ideologically than it's ever been," said Johnson. "Clearly there are going to be major disagreements between the Adams administration and the Council writ large. [Speaker Adams] is going to have to strategically work through those challenges and I believe she'll be able to do so with smarts and with grace."
"You're dealing with a mayor who's a New Yorker and the other members who are New Yorkers, so no one, certainly not Speaker Adams, enters the job expecting unanimity," said Quinn. "You don't get that from New Yorkers. Every New Yorker has 20 different opinions about one thing. She gets that. It's always a challenge being head of any legislative body whether you're [State Assembly] Speaker Heastie, [House of Representatives] Speaker Pelosi, or you're Speaker Adams, you have a lot of people with a lot of different opinions and you have to kind of listen and harness those positions and attempt to come out with one that, to the best degree it can, fit the most people's needs."