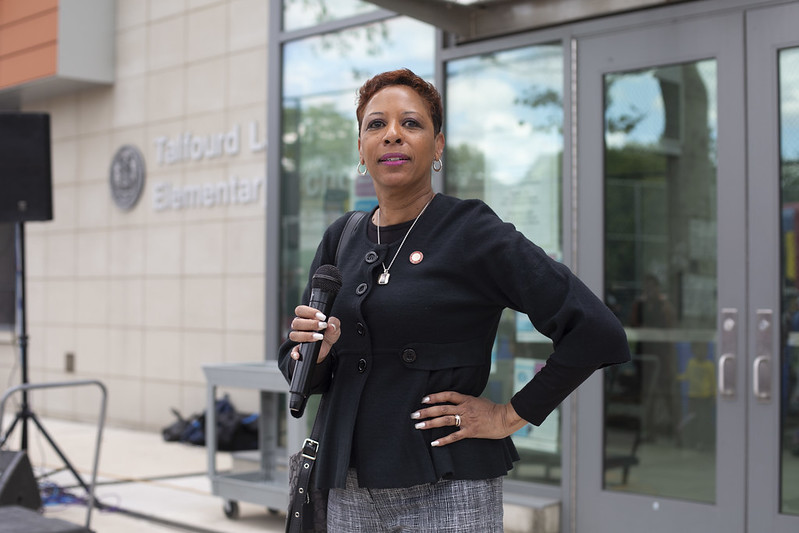 City Council Speaker Adrienne Adams (photo: John McCarten/City Council)
---
Adrienne Adams, a Democrat from Queens, was officially elected as the Speaker of the New York City Council on Wednesday in a near-unanimous internal vote of the 51-member legislative body. Adams is the first Black person to lead the New York City Council and will lead the first-ever women-majority Council, with 31 seats held by women.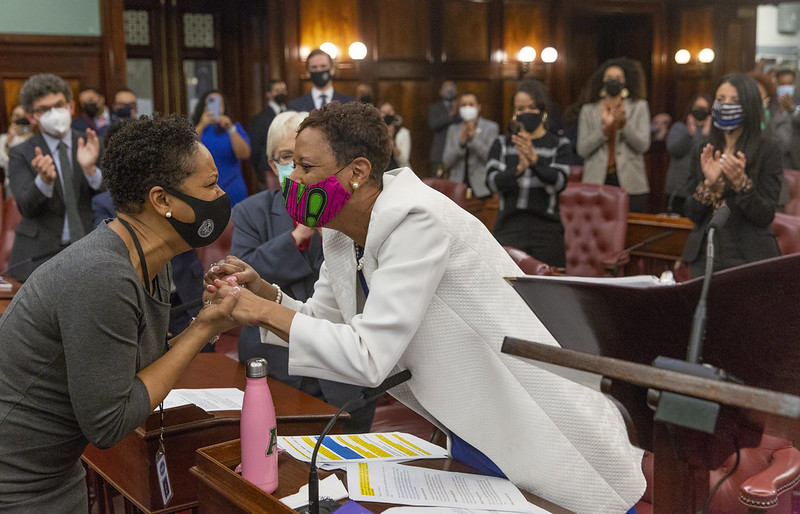 Adams represents District 28 in Queens, which includes the neighborhoods of Jamaica, Rochdale Village, Richmond Hill, and South Ozone Park. She was first elected to the Council in 2017 and will be term-limited out of office at the end of 2025. She is now leading one of the most diverse classes of the City Council ever seated, with 35 new members sworn in after the recent municipal election, counting the first Muslim woman, first Korean-American, and the first South-Asians among its representatives and other 'firsts.'
"I believe we can meet this moment with a clear head and a unified voice," Adams said in her first remarks as speaker after the vote. "We can show the rest of the nation that people from all walks of life on all points of the political spectrum can listen to one another. deliver solutions and do what is best for New York City."
As speaker, Adams is one of four elected officials with a citywide purview and takes over at a time of crisis. The Omicron covid variant is surging as the city nears two full years of the pandemic, and the economic and social recovery is slowly progressing. As Speaker, Adams is now responsible for, along with the members, setting its policy agenda and passing legislation, negotiating the city budget with Mayor Eric Adams, holding oversight hearings, coordinating constituent services, and more.
In her remarks, Adams pledged to tackle the issues facing the city head on. She promised to ensure "fair and reliable" access to covid testing, vaccines and boosters and to attempt to address the racial inequities of the city's health care system. She vowed to improve elder and child care, among the most pressing needs since covid struck, to make homelessness a priority, and to work to bring the city back from economic ruin.
"This Council will work to reverse the economic slide brought by the pandemic and we will do it through the principles of the labor movement, which has always put workers first," she said.
Adams struck a balanced note on the surge of gun violence that accompanied the pandemic, emphasizing the need for police presence in Black and brown neighborhoods that have been worst affected while also ensuring people's safety from police violence. "Too many young lives have been ruined on both ends of a gun," she said.
As former chair of the Council's public safety committee, Adams has pushed for police reform but also been wary of major movement of money away from the NYPD. Communities of color, she stressed again on Wednesday, want policing, but better policing and policing that "treats people with dignity and respect."
Acknowledging the historic nature of her victory, Adams said, "With citywide leadership overwhelmingly male, it's crucial that women not only have a seat at the table, but we lead the way out of this crisis and toward a fair and inclusive recovery."
Though she has yet to name her larger leadership team, Adams did make three major appointments on Wednesday. She named Council Member Diana Ayala the newly-created position of deputy speaker, Council Member Keith Powers as majority leader, and Council Member Selvena Brooks-Powers as majority whip.
Knowledgeable sources have told Gotham Gazette to expect that Council Member Justin Brannan will chair the powerful finance committee, which holds city budget hearings, and Council Member Rafael Salamanca Jr. will again be named land use committee chair, a position he held during the last Council session under Speaker Corey Johnson, who was term-limited out of office.
"​​She is a natural coalition builder, capable of finding common ground and ensuring that everyone is heard in the process," said Council Member Brooks-Powers, who led the nomination of Adams as speaker and represents a neighboring Southeast Queens district. "This is how I know Adrienne Adams is a leader who will meet the moment, who will truly rise to the challenge before her and build a fairer, safer and healthier New York City."
Many Council members who spoke on Wednesday in support of Adams for Speaker noted the historic nature of her ascension as the first Black speaker of the Council and as a woman leading its first women-majority session. Council members spoke to her personal qualities as a collaborator, and in her remarks, she sought to make clear that she had listened carefully to the individual members in their conversations about their priorities and the needs of their constituents.
Only two Council members, Charles Barron and Kristin Richardson Jordan, did not vote for Adams as speaker, though no other candidate was nominated and neither of them indicated another choice.
Barron, a former Black Panther, state Assembly member, and Council member from Brooklyn with a long history of iconoclasm, protest, and outspokenness, criticized the process by which Adams won Wednesday's vote, which had been decided weeks ago in behind-the-scenes negotiations among Council members, county party organizations, labor unions, and powerful elected officials.
"Unfortunately, the traditional process prevailed," he said. He also expected Adams to be a less-than-progressive leader on police reform, akin to her fellow Democrats leading the city and state. "Governor Hochul, Mayor [Eric] Adams and soon-to-be Speaker Adams are cut from the same political cloth," he said. "You'll see. They prioritize police and criminal justice reforms, they say, but support the racist, oppressive NYPD with more money and more police which is not the answer to crime."
Barron said that the answer for communities of color is not more police but more economic development, jobs, and anti-poverty resources.
Jordan, a Harlem-based socialist newly-elected to the Council, said only, "I vote firmly 'no.' We need more than symbolic representation."
Speaker Adams (no relation) had endorsed Mayor Adams in this year's primary election but didn't have his support for the speakership. He instead backed Council Member Francisco Moya, another Queens Democrat, for the top spot, a move that rankled several other Speaker candidates and many Council members, several prominent labor unions who had been left out of the loop, groups and Council members who felt the city needed a woman in leadership at a time when the three citywide elected seats (mayor, comptroller, public advocate) will be occupied by men. With several other Speaker candidates and major labor unions behind her, as well as U.S. Rep. Gregory Meeks, who chairs the Queens Democratic Party, Council Member Adams emerged victorious.
Besides Moya, several other members had sought the speakership including Council Members Brannan of Brooklyn, Ayala of the Bronx and Manhattan, and Powers, Gale Brewer, and Carlina Rivera of Manhattan.
[READ MORE: Who is Adrienne Adams, Presumptive Next New York City Council Speaker?]