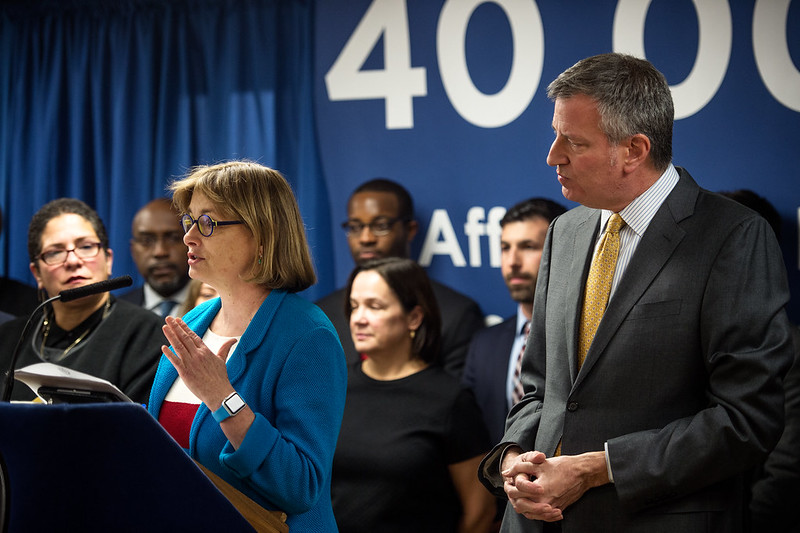 Vicki Been with Mayor de Blasio (photo: Demetrius Freeman/Mayoral Photography Office)
---
Mayor Adams must set the tone that housing is a priority in his administration and pursue holistic, aggressive approaches to address the housing crisis in New York City, according to ​​former Deputy Mayor for Housing and Economic Development Vicki Been.
Appearing on a recent episode of the Max Politics podcast from Gotham Gazette, Been spoke about her experiences as deputy mayor and, before that, housing commissioner under Mayor Bill de Blasio, including affordable housing policies, the implementation of Mandatory Inclusionary Housing, neighborhood rezonings, and advice for Mayor Adams.
"If he's going to experiment with a different structure, which I am in favor of innovation and experimentation, the position has to come with absolute clarity about the importance of housing and the importance of all agencies in city government cooperating with whatever is needed to make sure that that housing gets financed, built, operated, maintained," Been told host Ben Max about Adams' approach, in part responding to news reports that Adams was considering not naming a deputy mayor for housing. "It has to be a strong, clear statement."
As of January 27, Adams had still not named a top housing official, whether at the deputy mayor or another lower level. He has said, however, that whatever shape his appointment of a top housing official takes, the issue is of major importance to him, as indicated during his campaign. Adams has named a deputy mayor for economic and workforce development, Maria Torres-Springer, who worked with Been in the de Blasio administration and succeeded her as housing commissioner, but he split the housing portion of that deputy mayor portfolio without saying where it would go.
The new mayor recently named top officials at the Department of City Planning, a key agency for housing and neighborhood development that takes the lead on community rezonings that aim to change land use rules for more housing and other goals, while bringing various investments like park space, school seats, transit options, and more into those areas.
Been reflected on de Blasio era housing and rezoning policies, acknowledging some mistakes in hindsight but expressing a great deal of pride at what was accomplished on affordable housing especially. Her reflections and recommendations provide insights for the Adams administration as it will eventually offer a housing blueprint and navigate development, rezonings, and more.
The new mayor comes to office facing a well-established affordable housing crisis where New Yorkers' wages haven't kept up with rent prices and the city's housing production has fallen far short of keeping up with population and job growth. Well over 60,000 New Yorkers remain homeless, with tens of thousands more experiencing homelessness each year, while a too-high percentage of New Yorkers is rent-burdened, at over 40%, meaning spending more than 30% of income on rent.
Earlier on in the discussion, Been reflected on her time crafting and implementing housing policy for de Blasio and the city, first as housing commissioner then as deputy mayor (with a stint back at NYU in between), particularly the administration's Housing New York plan.
That plan had an initial 2014 version, Housing New York: A Five-Borough, Ten-Year Plan, which aimed to preserve or built 200,000 rent-regulated homes over ten years, and eventually came in two years ahead of schedule just before the end of de Blasio's eight-year tenure, and the 2.0 version, which expanded the plan to 300,000 units over 12 years, which covers Eric Adams' (first) term. Adams is expected to release his own housing plan that will include elements of the de Blasio plan.
Been said that the de Blasio administration "changed the structure of housing production: and "some of the basic DNA of how the agencies work."
The Mandatory Inclusionary Housing (MIH) policy, passed under de Blasio and the City Council in 2016, is a crowning achievement for the mayor, Been, and others involved, and requires that all new housing where a density bonus is awarded or in rezoned areas includes 20-30% of units at certain affordability thresholds where occupants would pay no more than 30% of their income in rent. Though it helps produce new affordable units at a relatively slow pace (thus far, at least), MIH changed the rules for development and affordable housing in the city for good (unless later reversed) and is a key strategy for leveraging the private market to add to the city's affordable housing stock without the use of city subsidies.
The city must address housing "holistically," Been said, working with communities to add important resources that complement new housing, particularly when neighborhood rezonings were in the offing.
"We really tried to work with communities to say, we understand that housing alone is not enough," said Been. "Housing has to come with schools to support it, it has to come with parks that those residents can use, it has to come with job opportunities and health care opportunities in the surrounding neighborhood."
When asked about the criticism that the de Blasio administration did not rezone wealthier neighborhoods earlier and do enough to implement Mandatory Inclusionary Housing where it is meant to be used, in those wealthier areas, Been defended the administration, saying her office had to first build trust in the new housing plan while also delivering for underserved communities given that those neighborhood investments typically come with rezonings that are also focused on adding housing.
"I'm not sure that had we tackled SoHo in 2014 or 2015, after MIH was passed, that we would have had the support, because we hadn't yet really laid the foundation of showing just how much inequity there was and just how important it was for all neighborhoods to bear a share of the city's growth and of the city's need for affordable housing," said Been.
"It's a complicated balancing issue," Been said of affordable housing policy and planning, and the many considerations that come into it, including financing, affordability, and more.
Throughout the hour-long conversation, Been spoke about topics ranging from the pros and cons of a comprehensive city housing plan to New Yorkers' skepticism of development. She said she wants to see changes to the Uniform Land Use Review Procedure (ULURP) and Environmental Impact Statements, stressing that new City Council members should move ahead with land use processes where their predecessors left off, rather than trying to start over as is sometimes the case.
On what the administration could have done better, Been acknowledged that with hindsight she would have aimed for a higher share of the affordable housing to be dedicated for lower-income New Yorkers.
"I think that had we had perfect foresight, we would have aimed higher, but the fact that we achieved higher I think makes up for that,'' Been said of how the plan was initially designed, later tweaked, and how the numbers turned out at the end of the eight years.
Been had two other specific suggestions for the Adams administration: add capacity at housing-related agencies and do a hard-nosed analysis of housing-related requirements.
According to Been, more workers and resources are needed for city housing agencies such as the Department of Housing Preservation and Development (HPD), where she was the commissioner from 2014-2017, the Housing Development Corporation, which helps finance affordable housing in the city, and the Department of City Planning.
Been also believes that the Adams administration should take a thorough look at housing policies and work to cut unneeded requirements that add additional costs to affordable housing budgets and slow projects. She wants to see the city streamline and adequately fund necessary but costly enforcement matters.
"I think the lesson for the next administration is we really have to pay attention to the costs that we're imposing and make sure, especially on enforcement, that we're bringing along the resources that are required to actually enforce those requirements," said Been. "Adding additional housing code inspectors or additional lead inspectors, is not what makes headlines, but it's incredibly important, and very, very necessary if the agency is going to have the capacity to do things like more rezonings or more community engagement to bring communities along on those rezonings."
[LISTEN: Former Deputy Mayor Vicki Been on Max Politics]