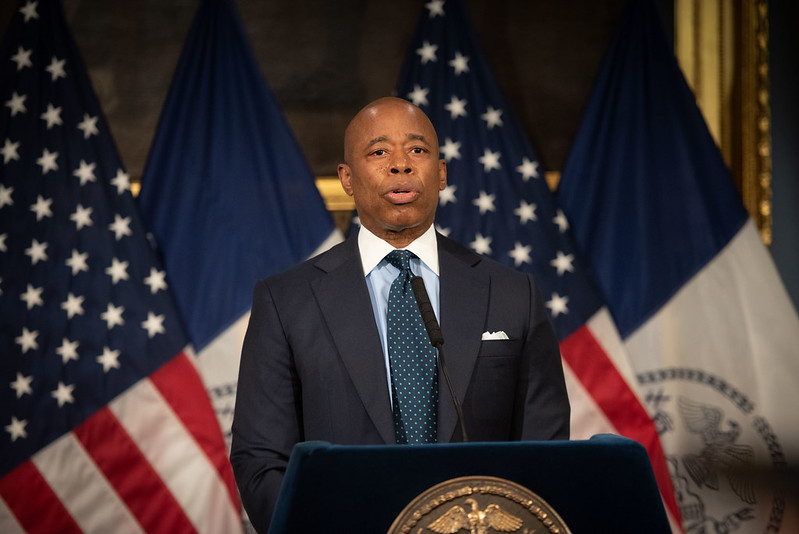 Mayor Adams (photo: Michael Appleton/Mayoral Photography Office)
---
Mayor Eric Adams on Wednesday appeared before the State Legislature to testify on Governor Kathy Hochul's proposed budget for the 2023 fiscal year and his own Albany agenda, as well as take questions from legislators. Adams, a former state senator making his first appearance before the Legislature as mayor, reiterated his calls for changes to state criminal justice laws, pushed for changes in state law to enhance child care and tax credits for working New Yorkers, asked for more state funding for treating those with serious mental illness, called on Albany to reverse hundreds of millions in cuts and cost shifts towards the city in recent years, and more.
"At this moment, our city is focused on three significant goals: reducing crime, overcoming the challenges caused by the pandemic, and rebuilding our economy," Adams said in his opening remarks, appearing virtually.
Adams' first month in office was marked by a deadly Bronx fire and spate of other violent incidents, including several police officers were shot, two of them fatally, a fast food worker killed during an armed robbery, and a woman shoved to her death in front of a subway train by a severely mentally ill homeless man. In the wake of those incidents, Adams has continued his laser focus on public safety, which led his mayoral campaign and was front and center in his testimony on Wednesday, including via several tense exchanges with legislators from the five boroughs who disagree with his push for more conservative criminal justice policies, partially undoing some of their own reforms of recent years.
"Safety and justice are the keys to prosperity. We cannot function as a city unless New Yorkers are safe and feel safe on our streets, our transit system, our workplaces, and our homes," Adams said.
Adams called for immediate state aid to increase the number of hospital beds for New Yorkers who need urgent mental health care and accompanying funding for medical and support staff. But he primarily reiterated several of the proposals he included in his "Blueprint to End Gun Violence," which he released last month. He pushed for changes to the state's bail, discovery, and Raise the Age laws, three major reforms passed by the Legislature over the last six years. Those ideas got a mixed reception from legislators as progressive Democrats pushed back against the mayor while moderates and Republicans voiced their support. Legislative leaders, Democrats like Adams, largely dismissed his calls for reform and there have been questions raised about Adams' limited outreach to them in his first month in office.
Adams, who has said as recently as November 2020 that he's "always been conservative on crime," argued Wednesday using specific examples that he has long been a progressive reformer on policing and criminal justice, including as a state senator, but he is advocating for relatively minor changes to the laws that will improve safety.
He also said he supports the passage of the Clean Slate New York act, which will automatically seal criminal records for certain crimes after a person becomes eligible by completing their time in jail or prison, or other punishment.
In a measure aimed at helping low- and moderate-income families, Adams pushed the Legislature to allow the city to increase its Earned Income Tax Credit benefit to up to 30% of the federal benefit and for the state to increase its own EITC share by $250 million.
The third major priority Adams outlined was increased funding for child care. Governor Hochul, in her budget proposal, included several measures to expand access to child care. She proposed increasing eligibility for child care subsidies from those earning up to 200% of the federal poverty level to up to 300% by 2024, which she said would cost the state $535 million once fully implemented and reach 400,000 additional children. She also allocated $75 million in federal funds in her budget plan for increased child care worker wages.
Adams requested three additional measures: state funding for increased foster care subsidy rates for localities, which will otherwise leave the city with a $117 million shortfall; state approval for the city to provide tax abatements to property owners who retrofit spaces for child care centers; and approval for tax credits for companies that give workers free or discounted child care at work.

Adams did welcome several items in the governor's budget that will benefit the city including a four-year extension of mayoral control of city schools, a $346 million increase in Foundation Aid for the neediest schools, and a five-year extension of Design Build authorization for capital projects.
There were other proposals that Adams said he supports including making the city's bus lane photo monitoring program permanent – he called on the state to "transfer home rule" over the program to the city as well as allowing the city to determine its own speed limits. He said he strongly supports the governor's proposal to eliminate the Floor Area Ratio (FAR) cap, which limits the size of residential buildings; and he expressed support for the governor's proposal to replace the 421-A housing tax credit with the new but moderately tweaked Affordable Neighborhoods for New Yorkers Tax Incentive or 485-W. Hochul's proposal would require more affordability for some apartments in the buildings receiving the tax break.
In his presentation to the Legislature, Adams also outlined several city-specific requests. He asked for the authorization to increase the New York City Transitional Finance Authority's borrowing capacity by $19 billion to help continue funding the city's capital infrastructure program, which he said was especially needed because the borrowing authority is tied to property values and the city's commercial real estate market has taken significant pandemic hits.
Adams sought to beat back several cuts and cost shifts the city has had to bear in successive state budgets over the last several years. That includes $204 million in annual costs from the Temporary Assistance for Needy Families program, $59 million annually for Article 6 Public Health Funding, and $30.5 million each year for the Close to Home program.
In the wake of the pandemic, which hit parts of the city hardest and strained its hospital capacity, Adams said the state should refrain from permanently extending the Sales Tax Intercept for the state's Distressed Hospitals Fund, which he said has already cost the city $400 million in revenue over two years and would continue to pull $200 million annually and indefinitely. "We pay into that fund…yet we have not received one dollar to the distressed hospitals here in our city," he said during questioning from lawmakers. "It is unfair."
After Adams' opening testimony, legislators pressed the new mayor, a Democrat from Brooklyn, on his priorities and agenda for more than three hours. He had few concrete plans to offer, save for broad promises, on several fronts including housing policy, NYCHA management, climate and environmental protection, school governance, and the crisis at Rikers Island, to name a few. But some of his promises were significant, and Adams took stances he had yet to take as mayor, if at all.
The mayor's proposals for tweaks to criminal justice reforms invited the most scrutiny. The state passed a bail reform law that eliminated cash bail for most low-level offenses and a discovery law that required greater disclosure of evidence. Adams railed against both. He believes the state should end cash bail altogether to avoid discrimination based on wealth but to allow judges to consider a "dangerousness standard" when deciding whether to grant a defendant freedom pre-trial. And he said the discovery law has led to unnecessary delays in prosecutions. He has also pushed changes to the legislation that raised the age of criminal responsibility to 18 years old. In cases involving guns, he argues that 16- and 17-year-olds are being "exploited" by gang members who seek to avoid gun-related charges and that they should be charged in criminal court instead of family court. He believes that change would lead to fewer 16- and 17-year-olds being tasked with or willing to carry guns.
Adams found support for those proposals from moderate Democrats like Senator Diane Savino of Staten Island and Brooklyn, who was a vocal backer of Adams' campaign last year, and from Republicans like Senators Ed Rath of Western New York and Sue Serino from the Hudson Valley.
But progressive members of the Legislature – including Assemblymembers Latrice Walker, Zohran Mamdani, and Anna Kelles, Senators Jamaal Bailey and Gustavo Rivera, and others – time and again cautioned against the mayor's proposals even as they were mostly careful not to criticize him.
"It is a cautionary tale that we are very cognizant of the Jim Crow remnants of criminal justice in our country," said Walker, pointing to data that shows the disproportionate effects that bail has had on Black and brown defendants. "'Dangerousness' is not a tweak, but it is a wholesale change to our bail system."
In his responses, Adams insisted that he did not want a rollback of the reforms and that he believes cash bail should be eliminated entirely. "This is my life's work and so I'm pleased with what the Assembly and the Senate did in making this system that was unfair to make it a fair system," he explained. "Tweaking it is saying, 'We did the justice part. Now let's address the public safety part. That's where I think we went wrong."
State Senator Luis Sepúlveda, who chairs the Committee on Cities, questioned Adams about specific plans he has for housing and his opposition to the city's tax lien sales program, which has been criticized for stripping Black homeowners of generational wealth.
Adams, in response, made vague promises including that he will release a major housing plan in the coming weeks that would build upon the $25 billion, five-year plan announced by Governor Hochul in her budget. "We want to build on the state plan and make sure that we utilize the dollars that are coming in at the state level. That plan, we want to complement here in the city," he said.
On the tax lien sales program, he said, "We're looking to reevaluate that system…I think the system is currently unfair. I want to make sure the system is a fair system and the goal is to allow taxpayers and homeowners to keep their properties, not to take their properties away."
Adams also promised to very soon release a more detailed plan related to addressing street homelessness and those suffering from severe mental illness who are on the streets or subways.
Aside from criminal justice reforms, mayoral control of city schools was one of the most consistent topics raised by legislators on Wednesday. It was one of the most contentious state-city issues for Adams' predecessor, Mayor Bill de Blasio, who was repeatedly pushed by lawmakers and former Governor Andrew Cuomo to make concessions to receive an extension. Adams has the fortune of having a more friendly partner in government in Hochul, who proposed a four-year extension of mayoral control, which is set to expire later this year.
At the hearing, Adams said he welcomes both the four-year extension and the scrutiny that comes with mayoral control, but he offered few plans for how he would change the school system he has inherited. "I need to be held responsible for improving our schools and it's challenging to do so without having a four-year period that's needed," he told Assemblymember Michael Reilly, a Staten Island Republican.
Senator John Liu, a Queens Democrat who chairs the New York City Education Committee, cited concerns about parental engagement and input in the school system, which Adams shares, and asked, "Do you think that mayoral accountability should simply be extended without changes?"
"Yes, I do," Adams said. "And I know people are jaded because of the lack of communication, lack of really having engagement. I'm asking that, you know, give me the chance to do what I've advocated for. It's difficult to really plan for the future if we're unable to know where we are going to be in the next four years." The mayor promised that he and Schools Chancellor David Banks would listen to parents far more than past administrations.
On several occasions, Adams declined to take a position on issues that will directly affect the city.
When Assemblymember Michael Tannousis, a Staten Island Republican, asked the mayor whether he supports increasing the cap on charter schools that can be opened in the city, which has been reached, Adams said, "That's going to come out of Albany, to make the final determination." He added that he supports "scaling up excellence" wherever it is found, an apparent nod to some high-achieving charter schools, and said he was first open to the re-issuing of charters from schools that got them but then closed, so-called zombie charters.
Assemblymember David Weprin, a Queens Democrat, pressed Adams on his plan to deal with the crisis at Rikers Island, which has seen violence skyrocket in the last year and a record number of deaths of detainees. Though Adams acknowledged the problems at the jail complex, he presented few specific solutions. [W]e're going to make sure the ship moves in the right direction, to have a safe place for people to be able to serve their time with dignity," he said.
State Senator Brad Hoylman, a Manhattan Democrat, asked Adams about the governor's controversial proposal to redevelop Penn Station and the area around it, which was first advanced by Cuomo and was slightly modified by Hochul. "We support the concept of the plan but we should continue to explore the potential amendments that are needed," Adams told a skeptical Hoylman, "…If we don't get it right…we could lose the benefits for our city." The City Planning Commission has already said it opposes the plan as it currently stands, raising concerns about its financing structure which could cost the city revenue, and the inadequate public improvements it is set to deliver.
Similarly, on the governor's proposal to replace 421-a with the new 485-w program, when asked about his position by State Senator Julia Salazar, a Brooklyn Democrat, Adams said, "I'm a supporter of the governor's plan. I think that we need to do it strategically. It should not be just a blanket anywhere. There's certain areas we need to continue to promote development and do so with affordable housing."
Adams expressed support for a proposal from Hochul and members of the Legislature to expand the legalize of accessory dwelling units (ADUs), but told lawmakers that he also wants local governmental say to be respected.
Asked by Assemblymember Mamdani about how he will approach his appointments to the Rent Guidelines Board, which sets rents for 1 million rent-regulated apartments in the city, and whether he will push his appointees there to enact a rent freeze, as happened multiple times under de Blasio, Adams was skeptical. He said he would like to see a rent freeze, but that the RGB will do its usual analysis and make a determination, and that everyone needs to be mindful of the plights of small landlords who need to pay their bills and keep up with maintenance of their properties. He told Mamdani that he would support a rent freeze if the state provided more funding for those landlords.
Adams told Salazar, who like Mamdani is a member of the city's far-left movement that Adams has clashed with, that he appreciates her housing advocacy and wants to hear more of her concerns about Hochul's proposal, and that he wants her feedback as his administration develops its own affordable housing program. It was among several instances where Adams was especially cordial toward legislators and attempted to set a collaborative tone.
But for one exchange with Walker, Adams and legislators were friendly even when they clearly held different positions on issues. And even with Walker, Adams attempted to extend an olive branch after their particularly pointed exchange over bail reform.
The new mayor stressed his interest in working with legislators, took and gave many compliments. Assemblymember Robert Caroll, a Brooklyn Democrat, praised Adams and discussed their common dyslexia diagnoses and commitment to more screenings of children for the learning disability, as well as school programs to help those found to have it. Adams reiterated that he wants to make dyslexia screenings universal in the early grades and that he wants to open a school for dyslexic children.
Adams was asked multiple times at the hearing about his support for cryptocurrency -- he had his first paycheck converted into two forms of cryptocurrency -- and the issue of crypto-mining, which is being debated around upstate sites with potential negative environmental impact. "I support cryptocurrency not crypto-mining," Adams said, adding that he wants to see cryptocurrency proliferate without the harmful environmental effects of crypto-mining.