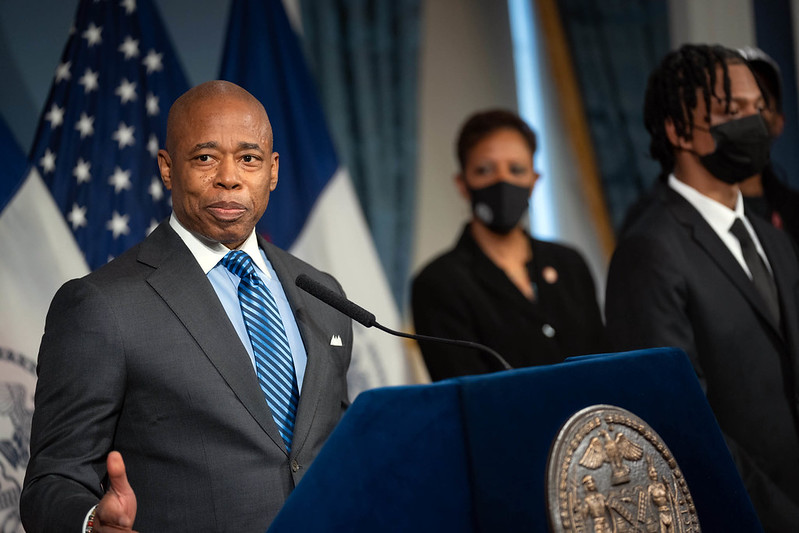 Mayor Adams at City Hall (photo: Ed Reed/Mayoral Photography Office)
---
Mayor Eric Adams on Wednesday released a $98.5 billion preliminary budget proposal for the 2023 fiscal year, which begins July 1. The plan makes for a reduction in spending of about $4.3 billion compared to the last modification of the current fiscal year 2022 budget in November by Adams' predecessor, Bill de Blasio. With his first budget proposal, Adams outlined cost-cutting measures at city agencies, added funds to the city's reserves, and made investments in public safety, summer youth employment, transit discounts for low-income New Yorkers, child care, and more.
The budget plan will now become the subject of a series of preliminary budget hearings held by the City Council as well as evaluation by others, including city Comptroller Brad Lander, leading to the mayor's executive budget iteration, more Council hearings, negotiations, and eventually an adopted city budget. That spending plan will be influenced by the new state budget due by April 1, as well as other factors like tax receipts and more.
"Now, after two years of struggle, we are on the brink of a recovery that offers us a once-in-a generation opportunity to make real change on a grand scale," Adams, a Democrat in office just seven weeks, said in Wednesday remarks as he presented his budget. "This is an opportunity to rethink our priorities. An opportunity to address longstanding problems and implement new solutions. An opportunity to change the way we work and the way we live, the way we educate our children and take care of our people."
Speaking from the Blue Room at City Hall, Adams promised New Yorkers "straight talk" as he spoke of the positive trends the city has experienced as it bounces back from the pandemic as well as the uncertainties that continue to risk that recovery. The city's fiscal picture has been significantly buoyed by massive federal aid to replace lost tax revenue and help spur relief and recovery from the pandemic as well as stronger than expected tax receipts.
In a now familiar refrain, Adams emphasized the need for public safety and crime reduction, which he said is "is a prerequisite to prosperity and recovery." He reiterated initial steps his administration has taken under his "Blueprint to End Gun Violence" which he unveiled last month in the wake of a series of violent incidents in the city, including multiple shootings of police officers. He promised to "strengthen and reinforce" the NYPD while redirecting existing police resources to gun violence prevention. He is not planning a significant increase or decrease in police department funding, with the NYPD operating budget for fiscal year 2023 slated at $5.1 billion.
The Department of Education remains the largest agency expense for the city, with Adams' budget allocating $14.4 billion in city funds for it in FY23, while the total DOE budget is nearly $31 billion. A spokesperson for the DOE said following the budget announcement that the city would continue to use federal stimulus funds to help schools that faced a loss of funding because of declining enrollment caused by the pandemic. The city will allocate $160 million in the 2022-23 school year and $80 million in the 2023-24 school year towards that aim.
In one of his first acts as mayor, Adams instituted a Program to Eliminate the Gap (PEG), ordering almost every city agency to find 3% in budget savings to present to the mayor and his budget office. The only agencies exempt were the Health + Hospitals system, the Department of Health and Mental Hygiene, the Office of the Chief Medical Examiner, and the Department of Correction.
"My administration is laser-focused on fiscal discipline," Adams said Wednesday, promising a focus on outcomes, efficiency, and service-delivery over simply spending more money. That PEG produced nearly $2 billion in savings, the mayor said, which helps offset new spending of $536 million in the current fiscal year and $926 million in fiscal year 2023, which begins July 1. About $1.2 billion of the PEG came from reestimates of spending while about $550 million came from finding efficiencies at city agencies.
Across the two fiscal years, the DOE accounted for $813 million in PEG savings, the highest of all the city agencies. Another $152 million in savings came from the NYPD, $108 million from the Department of Homeless Services, $86 million from the Department of Sanitation, $75 million from the Fire Department and $67 million from the Department of Transportation.
As part of the PEG, the administration eliminated vacancies at city agencies, many of which have been held in budget lines even when unfilled, and reached savings without laying off any workers, cutting the city workforce by 3,200 in the current fiscal year and by 7,000 from the budget tally for fiscal year 2023 – the cuts would bring the city's workforce down to roughly 360,000 workers. (Separately, the administration terminated 1,430 city workers last Friday for their refusal to be vaccinated against COVID-19 in defiance of a city mandate. Another 9,000 appeals for exemptions are pending, which could at least partially upend the city's personnel plans.)
New York City received a total of almost $13.2 billion in federal relief funds to replace lost tax revenue because of the pandemic, of which $5.8 billion was in direct aid to the city, with additional funds dedicated toward schools, health care and hospitals, and other uses. Those funds were allocated by the de Blasio administration through fiscal year 2025, with about $2.1 billion slated to be spent in FY23. Adams indicated he may reevaluate some of the plans as his administration gets more familiar with the allocations and further lays out its priorities.
The city also benefited from improving fiscal conditions as tax revenues for the current fiscal year are expected to be $1.6 billion higher than what the de Blasio administration projected in its November budget modification, largely owing to higher-than-projected personal and business income taxes, sales taxes, and transaction taxes. Even in the next fiscal year, 2023, tax revenue is projected to be $726 million higher that the November plan because of greater than projected property taxes, which undergird much of the city's revenue base.
Higher revenues and savings helped the Adams administration close a $2.9 billion budget gap that was projected for next fiscal year. They also helped the mayor increase the city's reserves by $1.1 billion, bringing them to $6.1 billion in total, the highest they have ever been but still a relatively small percentage of the city's total spending. That includes $1 billion in the general reserve, $1 billion in the rainy day fund that was newly created last year, $3.8 billion in the Retiree Health Benefits Trust Fund, and $250 million in the capital stabilization fund. Adams also eliminated $500 million in unspecified labor savings, which de Blasio had promised to deliver but had laid out no plan to achieve.
The city's budget gaps also remained "manageable," the mayor said, at $2.7 billion in FY24, $2.2 billion in FY25, and $3 billion in FY26.
Adams emphasized several risks the city faces, however. He noted that the city has only recovered about 55% of the 933,000 jobs lost during the pandemic, below the state's recovery rate of 63% and the national rate of 84%. Though the city's unemployment rate has fallen to 8.8% from a high of 20% at the first peak of the pandemic in spring 2020, it continues to be higher than the state and national average. Adams said the city will likely not reach the same level of jobs as it had before the pandemic until 2025.
He also expressed concern that companies have slowed the rate of getting their employees back to work in offices, noting that the office vacancy rate of 20% is the highest in 40 years. High office vacancy rates will threaten property tax values, he warned, while also affecting local economies within the city. "When employees don't return to work, they don't eat lunch at a nearby restaurant, shop at a local store, or take their clothes to the dry cleaners. Our business districts suffer, and it slows the recovery," he said.
Among the major investments included in the preliminary budget is additional funding for the Summer Youth Employment Program. Adams added 30,000 slots to the program, bringing it to a total of 100,000 jobs, the most it has ever provided. He added $79 million to fund it in FY23, baselining total funding at $236 million annually. He also put $13.5 million towards the Fair Futures program to provide mentoring and tutoring to youth aging out of foster care.
Building on the Fair Fares program that provides discounted MetroCards to low-income New Yorkers, Adams allocated another $75 million in FY23 for the program and made it permanent. Adams had made the promise about Fair Fares on Monday in the lead up to his budget announcement, and did so with the support of the City Council, which had just begun a push to negotiate greater investment in and baselining of Fair Fares in the next budget. The Council was seeking even more funding for the program and Adams said he's open to increasing the amount dependent upon uptake in the program.
Adams also announced investments in programs aimed at helping expecting and new mothers. He allocated $30 million for the New Family Home Visits program launched by the de Blasio administration last year to conduct comprehensive health screenings, home visits, and referral services for first-time moms in the 33 neighborhoods hit hardest by COVID-19. Another $3 million will go towards Maternal Medical Home and Obstetric Simulation training to provide care to high-risk patients and reduce maternal deaths.
The mayor reiterated several priorities that will require legislation at the state level, which he had already expressed in his virtual testimony last week before the state Legislature. He wants to increase the city's Earned Income Tax credit for low-income New Yorkers to $250 million in total reimbursements. He has also proposed a $25 million tax abatement program for property owners who retrofit property to create child care space and another $25 million program to give tax credits to businesses that provide employees free or subsidized childcare.
Adams also announced a $100-billion preliminary capital plan for fiscal years 2022-2026. The mayor said his plan moved nearly $4 billion in capital spending to outyears to make it more realistic, acknowledging the long-running critique from experts and watchdogs that the capital budget is often front-loaded with overestimated spending.
Housing was a notable omission from the mayor's announcement, and housing advocates and experts quickly criticized Adams for failing to follow through on a promise he made while running for City Hall that he would spend $4 billion a year on housing. "We are extremely disappointed that Mayor Eric Adams did not even mention housing in his remarks nor prioritize it in his budget plans, instead choosing to maintain the status quo and abandon his campaign promise to double city capital spending on affordable housing and NYCHA," said Rachel Fee, executive director of New York Housing Conference, in a statement. "In the process, he sent a loud and clear signal to his struggling constituents: 'despite what I said on the campaign trail, don't expect bold action on housing.'"
Fee noted that Adams' capital budgets for the Department of Housing Preservation and Development (HPD) and for the New York City Housing Authority (NYCHA) remain flat from the last November budget modification under de Blasio. The capital budget allocates HPD with $1.7 billion in FY 2023, $1.5 billion in FY 2024 and $1.3 billion in FY 2025. United for Housing, a coalition of housing advocates and experts which includes Fee's organization, have called for $2.5 billion annually. For NYCHA, Adams' budget only allocates $587 million in FY 2023, $597 million in FY 2024, $657 million in FY2025, far less than the $1.5 billion that the coalition has advocated.
Public Advocate Jumaane Williams seemed satisfied that the mayor's budget proposal acknowledged the need to build towards "a new normal" for New York City. "Our city's investments must center both economic and community health, development, and growth, and I believe that this year's budget can meet these goals," he said in a statement. "The mayor's preliminary budget is just that, a starting point – and this is a good place to start."
State Comptroller Tom DiNapoli and City Comptroller Brad Lander separately expressed cautious optimism about the city's economic outlook and the mayor's budget, but both called for greater addition to city reserves.
"The city's outlook has improved, a result of some good fortune and more proactive planning, but it can do more to prepare for ongoing uncertainty and boost its reserves," DiNapoli said in a statement.
Lander echoed the sentiment, saying in a statement that "the current plan does not include a credible effort to build up the long-term reserves the city needs, with only a scant addition in FY23 and nothing in the remaining years of the plan. It remains urgent to codify deposits into the Rainy-Day Fund."
City Council Speaker Adrienne Adams and finance committee chair Council Member Justin Brannan said in a joint statement that the mayor's proposal was "a promising start" to the budget process. "We must continue investing in New York City's families and workforce, while ensuring affordable housing, health equity, small businesses and mental health care are priorities. When we commit our budget to ensuring communities are strong, public safety can be improved and New Yorkers can thrive," they said. Council hearings on the spending plan will commence in the coming weeks.
Citizens Budget Commission, a nonprofit watchdog, praised the mayor for proposing "important, welcome, and refreshing initial steps in the right direction" towards fiscal stability. But, CBC President Andrew Rein warned about economic uncertainties and fiscal cliffs that the city faces, with recurring programs either funded only through the current fiscal year or with one-time federal relief funds that will eventually dry up.
"Many more steps should be taken in the Executive and Adopted Budgets to address the city and federal fiscal cliffs, restructure to make government more efficient, and save for the inevitable next downturn," Rein said in a statement.
Note - this article has been updated.