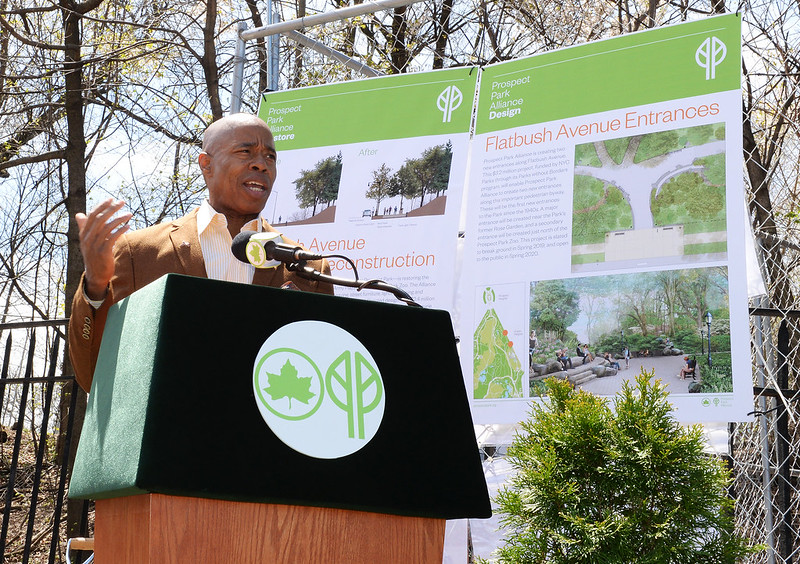 Mayor Eric Adams as BK BP (photo: Erica Sherman/Brooklyn BP's Office)
---
When he was running for the position and since becoming Mayor, Eric Adams publicly committed to increasing the budget for the Department of Parks and Recreation to 1% of the total city operating budget, which would mean nearly $1 billion annually. But as he presented his first budget plan this past week, an $98.5 billion spending plan for the next fiscal year, Adams failed to follow through on that pledge, only allocating about half that funding and even cutting the parks budget compared to the current fiscal year.
The coronavirus pandemic forced many of the city's neighborhood inequities into the open air, in some ways literally. It exposed the dearth of green space in some of the same communities that were hardest hit by the virus, in stark contrast with wealthier neighborhoods where residents flocked outdoors with easy access. Adams was among the many elected officials who recognized that imbalance and signed on to the "Percent for Parks" pledge, a campaign led by the advocacy group New Yorkers for Parks.
Hundreds of millions in additional funding would help hire more full-time staff for the parks department, rather than relying on seasonal staffing, and ensure routine maintenance and repairs across the 30,000 acres of parks and open space in the city, as well as city beaches, swimming pools, ice rinks, playgrounds, dog runs, and recreation centers, among other facilities. More funding and staff could also make parks safer – currently, there are only about 47 Urban Park Rangers and fewer than 300 Parks Enforcement Patrol officers employed by the city.
New Yorkers for Parks released a five-point parks equity plan that included, besides the 1% annual operating funding, the building of new parks, fixes to the city's capital process to speed up park creation and upgrades, partnering with nonprofits and volunteer community groups, and the creation of a new Director of the Public Realm to oversee parks, streets, sidewalks, plazas, waterfronts, and natural areas.
Adams, a Democrat, gave his support to the entire plan, noting in his response to the group's survey that he had already called for 1% funding for the New York City Department of Parks and Recreation in 2018 when he was Brooklyn borough president. "We need to support our city parks that provide so many vital services to this city," he wrote in the 2021 survey. "In the moments of this pandemic our green spaces provided a place for us to gather, express ourselves, and to simply catch a breath of fresh air. We need to do everything we can to preserve the future generations of New Yorkers the right to these essential parks."
Adams' $98.5 billion preliminary budget proposal, however, allocates only $495 million for the parks department, a $63 million cut from the last budget adopted under Mayor Bill de Blasio and the City Council in June 2021 and more than $101 million lower than the latest budget modification in November. He has also not appointed a Director of the Public Realm as he promised.
Barely two weeks ago, Adams reiterated his commitment to the 1% parks funding, on February 4 when he appointed the new parks commissioner, Susan Donoghue, and her first deputy commissioner, Iris Rodriguez-Rosa, though he appeared to give himself wiggle room in terms of when he would fulfill the pledge.
"Parks are not a luxury, it's a necessity," Adams said at the City Hall announcement. "For far too long, we've used these spaces as a luxury and believed that some parts of the city did not deserve a quality park in the neighborhood."
"We are the densest city in the country and parks are our backyards where we go to play and communicate and help us with physical, mental and emotional health in part of the healing process," he added. "We saw that during covid, how crucial parks played, and for working class New Yorkers, it's the great equalizer."
When asked if he would provide the 1% while also calling on almost every city agency to identify 3% in possible spending reductions through a Program to Eliminate the Gap (PEG), Adams cited the city's "financial crisis," though the city's fiscal picture is relatively strong, and the necessity to be cautious with one-time federal relief funds.
"Right now, everyone must follow this exercise because we have to be financially sound for not only this year, when we have a lot of the federal dollars that are still available, but next year…And if we don't make smart decisions now it's going to impact us later," he said. "And our goal is to have that 1% [for parks] that you're talking about…While we deal with these emergencies that are taking place, there's a permanent arm of my office that is focusing on making sure we're reaching our long-term goals and those are one of those long-term goals."
Spokespeople for Adams did not comment for this article but instead directed Gotham Gazette to the mayor's comments from that day.
The preliminary budget proposal kicks off the budget process but is not the final product and parks advocates are hopeful, if not optimistic, that the budget that is adopted by the July 1 start of the next fiscal year will include more funding. Even the city's five borough presidents called on the mayor on February 14 to keep his word on the parks budget as they pushed for a "Million More Trees" initiative to grow the city's tree canopy cover and provide the other benefits of additional trees.
"This is not the time to be cutting the parks budget," said Adam Ganser, executive director of New Yorkers for Parks, noting that the city is just coming out of the latest covid spike because of the omicron variant and New Yorkers are looking to open outdoor space, especially as the seasons change.
Ganser conceded that the mayor faced tough financial decisions, but he said agency cuts shouldn't have been across the board. "There are certain things that New Yorkers are relying on more now than they ever were before like parks and those things need to be funded in a way where our quality of life across the board in an equitable manner is supported," he said. "And that has not been the case for 40-plus years. This mayor has come into office with a commitment to change 40 years of inequitable investment in our city's parks and we expect him to live up to that promise."
The City Council is set to hold hearings on the mayor's preliminary budget proposal beginning in March and will issue its response after examining individual agency budgets. Council Member Shekar Krishnan, a Queens Democrat and the new chair of the Council's Committee on Parks and Recreation, is certain that parks will be on that agenda.
"This is just the first step in a monthslong process ahead," he said. "We as a Council have our values. We'll be putting out our budget response, too, so there's much more to come. But I personally take the mayor at his word when he says that he supports and has supported 1%, or $1 billion, for parks."

"What the pandemic has really shown us is that, as I've always said, parks is a social justice issue," Krishnan said. "Having green space and public space in your community is connected to your public health, it's connected to housing, it's connected to racial and immigrant justice too and that's how I view green space in the city and it's been, for a long time, a long standing issue of systemic inequality as well."