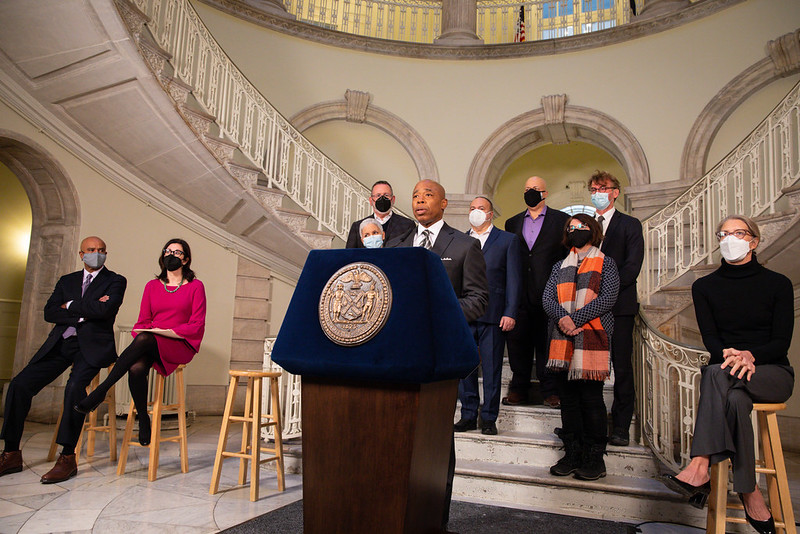 Mayor Adams at City Hall (photo: Michael Appleton/Mayoral Photography Office)
---
Mayor Eric Adams came into office promising a more efficient and effective city government that doesn't operate in silos and he's taken steps in his first weeks on the job that he says will achieve that goal. Adams has reorganized the structure of city government, merged and consolidated several offices, created new roles while separating previously existing ones at the top of City Hall and established his top priorities in doing so.

Like other mayors before him, Adams instituted a new city government organizational chart as he built out his administration in his first two months in office, making key changes to top leadership in charge of public safety, technology, housing, and economic development. While some of his decisions and appointments have come under question or more significant blowback, the new mayor has been broadly praised for many choices of pragmatic, expert officials and crafting some clearer lines of authority on major issues. 

"Our government has been dysfunctional for far too long — and it was government that created its own crises," Adams said in a statement. "As I said during my inaugural address, I will make our city better every day by making our city government better every day. That does not just mean grand plans and proposals. It means weeding out the waste and inefficiencies, and streamlining government as much as possible. It's about accountability. Now is the time to be radically practical."
One of Adams' first moves, reflecting his signature issue, was to create a new Deputy Mayor for Public Safety and appointing Phil Banks, a former veteran police department official, to the role. Banks' selection came with no small degree of controversy, however, since he left the police department in 2014 under a cloud of scandal after being named an "unindicted co-conspirator" in a corruption investigation.

Banks' position covers most departments traditionally associated with public safety – fire, correction, probation, emergency management, and the Offices of Criminal Justice, Prevention of Hate Crimes, Special Enforcement, and gun violence prevention. But his purview crucially does not include the NYPD, at least in the official org chart. The new NYPD commissioner, Keechant Sewell, will report directly to the mayor, an arrangement that is unchanged from previous administrations. "The role of the deputy mayor of public safety is to do something we have never done before," Adams said at an unrelated news conference on February 10. "It's to align all of our public safety apparatus."
"We're moving around our org chart based on the needs, and we're going to adjust it based on the needs. I'm not going to be stagnant," he added.  
"The key job of the mayor is to pick his priorities and having the police commissioner report to him tells you he's not outsourcing. He's gonna be on top of that issue," said Mitchell Moss, professor of urban policy at New York University.
Unlike former Mayor Bill de Blasio, who had a deputy mayor for housing and economic development, Adams has split the two roles. Maria Torres-Springer, who served several top roles in the de Blasio administration, is the new deputy mayor for economic and workforce development, while Jessica Katz will oversee housing preservation and development, public housing, and tenant protection in the newly-created role of Chief Housing Officer. Both report to First Deputy Mayor Lorraine Grillo, a longtime city government veteran who filled several important high-level roles under de Blasio. In making those choices, Adams did raise questions and criticism about his approach to and prioritization of housing.
Adams has six deputy mayors: First Deputy Mayor Grillo, Deputy Mayor for Public Safety Banks, Deputy Mayor for Economic and Workforce Development Torres-Springer, Deputy Mayor for Health and Human Services Anne Williams-Isom, Deputy Mayor for Operations Meera Joshi, and Deputy Mayor for Strategic Initiatives Sheena Wright.
The position of deputy mayor of strategic initiatives is one of the more flexible ones at City Hall. Deputy Mayor Wright has a broad purview that, according to the mayor's office, includes CUNY,  the Department of Youth and Community Development, Office for Economic Opportunity, Office of Food Policy, Office of Youth Employment, Children's Cabinet, Office of Civic Engagement, and much more. Her apparent focus seems to be child care and early childhood education, which are among Adams' stated top goals.
"I think it's a very innovative and intelligent structure, because he's made sure that he's built in both knowledge of government as well as access for people who understand the politics of the city," said Moss.

Adams also created a new Chief Efficiency Officer, appointing Melanie LaRocca, previously commissioner of the Department of Buildings under de Blasio. Despite repeated requests, the mayor's office did not provide information on what LaRocca's office will look like in terms of personnel and operations.

The mayor signed executive orders to integrate several agencies with overlapping duties. He combined several technology offices under the umbrella of the Office of Technology and Innovation led by Chief Technology Officer Matthew Fraser, who now reports to the first deputy mayor rather than to the deputy mayor of operations.
Adams also appointed a new Chief Climate Officer, Rohit Aggarwala, also reporting to the deputy mayor of operations, and merged several offices dealing with climate issues into the new Mayor's Office of Climate and Environmental Justice, which is being led by Kizzy Charles-Guzman, who was previously deputy director at the Mayor's Office of Sustainability. Meanwhile, Aggarwala is Chief Climate Officer and Commissioner of the Department of Environmental Protection, with Charles-Guzman reporting to him.
"Adams has picked an excellent team of seasoned professionals who both know government and politics, and I really think he has also broken enormous ground in terms of diversity," said Moss, noting that five out of six deputy mayors are women. He said the mayor eschewed ideological appointees in favor of competent officials with proven track records.
Adams has appointed several people with experience in the Bloomberg and de Blasio administrations as well as several former elected officials including Republicans like former Staten Island Borough President James Oddo as chief of staff to Deputy Mayor of Operations Joshi and former City Council Member Eric Ulrich as a senior advisor. According to a mayoral spokesperson, Ulrich is Senior Advisor for Performance, reporting directly to the mayor and his chief of staff, with responsibilities including making recommendations to boards and commissions and assisting with candidate vetting processes, providing strategic advice, and organizing the unfolding City Council redistricting process.

"New York City is a $100 billion business and we don't have time for on-the-job training. These people have administrative credentials," Moss said. "They're not just people that are spending their career in the library or in the laboratory. Smart people are a dime-a-dozen, but people who know how to get things done are hard to find." 

Adams has yet to make some key appointments including commissioners for the Fire Department and Department of Buildings.
Adams has also made several controversial picks beyond Deputy Mayor Banks. He appointed his brother, Bernard Adams, as senior advisor for mayoral security, though at a nominal salary of $1 after trying to install him at a high-paying NYPD position overseeing the mayor's security but running into the city's nepotism law. He named as his chief of staff Brooklyn attorney Frank Carone, who came with a long list of legal and political entanglements.
Adams also appointed three pastors with a history of anti-gay and anti-reproductive choice views to his administration – Pastor Gilford Monrose as executive director of Office of Faith-Based and Community Partnerships, Rev. Erick Salgado as deputy commissioner of outreach at the Mayor's Office of Immigrant Affairs, and former City Council Member Fernando Cabrera as a senior faith adviser. The appointments quickly invited criticism from LGBTQ officials and activists and their allies, whom Adams claims to be among, pointing to his history as an outspoken proponent of marriage equality.   

The mayor has faced some criticism for not appointing a deputy mayor for housing, a key demand for activists and experts who wanted a powerful, dedicated hand at City Hall focused on the perennial and related crises of housing affordability and homelessness in the city. He brushed off that critique when he announced his housing officials at City Hall.
"We are focused on housing. This is my number one agenda. And people who want to look at the schematic or the org chart to determine how I'm going to execute my plan, they're making a big mistake," Adams said at the time, when asked about the distinction. He also noted, though, that per his org chart the chief housing officer will report to the first deputy mayor, just like most of the other deputy mayors, save Banks, the deputy mayor for public safety.

Alicia Glen, who was de Blasio's deputy mayor for housing and development for the first five years of that administration, reserved judgment on Adams' decision to create a new chief housing officer distinct from the deputy mayor role of economic development. "I think it's a little too early to tell what it will mean in practice," she said. "I think on one hand, we could argue that separating the two makes them both more important. I think that's what his intention was to be like, housing is so important that it needs its own senior person 100% focused on it."
Glen said the Adams administration may have a different approach on housing than de Blasio. "I think there was a beauty in having a lot of the agencies that I had together because there is so much overlap," she said. As deputy mayor, she oversaw public housing, the Department of Housing Preservation and Development, the Landmarks Preservation Commission, the Public Design Commission, Department of City Planning, the Economic Development Corporation, the Parks Department, and more.
"There was obviously a logic to that," Glen said. "But I think at the end of the day, what really matters is whether or not all the agencies can work together and that's just a question of leadership. There's sort of structure and organizational charts and then there's really, what does the mayor want done and do you have the people on the ground to actually make it happen?"

Vicki Been, Glen's successor as deputy mayor and former housing under de Blasio, said in a January appearance on Gotham Gazette's Max Politics podcast that Adams needs to emphasize the importance of housing to all his agencies. "To finance housing and all the things that have to come with it…every agency has to know that it is a priority of the mayor," she said, when asked about the rumors that Adams may not appoint a deputy mayor for housing.

"My concern is some people believe that the fact that there isn't a quote-unquote Deputy Mayor of Housing and whatever, means that housing is somehow less important to this mayor," she added. "I think he needs to make that clear. If he's going to experiment with a different structure, which you know, I am in favor of innovation and experimentation but but the position has to come with absolute clarity about the importance of housing and the importance of all agencies in city government cooperating with whatever is needed to make sure that that housing gets financed, built, operated, maintained. It has to be a strong, clear statement."
Notably, the Department of City Planning, which has enormous importance in the city's housing development efforts, remains under the deputy mayor for economic and workforce development, and will not report to the chief housing officer.
One other point of contention for activists is that Adams has continued to approach homelessness from the lens of human services rather than an issue of housing. But Glen said that criticism isn't particularly valid. "There's two schools of thought: that the homelessness stuff should be put in the housing agencies and that it should be treated as part of the housing continuum and then there's the school of thought that a lot of the homelessness work on the ground is more of a social service issue," she said.

"It doesn't mean that he's not serious about it. I didn't have homelessness either. It didn't mean we weren't serious about figuring out solutions about homelessness and housing."
How the new structure at City Hall will work also depends on the mayor himself. De Blasio, also a Brooklyn Democrat, had a reputation as a micromanager who often hampered the work of his deputies and commissioners. Adams, on the other hand, has promised to hire the best people and let them do their work without constantly looking over their shoulders.

"I don't think there's any right way or wrong way of setting up a City Hall structure and sort of the senior cabinet," said Emma Wolfe, de Blasio's chief of staff, in a December appearance on the What's the [Data] Point? podcast from Gotham Gazette and Citizens Budget Commission. "Every mayor is going to be different. And it really matters, I think, how they sort of manage their own life, their own day to day, and their own decision making."

Wolfe also had a note of caution for Adams. "I do think that one has to be worried about too many deputy mayors, or too many direct reports…If there are suddenly one too many senior advisors, deputy mayors, direct reports, etc, the reality is, at the end of the day, they're not going to be directly reporting to the mayor."
Adams appears to have avoided that, given he has most of his deputy mayors reporting to the first deputy mayor, not himself. Per the new org chart, direct reports to Adams do include First Deputy Mayor Grillo, Deputy Mayor Banks, Chief of Staff Carone, Police Commissioner Sewell, Schools Chancellor David Banks (brother of Phil Banks), Corporation Counsel Sylvia Hinds-Radix, Chief Counsel to the Mayor Brendan McGuire, and Chief Advisor to the Mayor Ingrid Lewis-Martin.
During a December panel discussion on mayoral transitions and running city government hosted by Citizens Union, a nonprofit government reform group, Richard Buery, who served as Deputy Mayor for Strategic Policy Initiatives under de Blasio during his first term, said the organization of City Hall is part of the winning formula for any mayor who wants early successes in their tenure.
"Your ability to sort of win on your early goals is also dependent partly on having a structure that's going to allow you to be successful," he said. "There's no simple answer to that, because it depends very much on everything from who are the people, what is the leadership and management style of that Mayor, are you going to be somebody who wants to live in the weeds or you're going to be somebody who wants to stay at the 50,000-foot level? That's going to vary by issue. How do you want to get information? How are you going to collaborate?"
Carl Weisbrod, who was de Blasio's chair of city planning and has worked in city government on and off over several decades, echoed Buery in the conversation, noting that each mayor's "most precious commodity is time" and they differ in how they want to use it. "That's unique to each mayor, which is one reason why if you look at the City Halls over the last several administrations, they've each been organized in very different ways to suit the priorities, personality and desires really of that mayor," Weisbrod said.

Stu Loeser, a political consultant who served as former Mayor Michael Bloomberg's press secretary for over six years, said that despite organizational lines, everyone at City Hall knew to report to the first deputy mayor. 

"Even the people who were direct reports to Mayor Bloomberg, still in a practical sense felt they had to keep First Deputy Mayor [Patricia] Harris apprised of what they were doing," he said. "There was no one, including the police commissioner and corporation counsel, who were direct reports to the mayor, who didn't recognize that Patti Harris is the person Mike Bloomberg trusted and went to on all governance questions." 

Loeser had high praise for the team that Adams has put together. "I'm impressed by the team," he said. "I've worked with most of the deputy mayors in the Bloomberg administration in other roles, and thought they were all really quite extraordinary."
Note- this article has been updated.