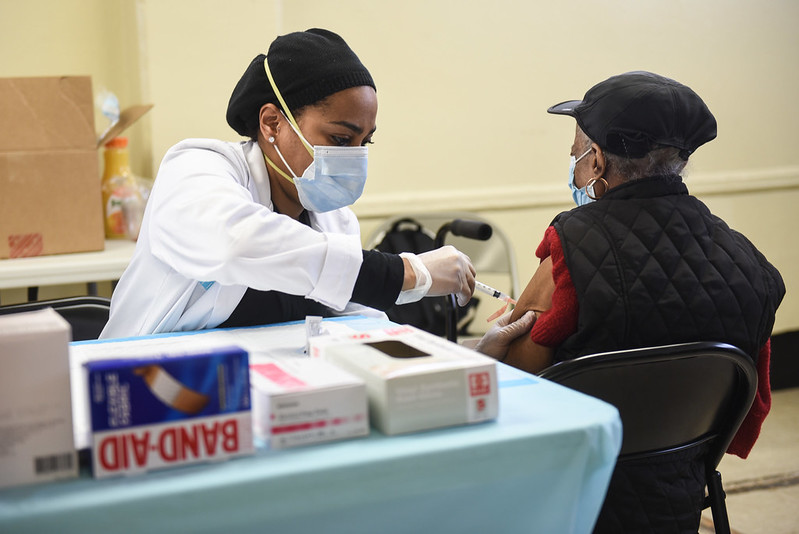 Covid vaccination (photo: Michael Appleton/Mayoral Photography Office)
---
As New York City was in the throes of the initial devastating wave of the COVID-19 pandemic, Mayor Bill de Blasio recruited Dr. Jay Varma to help guide his public health policy.
Varma, a well-respected international expert on infectious disease control and prevention, became de Blasio's senior advisor for public health in April 2020, relocating back to New York City from work he was doing abroad and helping to craft public health policy for the city through the end of 2021 and de Blasio's tenure as mayor.
Now, Varma has taken a position at Weill Cornell Medical College and has been outspoken in critiquing the covid-related policies of Mayor Eric Adams, who has decided to roll back some of the protections and mandates put in place by de Blasio with advice from Varma and other top health officials like recently departed health commissioner Dr. Dave Chokshi. Varma has been advising Manhattan Borough President Mark Levine, and working with Levine to put forth an alternative vision for how the city should manage the current and next phases of the pandemic.
Prior to working for de Blasio, Varma was working in Ethiopia for the Africa Centres for Disease Control, the United States CDCl's equivalent in the African Union. Previously, he spent a decade at the U.S. CDC, where he helped develop pandemic strategy in China post-SARS and on tuberculosis control in Thailand before joining New York City government at the Department of Health and Mental Hygiene, where he helped combat outbreaks of ebola and legionnaire's disease.
After rejoining city government at the apex of the pandemic, he became one of the mayor's top public health aides and a key steward of public information as COVID-19 ravaged the city.
Now professor of population health science at Weill Cornell, Varma is one of the most prominent critics of Mayor Adams' unwinding of pandemic-era health measures, a phenomenon seen in New York – and across the country – despite the ongoing spread of covid, low covid vaccination rates among certain demographic groups, and the many unknowns of the still-new disease and its potential additional variants and surges.
Varma has been most vocal about the mayor's rolling back of the "Key to NYC," the vaccine passport unveiled last summer that required all patrons of restaurants, bars, theaters, cultural institutions, and the like to present their proof-of-covid-vaccination before entering. Despite consistently polling well, the mandates were controversial from the start, especially with business owners who complained that they resulted in lower foot traffic and essentially deputized employees as vaccine bouncers. Mayor Adams has indicated that he sees the rollback as a sign that New York City has reopened, and part of a campaign to encourage consumerism, tourism, and a return to 'normalcy.'
Varma is among those with a different point of view about what is best for the city, arguing that there's little positive to come from protection rollbacks at this point. In a conversation on Gotham Gazette's Max Politics podcast, Varma explained his critiques to host Ben Max and laid out his preferences for the city's covid vaccine rules, including a number of thorny questions around whether covid vaccination should be required for students for next school year (he's skeptical) and whether a "booster" dose of covid vaccination is what really should be considered "fully vaccinated," not the current definition of the one-dose Johnson + Johnson vaccine or two doses of Moderna or Pfizer vaccines (yes, and it's "very likely" people will simply need a booster on an annual schedule like a flu shot).
Varma explained that, in part given his international experience, he is a "vaccine zealot" who knew from the get-go that the city would need to eventually institute mandates to increase its covid vaccination rates. He said he advised de Blasio of this when the vaccines were going to become available in early 2021, but it took the mayor some time to come around, which eventually happened in August of that year.
Varma argues that the mandates -- which along with the "Key to NYC" most prominently include public and private sector employee requirements that Mayor Adams has left in place -- were responsible for New York's relatively high rate of covid vaccination, and helped people get used to covid vaccination as a "normative behavior" that have not been undercut by Adams.
"The only way to maintain high levels of vaccination in adults is to have it be normative behavior," Varma said. "And by that, I mean, you have to show a vaccine to go into museums or theaters or restaurants. What's going to happen? People are inconvenienced, they're going to just get vaccinated, even if they don't believe it or not."
Varma previously wrote in the Daily News that while Key to NYC should not go on forever, the city and world are not yet at a point of confidence that the virus won't continue mutating, possibly into dangerous, vaccine-resistant forms.
In the meantime, Varma told Max Politics, Key to NYC should not only be maintained, but expanded, and if he were mayor he would add more types of facilities (like barbershops and nail salons) to the requirements and eventually require a booster.
"Vaccine mandates help get high levels, and help you stay at that level," he continued. "And I think that's why they're so important to keep and potentially expand if there's the political will. But unfortunately, to be honest, I don't see that political will to expand right now."
Varma later stressed the importance of maintaining high levels of covid vaccination by keeping the requirements in place given how transient of a city New York is and that it is important for people moving in from elsewhere to get vaccinated if they aren't.
New York City was one of the early epicenters of the pandemic starting in March 2020, and the coronavirus had claimed the lives of over 20,000 New Yorkers by the end of the devastating first wave a few months later. That number has since doubled, with 40,000 New York City residents killed by the virus in two years, not to mention the many thousands who suffered severe illness, some of whom are now dealing with "long covid."
Varma arrived in the city from Ethiopia in April 2020 to serve in City Hall; he said that during the crucial early months, the biggest challenge the city faced was the image- and power-obsessed administration of then-Governor Andrew Cuomo, echoing sentiments expressed by other de Blasio alumni. The de Blasio administration did see its own early missteps, which Varma acknowledged, though he gave de Blasio significant credit for mostly getting up to speed on how he needed to think about COVID-19, and internal strife, such as the sidelining and eventual resignation of former Health Commissioner Dr. Oxiris Barbot.
"People in City Hall that were working on this, these are really dedicated people that were trying to do the right thing," Varma said, before referencing the Cuomo administration. "And we were just stymied left and right by this desire from people in Albany to be seen as getting the credit and making the decisions."
Varma said he is a proponent of a significant degree of more local control to contain infectious diseases.
He did criticize de Blasio's pandemic approach in some ways, including his slow decision-making in the face of an emergency – including on mandates – and some significant mistakes in public health messaging, but he declared that ultimately the former mayor deserved credit for listening to the public health experts and having the "courage" to implement certain protections, even amid unrelenting opposition from some interests.
"I think he gets enormous credit for the political courage it took to come out front and push vaccine verification and vaccine mandates," Varma said. "You saw the tremendous pushback from the business community across the board. He's a Brooklyner, it's gonna keep the [Brooklyn] Nets potentially from winning an NBA championship. These are not little things. He showed tremendous courage. I wish he'd acted sooner, but I'm not the one elected, right? I'm always gonna push for the most extreme version and it's his job to balance out political realities."
Varma also praised New Yorkers, whom he argued have a higher innate trust in the institution of government, and in each other, than people in the rest of the country, and praised his colleague Dr. Chokshi for his approach to messaging as the face and voice of many public service announcements over the last many months. Chokshi stayed on as health commissioner under Adams until mid-March to ensure a strong transition amid a pandemic, handing over the reins to Dr. Ashwin Vasan. [Listen to Dr. Chokshi's 'exit interview' on Max Politics here.]
Metaphorically speaking, Varma said that covid at the present moment -- in early/mid-March -- could be compared to a "sunny day" as opposed to a storm, with relatively low case numbers and little spread. But, as Varma warned, despite the extensive push to get rid of masks and vaccine requirements, an Omicron "subvariant" known as BA.2 is already spreading rapidly in the city, as the new variant causes an explosion in case rates across Asia and Europe.
As of now, the city's health leadership, including Dr. Vasan, say there isn't cause for alarm among New Yorkers, with no evidence the new variant is deadlier than Omicron or more vaccine-resistant. But Varma said that the greatest lesson he – and other public health experts – has taken away from the pandemic is the importance of humility, as in never knowing what might come next, and thus preparing for any scenario.
"One of the most important lessons that I have learned, and that other experts in this field are learning, is about the importance of humility," he said. "And the fact that we just simply cannot predict what this virus will do next."

[Listen to the full conversation: Max Politics Podcast: Dr. Jay Varma on New York City's Battle with COVID-19]