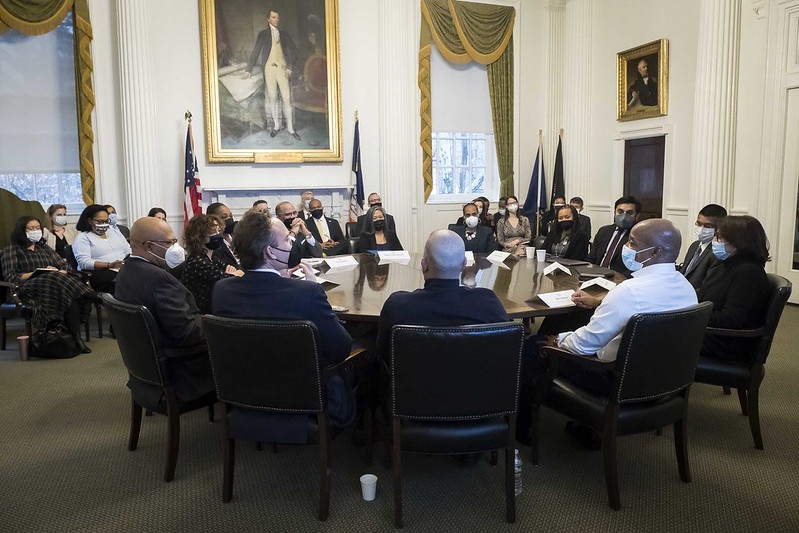 Mayor Adams holds a cabinet meeting (photo: Ed Reed/Mayoral Photography Office)
---
New York City Department of Investigation Commissioner Jocelyn Strauber critiqued Mayor Eric Adams' proposed cuts to her agency's budget Tuesday in testimony before the New York City Council, and called for a partial restoration of funds for what she said are "necessary" enhancements.

Officials at the DOI, which investigates city government corruption, estimate the department would, baed on the mayor's spending plan, see a reduction in funding of approximately $2 million in its Fiscal Year 2023 budget even after the agency makes adjustments from other funding streams including federal asset forfeitures.

In his $98.5 billion preliminary budget released earlier this year, Adams allocated $49.2 million to DOI. Strauber is seeking another $2 million in the adopted budget, which is due by the July 1 start of the new fiscal year. The funding is needed to comply with a recent executive order and would also go to hiring new investigators and creating a promotion structure to help combat staff attrition, the commissioner explained.

Strauber, who was nominated by Adams and confirmed by the City Council, presented a detailed outline to the Council's Committee on Investigations and Oversight at a Tuesday budget hearing held virtually. It was one of many hearings the Council is holding this month on the mayor's preliminary budget.

"After consulting with my executive team, I believe these improvements are necessary for DOI to best accomplish its mission," Strauber said in her opening testimony. "Simply put, to do this work as well and as thoroughly as possible, we need to hire and train more people, and we need to retain those people."

About half of DOI's current $58.2 million expense budget goes to employee salaries. The agency's 352 full-time staff members and more than 150 employees at other city agencies investigate systemic and individual cases of public corruption, misconduct, and fraud. The agency has jurisdiction over 45 city agencies and hundreds of thousands of municipal employees, and runs a number of agency-specific inspectors general.

Of the additional $2 million DOI is seeking, $1.1 million would go towards hiring 18 new investigators, Strauber said. Six of those would be dedicated to new units targeting agencies responsible for large infrastructure projects – like the Department of Environmental Protection and Department of Design and Construction – where the potential for fraud and waste is high.

Another $200,000 would go towards promotions and raises to help retain current staff.

And $709,000 would support the secure storage of sensitive city information that DOI must collect and retain in the course of its probes. Some of that would go to an external auditor mandated by a November Executive Order signed by Mayor Bill de Blasio, which is currently unfunded.

"I cannot emphasize enough the deep impact that the loss of staffing has on DOI's ability to fully meet its mission and mandate," Strauber said.

"This plan did not include any new needs and if there are we should hear about them," said Council Member Gale Brewer, who chairs the Council's oversight and investigations committee, of Adams' preliminary budget for DOI.

"I remain concerned that the budget is not sufficiently funded," she said, adding that she sought "to understand the vision the administration has for the department."

"Investigative and oversight agencies have been shown again and again…to save the public far more than what they cost," said John Kaehny, executive director of the good government group Reinvent Albany.

"The amount of money at stake here is miniscule," he told Gotham Gazette. "It's ridiculous when you look at the cost to the city of the big ticket items like education, policing, fire, EMS, hospitals."

DOI is not the only city agency slated for cuts. Adams' $98.5 billion preliminary budget, his first as mayor, entails a $4.3 billion drop in spending compared to the city's most recent budget modification in November, though much of that difference is due to shifting federal funding and prepayments that the de Blasio administration made for next fiscal year. The proposed DOI budget is less than 1% of the total preliminary budget.

DOI is designed to be largely independent of City Hall, with a commissioner appointed by the mayor and confirmed by the Council – an arrangement that helps it investigate city employees and entities without political interference. One of the ways the mayor and Council can limit its reach is by choking its budget. Strauber's testimony Tuesday is one of the rare instances of an agency head publicly splitting with the mayor on his proposed budget, speaking to the nature of the department and its role.

The department is also responsible for city employee background checks – a large undertaking with the transition to a new mayoral administration and the hiring of executive leadership. The City Council, with dozens of new members hiring staff, adds to that caseload. There are about 1,600 open background checks, according to Strauber, with an average resolution time of 73 days in Fiscal Year 2022.

"Mayor Adams has consistently said his administration will be guided by the values of accountability, transparency, and fidelity to the highest ethical standards," wrote a mayoral spokesperson, in an email to Gotham Gazette. "That's why he nominated Ms. Strauber, a talented career prosecutor with a strong track record of independence and impartiality, to lead the Department of Investigation."

"In this year's Preliminary budget, nearly every city agency was asked to make cutbacks to close our budget deficit and right size headcount," the spokesperson wrote. "We look forward to engaging in a dialogue with DOI throughout the budget process to ensure it has the resources it needs to fulfill its mission."

According to Strauber, the budget cuts are primarily felt in the agency's staffing level, which hampers its mandate to probe possible corruption.

"While we recognize the need for budget cuts in the current environment, city-wide, it is important to note that these cuts impact our agency differently," Strauber told the committee. "They have left many of our squads seriously understaffed, limiting our investigative capabilities."

"We will need to make very hard choices without additional personnel," she said.

In the last two years, the agency has lost 53 staff positions due to budget cuts, including 33 in the current fiscal year, which ends in June. The cuts in Adams' proposed budget add to an existing $1.7 million reduction in the current FY22 budget, achieved through the city's Program to Eliminate the Gap and other savings commitments. Roughly $3 million in new cuts are the result of the end of an initiative under de Blasio for DOI to review city-contracted homeless services providers.

On top of the proposed $49.2 million in Adams' preliminary budget, DOI expects to receive $4 million in federal asset forfeiture funds, stemming largely from the agency's involvement in investigating the 2014 City Time scandal. That funding cannot be used for employee salaries or supplant existing funding, according to the DOI. The agency also expects to receive an additional $1.8 million in "intra-city funds" that can be used for staffing.

In recent years, DOI has led investigations that put the mayor himself on the hot seat, including an investigation into de Blasio's misuse of his NYPD security detail, and the city's response to the Black Lives Matter protests in the summer of 2020, particularly the police department's failures and abuses.

Some of DOI's current work is focused on monitoring police misconduct and homeless services contractors, and improving conditions in city jails – stemming the flow of contraband and investigating instances of excessive force by guards.