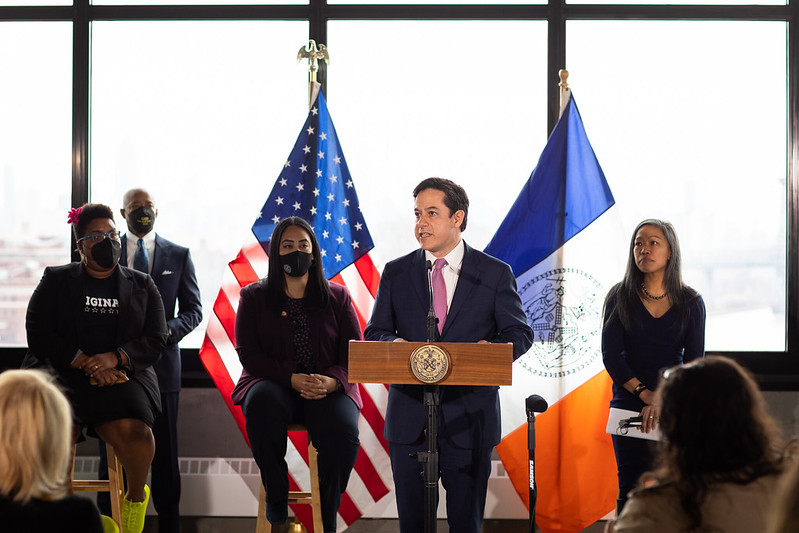 City Planning Chief Dan Garodnick (photo: Joanna Graham/Mayoral Photography Office)
---
In a presentation to the New York City Council Wednesday, newly-appointed Department of City Planning Commissioner Dan Garodnick discussed the Adams administration's proposed budget and values for how land should be used to shape the city's future.
The Department of City Planning, which helps craft proposed changes to land use rules, including zoning regulations and applications, is working towards some of the pillars of inclusive economic growth and crisis adaptability contained in Mayor Eric Adams' economic recovery "blueprint," released earlier this month. The department examines community, borough, and city needs and opportunities, and helps develop plans for the future related to housing, economic development, green space, and much more. Its work is also closely tied to the City Planning Commission, a body made up of appointees of several city elected officials where Garodnick serves as Chair and which is one step in the approval process for land use changes.
The Department of City Planning is focused on a few key areas to address the overlapping crises of housing availability and affordability, climate, and health, Garodnick told members of the City Council. The goal is to continue creating new housing, build coastal resiliency, adjust central business districts, and make local investments with and without rezoning, he said while touting new capital funding mechanisms that are still "in formation."
"It's a plan that will be nimble, and will focus on a broader and equitable geographic distribution of economic opportunity," said Garodnick, a former City Council member from Manhattan who chaired the Council's economic development committee and, before that, the land-use planning subcommittee. As a Council member, Garodnick worked with the Department of City Planning and City Planning Commission to pass a long-negotiated rezoning of East Midtown to enhance its office and commercial space, transit, and more. Between leaving the Council and being named to the Adams administration, Garodnick spent several years running Riverside Park.
An overarching goal, he said Wednesday, is to engage every neighborhood in the city in land-use talks and ease the experience of rezoning applicants.
His presentation to the Council's Land Use Committee, part of a series of hearings this month to examine Adams' $98.5 billion preliminary budget, included details of the Department of City Planning's $45.3 million proposed budget for next fiscal year, beginning July 1. The plan amounts to what would be a modest overall budget increase of $354,000 and a headcount reduction of 16 employees out of over 300, made up of vacant and expiring positions, he said.
At different points during the hearing, Council members questioned whether DCP would have enough staff to dedicate to things like community board outreach, siting health-care facilities in underserved areas, and supporting the city's redistricting commission. When asked by Land Use Chair Rafael Salamanca, a Bronx Democrat, about DCP's 63 current vacant staff positions, Garodnick said the department had enough resources to fulfill its mandate.
"We are doing our very best to work with the resources that we have and will," he said. "We have talented people. We are working to reallocate as necessary to be able to perform at the highest capacity."
In terms of the vacancies, "it is not as dire as it sounds," he assured the committee, noting 13 positions were expiring or "dormant" and another 26 were being recruited or onboarded. Mayor Adams has insisted on belt-tightening and the elimination of many vacant positions at most city agencies. Some, including former Deputy Mayor for Housing and Economic Development Vicki Been, have said that DCP and other planning and housing-related agencies are understaffed to meet their mandates and ideal workforces to meet the city's significant needs.
While the Department of City Planning is relatively small, it has immense purview and plays a key role in mapping the future of the city. Under Mayor Bill de Blasio, for example, DCP helped craft what became neighborhood rezonings in several areas, like East New York, East Harlem, the north shore of Staten Island, and Downtown Far Rockaway, among others. Those plans include changes to land use rules to encourage more housing development, including affordable housing, as well as a variety of other community investments.
While the de Blasio administration focused on rezoning mostly lower-income communities of color until the final two neighborhood plans, for Gowanus and Soho, that were passed late in the mayor's final year, Adams has pledged to pursue rezonings, especially focused on affordable housing, in wealthier areas of the city.
In response to questions, Garodnick said the Adams administration would continue neighborhood rezonings but didn't say what areas are under consideration. During the campaign, the new mayor pointed to swaths of the west side of Manhattan as among the areas he would look to upzone to increase housing in the city, including more affordable housing in wealthier, transit-rich neighborhoods.
Garodnick is interested in adapting land use policies to meet emerging needs created by the pandemic and climate change. He commended the City Council for making New York's open restaurants program permanent and pointed to other immediate changes he said were needed to correct outdated zoning restrictions on things like electric car charging and nightlife. DCP is collaborating with the city's Economic Development Corporation and other entities to develop the offshore wind industry and implement the city's Comprehensive Waterfront Plan.
The Adams administration is also examining other shifts and needs, Garodnick said, with an eye toward commercial-to-residential conversions. With so much of the city's workforce working remotely DCP is looking at possible changes to the city's biggest commercial corridors whose economies are no longer supported by a daily influx of commuters. Some conversion mechanisms would require state action, but DCP is looking at what can be done as-of-right and through local rezonings. On the flip side, that also means investing in the smaller commercial areas outside of Manhattan, near more residential sections, that have grown during the pandemic.
"Covid has changed the way people are living and working and it has changed the way that we need to think about some of our commercial buildings," Garodnick said. That doesn't mean wholesale changes to commercial districts, "but it does mean we want to afford a certain level of flexibility for commercial buildings to evolve so that a building owner is not just boxed in to one use."
Garodnick touted the administration plan to launch a new capital investment mechanism as part of a proposed "SEED (Strategy for Equity and Economic Development) Fund," which was included in the economic recovery blueprint. According to Garodnick, the fund will identify short-term "catalytic" investments in projects that meet multiple agencies' capital budget needs and would spur economic activity in historically divested neighborhoods, with set-asides for MWBE contracting and local hiring. Neither Garodnick nor the blueprint gave specific examples of SEED Fund investments but both indicated they would be projects that meet multiple city goals like creating housing, alongside jobs and essential services like childcare and transportation. The fund will also incorporate a stakeholder engagement function to inform longer-term investments.
"We have high hopes for this mechanism," which is still "in formation," he said.
New York City's population is expected to grow by roughly 300,000 people to 9.1 million by 2030. The population growth, on top of existing affordable housing shortages and shrinking household sizes, means the city needs to do much more to meet the demand for housing. Over the past decade, the city has added roughly 20,000 units a year to its housing stock. When pressed by Council members, Garodnick could not yet say exactly how many units the city needed to add each year.
"We have to do more and we need to sustain higher levels of production here in order to provide housing for everybody who needs it," Garodnick said. "This is an all-hands-on-deck situation."
"What I'd like to do is have the conversation with you and my colleagues about what that number is," said Council Member Erik Bottcher of the city's projected long-term housing needs, and, "if at all possible come to some kind of collective understanding about what we need to generate, and then work together on some kind of larger plan to do it."
Adams is expected to present a housing plan in the coming weeks or months, led by Chief Housing Officer Jessica Katz, in collaboration with Garodnick's planning department and other city entities.
Housing affordability was a concern of multiple Council members, who asked Garodnick about plans to adjust the formula under de Blasio's landmark Mandatory Inclusionary Housing (MIH) program, which changed land use laws to require developers create a certain percentage of "affordable" units in areas upzoned for greater density, based on a set of formulas and choices.
While a major equity and affordability initiative and a component of de Blasio's goal to create or preserve 300,000 units of affordable housing over 12 years, MIH has been criticized for not offering enough affordable units or units that are affordable to the lowest-income New Yorkers. Many officials and advocates have called for revising the program.
"There has been a concern within the Council that it does not do enough," said Salamanca, who was also land use chair during the last Council session and killed a proposed rezoning in his district that de Blasio's city planning department had pursued.
"I supported MIH when it first was instituted by de Blasio and I have to say it's not been a great number in terms of units," said Council Member Gale Brewer, a Manhattan Democrat.
"We are eager to have this conversation with you in the Council," Garodnick responded, "as to whether or not we've got the right balance here if we're relying on the private sector in these contexts to build our affordable housing."
Ben Max contributed to this story.