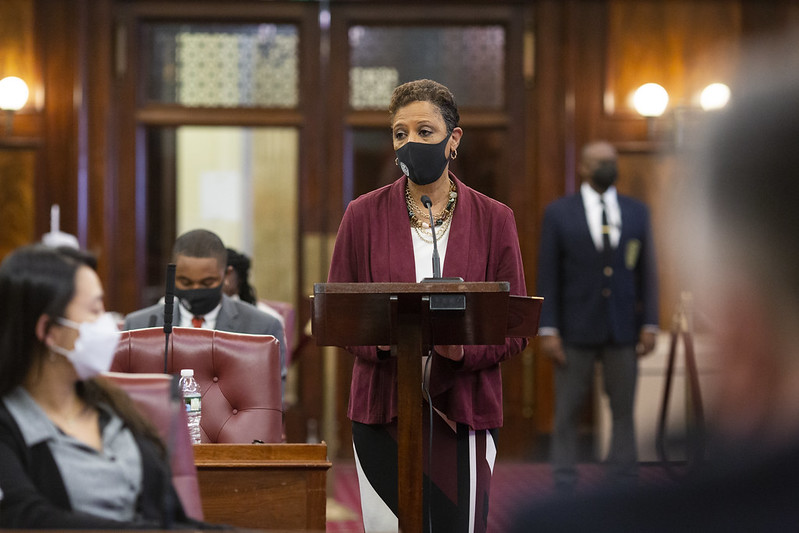 Council Speaker Adams (photo: John McCarten/NYC Council Media Unit)
---
The New York City Council wants Mayor Eric Adams to add billions in spending to the city budget for agency operations, city initiatives, and infrastructure to ensure a strong and equitable recovery from the COVID-19 pandemic. In issuing its official response to the mayor's $98.5 billion preliminary budget proposal for the 2023 fiscal year, which begins July 1, the Council has advanced city budget negotiations into their next phase.
Adams' budget reflects a slight drop from the budget that was adopted in June last year under Mayor Bill de Blasio but a significant decrease from the last budget modification in November, when the city projected spending nearly $103 billion by the end of the current fiscal year. By the time Adams released his preliminary budget in February, current year spending was estimated to increase to $106.5 billion, largely a result of one-time federal relief funds in response to the pandemic. That also includes about $3.7 billion in prepayments for the 2023 fiscal year, allowing Adams' budget plan for next fiscal year to be significantly lower.

The mayor's preliminary budget included a "Program to Eliminate the Gap" (PEG) that found a sum of $2 billion in cuts and savings across most city agencies, reduced the overall projected municipal workforce by 7,000 by removing budgeted vacancies in the next fiscal year, while also adding to city reserves and nearly $1 billion more in spending on city initiatives offset by better-than-expected revenues. But many in the 51-member City Council have expressed concerns about that budget since, as finance chair Council Member Justin Brannan put it, that the cuts could lead to "unintentional austerity" and an inequitable recovery.

After weeks of hearings where Council members examined the budget and agency-specific allocations, Speaker Adrienne Adams, Brannan, and the rest of the Council announced the Council response. In part based on its projections of more revenue at the city's disposal, it includes a long list of additional investments in programs and services, as well as replacing some of Adams' planned programmatic cuts and personnel decreases, bolstering city reserves, and bumping up capital spending on several infrastructure priorities like affordable housing, bus and bike lanes, and pedestrian space.
The Council plan includes increasing the overall budget on top of Adams' preliminary budget by $1.6 billion, or 1.5%, in the current fiscal year and another $2.8 billion, or 2.8%, in Fiscal Year 2023 – agency spending would increase in FY2023 by $1.3 billion. 
The Council also wants to add $3 billion in total to the city's rainy day fund and Retiree Health Benefits Trust Fund, which Adams has pegged at $1 billion and $3.8 billion respectively. In total, Adams' budget sets city reserves at about $6.15 billion for fiscal year 2023 while the Council's plan would set them at $9.74 billion.

"To secure an equitable recovery for our City and improve public safety, we must focus on robust investments that strengthen our communities and deliver opportunities for all New Yorkers," said Speaker Adams in a statement. "The Council's priorities reflect the holistic needs of New Yorkers who face increasingly tough challenges. By filling in the notable gaps in the Preliminary Budget to provide our diverse communities with the resources and services necessary to confront this moment, the Council is showing the leadership to implement solutions with urgency and thoughtful attention."
"New York City's recovery requires real and meaningful investments. We cannot cut our way to prosperity," said Brannan in a statement. "Now more than ever, New Yorkers want to know the neighbors they elected are listening and delivering tangible results. If you want to know what someone cares about, look at what they spend money on. Our city budget is no different. More than an itemized list of income and expenditures, it is a moral manifest."
In recent weeks and months when Mayor Adams has been asked about some of the decisions in his preliminary budget, including where he did not fulfill campaign promises on parks and affordable housing spending, he has noted that it was simply the preliminary budget, with much more to the process before an adopted budget is passed, and that he will look to meet some commitments over multiple years.
"The mayor's Preliminary Budget cuts spending, makes government run more efficiently, invests in public safety, increases reserves to record levels, and provides much-needed help to working families across our city," said a City Hall spokesperson in a statement. "We look forward to engaging with Speaker Adams and the entire Council through the budget process to build a strong, fiscally responsible, and equitable recovery for all New Yorkers and make upstream investments to address longstanding inequities in our city."
The Council justified its spending increases by estimating revenues at higher levels than projections made by the Mayor's Office of Management and Budget, which generally tends to be more conservative about the city's revenue outlook. The Council response contends that those additional revenues would also reduce structural deficits in the city budget by lessening the need to use surpluses from previous years to balance the budget. For instance, the mayor's financial plan uses $3.7 billion in the current fiscal year to pay down the budget gap for fiscal year 2023. "It is like a family whose expenses exceed incomes and who are drawing down their savings account to pay the bills," the Council response reads.
The Council does recognize that there remain risks to the city's economy including the continuing pandemic, Federal Reserve interest rate hikes, and potential global disruptions because of Russia's invasion of Ukraine. It also noted that the mayor's budget does not account for the cost of settling municipal labor contracts that have expired and the fiscal cliff once federal relief runs out.

Besides increased spending, the Council also pushed for greater transparency in the budget. The Adams administration has continued the long standing practice of budgeting through broad units of appropriation that tend to obfuscate where funds are actually spent and allows the shifting of funds with little public scrutiny. The Council included a list of 115 additional units of appropriation that it wants added to the budget to more closely align with planned spending, such as units for individual community colleges, bureaus within the NYPD, and programs at the Human Resources Administration, Housing and Preservation Department, and more.
The Council also called on the administration to make improvements to the Mayor's Management Report (MMR), which tracks agency operations, in particular by adding clear targets for performance indicators. On Wednesday, the mayor did in fact announce a new "Dynamic MMR," moving closer to his goal of real-time tracking of city government, and signed an executive order creating a chief efficiency officer (a position he has already hired for) to create updated metrics for more efficient tracking of agency performance.
The Council identified a vast range of initiatives to fund across city agencies including youth employment, special education, mental health, community safety, housing, homelessness, adult education, sanitation, parks, cultural institutions, criminal justice, and more. 

They also called for major investments in capital infrastructure projects -- part of the separate but connected capital budget, which is outlined by the mayor to be $100 billion for fiscal years 2022-2026 -- including $3.1 billion more to fund the city's Streets Master Plan that was approved in 2019. The plan originally mandated the creation of 250 miles of protected bike lanes and 150 miles of dedicated bus lanes over five years, along with various other street and pedestrian infrastructure improvements, but the Council wants the additional funding to create 500 miles of new protected bus-only lanes, 40 miles of car-free busways, at least 500 miles of protected bike lanes and 38 million square feet of dedicated open pedestrian space.
The Council also wants to put $250 million more in capital funds for comfort stations in parks in all five boroughs and $163 million more to fund infrastructure needs for the city's library system.
On the expense side, the Council called for wide variety of additional investments.
Though Mayor Adams' budget expanded the Summer Youth Employment Program by 30,000 slots to 100,000, at an annual cost of $236 million, the Council is calling for more investment in youth programs. Its response calls for $57 million to expand year-round employment programs, including $43.2 million to increase the Work, Learn and Grow program to 12,000 slots, up from 2,200, and $13.9 million for the Advance & Earn program to help 1,000 young adults find jobs.

The Council calls for $30 million to provide pay parity to teachers and workers at  special education pre-K centers who were left out of a 2019 pay parity agreement for early childhood education providers.
To expand access to mental health and counseling services in schools, the Council calls for $14.1 million to hire social workers and guidance counselors at 100 schools and to eventually expand to all schools in District 79 – a citywide alternative instructional district serving vulnerable student populations – by fiscal year 2026.
The Council also wants $12 million for 100 shelter-based DOE Community Coordinators to aid unhoused students, and to hire 10 regional managers and two regional support directors to oversee coordination. It also calls for a $59 million investment for restorative justice coordinators at 250 schools in fiscal year 2023, increasing to 500 schools by fiscal year 2024, and restorative justice training for school staff.

The Council is also pushing for more funding for several interconnected mental health and public safety programs, issues that the mayor has repeatedly talked about in his first few months in office.    

Though Adams has touted support for the Behavioral Health Emergency Assistance Response Division (B-HEARD) program, which sends mental health professionals to respond to mental health-related 911 calls, he did not include additional funding for it in his preliminary budget. The Council advocates for increasing the program's budget to $61 million to expand it.

The Council also calls for increasing mental health support for homeless New Yorkers, for communities disproportionately affected by the pandemic, and for seniors. The demands include baselining $11.5 million for the Street Health Outreach and Wellness (SHOW) units; $3 million to expand mental health services to the city's 33 communities hardest hit by COVID-19; and $8.7 million for the Department for the Aging's Geriatric Mental Health Program. The Council also calls for a $10 million investment of either city or private funds to expand overdose prevention services, building off the success of the city's two safe injection sites that opened in December. The Council wants those two Manhattan sites to be open 24 hours, seven days a week, and for there to be one such site in each of the other boroughs.
The pandemic exposed dire health care inequities in the city and further burdened struggling hospitals across the five boroughs. As the Council notes, the city partnered with Goldman Sachs to create a $45 million Hospital Stabilization Fund to aid facilities facing dire straits. In its budget response, the Council calls for another $45 million for a fund to support hospitals in geographically isolated communities and for municipal hospitals with high patient volumes. The plan also pushes for four new Health + Hospitals health care and ambulatory centers in communities with inadequate access, including once each in Southeast Queens and the Bronx, and two in Brooklyn, at a cost of $50 million each in capital funding. 

The Council proposes creating the first-ever trauma recovery centers in the state to provide services to underserved victims of violence across the five boroughs in communities with the highest rates of violent crime. It estimates the cost at $8.4 million in the next fiscal year. The Council also calls for $3 million in additional funding for community organizations that work on violence interruption programs outside of the city's Crisis Management System. The Council plan includes a $5 million increase in funding for the Mayor's Office for the Prevention of Hate Crimes and community organizations that work on hate crime prevention.

While the mayor has faced both praise and criticism over his plans to tackle homelessness and increase access to affordable housing, the Council had several prescriptions to offer.

As part of his Subway Safety Plan, the mayor proposed 140 new Safe Haven beds, 350 new stabilization beds, and new drop-in centers. The Council instead calls for $114 million for 2,376 new Safe Haven and stabilization beds, including the 490 beds the mayor spoke about, and three new Drop-In Centers. 

The Council is also calling for increased baselined funding for rental assistance voucher programs and $28.4 million for an additional 1,000 beds for supportive housing for justice-involved individuals.

One of the major demands by the Council is that the mayor adhere to his promise – which was not funded in the preliminary budget - to provide $2.5 billion in capital funds for new housing construction and preservation and another $1.5 billion in capital for the New York City Housing Authority (NYCHA).
The Council also calls for increasing baseline funding for HIV and AIDS Services Administration (HASA) single room occupancy emergency shelter units by $47.9 million, adding $41.6 million to fund 200 new domestic violence emergency shelter beds and 600 new DV Tier II units, and just over $3 million to add 60 additional Runaway and Homeless Youth Beds for 21- to 24-year-olds.
The Council is also pushing the administration to seek state authorization to provide a property tax rebate to homeowners at a cost of about $90 million.
To expand equitable access to city benefits, the Council is pushing for several initiatives including $10 million in more funding for the Human Resources Administration to increase outreach, add staff to process benefit applications and streamline processes. It also calls for $30 million to ensure continued meal services for thousands of older New Yorkers who received them during the pandemic and $12.7 million to expand the city's home-delivered meal program.

Most of the city's services are provided by contracted human service providers who face persistent financial struggles for lack of adequate and timely pay from the city. The Council is calling for a 4% Cost of Living Adjustment, or $60 million increase, for those providers as a baseline in the budget.

The Council's budget response includes several education and literacy initiatives, including $13.5 million to increase baselined funding to $27 million for adult literacy programs, $23 million for a program to bring roughly 700,000 CUNY dropouts back into the system to earn a credential, $5 million to increase language access in city agencies, and $25 million to conduct outreach to noncitizens who will soon be able to vote in municipal elections under the city's "Our City, Our Vote" law. 

During the pandemic, the city slashed budgets for sanitation and parks, and funding has yet to be fully restored to either department. Mayor Adams has even proposed further cuts to meet his cross-agency savings plan. In response, the Council called for a restoration of the proposed $47.8 million in cuts at the sanitation department in FY23, which includes $18.2 million to restore the curbside organics collection program, an additional $22 million for corner basket pick-ups, $52 million for parks maintenance and summer workforce, and more.

In response to the crisis at Rikers Island, the Council is not expressing a major budget demand as much as it called on the Department of Correction to immediately take steps to reform its practices. The Council also calls for the Board of Correction budget to be set at 1% of the Department of Correction budget and an additional $12.3 million for the BOC to increase salaries and expand critical headcount.

The Council wants $1 million in additional funding for the Civilian Complaint Review Board, the police oversight body, to increase its headcount from the current 200 to 227 as required by the city charter in relation to the police department's uniformed headcount.

The Council also calls for a $10 million increase for the Fair Futures program that supports youth who are in or have left the foster care system, bringing its funding up to $35 million in total, and $5 million more for programs for youth in juvenile justice facilities.
The Council also calls for $50 million in additional funding for cultural institutions, $1.5 million to help small businesses launch online, expanding the city's network of Workforce1 Career Centers, and $75,000 to help Minority and Women-Owned Business Enterprises (M/WBEs).
And, the Department of Investigation is the city's independent watchdog that monitors corruption and evaluates the work of other city agencies. The Council calls for $2.3 million more in funding for DOI to help it conduct its oversight role, including $1.6 million to hire 18 new investigators and $709,000 to support the secure storage of sensitive information that DOI collects. This is in direct response to the ask by the new DOI commissioner at a City Council budget hearing.
Note - this article has been updated to clarify the increase in agency spending in FY2023.