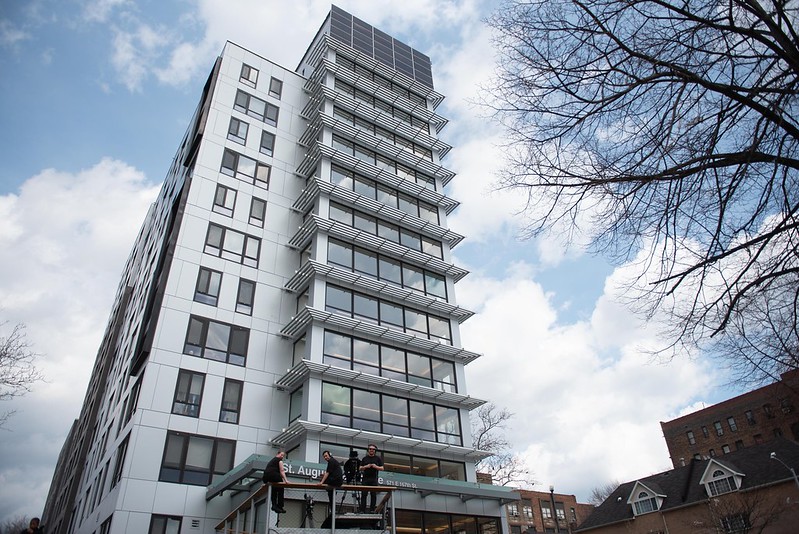 Housing (photo: Michael Appleton/Mayoral Photography Office)
---
In his State of the City speech last month, Mayor Eric Adams promised that he would in the coming weeks release a comprehensive housing plan to address perhaps the most intractable problem facing New York. At a hearing of the City Council on Monday, housing officials from his administration outlined the main principles of that agenda and gave a preview of the city's broad approach to building affordable and supportive housing, preserving public housing, and tackling the homelessness crisis.  
Monday's hearing concerned the mayor's $99.7 billion executive budget, which allocates about $1.19 billion to the Department of Housing Preservation and Development, the city agency that leads building and preservation of affordable housing. HPD's operating budget saw a $142.8 million increase, or 13.7%, since the mayor's preliminary budget mainly because of federal funding for housing assistance, funding for Section 8 Housing Choice Vouchers, and an increase in planned staff at the agency. The $1.19 billion also includes about $236 million in funds that will be funneled to the New York City Housing Authority, the city's public housing agency.
In the accompanying capital budget, a separate plan from the expense budget, the mayor added $5 billion over ten years for housing – $3.6 billion for HPD and $1.4 billion for NYCHA – bringing the city's total capital commitment for housing to $22 billion over the decade ahead. The funding is far lower than the $4 billion annually that Adams had pledged to allocate for housing capital when he ran for mayor last year. But the budget is not yet set, with public hearings and private negotiations ongoing between the Adams administration and the City Council, and a final budget due by the July 1 start of next fiscal year.
The City Council wants the mayor to double the proposed annual capital commitment toward housing and to add operational funds for various initiatives including running supportive housing for justice-involved people and foster care youth, among other demands. At Monday's hearing, Council members pressed their demands as they questioned representatives from the mayoral administration about what to expect from the mayor's housing plan.
"Critically, the investments continue to fall short of the Council's call to radically reshape the city's dedication to increasing the supply of new, deeply – and I'm going to again emphasize – deeply affordable housing," said Council Member Pierina Sanchez, a Bronx Democrat and chair of the Council's Committee on Housing and Buildings, in her opening remarks. 
"We know that housing is public safety, and that we can't have housing without deeper investment by the city and this administration," added Sanchez, who was an urban planner and a housing advisor in the mayor's office under Mayor Bill de Blasio before being elected to the Council last year.
HPD Commissioner Adolfo Carrión said that the administration has been busy working on a housing blueprint that they will present "in several weeks."
"We are working on developing a strategic housing blueprint that prioritizes people over process for New Yorkers in need of housing and related services," he said. "In our plan, we are seeking to accelerate and increase capacity for new housing supply, increase access to affordable home ownership, and improve the quality, sustainability, and resiliency of affordable housing to keep New Yorkers safe and healthy. Most importantly, we are unequivocally affirming that homelessness is a housing problem."
New York City has a well-established housing and homelessness crisis that is in part the result of new housing production coming far short of keeping up with population growth.
Carrión said the plan would also invest in jobs and technology, improve and streamline housing development processes and procurement, cut administrative hurdles for people seeking housing, and promote contracting with Minority- and Women-Owned Business Enterprises. 
The commissioner, a former Bronx borough president and urban affairs official in the Obama administration, said the blueprint would incorporate all the agencies involved with housing and homelessness – HPD, NYCHA, the Human Resources Administration, and Department of Social Services. He also said the administration will undertake a larger efficiency effort to improve processes for all stakeholders whether its developers, landlords, tenants, or community boards.
"Things just take too darn long. There's a lot of redundancy," said Carrión. The blueprint — being developed by Carrion, Chief Housing Officer Jessica Katz, and others in the Adams administration — is expected to include new web portals for tenants and building owners to navigate city regulations and application processes. 
"What you're going to see is, one, a recognition of the history of silos. And silos don't work. We're one government. We should be rowing in the same direction," Carrión later added, echoing the ways the new Democratic mayor has promised to make government more efficient and effective.
Carrión conceded that the city will likely miss the necessary target for building and preserving affordable housing in the current calendar year – the city has built or preserved 11,000 units so far and will likely reach 16,000 units, he said, when it should be exceeding 30,000 units a year. And that's only a portion of the overall housing that should be built each year in the city.
But Carrión insisted that the funding allocated by the mayor is adequate to meet that demand. He did note that the agency faces major hurdles. "One of the biggest challenges that we face is that we have lost a significant number of staff. The pandemic really slammed government, business, increased attrition rates beyond norms," he said, noting that the new expense funding in the executive budget will be used to hire 77 more staff for HPD and that there are hundreds more vacancies to be filled that have also been budgeted for. 
Some Council members raised concerns that the new capital funding for housing may be all but eliminated if interest rates should rise and increase the cost of production. HPD officials agreed that interest rates could be an issue and that they were monitoring them constantly.
Council Member Charles Barron said, however, that the funding was far too spread out to meet the urgency of the city's housing crisis. He insisted that the money should be concentrated over the next five years. "It's backloaded and we need it frontloaded," said the Brooklyn Democrat. 
Barron also said the money should be distributed to Community Land Trusts rather than for-profit developers, urging the administration to take concrete measures to tackle increasing gentrification and displacement. "Right now white men and profit-making corporations dominate the contracts, by far," he said. 
Carrión said the administration's blueprint will deal with "discrimination and racial inequities of opportunity, in housing, in all its manifestations," and that the administration was committed to using Community Land Trusts to help low- and moderate-income New Yorkers obtain home-ownership. In particular, he said the administration supports a bill before the State Legislature that would establish the Affordability Plus program, giving the city expanded loan authority to help people buy homes and provide financing to CLTs, which are typically nonprofit entities.  
Council Member Diana Ayala, a Democrat representing East Harlem and part of the South Bronx, urged the administration to ensure that an adequate amount of the $5 billion in new capital funding is used to build senior housing. "By the year 2030, we're expecting to have more older adults in New York City than we have children in public schools. And even throughout the de Blasio administration, we did absolutely nothing to prepare for that influx of older adults," she said. 
Council Member Selvena Brooks-Powers, a Queens Democrat, pushed for more funding for affordable homeownership programs and legal resources for low-income homeowners. Council Member Farah Louis, a Brooklyn Democrat, asked about legalizing basement apartments, also called Accessory Dwelling Units, as a means to homeownership. 
Carrión reiterated that the housing plan would in part focus on affordable homeownership and noted that the administration supports a state bill to legalize and regulate ADUs. "We think this is one of a number of tools that we can use to create affordable housing and to create housing in general," he said.
[LISTEN: Max Politics Podcast: City Council Member Pierina Sanchez on Solving NYC's Housing Crisis]