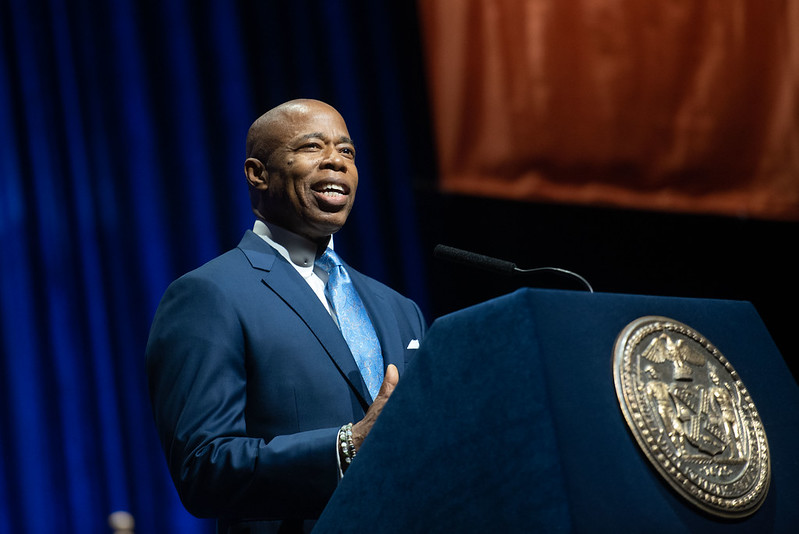 Mayor Eric Adams (photo: Michael Appleton/Mayoral Photography Office)
---
The Earned Income Tax Credit is a boon for low-income New Yorkers, putting hundreds, even thousands of dollars back in their pockets each year. Though it is a federal credit, it is matched by New York City and State, and Mayor Eric Adams made expansion a top priority for his administration as part of his agenda to lift up struggling New Yorkers. This year, at the new mayor's urging, the state enhanced its EITC and the mayor increased the city's investment in the credit. 
The EITC is a refundable tax credit provided to working New Yorkers, individuals and families, and is considered a significant anti-poverty tool. In 2021, the IRS received about 25 million EITC claims, awarding about $60 billion in credits, with an average credit of about $2,411. That included about 1.5 million claims from New York State, with $3.4 billion awarded, with the average federal credit equalling $2,284. 
In New York in 2020, the last year for which data is available, more than 1.2 million people claimed the state EITC, for a total of more than $771 million and an average state credit of $622. That year, more than 675,000 people claimed the New York City EITC, costing about $69 million with an average city credit of $103.
Recognizing its effectiveness in reducing poverty, Mayor Adams urged Governor Kathy Hochul and the state Legislature to increase the matching amount that the city could provide based on the federal EITC. Up till this year, the city was only allowed to match 5% of the credit, which was increased to up to 30% in the state budget, the first increase in nearly 20 years. That policy win makes for an early achievement for Adams, a Democrat in office for just over four months, and important follow-through on a top campaign promise.
When he ran for mayor, Adams released a plan dubbed NYC Advanced Income Deployment or NYC AID, under which, the city would expand the city EITC to up to 60% for households making less than $30,000 a year and up to 30% for households making less than $50,000 a year. He also proposed paying out the credit in monthly payments rather than in one sum at the end of the year. At the time, his campaign estimated it would cost about $1 billion each year. 
In years prior, the city spent about $92 million annually on the EITC. Adams has added $250 million to that amount in his budget proposal, bringing the city's total planned EITC spending to $342 million next fiscal year, which begins July 1 — Adams and the City Council must agree to a new budget by then. The state also kicked in $100 million in one-time funding to supplement the city's credit.
The new funding is expected to benefit more than 800,000 families in the city. "This is extra money in their pockets during a very difficult time," Adams said on April 16 at City Hall, celebrating the state's action. "That's money to help pay for food, bills, rent, all of the things that New Yorkers know and deserve to receive. The EITC is a lifeline for far too many."
According to Adams, with the new funding, a single parent with one child making $14,750 a year will see their city benefit increase from $181 to $905, and the state's supplemental EITC increase from $1,085 to $1,357. "Every new dollar that comes in, assists you in making ends meet every day," he said. For a married couple with two children, with a family income of $25,000, the city benefit will increase from $299 to $897 and the state EITC supplement from $1,794 to $2,243.
"We know that giving more than 800,000 New Yorkers a little more money in their wallet can make all the difference," said City Council Speaker Adrienne Adams, at the event. "It will help families pay for their rent, their food, medicine, or many other expenses that continue to pile up. This expansion of the Earned Income Tax Credit is an investment in the health, safety and well being of our communities."
Under former Mayor Bill de Blasio, the city made concerted efforts to increase New Yorkers' awareness of the EITC since about 20% of low-income New Yorkers who qualified for the credit were either unaware of it or declined to navigate the complicated process to apply for it. Each year the city's Department of Consumer and Worker Protection organizes awareness and outreach campaigns to bridge that gulf and make sure eligible New Yorkers apply for the EITC.
"I am incredibly proud of DCWP's work this tax season to raise awareness of free filing services and valuable tax credits like the Earned Income Tax Credit," said DCWP Commissioner Vilda Vera Mayuga, in a statement. "Now, thanks to the Mayor's efforts, the Earned Income Tax Credit is expanding for the first time in decades, helping more New Yorkers afford basic necessities." 
This year, DCWP organized 130 free tax preparation sites across the city, and spent $685,000 on a multilingual public awareness campaign on tax credits and free filing. The agency also conducted 119 street marketing events, sent out mailers to 350,000 EITC-eligible people and  distributed 200,000 multilingual brochures.