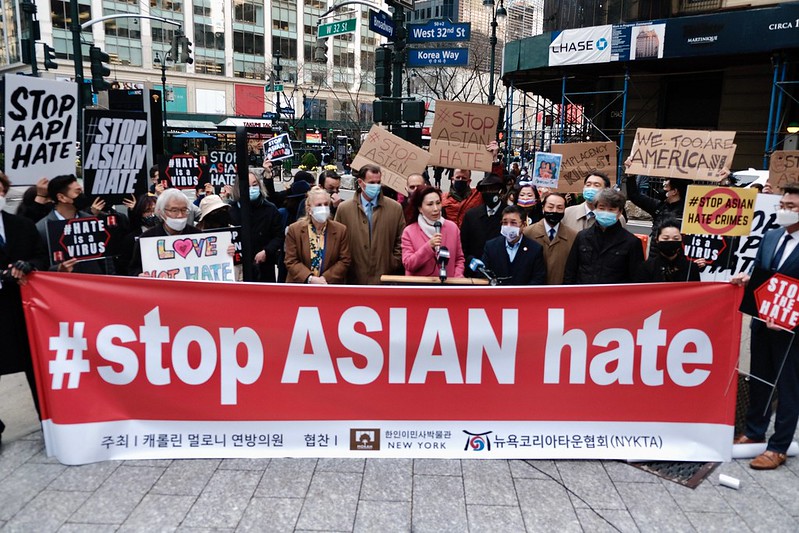 A rally to "#StopAsianHate" (photo: Gerardo Romo/City Council)
---
Asian-American social-service providers want to be more involved in city policy-making around mental health and language access as the city grapples with an ongoing surge in anti-Asian hate crimes.
At a press conference outside City Hall, a coalition of advocates and service-providers urged city officials to better enforce translation requirements for government programs. Beyond that, they want to see more support for the community-based organizations that provide a lifeline of services and step in when those requirements go unmet. They were joined by city lawmakers including the City Council's Asian-American membership, which has grown to 10% of the body.
"Anti-Asian hate isn't just an Asian problem, it's a society problem for all of us to focus on," said Chris Kwok, a board member of the Asian-American Federation (AAF), which organized the event. "The solutions exist. Our community-based organizations are trusted and are deeply embedded in their communities and are able to provide in-language and in-culture solutions."
"We now make up more than 18% of New York City's population," said Queens City Council Member Linda Lee, a Democrat who formerly served as president of Korean Community Services, "which means that our needs and the types of services, especially after the pandemic, are increasing."
AAF and others have documented 2,700 hate crimes against Asian New Yorkers since 2020. A number of high-profile killings, including Michelle Go, who was fatally pushed in front of a subway train by a man with schizophrenia, have led to moves from Mayor Eric Adams and Governor Kathy Hochul for greater policing and mental health services to deter and prevent similar attacks in the future.
The groups want to see more mental health support for the victims of hate crimes and the communities that have been targeted. But they also want to see more robust government service delivery in other areas, like housing, health care, and nutrition. Those services already exist but language barriers driven by a dearth of adequate interpretation prevent many Asian New Yorkers from receiving them, they said.
"It is crucial that government, in providing programs and services, does so in our languages, accessible to our cultures, because that is the only way to ensure the stated rights and resources we have on paper actually become a reality for our communities," said City Council Member Shekar Krishnan, also a Queens Democrat.
Roughly 18% of New York City residents are Asian or Pacific Islander, according to Census data, and 70% of Asian New Yorkers are immigrants, according to AAF, frequently with limited English proficiency. The combination of that and other factors, like a lack of legal immigration status, poverty, and stigma reinforce obstacles to receiving government services.
"How could we better integrate these organizations that spoke here today into those policy conversations, because oftentimes it's the questions that aren't being asked that are leading to policies that aren't being adequately implemented," said Ravi Reddi, AAF's associate policy director.
The groups at Thursday's rally weren't asking for specific funding in the city budget, currently being negotiated between the mayor and City Council ahead of the new city fiscal year that begins July 1. Instead they want to see language access considered in the city's existing program spending – from requests for proposals to Council oversight hearings.
"What you noticed up there was that we had a number of Council members that chaired multiple committees and they're all asking how language access applies to their specific work streams," Reddi told Gotham Gazette.
"I will continue to work with the mayor as well as the comptroller and the City Council to make sure the contracts being awarded are going to the right hands," said Council Member Julie Won, another Queens Democrat and the chair of the Council's Committee on Contracts. "We need to make sure the nonprofits that have the relationships and the connections to those who speak the language…are the ones who are able to carry out this work and are being paid fairly."
That has been an ongoing problem, according to Council Member Shahana Hanif, a Brooklyn Democrat and the first Bengali and first Muslim woman member of the city's legislative body. ​​"We've been beefing up our city agencies with money outsourced to provide translation and interpretation," said Hanif, who chairs the Council's immigration committee and is pushing for more funding for adult literacy programs and other immigrant services in the next budget. "It is not working. It is failing our communities." Hanif called for investments in a community interpreter bank and legal services.
AAF has created a new directory of culturally competent mental health providers. To meet growing needs, Lee said the city and state must develop mental health workforce pipelines in Asian communities. Lee told Gotham Gazette she is currently looking at ways to expand the state's CUNY Human Service Provider Scholarship to mental health practitioners.
In terms of specific funding in the city budget, AAF and another AAPI advocacy group, the Coalition for Asian American Children and Families, are pushing for $6 million for the AAPI Community Support Initiative – established to address the rise in hate crimes – a $2 million increase over last year's funding.
The state budget passed in April includes $20 million for community-level aid to AAPI New Yorkers, a significant increase from last year, but less than the $64.5 million some lawmakers and advocates had sought.
The groups and Council members present Thursday did not want to dig into the budget weeds.
"This press conference is meant to tee up those conversations that will be happening throughout June," Reddi said.
[LISTEN: Max Politics Podcast: Asian-American New Yorkers Fight To Be Seen, with Jo-Ann Yoo of the Asian-American Federation]