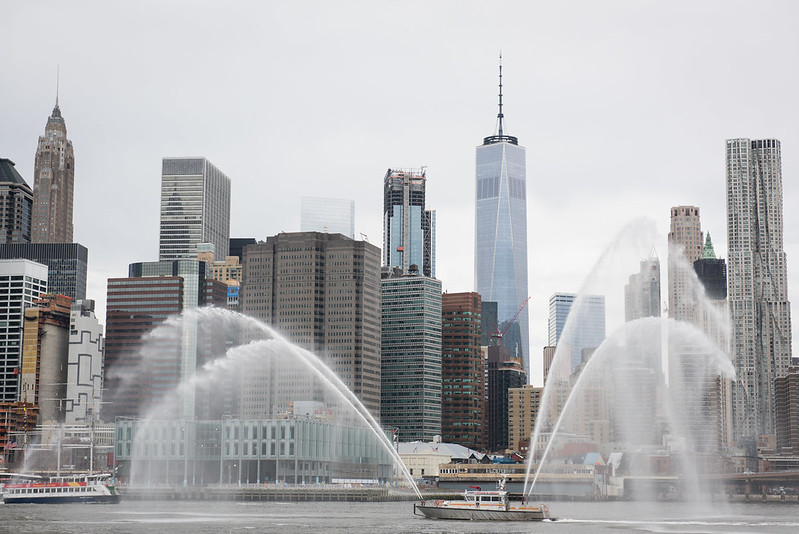 Lower Manhattan (photo: Edwin J. Torres/ Mayoral Photo Office)
---
New York's post-pandemic comeback has been the subject of near constant debate and conversation among city leaders. Among the areas of the city home to the most uncertainty is Lower Manhattan, a hub of business and tourism where leaders are adjusting to new commuting and international travel patterns and strategizing about affordable housing and uses of public space.
Jessica Lappin, the President of the Alliance for Downtown New York since 2014 and a former New York City Council member, recently joined Gotham Gazette's Max Politics podcast to discuss what recovery looks like for Lower Manhattan, changes in progress, and major challenges and opportunities for the present and future.
Chief among those trends is that some of the office towers in the Lower Manhattan central business district sit mostly empty on work days as remote and hybrid work schedules have proliferated since March 2020 and the onset of the pandemic, which has a significant impact on the local economy. But, activity has ramped up and there is a lot to be hopeful about, Lappin said.
"The first thing I say to people is there is definitely kind of a different feel on the streets today than there was six months ago or twelve months ago," Lappin told Ben Max, Gotham Gazette executive editor and host of the podcast. "It feels different in a good way, the streets are increasingly more crowded and more dynamic."
As a central business district, Lower Manhattan has suffered tremendously by the massive drop in commuting during the pandemic, Lappin acknowledged, but the area's high population density from its residential areas helped fill in some of those gaps. 
The Alliance for Downtown New York -- which runs the Lower Manhattan business improvement district, advocates for policies to improve the area, and provides services including hospitality, sanitation, and security -- recently released its first quarter report, which indicates that though office vacancy rates remain high, commercial leasing activity is growing and rents are at a historic high.
Though the first quarter is never the best quarter, Lappin noted, it was the second strongest quarter the Alliance had seen since the start of the pandemic, in large part thanks to increased tourism. With hotels seeing better room rates and bookings, she called the rebound "promising" and mentioned that hoteliers have been pleasantly surprised by the return of business travelers and tourists alike. "We're already seeing tourists coming back to the city and the truth is if you're coming to New York you're coming downtown," Lappin said, "and that wasn't true ten or fifteen years ago."
Noting the $4,400 a month median residential rent in Lower Manhattan, Lappin said, "That is a strong sign that no matter where you're working or what your work schedule is like, people are choosing with their feet and their pocketbooks to live in this neighborhood." 
Along with her optimism and list of exciting projects in the area, Lappin noted "quality of life" and "bread and butter" issues as her principal concerns for Lower Manhattan right now and in the near future. She wants residents, visitors, commuters, and others to have clean and safe streets and to be able to rely on subways that run well, she said. The Downtown Alliance she runs does a lot, she said, but can't replace what the NYPD or sanitation departments do. In particular, Lappin mentioned a strong desire to work with the city on a pilot program to containerize residential trash.
"We are still an incredibly safe city when you look at the history and the numbers," Lappin explained, harkening back to her childhood in a very different and more dangerous time during the '70s and '80s in New York City. But, she said, there are still very real issues that need to be addressed as the city recovers.
On pandemic workplace trends, Lappin said she finds it hard to imagine the return of a five-day-a-week, 9-to-5 culture, but that that doesn't mean people won't come back into offices more than they are now. "We're going to have fits and starts in terms of the disease and people's attitudes and people's desires," she said, adding that she has heard from both the employer and employee sides that it is difficult to mentor and maintain a robust talent pipeline without at least some significant in-person office work.
Though there are many companies that have downsized office space and will continue to do so, Lappin mentioned that some financial technology (fintech) companies have expanded, adding that she doesn't worry long term for the health of the business district because new companies will come in and backfill office space. "There's a reason why this business district formed, because you can get here from anywhere," Lappin said, mentioning the various train and ferry routes that lead downtown.  
That doesn't mean that the neighborhood can remain stagnant though. Lappin mentioned the need for evolution, saying, "I hope there's more creative thinking that comes out of this — what are the needs we're facing and how can we make those transitions?" 
That evolution may look like an emphasis on arts and culture programming in the area and drawing in more and more native New Yorkers for day trips to Lower Manhattan. This last point was part of a conscious marketing effort on the Alliance's part during the pandemic to make the neighborhood a destination for New Yorkers when people weren't traveling nationally or internationally and wanted to experience New York. In some ways, it was a bonus for New Yorkers looking to explore that international and national tourism was down. 
In order to make the neighborhood even more desirable, Lappin said the Alliance hopes to expand on green spaces on the water, add bike lanes, and continue to explore other changes to how land is used. But, Lappin expressed hesitation about closing more streets to vehicle traffic, saying logistically there are not as many alternative routes for neighborhood residents and that there have been complaints from residents and business owners when it has been tried in some places. She does want to improve the already-pedestrianized area around the New York Sock Exchange and to build on grants for small businesses including one of particular success during the pandemic that paired retailers who relied largely on foot traffic with expert social media marketers to help bring in revenue. 
Returning once more to housing, Lappin mentioned that, although the hotels have rebounded more quickly than they expected, she would still like to advocate for more flexibility to convert hotel rooms to affordable or supportive housing, but lamented the zoning issues that come into play and make such projects nearly impossible. She agreed there has been slow movement at the city and state levels on zoning changes to make conversations more feasible, but chalked it up to how government works.
Speaking on a proposed housing project set to be built at the World Trade Center site, Lappin called herself a pragmatic idealist, saying she hoped to push for the greatest number of affordable units possible, while acknowledging that it helps no one if it doesn't get built at all. She said the push from some to see it built as fully affordable housing is not realistic.
She also said the state should look to extend in some fashion the expiring "421-a" development tax break that helps encourage some affordable housing in new, largely market-rate buildings.
"There has to be a real discussion, if policymakers want to see more affordable housing," said Lappin, a former City Council member very familiar with housing and zoning debates, "then you have to create some mechanism to incentivize people to do it. That's just the system that we live in."
[LISTEN to the full conversation: Max Politics Podcast: The Future of Lower Manhattan]