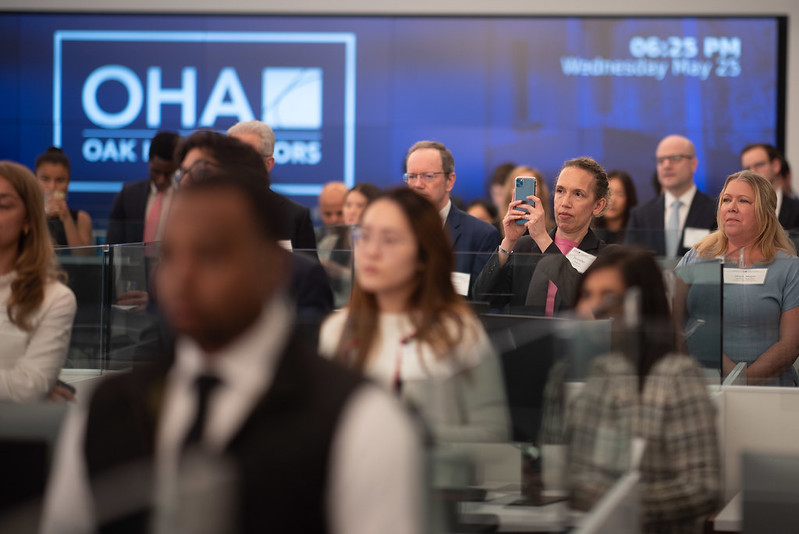 Back to the office (photo: Michael Appleton/Mayoral Photography Office)
---
New York, the business capital of the United States, if not the world, is facing major questions about its post-pandemic recovery based on economic, workplace, and workforce trends. While the city's major employers have for the most part done very well throughout the pandemic, some sectors are still struggling and remote work has altered the landscape in terms of office occupancy. This has raised questions about the city's economic recovery given everything from reduced subway ridership and the many economic reverberations from less full office buildings to the value of those buildings and the related property taxes that the city relies on.
Mayor Eric Adams and Governor Kathy Hochul have been vocal about encouraging businesses to bring their employees back to the office more often, noting how important that commuting is to the bottom lines of the city, state, Metropolitan Transportation Authority (MTA), and many local businesses.
Kathryn Wylde, the President and CEO of Partnership for New York City, a leading nonprofit business organization representing hundreds of the city's largest employers and top business-people, recently joined Gotham Gazette's Max Politics podcast to discuss the interests of the city's business community and its outlook going forward.
"We're going through a period of profound change," Wylde told host Ben Max, Gotham Gazette's executive editor and the podcast host. "The biggest problem is the overall insecurity about the state of the Manhattan business districts" she said, attributing some of this insecurity to fear around criminal activity, particularly on the subway which is essential to many workers' commutes. On top of that, Wylde referenced the so-called great resignation and increasing covid burnout as sources for possible workplace unrest.
"There's a whole level of uncertainty among companies and employees, among New Yorkers in general, there's a lot of uncertainty about what the future holds," she said, asserting that if the city can reinstate a feeling of safety, cleanliness, and ingenuity things will improve, but "if that deteriorates over the summer then we're in trouble." 
The Partnership recently released a survey of Manhattan's big employers meant to take the temperature on return-to-work trends. It showed that a 100% return where workers are in their offices five days a week is not on the horizon, but that there has been some increase in how often workers are at their desks, often in Lower and Midtown Manhattan towers, and possibly more to come in September. As of late April 2022, the study shows, 38% of Manhattan office workers were at the workplace on an average weekday.
The longer remote work has gone on, the harder it is to get people back to the office, Wylde said, attributing some of this to "human inertia" and some to lingering covid and crime fears. Pre-covid more than 80% of Manhattan employers required workers to be in office five days a week, Wylde said, now 78% offer a hybrid model allowing work from home. The shift has major impacts on the central business districts, including the restaurants and other small businesses, as well as the MTA, which runs the subways, buses, and commuter rails.
High-profile attacks on the subway have raised additional commuting fears, Wylde said, which creates more uncertainty across the board. The city has seen an increase in subway ridership but has recently hit a pandemic-era plateau as hybrid work models have appeared more cemented.
 Looking forward, Wylde said it will be important to understand both the city's economic strengths and weaknesses. For example, she said, residential real estate values and rents are higher than ever, but some high earners (and thus high taxpayers) are deserting the city in response to comparatively high income taxes. But, she noted, a previous Partnership survey indicated some 70% of employees are committed to being part of the recovery of New York, while over 50% of companies intend to increase or maintain their headcount in the city.
As for commercial real estate and fears around the need to keep office tenancy up, Wylde seemed to think this was more cultural than financial. "Honestly, Ben, commercial real estate, large office real estate, their tenants paid their rent even though their offices were empty. So don't shed any tears." she said, adding, "the problem they had was with the retailers, that's where the gap is, not with the major office employers."
While the recent Partnership survey indicated that companies would be more likely to push for employees to return to offices more often if their peer companies did the same, Wylde said, "Honestly it's not the companies that will drive the return to office, it's the employees."
Right now businesses are trying to listen to their employees and build spaces that are ideal to work in. Midtown in particular has struggled, Wylde said, given how much commuting to the offices there used to happen from outside the city, and many employees now get more hours to their day at home when they aren't making the long trips on Long Island Rail Road or MetroNorth. Like others, Wylde also noted that the quality of the office space is a factor, and that the newer spaces see more workers voluntary seek to come into the office more often.
"There has to be a reality of things being comfortable," Wylde said, with additional reference to homelessness and public safety, particularly in Midtown commuter hubs like Penn Station, Times Square, and Grand Central.  
Wylde is particularly supportive of Mayor Adams, a Democrat just a few months into his term, backing his governing thus far, and commending both him and Governor Hochul for putting "real resources" behind policing and mental health care. Adams is fulfilling his campaign promise to "lead from the front," Wylde said, arguing it's important to unite behind the mayor in his efforts to increase public safety and improve both quality of life and the economic climate in the city.
As for recent criticism of Adams' early travel outside the city to "sell" New York to other regions, Wylde said crime and homelessness are a national problem and it's important for New York leadership to take a look at how other mayors are handling these challenges. The need to sell New York is a real one, she added, saying: "there is no doubt that our International brand has suffered." 
Asked about the city's larger future, including around economic and housing development, which Wylde has an extensive background in, she said she hopes to see a return of community-led organizations that support and pursue pro-community development infrastructure. Many of the community-led organizations are now anti-development or driven by political activism, Wylde said, arguing that a return of those groups who have credibility with the community and expertise in development would be crucial.
Wylde expressed confidence in the new mayor and City Council, as well as Mayor Adams' pick to lead the Department of City Planning, former City Council Member Dan Garodnick, to pursue more flexible zoning, affordable housing, and economic development. "We've got a lot of positive activity going on," she said. 
[LISTEN to the full conversation: Max Politics Podcast: NYC Economic and Workplace Trends, with Kathy Wylde of Partnership for New York City]