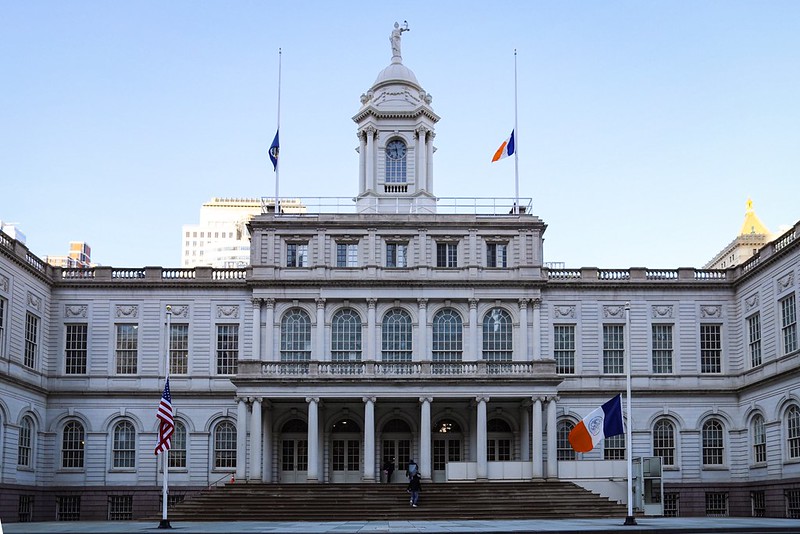 City Hall (photo: Benjamin Kanter/Mayoral Photo Office)
---
New York City's controversial tax lien sale program, which helps the city collect unpaid property debt, expired at the end of February and a majority of City Council members now say they will refuse to reauthorize it.
The city government uses the tax lien sale program, created in 1996, to sell unpaid debts on property taxes and sewer and water bills to private entities, which pay the city about 75 cents on the dollar. Those private lien servicing companies then tack on fees and interest, adding to homeowners' already significant burden and sometimes leading to foreclosures and property auctions. The program disproportionately affects low-income Black and Latino homeowners, a fact that elected officials and housing advocates have repeatedly criticized. 
In a letter to Mayor Eric Adams being sent on Tuesday, 31 members of the 51-seat City Council are expressing opposition to reauthorizing the tax lien program in favor of more equitable alternatives.
"Instead of collecting property debt itself, the City has essentially privatized collection through the lien sale," the letter reads. "This has enriched Wall Street investors and hedge funds, who collect on these debts by imposing predatory and prohibitively steep fees and fines on primarily low income, senior, and Black and brown homeowners."
In 2020, the city canceled its tax lien sale because of the COVID-19 pandemic and questions about its impact on communities of color. But the sale resumed last year and in December, the city sold liens from property taxes and related charges on more than 2,800 properties (though it did not sell water and sewer liens). 
"The tax lien sale is an ineffective and harmful mechanism that disproportionately affects low-income, Black and brown, immigrant, and senior households, and it needs to end," said Council Member Sandy Nurse, who co-authored the letter with fellow Democratic Brooklyn Council Members Crystal Hudson and Jennifer Gutiérrez as well as Shekar Krishnan, a Queens Democrat. "While this letter is indeed a clear statement that a majority of the Council will not reauthorize the lien sale, our goal is to work with the Administration to implement an equitable and just alternative. We believe we have created some strong proposals with advocates and we hope to present to the Mayor a good path forward."
According to a spokesperson for Nurse, the Council is working with experts and grassroots groups on various alternative proposals to help reduce property tax delinquency and help homeowners manage debt – such as redirecting at-risk properties to non-speculative stewardship models including community development corporations, nonprofits and community land trusts – but they have yet to finalize what those proposals will be. 
"The tax lien sale is a Giuliani era relic that pushed Black and brown homeowners into cascading debt and tenants into further blighted conditions because of bad landlords," said Council Member Krishnan. "It placed the profit of debt collection companies and private investors above the restoration of our neighborhoods. It has no place in our city today." 
"I'm proud to stand with a majority of the New York City Council in this critical moment to demonstrate our values: that we will not stand for a re-authorization of the tax lien sale, which benefits private profit to the severe detriment of Black, brown, senior, and low-income homeowners," said Council Member Gutiérrez. "I'm hopeful that the Adams administration will work with us to devise alternatives to our property tax collection and uplift communities that have long suffered from undue pain and neglect."
There's broad support for replacing the tax lien sale program. Both Mayor Adams and Speaker Adrienne Adams have criticized it, though the speaker was not among the signatories of the letter.
The mayor, during his campaign for City Hall last year, called for eliminating the program. "There is enough evidence that the annual lien sale has not been a just or an effective debt collection program," his housing platform read. "A real recovery is not balanced on the backs of the generational wealth in Black and Brown communities. Our focus should be on reinvesting in historically marginalized communities, and there are a number of promising models we will consider to replace the lien sale and do just that." 
Mayoral spokesperson Jonah Allon said in a statement, "Mayor Adams has consistently advocated for overhauling the lien sale to ensure the city can continue to collect debts while helping homeowners — particularly Black and Brown homeowners who have been disproportionately impacted by the pandemic —retain ownership. In alignment with the mayor's vision, the administration is in the process of adding safeguards that protect low-income homeowners and minimize foreclosures. We look forward engaging with the Council on our plan, and preserving the equity and intergenerational wealth that homeowners throughout the five boroughs have worked so hard to build."
The mayor hasn't offered any proposals yet and a Lien Sale Task Force created through legislation by the City Council last year could not come to a consensus on viable alternatives. But the task force did release a list of ideas that were presented to it and made a few recommendations, including raising the threshold for lien sale eligibility and raising the income threshold for deferring property tax payments. 
"With the expiration of the tax lien sale earlier this year, we now have the opportunity to preserve generational wealth and protect the homeowners – mostly Black and brown older adults – who have been preyed upon since the inception of the lien sale," said Council Member Hudson, in a statement. "It is exciting to know that after generations of this predatory program, we now have the chance to provide real solutions and resources to the homeowners who need them most...We hope the Administration sees this letter for what it is: a call to uplift and protect our communities and build the just and compassionate City we desperately deserve."
As the Council members noted in their letter, the lien sale program exacerbates the racial wealth gap in the city and harms communities that have already historically suffered from racist policies and practices "such as redlining, blockbusting, benign neglect and planned shrinkage, and general underinvestment." They pointed out that City Council districts with the most lien sales in December were District 27 in Queens, Districts 37, 41, and 46 in Brooklyn, and District 49 in Staten Island, all of which are predominantly communities of color.
The city collected about $145 million from the December lien sale. According to a report from the NYU Furman Center, the program brought in $1.3 billion in revenue for the city between 1997 and 2015. By comparison, in the current fiscal year, the city's general property taxes amounted to $31.2 billion. Most years, lien sales take place in the summer.
"We are committed to supporting alternatives that address our shared values and principles of keeping property tax delinquency low; preventing displacement; curbing speculation; improving housing conditions for tenants; promoting community ownership; and preserving and developing truly affordable housing and public space," the letter reads. "This moment is an opportunity to make widespread change that will positively affect Black and brown communities and our City at large."
Note - this article has been updated with a statement from a mayoral spokesperson.