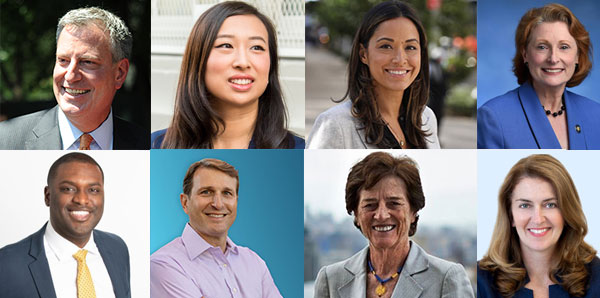 Bill de Blasio, Yuh-Line Niou, Carlina Rivera, Jo Anne Simon, Mondaire Jones, Daniel S Goldman, Elizabeth Holtzman, Maud Maron
---
More than a dozen New York City Democrats are vying to represent the newly redrawn 10th congressional district, which will span much of Lower Manhattan and a large swathe of Brooklyn. The candidate who wins the August primary is expected to win the general election in November given the district is heavily Democratic.
The reconfigured New York congressional map, approved by a New York Supreme Court judge last month, has shifted district boundaries and political aspirations. Given national population trends, New York has lost another seat in the U.S. House of Representatives, and the new lines had to account for state and city demographics as well as that loss, with the delegation set to go from 27 to 26 members. It is extremely rare for there to be a seat without an incumbent running, but that is the case in the new NY-10.
The current 10th congressional district is represented by Rep. Jerry Nadler, whose Upper West Side home and base were drawn into the new 12th district, where he is running against Rep. Carolyn Maloney and others.
The redistricted 10th congressional district consists of a diverse set of neighborhoods, including the East and West Villages, Soho and Noho, the Lower East Side, Chinatown, Battery Park City, the Financial District, parts of Downtown Brooklyn, Gowanus, Park Slope, Red Hook, Sunset Park, Borough Park and more. The district includes two large predominantly Hispanic communities, two large predominantly Asian communities, an Ultra-Orthodox Jewish community and several predominantly white communities home to many liberal and progressive voters.
The total population of the reconfigured district, based on 2020 Census data, is 48.6% white, 21.6% Asian, 19.2% Hispanic and 5.6% Black, according to Redistricting & You: New York from the CUNY Mapping Service.
The district is home to high voter turnout neighborhoods, as seen in last year's Democratic primary for mayor. During the race, 38.2% of registered Democrats voted, while the citywide average was 28.3%, according to Gothamist. During that primary, the neighborhoods now in NY-10 were dominated by Kathryn Garcia and Maya Wiley, with some areas favoring Andrew Yang and only a small part voting for the winner, Eric Adams.
Here is a brief rundown of the many candidates who have declared their campaigns for the August primary, although it is not yet clear who will actually be on the ballot:
Bill de Blasio
Bill de Blasio, the former mayor of New York City, announced that he would run for Congress in the 10th congressional district on May 20. De Blasio was mayor for eight years, and before that, a public advocate for four years and a City Council member for eight years, representing a significant slice of the Brooklyn side of the new NY-10.
While de Blasio is very well-known in the district, his time as mayor appears to have soured at least some of the voters in his Brooklyn electoral base on him, and he faces challenges in other parts of the district based on some high-profile decisions as mayor. Yet de Blasio also has a list of local accomplishments from his mayoral tenure to tout on the campaign trail, such as universal pre-kindergarten.
De Blasio previously considered a bid for governor in this year's election, and had a brief unsuccessful run for president in 2019, mid-way through his second term as mayor.
Mondaire Jones
Rep. Mondaire Jones currently represents the 17th congressional district in the lower Hudson Valley, but he is running in the 10th district after redistricting led Rep. Sean Patrick Maloney, currently of the 18th district, to announce his candidacy in the 17th.
Jones has started to run on roots in the 10th district but will have to bridge the particularly awkward gap between where he currently lives and represents and the district he's running in much further south.
He is the freshman representative to House Democratic Leadership in the 117th Congress and co-chair of the LGBTQ Equality Caucus who made history as one of the two first openly gay and Black members of Congress, along with New York's Ritchie Torres.
Jones, who has made a name for himself arguing for the expansion of the Supreme Court and a number of other progressive positions, currently serves on the House Judiciary, Education and Labor, and Ethics Committees.
Yuh-Line Niou
New York State Assemblymember Yuh-Line Niou, the first Asian American to be elected to represent her Lower Manhattan district, has represented the 65th district, which includes Chinatown, the Financial District, Battery Park City, and the Lower East Side, since 2016.
Niou, a progressive often aligned with leftist groups and colleagues, was previously chief of staff for Assemblymember Ron Kim of Queens and has focused much of her legislative work on immigrant and low-income communities.
Carlina Rivera
Carlina Rivera, a progressive City Council member for the 2nd Council District, represents several Manhattan neighborhoods, including the East Village, Flatiron, Gramercy Park, Rose Hill, Kips Bay, Murray Hill, and the Lower East Side. She has focused and pledges to continue to focus on issues including housing, climate change, reproductive rights, and community empowerment.
Rivera was previously an aide to her predecessor, Council Member Rosie Mendez, and ran unsuccessfully to become Council Speaker heading into this, her second, term. She previously chaired the Council's hospitals committee and now chairs its criminal justice committee.
Jo Anne Simon
Jo Anne Simon, a New York State Assemblymember for the 52nd district and disability civil rights lawyer and activist, represents parts of Brooklyn.
She has focused on education, gun control, and reproductive rights, among other issues. Simon is the chair of the Assembly Committee on Ethics and Guidance.
Elizabeth Holtzman
Elizabeth Holtzman, a former New York City Comptroller, was the youngest woman to be elected to Congress in 1972 after defeating Rep. Emanuel Celler, who represented Brooklyn for 50 years. She was also the first woman to ever serve as the Brooklyn District Attorney.
She was a member of the House Judiciary Committee in 1974 during the impeachment inquiry into President Richard Nixon. Holtzman has been vocal in fighting against gun violence and supporting women's rights, and co-founded the Congressional Caucus on Women's Issues and helped pass an extension of the Equal Rights Amendment in 1997.
Maud Maron
Maud Maron has worked as a defense attorney at the nonprofit Legal Aid Society for more than 20 years. She has also been a volunteer leader of the community education council in her Manhattan neighborhood, and an outspoken advocate against covid era school closures and against requiring students to wear masks during school amid the pandemic. She has also opposed calls to reduce NYPD funding and redirect it to social services and community programs.
Daniel S. Goldman
Former federal prosecutor Daniel Goldman served as the lead counsel for House Democrats during the first impeachment of President Donald Trump. He's focused on protecting democratic institutions, reproductive rights, public safety, and the climate.
Goldman previously entered the race for New York attorney general last year, but exited like all the other Democratic candidates after incumbent Letita James announced she would run for reelection, abandoning her short-lived gubernatorial campaign. He worked for former federal prosecutor Preet Bharara as an assistant U.S. attorney in the Southern District of New York.
Yan Xiong
Yan Xiong, a U.S. Army veteran and chaplain, was a student protester during the Tiananmen Pro-Democracy Movement in China in 1989. He became known as one of the most wanted movement leaders in China, and he was imprisoned from 1989 to 1991. In 1992, Xiong came to the United States and enlisted in the U.S. Army in 1994.
Xiong has been outspoken in Lower Manhattan against the plan to build a new Chinatown jail as part of the plan to close the Rikers Island jail complex.
Elizabeth Kim
Elizabeth Kim is an applied behavior social scientist at Spotify, and previously worked for Jet.com. She is running for Congress in hopes of prioritizing social science evidence in policy making. Kim graduated from Duke University in 2017 with a bachelor's degree in psychology and was the first in her family to attend college.
Ashmi Sheth
Ashmi Sheth, a first-generation Asian-American who lives in Hell's Kitchen, says she decided to enter the race to build a 21st century economy and combat climate change. Before deciding to run, she was the membership chair for the League of Women Voters of New York City and previously worked as an associate at the Federal Reserve Bank of New York.
Brian Robinson
Tribeca resident Brian Robinson says he sold his debt relief company for small businesses, Churchill Credit Solutions, in January to run for Congress. He says he decided to enter the race to bring new and younger leadership to policy-making, with a focus on public safety and small businesses. Robinson is on the board of Bogardus Plaza, a pedestrian plaza in Lower Manhattan, and has written a book, "Adderall Blues," on his experience with attention deficit disorder.
Voting
Voting in this and other party primaries will be in August, with early voting August 13-21 and primary day August 23. This NY-10 Democratic primary will be open to Democratic voters who live in the newly-drawn district. The August primaries will also include races for State Senate.
In June, there are primaries for statewide and state Assembly seats.
***
by Rachel Cohen, Gotham Gazette
@GothamGazette