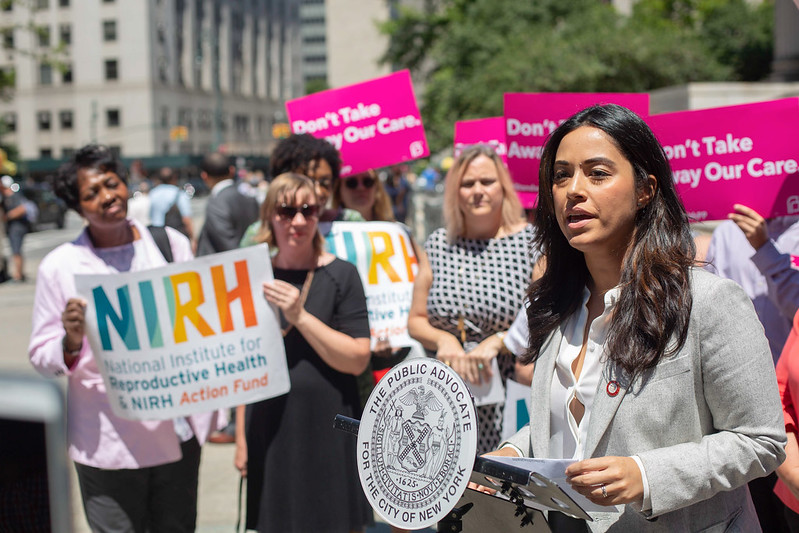 City Council Member Carlina Rivera (photo: John McCarten/City Council)
---
City Council Member Carlina Rivera is running for Congress in New York's newly-drawn 10th congressional district, jumping into what is looking like a crowded August Democratic primary that is all but certain to determine who winds up with the seat in the heavily-Democratic district spanning parts of Manhattan and Brooklyn.
Rivera, who was raised on the Lower East Side and represents that neighborhood and others in City Council District 2 in Manhattan, announced her congressional candidacy June 1 and discussed it on the Max Politics podcast from Gotham Gazette.
During the interview with Gotham Gazette editor Ben Max, Rivera explained why she is running for Congress, what issues she is prioritizing, and some of what she sees as her top past accomplishments — touching on housing, jobs, public safety, reproductive rights, and climate change. Rivera, who is stressing that she is the only candidate born and raised in the district, argues that her local experience, ways she has delivered for constituents in the Council, and vision will help separate her from her opponents.
"I am someone who wants to make New York a city everyone can see themselves in," said Rivera, who represents the East Village, Flatiron, Gramercy Park, Rose Hill, Kips Bay, Murray Hill, and the Lower East Side. "I get the job done. This is my home, and the community is behind me."
During the interview, Rivera touted City Council accomplishments on abortion access (naming creation of the first municipal abortion access fund in the country), affordable housing (referencing the Soho rezoning she supported and helped approve in 2021), climate action (naming the East Side Coastal Resiliency Project), and use of public space (naming her efforts to create a permanent Open Streets program).
The new 10th district, which consists of a number of Downtown Manhattan neighborhoods and parts of Brooklyn including Park Slope, Red Hook, Sunset Park, and more, is home to what will undoubtedly be one of the most watched primaries in New York City — it is the only congressional district in the five boroughs without an incumbent running. The district is home to some of the highest voter-turnout neighborhoods in the city. It will be among the congressional and State Senate primaries set for August, while primaries for Assembly, statewide, and other seats will take place this month (June).
Alongside Rivera, other Democrats who have declared their bids for the open congressional seat include several former or current elected officials and big names. Also in the running in the new 10th Congressional District primary are former Mayor Bill de Blasio, Manhattan Assemblymember Yuh-Line Niou, Brooklyn Assemblymember Jo Anne Simon, former Rep. Elizabeth Holtzman, attorney Daniel S. Goldman, activist Maud Mauron, and others.
Among them is also Rep. Mondaire Jones, who is currently in his first term representing the 17th Congressional District in the Hudson Valley, but is running in the new 10th district after Rep. Sean Patrick Maloney (who currently represents the 18th district and is head of the Democratic Congressional Campaign Committee) declared his candidacy in the 17th based on the new maps, which drew Maloney's home into that district, even though most of the new 17th overlaps with the current district Jones represents. Jones quickly announced for the new 10th and sought to make his case to voters there.
Rivera said she differentiates herself from her opponents in having a local understanding of the most pressing problems that New Yorkers face as the city rebounds from the pandemic and rebuilds for the future.
"This is a very highly-engaged district," Rivera said when asked how she is thinking about the constituents and communities of the new 10th district. "These are people and families that take voting very, very seriously. I also think that they look at their congressional members, their representatives, as very local positions. They want someone who is going to understand what's going on in their streets and on their block."
"The future of New York is up for grabs," she said, noting the series of major issues facing New Yorkers.
When asked if the Democratic Party and federal government need a new and younger generation of leadership, Rivera did not answer the question directly, but said her policies have tackled several urgent national issues. She emphasized how she wants to translate her record of accomplishments to the national level while maintaining a focus on delivering for her constituents locally.
"When I think about our vision as a city, revitalizing our city is my top priority in our pandemic recovery and beyond," Rivera said. "New Yorkers are certainly very hungry for leadership and vision that's as bold as it is pragmatic in taking on those fights. I've used my platform, my own identity, to try to talk about these issues that are really affecting us in a very, very deep way."
If elected to Congress with a Democratic majority, Rivera said one of her top priorities would be to codify Roe v. Wade, which has granted the constitutional right to an abortion for a half-century but appears at grave risk after a leaked Supreme Court ruling detailed it potentially being overturned — a decision that is expected to be finalized this month. She said that the strike down of reproductive rights protection will have consequences for other civil rights and social issues.
Rivera also discussed how she would combat climate change through investing in mass transit systems and reducing levels of carbon emissions across all cities. She highlighted her work with the East Side Coastal Resiliency Project to protect parts of Manhattan from flooding, passing the Climate Mobilization Act, a law that requires city buildings to lower their emissions starting in 2024, and the Open Streets program to turn more streetspace over to pedestrians, bike-riders, and patrons as opposed to vehicle traffic.
Rivera said a key priority for her is and in Congress would remain to fight for affordable and accessible public housing.
"There are hundreds and hundreds of thousands of families — people that are living in public housing here and across the country — their apartments are in disrepair and they're living in such terrible conditions that it's just not the New York way," Rivera said. "We have to care for these families. We have to go further and we have to make sure that we're preserving, and of course, really stepping up the supply."
When asked about what more can be done to save public housing beyond securing billions of dollars in direct aid to the New York City Housing Authority (NYCHA) for repairs, Rivera said families living in public housing and their tenant associations need to be supported in making decisions about their own developments. She vaguely noted there are several proposed solutions but did not endorse any of the programs that are currently in play or in the offing, and instead encouraged candidates and officials to walk through public housing sites to learn about the experiences of residents  — something that she said she has done on the Lower East Side and in Brooklyn.
During the interview, Rivera also stressed the need for more housing supply in New York to combat the affordable housing crisis.
Toward the end of the discussion, Max asked Rivera if there should be federal intervention of the city's jails, especially on Rikers Island, a particularly pertinent question for Rivera as she now chairs the City Council committee with oversight of the city's jails and Department of Correction while conditions remain unhealthy, violent, and deadly at the Rikers jails.
Rivera said federal receivership of Rikers appears imminent, noting how she does not see a plan by the administration of Mayor Eric Adams to make concrete changes in the short time period needed. She said the interagency task force recently launched by Mayor Adams seems like a "plan to make a plan" and does not signify the necessary urgency.
"Unless they can really turn it around and come forward with actual reform and a plan to which I hope ultimately closes Rikers Island, but to at least get conditions up to the point where we are not at vigils or reading news about people who have died within the facilities themselves, then this administration should get on board in choosing a receiver and getting on board with federal intervention that they themselves could participate in."
[LISTEN to the full conversation: Max Politics Podcast: Carlina Rivera On Running For Congress In The New NY - 10]