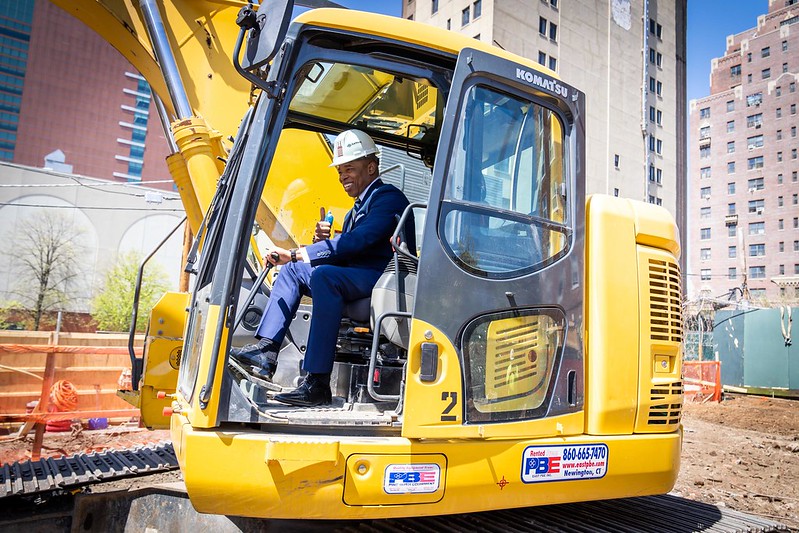 Mayor Adams building housing (photo: Ed Reed/Mayoral Photography Office)
---
Five-and-a-half months into his administration, Mayor Eric Adams on Tuesday released a comprehensive plan for housing and homelessness that aims to build new mixed-income rental housing, preserve existing affordable units, improve public housing stock, expedite the creation of supportive housing, cut red tape that prevents homeless people from accessing housing, and help New Yorkers buy affordable homes. 
The mayor's plan, dubbed "Housing Our Neighbors: A Blueprint for Housing and Homelessness," reflects a paradigm shift from his predecessor who tackled the city's lack of affordable housing, its crumbling public housing stock, and rampant homelessness largely as separate problems. Adams and his team have instead looked at the issues on a spectrum, an approach that housing experts have long advocated and Adams, among others, promised during last year's campaign.
The plan is built on five pillars: transforming the New York City Housing Authority (NYCHA), the public housing system that houses more than 400,000 New Yorkers; directly addressing homelessness and housing instability; building and preserving affordable housing; improving health and safety; and reducing administrative burdens. 
"Housing cannot be a privilege…It's the key to living a healthy lifestyle," Adams said Tuesday. "Safe, stable and affordable housing is fundamental to our prosperity and right now, a majority of New Yorkers that are living on the street don't have that and don't believe in the system."
The mayor's plan comes at a time when New York's housing and homelessness crisis has been escalating. The city's 2021 Housing and Vacancy Survey, recently released by the Department of Housing Preservation and Development, showed the overall vacancy rate of 4.5% across the city, and a less than 1% vacancy rate for apartments renting below $1,500 a month. Millions of New Yorkers are rent-burdened or severely rent-burdened. NYCHA's capital need for maintenance and repairs has reached as high as $40 billion. And, as of Tuesday, 46,532 people spent the night in a city shelter, while more than 2,300 people were unsheltered according to the city's last estimate in January. 
The major aspects of the Adams administration's new plan involve raising billions of dollars for NYCHA and expediting repairs and capital projects at the public housing agency, incentivizing developers to build new affordable housing with more density and in varying sizes, preserving affordable housing with greater city investment, providing financial assistance to property owners and first-time homebuyers, easing access to shelters and the transition to supportive housing. Notably, the plan does not make a mention of large-scale neighborhood rezonings, which the administration is said to be actively pursuing. 
But unlike his predecessors, Adams did not commit to any numerical targets for affordable housing units or promise a specific level of annual housing production.
"Our measurement of success was wrong," Adams said of the past. "We want to look at number one, whether we're building for people at every income level, whether we're reducing the number of rent-burdened households, and our measurement will focus on people, not just money." 
While he said his focus was on how many New Yorkers access affordable housing, he declined to set a target for that number as well. Pressed by a reporter on the plan's metrics for success, he repeatedly responded, "As many people as possible to get into housing." Among the only concrete targets the plan does include is to build 15,000 units of supportive housing by 2028, two years ahead of the city's previous schedule. 
The mayor also emphasized that his plan would not focus solely on the lowest-income New Yorkers. "We're going to do as much as we can for low- and middle-income housing. We often abandoned middle-income housing, and we need to stop doing that," he said, echoing Mayor Bill de Blasio and his top housing officials, who regularly stressed the same point and crafted their plans accordingly.
The release of the housing plan came just after the City Council approved the new city budget negotiated with Adams, $101 billion in operating expenses and $14.3 billion in capital spending for next fiscal year, which begins July 1.
In that budget, Adams failed to live up to broad promises on funding for housing.  The mayor added $5 billion in capital funds over ten years for affordable and public housing, bringing the city's total allocation to $22 billion out of a $133.7 billion ten-year capital strategy. But during his run for City Hall, Adams was among the Democratic candidates who had pledged to spend $4 billion in capital funding each year on housing, meeting the request laid out by a large housing coalition. That funding goes toward maintenance and repairs for public housing, and subsidizing construction of new affordable housing and preservation of existing affordable units.
Adams has been criticized for not living up to that housing funding promise and for his initial approach to homeless people living on the streets and subways. At Tuesday's announcement, the mayor hit back at his critics. "In spite of all the noise that's going on around us, all the naysayers…we're getting it done," Adams said. 
The mayor's plan covers a broad array of solutions across city government. Some have already been put in motion. Earlier this month, he announced three citywide zoning text amendment proposals to incentivize small businesses, build affordable housing, and promote sustainability. Those ideas will be the subject of negotiation with the City Council, which must pass them, and other stakeholders like borough presidents and the City Planning Commission, and could take at least a year to be approved in some form.
The first amendment, ​​Zoning for Economic Opportunity, would remove geographic limitations on certain businesses, remove obstacles to repurposing space and give businesses flexibility to expand without relocating or having to build more parking. The second, Zoning for Housing Opportunity, would increase the floor area ratio for all types of affordable housing, expand acceptable housing types and sizes, ease conversions of underutilized commercial space into housing and reduce parking requirements. The third amendment, Zoning for Zero Carbon, would remove hurdles to deploying new clean energy storage and uses, facilitate sustainable energy retrofits and remove barriers to building electrification.
To accelerate the pace of building new affordable housing, the mayor has promised to reform construction regulations, support new construction technologies, change regulations on density through zoning, converting unused hotels to housing (recently allowed through state legislation) and pursuing regulatory changes to encourage the developments of Accessory Dwelling Units.
The plan includes a proposal to reduce parking space requirements tied to new housing, particularly in neighborhoods well served by public transit, and redeveloping underutilized public properties for housing and other uses. There are also a series of measures to promote permanent and supportive housing for seniors, extremely low-income New Yorkers, and other at-risk populations.
"This plan goes beyond anything the city has tried to do before…This plan is going to take some work because we're calling for bold structural change," said Jessica Katz, chief housing officer, at the announcement. "The Adams administration strongly believes that homelessness is a housing issue, and that NYCHA cannot remain a side project while we wait for some attention from D.C. We must align our different housing-related agencies under one plan together if we're going to make the lives of New Yorkers better."
To deal with the impacts of climate change, the administration is continuing to advocate for the legalization of basement apartments to prevent risks from flooding. The city will also incorporate climate resiliency guidelines into building codes and promote decarbonization and beneficial electrification – which replaces direct fossil fuel use with electricity, and lowers emissions – in low-income homes. 
The plan promises improved housing code enforcement to protect the health and safety of renters, increased lead paint inspections, and greater fire safety efforts.
The mayor's administration recently celebrated state approval of the NYCHA Public Housing Preservation Trust, which will help the city receive billions more in federal funding for the struggling public housing authority to address a portion of its $40 billion capital need. It is also currently in the process of converting thousands of NYCHA units into the federal Rental Assistance Demonstration (RAD) program that unlocks funds for maintenance and repairs through the use of private management of public housing properties. The administration is also continuing to consider infill projects, allowing private development on underused NYCHA land, and the sale of NYCHA air rights to raise revenue for the agency. 
The Adams plan for NYCHA also includes overhauling services by localizing property management at the neighborhood level, reforming the work-order system to cut down on delays and duplication, creating a new NYCHA STAT unit to measure and track performance, launching a web-based capital projects tracker, piloting mechanical waste collection, and more. The administration also plans to allow for greater resident input in decisions on capital projects and property management. 
Adams has often talked about breaking down government silos and his plan promises just that to address homelessness. It will expand eligibility for supportive housing for families, crack down on source-of-income discrimination for people with housing vouchers, and hire new dedicated housing navigators in the Health + Hospitals system.
Additionally, the plan includes a new system for more accurately tracking homelessness in order to adapt planning and measure progress, strengthening access to emergency financial assistance to prevent homelessness, and greater resources to tackle tenant harassment.
The administration also plans to improve shelter services by increasing medical respite beds for those who have experienced major health episodes, expanding services for homeless youth and young adults, building new high-quality shelters ,and improving health care services. Crucially, the plan does away with a rule that a family must remain in a shelter for four months before beginning the process of applying for housing. 
In order to address the bureaucratic hurdles to accessing housing, the plan lays out a series of short- and long-term reforms. They include eliminating certain burdensome requirements for Section 8 voucher applications, overhauling and digitizing the Section 8 application process, eliminating clinical evaluations in certain cases for supportive housing access, streamlining the application and lease-up processes for affordable housing, and more.
To help promote homeownership, particularly in Black, Latino, and Asian neighborhoods, the plan will increase financial assistance for first-time homebuyers while also helping low- and middle-income homeowners maintain and repair their properties. "We have a hemorrhaging of Black and brown families leaving New York because it's no longer affordable," Adams said. "We've decimated the middle class and we need to refocus our attention on stabilizing these families and stabilizing the city that they made prosperous."
Adams' plan was created in collaboration among city agencies and through a series of roundtables with housing developers and advocates. Notably, it included direct consultation with people who are experiencing or have experienced homelessness and among them was activist Shams DaBaron, who appeared at Tuesday's announcement to praise the plan. 
"Never in the history of America…has people that have been impacted by homelessness and housing insecurity been given an opportunity to help shape policy at such a high level," he said.
Since he took office, Adams has faced criticism for his administration's crackdown on street and subway homelessness while not offering sufficient options for those being removed from encampments and trains or a broader housing plan. Police-led sweeps to remove homeless people from the subway system and street encampments are being done, Adams says, prioritizing the health and safety of those living in squalid conditions as well as the broader safety and quality of life of the city.
The city has sought to offer placements in shelters, but a limited number have availed themselves of the opportunity. The mayor and City Council have also allocated $171 million to build 1,400 new Safe Haven and stabilization beds for homeless people by 2024.
Other advocates offered a mix of praise and concerns.
"While Mayor Adams' plan has some laudable goals for addressing many of the problems encountered by homeless New Yorkers, more action and investment is needed to actually reduce homelessness," said Jacquelyn Simone, policy director of Coalition for the Homeless, in a statement. "Mayor Adams must dramatically expand the supply of permanent and supportive housing for homeless New Yorkers and extremely low-income households – which takes far bolder housing investments than are included in this plan."
"We also call on the Mayor to recognize the dignity and humanity of those who will continue to feel safer sleeping on the streets until they can obtain permanent housing by ceasing the cruel and counterproductive sweeps that merely criminalize the most vulnerable among us," she added.  
Jay Martin, executive director of the Community Housing Improvement Program (CHIP), which represents owners and managers of rental properties, including 400,000 rent-stabilized units, applauded the mayor's plan.
"For too long the city's leaders have been focused on blaming and ignoring the causes of homelessness instead of directly addressing the very real needs of New Yorkers,"  he said. "The small- and medium-sized rent-stabilized property owners we represent stand ready and willing to work with the mayor to advocate for more effective voucher distribution, vastly increased housing development, fully-funding our neighbors in NYCHA, and providing important health services to those who struggle with homelessness."