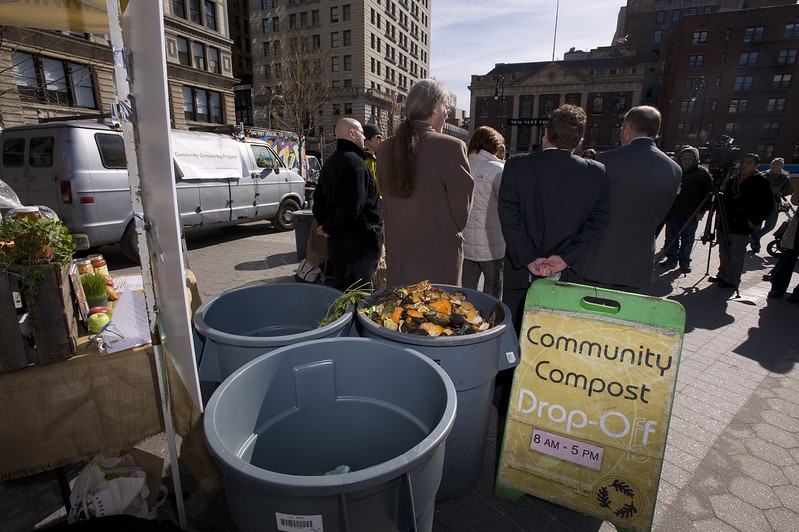 Community composting (photo: William Alatriste/City Council)
---
When Mayor Eric Adams was running for City Hall, he pledged to expand the city's incipient residential curbside composting program. But despite a push for more by some City Council members, the recently approved $101 billion budget for next fiscal year, beginning July 1, only marginally increases funding for other composting programs while halting the promised expansion of residential curbside composting. 
The city's voluntary curbside composting program has moved forward in fits and starts. Organics account for about a third of the city's waste and are a major source of greenhouse gas emissions. Unless diverted for composting, the waste is trucked out to landfills where it decomposes and releases methane, which is about 25 times more potent than CO2 in warming the planet.
The curbside composting program launched in 2013 and, under former Mayor Bill de Blasio, was expanded to seven community districts in total – four in Brooklyn, two in Manhattan, and one in the Bronx – out of 59 in the city. But it was put on hold in 2020 as de Blasio made cuts to city spending because of the pandemic, along with initiatives including the school composting and food scrap drop-off programs, which all resumed last year.
De Blasio had originally promised that the curbside program would eventually be expanded citywide as part of the goal he set in 2015 of sending zero waste to landfills by 2030 (which was part of the de Blasio administration's larger OneNYC 2050 strategy aimed at achieving carbon neutrality by the half-century mark).
But the Adams administration expressed concern that low participation in the program didn't justify the cost of running it, and that a citywide expansion required further study.
Consequently, the program received no new funding in the budget agreement between the mayor and the City Council, which included about $32 million in total for organics collections programs – including about $12 million for curbside collection, $7 million for organics drop-off sites (an increase of $3.5 million), and $9.2 million to expand the school organics collection program to every school in the city over the next two years and add 100 "Smart Bins" near schools for the public to drop off organics waste, and $2.9 million for the Zero Waste Schools Educational Program & Stop'N'Swap programs.
Sanitation, including restoring and expanding the composting program, was a major budget issue in the City Council this year, and several Council members mounted a full-court press to urge the administration to provide adequate funding for it. For those members, it was not only a quality of life and cleanliness issue but also a public health, climate, and environmental justice issue, and one that was intrinsically tied to the city's zero waste goal.
While the city is making little progress toward the zero waste goal, the City Council is considering a package of legislation to help get there.
Council Member Shahana Hanif, a Brooklyn Democrat, has introduced legislation to create a citywide curbside organics program for residential buildings. Council Member Sandy Nurse, also a Brooklyn Democrat and chair of the Council's sanitation committee, has introduced bills to enshrine the zero waste by 2030 goal into law and require regular reporting on progress by the administration. And Council Member Keith Powers, a Manhattan Democrat, has introduced bills to mandate that the Department of Sanitation establish at minimum one community recycling center and at least three organics drop-off sites in each community district. 
Nurse believes that mandatory composting would address the administration's concerns about the viability of a citywide program. "We think that's the better route to go rather than continuing to then spend months advocating for money to expand the program that really does need some rethinking," she said in a phone interview. Nurse is a co-sponsor of Hanif's bill, which also has the backing of a supermajority of the Council. 
As Nurse noted, some of the issues around participation stem from the previous administration's faltering steps to expand the program. "We had a program that started and stopped, started and stopped, and then was gutted during the pandemic. So we have an inefficient program that has very low participation," she said. She decided that a legislative solution would be far better and immune to the vagaries of mayoral administrations.
A mandatory program, she said, would require building managers to provide composting services in residential developments where they would otherwise be hesitant to opt-in to a voluntary program. And it would force a change in culture, making it a habit for New Yorkers (like required recycling of glass, aluminum, and other materials), raising awareness of the program and allowing fines for failure to comply.
The New York City Independent Budget Office estimated in an October 2021 report that a universal composting program could, in fact, save the city money over time. Collection and composting costs would rise by about $39 million in total in the first three years, over the $775 million annual cost of collecting and disposing of refuse, recycling, and organics waste in 2019. But, the expansion would begin to generate savings four years out and, eventually, the city would save about $33 million every year, the IBO estimates.
The savings would come from larger amounts of refuse being collected in the same truck runs (which have fixed costs) and from reducing the number of truck runs as organic waste is diverted from the waste stream. The city would also have more leverage to negotiate lower costs with organics processing companies if the program is scaled up.  
In a recently-released survey about city sanitation services, conducted by Comptroller Brad Lander's office, about 67% of more than 3,000 respondents said that they wanted their organic waste to be collected and composted by the city.    
"The legislative route, I think, is the best option," said Nurse. "It is a very costly program if we don't have people using it to the degree that we need to justify it."
At a Council hearing on the zero waste bills on Wednesday of last week, the mandatory nature of the proposed program became a point of contention as Council members heard testimony from sanitation officials. 
"I believe that you have to give people voluntary access to curbside food waste collection, and allow them to develop the muscle memory of separating out their food waste material before we contemplate mandatory programs," Sanitation Commissioner Jessica Tisch, an appointee of Mayor Adams, said at the hearing. "Food waste separation requires complex cultural change that cannot, in its first instance, be strictly punitive."
Tisch shared the Council's urgency around reaching the zero waste goal, but said it appears unlikely on the 2030 timeline. She noted that the city's waste diversion rate has only increased from 17.8% in 2015 to 20.8% this year, placing the city far off track in bridging the gap to achieve 100% diversion in the next seven years. "We are simply not on a path toward zero waste by 2030 on our current trajectory, nor do we have enough time left, in my opinion, before 2030 for me to sit here today and genuinely tell you that I think that the goal is achievable," she said. 
Tisch's statements are echoed in data trends seen across DSNY Waste Characterization Studies from 2005, 2013, and 2017 (the commissioner also noted a new study would be produced by 2024 using funding from the fiscal year 2023 adopted budget). While in 2017, DSNY found that waste generated was declining in comparison to 2005 and 2013, the decrease was not sizable. At 3.1 million tons of waste in 2017, and an only 400,000 ton decrease over 12 years, the road to zero waste appears blocked but for drastic measures.
Hanif said at the hearing that an opt-in program doesn't meet the moment. "An opt-in system that is disproportionately available to higher-income and whiter neighborhoods is not economically sustainable, and fails to reach the environmental impact that the current crisis moment demands," she said. 
Besides the curbside program, the Council also wants to expand other aspects of organics collection. Powers' bills, which he has dubbed the Community Organics and Recycling Empowerment (CORE) Act, would address the need for more organics drop-off sites and community recycling centers. 
There are currently 223 drop-off sites across all five boroughs, aimed at providing easy local access to composting for community members. They allow communities to dispose of organic waste, such as food scraps (excluding meat, fish, and dairy), at designated bins. But those bins are not equally distributed across the city's 59 community districts. Large parts of Queens, Brooklyn, and the Bronx, for instance, don't have drop-off sites.  
In Astoria and Lower Manhattan, high-tech drop-off composting sites exist as part of the Smart Bins pilot program which was launched in the fall of 2021 and is being expanded under the new city budget. The sites are open 24/7 and do not require staff. The bins are only for use by community members, a measure upheld by lock systems on the bins that can only be opened with DSNY-issued key cards or a mobile app.
The majority of drop-off sites, however, have limited hours, some only running on a seasonal basis. Many other sites are not located close enough for community members to easily access by walking, instead requiring travel by car, deterring would-be composters from making the trek towards sustainability.
At the hearing, Tisch said that, with the rollout of 100 additional smart bins this year, the city would meet the requirements of Powers' bill to put three drop-off sites in every district by the end of 2022.  
"I do think a hundred is insufficient," Powers responded, "but I'm glad we're starting."
Jiada Valenza contributed to this story.