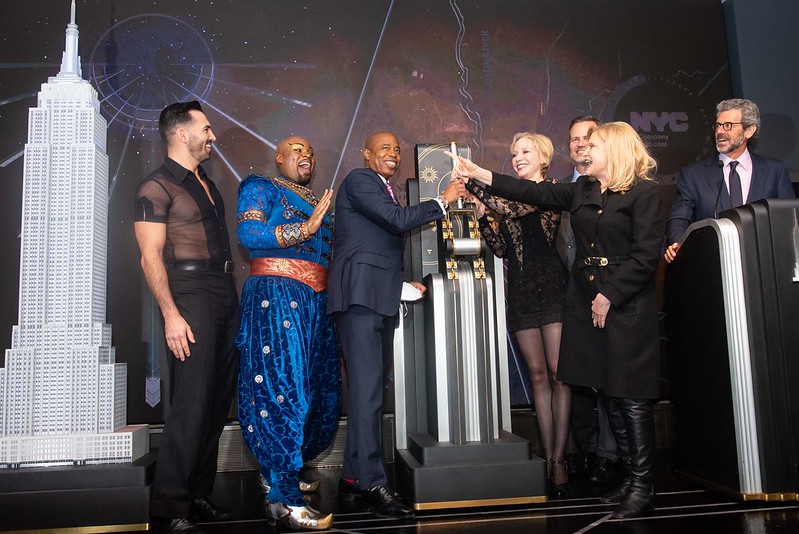 Mayor Adams celebrates tourism (photo: Michael Appleton/Mayor's Office)
---
The COVID-19 pandemic torpedoed what had been record tourism to New York City, but the last year has seen a climb back toward pre-pandemic numbers. Reporting by NYC & Company, the city's official marketing and tourism partner, projected that by the end of 2022, 56.7 million visitors will have come to the city, about 85% of the 66.6 million that visited in 2019.
Experts say that the goal is to get back to pre-pandemic numbers, and the same NYC Travel and Tourism Outlook report forecasted reaching 63.7 million tourists by the end of 2023.
"It's been a long journey over the last two years and it's certainly taken its toll on many of us in our sectors, but visitors are responding to New York and are coming from far afield," said Fred Dixon, president and CEO of NYC & Company, speaking on June 29 at "Accelerating NYC's Tourism Recovery," an event hosted by Center for an Urban Future, a think tank.
Dixon spoke with Center for an Urban Future CEO Jonathan Bowels in an interview after a panel discussion.
Panelists included Nikoa Evans, executive director of Harlem Park to Park; Peter Madonia, chairman of the Belmont Business Improvement District; Anthony Ramirez, co-owner of the Bronx Beer Hall; Andrew Rigie, executive director of the New York City Hospitality Alliance; and Tim Tompkins, principal of SharedCitySharedSpace, and former president of the Times Square Alliance. Eli Dvorkin of Center for an Urban Future asked the panel questions.
Panelists said part of continuing the tourism recovery is "reshaping the city's narratives" and ensuring the city has cleaner and safer public spaces.
Times Square was frequently mentioned as a place in Manhattan that should be invested in by city government in order to further its status as a cultural hub and draw for tourists, and to 'reshape the narrative' of the pandemic that it has been home to increases in crime and homelessness.
Rigie said he would like to see the city invest in converting empty office space in Times Square to venues for social gatherings, like night clubs and conference centers, which he said could help boost both business travel and tourism, as well as shape Midtown into more of a social hub.
Panelists also discussed the city's hotel industry, and the challenges faced by hospitality tourism as the city continues to pull out of the pandemic.
NYC & Company's Tourism Outlook report showed that the city added 20,000 rooms to the hotel inventory in 2021, and 5,000 more in 2022, reaching 123,000 rooms so far. These numbers were made up of a mix of reactivated inventory (many after 2020 pandemic shutdowns) and new properties. Currently, there are more than 7,000 rooms expected to be added by 2024.
COVID-related travel restrictions were lifted in November 2021 and international tourism has been bouncing back in 2022, with a projected 8.3 million such tourists expected to visit by the end of the year, only to grow further in 2023.
Dixon credited current and projected increases in international tourism to the recent federal decision to do away with covid testing requirements for international travelers. 
Panelists mentioned the importance of encouraging local tourism as well, within the boroughs and the tristate area, which send frequent day visitors to New York City from suburban areas.
Ramirez suggested implementing incentives to use social media and pay local creators to promote cultural touchstones and local spots in the city as a means of advertising and increasing tourism. But, referencing controversy that surrounded the popularity of the "Joker Stairs" in the Bronx, he also said it is important to encourage responsible and respectful tourism, which can become challenging in the age of social media and some reluctance by locals to have their neighborhoods turned into tourist attractions.
Panelists said that in rebuilding the city's tourism sector, it's important to create experiences where visitors can essentially travel the globe just by coming to New York and experiencing its diverse culture. Some said that it could also be valuable to look more closely at what other cities and countries are doing to attract tourists and implement similar practices in New York City.
Panelists also mentioned encouraging public spaces and restaurants to be places where people spend longer amounts of time if they desire, abandoning to some degree the typical fast pace of New York in favor of becoming reminiscent of European style. Madonia suggested bringing something grand to the city, looking to the London Eye ferris wheel as a point of reference.
In a broader sense, panelists also said it could be valuable to take strategies from other U.S. cities that are making progress in terms of tourism, specifically mentioning Boston, Los Angeles, and Philadelphia.
Tompkins also suggested hosting more cultural and music events inspired by popular jazz festivals in cities like New Orleans, Newport, and Copenhagen.
According to an analysis by the Center for an Urban Future, the pandemic saw a decline in nearly $1 billion of revenue for city-based arts organizations, a 36% decrease from a year before the pandemic.
Other active efforts to increase tourism mentioned at the event included the city's efforts to bring the 2024 Democratic National Convention to New York.
"New York City was the epicenter of the pandemic, and now we're leading the recovery. And the convention will pour hundreds of millions of additional dollars into our economy in a part of the city that was among the hardest hit," said Mayor Eric Adams in an announcement made in May regarding the bid, which proposes Madison Square Garden as the primary event site, with the Javits Center hosting other components, and the city's robust attractions, mass transit system, and diverse Democratic base as selling points.
In the audience Q&A portion of the panel discussion, one attendee from the Bronx asked what can be done in neighborhoods that don't currently have the same clout as well known tourist destinations to increase the flow of visitors.
Panelists suggested further collaboration with NYC & Company, and stressed the importance of the city allocating more resources to communities to help local businesses and boost visitor potential.
Madonia, who spoke about Bronx's Little Italy on Arthur Avenue, said that it can sometimes take years, and even decades, to get neighborhoods to the same level of recognition that will attract more tourists and visitors.
In order for tourism to increase in underrepresented boroughs and neighborhoods, like the Bronx, panelists said that there needs to be more coordination between community boards, local community leaders, and other city resources in order to increase bandwidth for smaller organizations in need of support, and make navigating the city's bureaucracy more accessible.
Evans noted she has partnered with Captivate Marketing Group president Yvonne McNair to co-found the Harlem Festival of Culture, inspired by the 1969 Harlem Cultural Festival, and set to take place in the summer of 2023.
The event is expected to bring a substantial number of visitors from around the world, especially following increased interest in the 1969 festival that was featured in the 2021 Academy Award-winning documentary "Summer of Soul." Evans said the event can be a beacon of hope for neighborhoods that are often left out of the conversation when it comes to the city's tourism.
"I'd like to ask us to redefine what cultural assets mean. Yes, there's money that goes to culture, but usually you think of that, it's the museums, it's public art, etc. Culture to me is the people," said Evans, echoing the shared idea among panelists that prioritizing and investing in the people of New York City could be a valuable piece of the city's tourism recovery. "A lot of the attention when you say 'cultural funding' is the institutions, and it's actually the community where I'm saying the resources need to be leveraged."
During his appearance after the panel Dixon of NYC & Company also said it's important for the city to prioritize funding New Yorkers to allow for their involvement in the revival of tourism to the city, referencing a 2020 partnership with the Public Art Fund that commissioned 50 emerging New York-based artists to create art across the boroughs. That effort was meant to help those artists survive the pandemic and to engage New Yorkers at a time when few were leaving their neighborhoods or the city.
Dixon also talked more about the statistics from the NYC & Company report, expressing positivity about the progress seen in the tourism industry since the early challenges of the pandemic. He said he also expects to see further economic support from city and state governments, including increased funding for paid media in the recently-approved Fiscal Year 2023 city budget.
When asked about things that might concern him in terms of challenges to the tourism sector moving forward, Dixon mentioned inflation pressures, climate change, and also circled back to the narrative surrounding the city when it comes to safety. Though, in conversation with tourism experts from other cities, he said that he hasn't seen the concerns about New York's perceived crime problem stretch far beyond the tristate area, saying that the city is oftentimes its own worst critic.
"New York has the experience that people want right now, and we're showcasing those," he said about efforts being made by NYC & Company to increase inclusion of diverse groups, local creators, and small businesses in the path to recovering tourism to the city. "Our local effort is encouraging people to come to New York for the icons that you know and love, but also to go into the community and support small businesses."