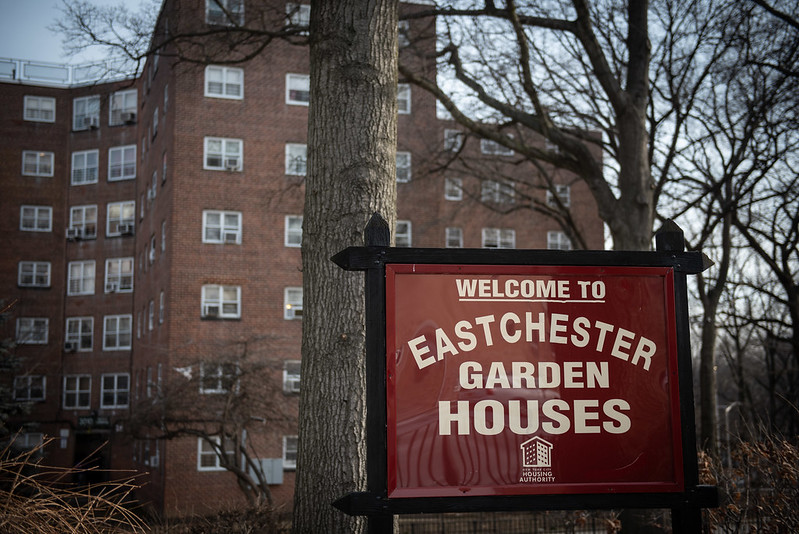 NYCHA Eastchester Garden Houses, The Bronx (photo: Michael Appleton/Mayor's Office)
---
Update: Governor Hochul signed legislation to expand public housing access to formerly incarcerated individuals on December 23, 2022.
A bill that lawmakers say could ensure more people leaving incarceration have access to public housing passed the State Legislature earlier this year and is awaiting the governor's signature. But housing and criminal justice advocates say the legislation, while "well-intentioned," may contain a language loophole that could render it meaningless and expose it to legal challenges.
The legislation is intended to remove most of the New York City Housing Authority's prohibitions on residents with a criminal history and thereby stem the flow of people leaving prison into homelessness, according to the sponsors, Assemblymember Kenny Burgos and Senator Gustavo Rivera, both Bronx Democrats. Removing barriers to housing for those leaving incarceration is often cited as one essential strategy to help reduce recidivism.
The bill states simply: "Except where such exclusion is required pursuant to any federal law or rule or regulation, no person shall be denied occupancy in a dwelling in any project or be subject to eviction from any such dwelling on the sole ground that such a person is a formerly incarcerated individual."
Some advocates say this language, as written and passed by the Legislature, will have little impact because NYCHA bars admission based on specific convictions rather than having a history of incarceration. The bill sponsors believe otherwise, and NYCHA may take the requisite approach to ensure its intended impact is felt regardless, if the governor signs it.
"This measure will prevent these individuals from facing homelessness as many of them do, and ensure there is one less hurdle for them to re-enter society successfully," Senator Rivera said in a statement to Gotham Gazette.
"I hope Governor Hochul signs this bill into law soon since it would ensure that access to our public housing becomes a feasible option for eligible formerly incarcerated individuals," he wrote.
With over 177,000 units and 400,000 tenants in 335 developments across the five boroughs, NYCHA is the largest public housing authority in the country and the city's biggest source of affordable housing, where households pay no more than 30% of income for rent. Burgos and Rivera represent adjacent districts in the Bronx, the borough home to the largest number of NYCHA apartments and where public housing accounts for one in ten rental units, according to NYU's Furman Center. Eight of the city's ten poorest community districts are in the Bronx, according to the city's poverty measurement, and the borough has some of the highest incarceration rates.
Burgos chairs the Assembly's Subcommittee on Reentry & Transitional Services and his district includes Rikers Island. Rivera is the Senate's health committee chair and has long-focused on criminal justice issues.
Each year, two out of five people exiting state prison are released to a homeless shelter in New York City because they lack permanent housing. ​​That was roughly 2,050 people in 2021, a vast majority of them people of color.
"Where are you?" without stable housing, asked Wendell Walters, a senior policy analyst at the Osborne Association, a re-entry service provider, in an interview. "You're on a couch, you're in a shelter, and it impacts all the other things; employment, benefits, et cetera. So why should NYCHA, the most affordable housing stock in New York City, the largest landlord, be excluded from this?"
Currently, federal law gives NYCHA discretion to automatically deny housing to people with a range of felony and misdemeanor convictions. It also includes explicit prohibitions on people convicted of producing methamphetamine in federally-funded housing, lifetime registered sex offenders, and illegal drug users. State lawmakers amended the bill in May to reflect the hard, non-discretionary federal rules that would still apply.
NYCHA currently prohibits admission for 160 different convictions, ranging from misdemeanor drug charges to felony money laundering and terrorism. That list was reduced from a longer litany of crimes last year after a public review process and years of advocacy from civil rights activists. A spokesperson for NYCHA said the housing authority is planning to make changes to the review process for applicants that are currently barred from admission based on a conviction.
The spokesperson also pointed to NYCHA's Family Re-Entry Program, which allows people with prohibitive convictions to seek temporary permission to join the household of a family member for up to two years with the opportunity to join the lease after completing the program.
In April, U.S. Housing and Urban Development Secretary Marcia Fudge directed agency officials to identify any HUD regulations "that may pose barriers to housing for persons with criminal histories or their families" and to "propose updates and amendments…to make our programs as inclusive as possible" within six months. That review has not yet led to changes that would reduce NYCHA's discretion in denying housing to people with criminal convictions.
Alison Wilkey, the policy director at Community Voices Heard, a housing rights advocacy group, has been tracking the Rivera-Burgos bill. 
"While this bill was well-intentioned, it does not change anything," Wilkey wrote in an email. "Neither HUD or NYCHA rules prohibit admission of people based on incarceration history."
"The law only prohibits denial of people based on their status as being 'formerly incarcerated,' which NYCHA doesn't do," she wrote. "NYCHA denies based on their conviction, not past incarceration status. And NYCHA denies people whether they were sentenced to incarceration for their conviction or not."
Walters of Osborne said it was up for interpretation whether the bill, as it is written, would bar NYCHA from deploying its discretionary list.
"It passed both houses. So is the governor going to sign this bill? That may bring up litigation" to determine whether NYCHA would need to adjust its practices, he told Gotham Gazette.
Avi Small, a spokesperson for Hochul, said the governor is reviewing the legislation.
Nekoro Gomes, a spokesperson for NYCHA, told Gotham Gazette the legislation "is in line with the recent reforms NYCHA has made to adopt a more modern approach to criminal justice, and to open our doors more widely to New Yorkers seeking public housing – consistent with federal law and regulations."
Both Rivera and Burgos defended the legislation and said they would work with advocates and others to address the bill's potential shortcomings if needed.
"Assemblymember Burgos and I will work with all relevant stakeholders to address these policy concerns as it relates to NYCHA's interpretation of the law as it is written," Rivera said in a statement provided by a spokesperson. "By codifying this protection, this bill will help reduce the numerous barriers that formerly incarcerated individuals already face as they seek to re-enter society and allow them to be with their families as they are released."
Hochul could sign the bill with what's known as a chapter amendment agreement to alter the language to address the potential grey area.
Christian Barbato, a spokesperson for Burgos, wrote in an email: "We introduced this bill for those who have paid their debt to society and deserve not only a home but a vital connection to family and community. It was later amended to reflect federal law that denies access based on certain convictions. We will continue to work with all parties involved to address any issues that come up regarding a person's conviction and incarceration history."