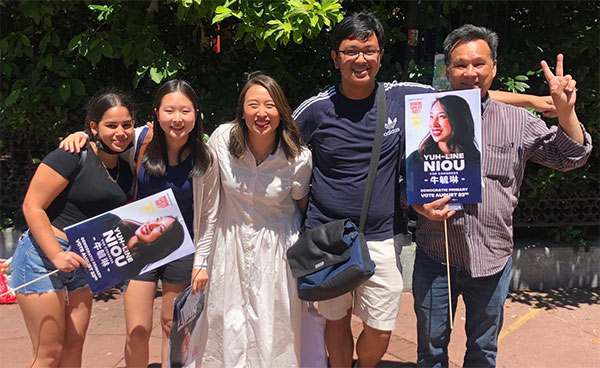 Yuh-Line Niou, center, with campaign volunteers (photo: @teamniouyork)
---
Assemblymember Yuh-Line Niou, who has represented the 65nd Assembly District in Lower Manhattan since 2017, is running for Congress in the new 10th Congressional District of New York.
Niou, a favorite of many in the progressive left, is part of a crowded race of roughly a dozen Democratic candidates hoping to win the new congressional seat, which spans a set of diverse neighborhoods in Lower Manhattan and parts of Brooklyn. Rep. Jerry Nadler, who represents the current 10th district, is running in the new 12th district against Rep. Carolyn Maloney and Suraj Patel after his West Side turf was drawn into the 12th, leaving the new 10th district wide open.
"We have to make sure that we have somebody who's willing to fight for us, fight for us continuously, and make sure that we are standing up in this moment where our government is needing that voice more than ever," Niou said during a recent appearance on the Max Politics podcast from Gotham Gazette.
"Right now, our country is in this moment of apathy, where a lot of times, these horrible things are happening to us and we feel like we can't do anything to change it," Niou said. "As a young person who's just started working in public service when I was in college, I really realized that there are a lot of times when people make it seem like there's some big secret to accessing government, but it's really just that there are powerful people that are in government right now that don't want us to realize that we actually have the power to make the changes that we want to see."
The new 10th Congressional District includes a set of diverse neighborhoods in Lower Manhattan and Brooklyn, including the East and West Villages, Soho and Noho, the Lower East Side, Chinatown, Battery Park City, the Financial District, parts of Downtown Brooklyn, Gowanus, Park Slope, Red Hook, Sunset Park, Borough Park and more.
The party primary elections for all congressional and State Senate districts will conclude on August 23, with early voting and absentee balloting preceding primary day.
During the interview, Niou was first asked about her reaction to former Mayor Bill de Blasio's decision to end his congressional bid, which was announced just before the taping of the mid-July podcast with Gotham Gazette editor Ben Max.
Niou lauded de Blasio's two decades of public service and mentioned how it can be difficult to choose the direction of your career related to serving various constituencies.
Asked how de Blasio lost many of his relationships with progressive voters living in Brooklyn, who had helped elect him as a City Council member, public advocate, and mayor, Niou said she is unsure if there was a trigger that has led to this unpopularity, but emphasized the importance of listening to constituents — even if they have an opposing view — and the need to "meet them where they are."
Niou said she is running for Congress this year, and giving up her Assembly seat in the process, because the country is in crisis. She pointed to mass shootings and the loss of reproductive rights via the Supreme Court's decision to overturn Roe v. Wade precedent, among other issues that have spurred her run.
She argued she has represented her overlapping district "really well" over the last six years, and underscored wanting to continue to represent her neighbors and community.
Niou said she would represent all of the expansive district's residents and be the type of elected official who is a good listener and accessible to hear their concerns. She stressed, though, that it is important to fight for the most vulnerable to uplift everyone in the community.
"I tend to look at making sure that things are accessible for all," Niou said. "It's so importance for us to be able to have the lens of looking through all legislation and all representation as, 'Is this going to help with social justice, is this going to make it so that we have ecological and environmental justice, and is this going to make it so that we're looking at things with disabilities centered in our conversation, is this making it so we are actually looking at economic justice?' We have to ask those questions."
If elected to Congress, Niou said she would look at social infrastructure and climate spending, including passing the Green New Deal, the Green New Deal for Public Housing, and the Green New Deal for Public Schools, and said she will fight for the working class to build an economy that works for the average New Yorker. She said she would direct her attention to combating climate issues facing Lower Manhattan and Brooklyn, with both parts of the congressional district largely coastal, and empower small businesses while creating strong union jobs.
Niou added that she would advocate for the full funding of public housing, mentioning how she pushed in the State Legislature for state government to take more responsibility for public housing, and how she fought for and achieved hundreds of millions of dollars in additional state funding for NYCHA.
"It also means doing in Congress what I did in Albany, which is winning our community a larger share of government support for that true affordable housing to ensure people who live and work in our communities can keep their head above water," Niou said.
While Niou is not the only progressive Democrat in the race (most if not all of the six leading candidates describe themselves as such), she has the most endorsements from New York's left wing, including the Working Families Party and Public Advocate Jumaane Williams, among others. Still, City Council Member Carlina Rivera and Rep. Mondaire Jones (NY-17) have also received a significant number of endorsements from progressive officials and groups, with Rivera leading the field in local backing, including from Rep. Nydia Velazquez and both Manhattan Borough President Mark Levine and Brooklyn Borough President Antonio Reynoso.
Also in the race are Assemblymember Jo Anne Simon, former federal prosecutor Dan Goldman, and former Rep. Liz Holtzman, who recently received the endorsement of the New York Daily News editorial board.
When asked if she would continue to be a left-wing progressive in Congress, Niou said there is a need for political courage. If Democrats are in the House minority following this year's midterm elections, progressives can be a "roadblock to conservative overreach," Niou argued, and "a voice of moral authority in the face of attacks on our rights or giveaways to the wealthy." 
If part of a House Democratic majority, Niou said she will continue to work to develop legislation to improve the lives of New Yorkers. She said bipartisanship can only be reached if Republicans are not attacking democracy or "violently harm their colleagues in a fascist coup."
"We don't need to save seats," Niou said. "What we need to do is save our people. I always think that it's really important that we vote for somebody who's willing to stand in front of our people and take the hits."
Asked for her assessment of current Democratic leadership at the national level, including Senate Majority Leader Chuck Schumer of New York, House Speaker Nancy Pelosi, and President Joe Biden, Niou said she has "always spoken truth to power" against her own party leaders, including former Governor Andrew Cuomo, noting how she defied him and regularly pushed back against what she deemed the state's "austerity budget."
She said that she wants to always be held accountable to her constituents.
"I felt like we lost a lot of lives because instead of passing a budget that would be something that was going to make us healthy, happy, and whole again, we were cutting and slashing health care funds and social services and education dollars in the beginning of a worldwide global pandemic," Niou said, with apparent reference to the state budget deal reached during the first phase of the pandemic in spring of 2020. "We should have been investing in our communities."
Niou was then asked to address some of the criticism she faced, namely about being unwilling to compromise and often taking positions against projects, budgets, and legislation. Niou said she thinks she's actually rarely a voice of opposition, but is such when it is essential. There are times where she has to say "no" when it is warranted, she said, providing the example of education cuts and underfunding healthcare. "I'm just really trying to shine a light on some of the places where people are not given the ability to shine the light on in the normal darkness and opaqueness of government," she said.
On housing, an area where Niou has particularly faced some criticism for her opposition, Niou said that more housing is needed in the 10th Congressional District, and reiterated her belief that new units need to be deeply and permanently affordable. She also said that density is not a problem in Lower Manhattan, but many do not have a say over the housing developments being built in their neighborhoods.
The new congressional district includes the city's two Chinatowns, one in Manhattan that Niou currently represents and the other in Sunset Park, Brooklyn. Asked about possibly representing the two large Asian-American communities in the district, Niou said the district was purposely redrawn to include both Chinatowns and to have Asian-American representation.
Niou, the first Asian American to be elected to her Assembly seat, said if she does not win the congressional seat, it might be decades for another opportunity to elect an Asian-American representative from New York to Congress. The new district also has a sizable Latino population, but is dominated by white voters, particularly white liberals who reside across much of Lower Manhattan as well as most of the Brooklyn portion of the district and typically vote in especially high numbers.
Niou pointed to the country facing an increase in anti-Asian hate, anti-Semitism, and Islamophobia over the last several years. She touted her work in the State Legislature in continuing the fight for Asian-American representation, including advocating for additional funding in the state budget for local groups to do community work.
Niou said she was able to secure $10 million for Asian-American organizations in the Liberty Defense Fund, which was doubled this year, and tripled funding toward yeshivas for protections against hate crimes (the district also includes a significant Orthodox Jewish population in Borough Park). 
Asked about some Asian-American voters moving from voting for Democrats to Republicans, Niou said she is not surprised, especially given the rise in anti-Asian hate crimes.
"It's really important that people recognize that a lot of times when we're seeing this kind of hatred, this kind of fear throughout, the purpose of that kind of terrorism, that kind of hatred, is to make us afraid and to make us not show up for things, not run for things, just to hide," Niou said. "That's why it's so much more important that we have visibility and that we have somebody who's running that looks like us, and helps us break some of the stereotypes and break some of the hatred and the perpetual foreigner syndrome that our country buys into."
When asked about the gap between a portion of Asian-American communities and progressives, especially on issues like police funding and presence, Niou said it can be narrowed down to educating New Yorkers about the need to fund programs that can help with ending poverty and fostering community safety. Niou, who is a progressive proponent of divesting from policing to invest in other community programming, said safety should be focused on prevention, expanding mental health services, and giving residents a platform to share their concerns.
"I will say that I am not surprised by folks being disillusioned with the Democratic Party when it comes to our Asian American communities because I will say that during this pandemic and for many, many years before it, we have not had the representation to really be able to speak for our communities in a way that matters," Niou said.
On her recent comments endorsing the Boycott, Divestment, and Sanctions (BDS) movement that targets Israel, Niou emphasized that she is committed to the safety, security, and wellbeing of all Jewish people in her district, the United States, Israel, and anywhere in the world. She added that she has dedicated her personal and public lives to fighting for communities targeted by bigotry, white supremacy, and nationalism, which includes her Jewish neighbors.
She said she supports the BDS movement's right to political speech, including boycotts and economic pressure, and commitment to human rights. "I know that boycotts are tried true, respected, and constitutionally protected, non-violent tactic for human rights and social justice movements, and I think that it's really important that we be able to continue to be able to utilize that tool," Niou said.
When pressed by Max again to clarify whether she is a supporter of the BDS movement, Niou said that she believes tax dollars should never be used in violation of human rights, which is why she supports legislation that "would prevent federal funds from going to the persecution of Palestinians, or to the construction of settlements." She mentioned Rachel Corrie, who she said was "my classmate, and she was my friend," and her story of being bulldozed to her death while protesting for Palestinian rights.
"​​I'll just say it out loud that I will be a strong voice in Congress against occupation and in support of equality, justice, and a thriving future for all Israelis and Palestinians," Niou said. "The only way we get there is through direct negotiation between Israelis and Palestinians themselves."
During a brief lightning round of questions, Niou said it is time to shut down Rikers Island jails and called the jail complex "a human rights atrocity." But she did not directly answer the question as to whether she believes the Rikers jails should be entered into a federal receivership.
When asked about Rep. Mondaire Jones' recent move to Brooklyn to run in the 10th district, Niou said anyone can run, but she believes constituents would want a candidate who knows their issues and what they have experienced. "I think that when we have neighbors that we already know and already know the issues that they care about, it makes a big difference in how we represent them," she said.
Asked what strategy she favors for bringing in revenue to repair dilapidated NYCHA public housing outside of tens of billions in federal funding, Niou also did not answer the question directly. Instead, she pointed to a bill proposed by Rep. Velazquez to fully fund public housing, as well as the Green New Deal for Public Housing and the Build Back Better agenda that included tens of billions for NYCHA but has not passed through the Senate after passing the House.
"The most important thing is that we find more and more mechanisms in order to be able to get those dollars to our state and to our public housing residents who are seeing that their homes are making them sick — no hot water, no heat, mold, lead, paint," Niou said. "It's really, really devastating, every single time."
[LISTEN to the full conversation: Max Politics Podcast: Yuh-Line Niou on Running for Congress in the New NY-10]